Background video description:
A facebook friend suggested that it might be a good idea to record what I've had playing automatically in the background while I work on Elements synths that are going out. Now I actually play them on this video- not so automatic! For those following this -so far 16 units released, by the end of this week- 40- consult Analogue Haven or Schneidersladen. This recording done direct to my Canon 600D camera….audio is not bad….could be better….just a quick demo!
Cuckoo got the chance to talk to Ken Macbeth about his new analog synth the Macbeth Elements. It's a beast! Check it out!
Scotsman Ken Macbeth was the inventor of the probably biggest analogue synthesizer of nowadays, his model M5. His latest masterpiece – the ELEMENTS as introduced 2014 on the european Musikmesse in Frankfurt is now nearly done and will be finished with some first models at least in 2015. Here he is giving a statement of the status of production and a few examples of the sound for this smart desktop synth. it will be produced probably in very limited numbers as all of his products and will end up as a luxury smart synthesizer with lots of Character. Get an impression now.
Nearly 15 years ago came my first commercial product…theE MacBeth M3X…..seen here now with my 2015 blaster, the MacBeth Elements Synthesizer! The M3X is doing the bass stuff- the Elements most of the lead stuff. There is much Tape Delay Simulator and Spring Reverberator stuff going on here…as for say, apologies as usual for the second rate keyboardmanship….but as you possibly can tell, in the hands a of a skilled player….it's some machine!
Background video description:
Here's a quick jam that I did yesterday featuring the MacBth Mk1 Modular Synthesizer that I built as well as the up and coming Elements Synthesizer…when you build this stuff for a living, one seldom get a chane to actually play the stuff to any worth while degree- I'm not the best at playing, but I had fun 'making the noises' that I've heard on my old records! I used an Ensoniq ASR-10 to sequence some of this stuff, and also to provide the Piano, Bass Guitar and Drums…the rest I play myself…using two 3 octave CV and Gate keyboards that I built. Using left keyboard that I play – you can here is that new Trans Diode Filter (Filter 'D')that built in the 5U format….there a single MacBeth Mk1 Oscillator 'B' going thru it…the right hand keyboard is driving two Mk1 Oscillator 'A' units thru the Transistor Ladder, Filter 'A'……..and playing a lead sinewave- that's coming from the Elements Synthesizer, quite haunting, quite spacey!……..I think this vid has it's good moments, but also the not so good!….hope you enjoy my attempt at the old sound!
Here's a small video of an experimental module that MacBeth designed and built in the last little while. This is the Elements Synthesizer model transformed into a MacBeth Mk1 5U module…..this filter is something else!
So here is the last….it is the last, video of what will now be the Voltage Controlled Filter in the MacBeth Elements Synthesizer- here I give a short discussion/exploratory about nailing down that sound! Speed on further into the vid if the technical stuff gets boring! I try here to give a overview of how things were done! Roll on production…..at last!
runo Ender Lee – "Saturn" – studio recording August 16. 2014
the new album "Saturn" is now available:
http://brunoenderlee.bandcamp.com/alb…
Roland JP-8000 (Pads), Roland Juno-106 (bass), ARP Odyssey, Moog Little Phatty & Analogue Solutions Vostok (fx), Korg MS2000 (leads), Synthesizers.com Studio-88 (leads), MiniMoog Voyager OS (bass), MacBeth M5N & Korg MS-20 mini (sequence with Doepfer MAQ)
composed, arranged & performed by Bruno Ender Lee
2014 Velvet Voyage Productions / all rights reserved
Ken MacBeth shows us his brand new Elements synth, complete with touch keyboard.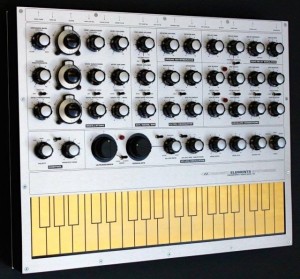 MacBeth shared this sneak preview of theMacBeth Elements Synthesizer – a new 'no compromise synth'.
Specifications are still to come – but check out the images below for a preview of MacBeth's latest analog sytnh.