This video demonstrates the sound and features of the Analogue Solutions SEMblance (SEM clone) synthesizer. Enjoy!
Thanks for watching! Subscribe for more videos! http://goo.gl/Vf7jwO
Like us on Facebook: http://goo.gl/A3BmdH
Check out our inventory of new, used, and vintage gear!
http://www.perfectcircuitaudio.com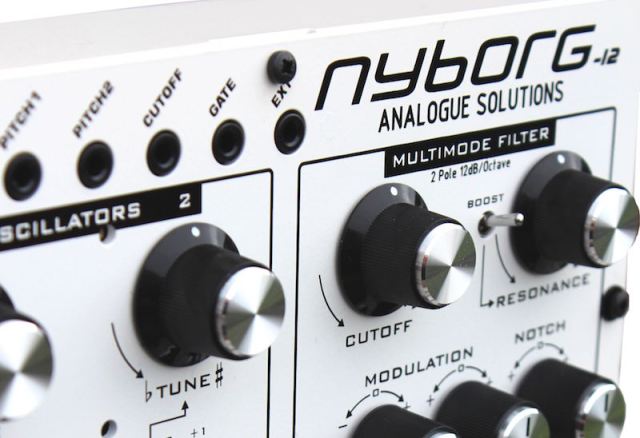 Analogue Solutions has introduced Nyborg-12 – a new 'no-compromise' analog mono synth. Nyborg is a precision electronic musical instrument. No compromise has been made with the construction of Nyborg. Cheaper options in parts have not been used.
The Nyborg can be used independently, it can be mounted with optional wood end-cheeks or rack mounts, and can be combined with additional Nyborg's to create a 2- or 4-voice synthesizer.
Features:
Full rugged steel/aluminium case – no plastic mouldings
Good quality smooth potentiometers, fully sealed against dust
Good quality knobs with spun aluminium caps
High grade double sided circuit board
High Quality 16bit DAC for MIDI-CV conversion
Very stable MIDI to CV
Very stable analogue oscillators
Hand built by humans
True retro analogue voice and modulation circuits to give an authentic retro sound
Specifications:
2 VCOs: each with Tune, Octave, Free run, Pulse width mod, Saw wave, Square wave, Sync, plenty of modulation, CV in
Multimode VCF: 4 filter types, 12dB/octave, Telemark style filter, plenty of modulation, Q boost switch, CV control
VCA, Mixer
2 EGs: with Gate CV in
LFO, Sample and Hold, Noise, Sub Oscillator
MIDI to CV converter – use with your DAW
2 units can be bolted together – and with optional rack ears – rack mounted
2 untis can be played duophonically
4 units can be played quadphonically
The Analogue Solutions Nyborg-12 is available for £599. See the AS site for details.
Tweaking The Telemark – Analogue Solutions synth demo
Analogue Solutions Telemark synths – two can be MIDI chained and played as one 2 voice polysynth.
Analog Solutions Leipzig-s and Dave Smith Instruments Mono Evolver battle it out in this mini jam. Love these synths!
runo Ender Lee – "Saturn" – studio recording August 16. 2014
the new album "Saturn" is now available:
http://brunoenderlee.bandcamp.com/alb…
Roland JP-8000 (Pads), Roland Juno-106 (bass), ARP Odyssey, Moog Little Phatty & Analogue Solutions Vostok (fx), Korg MS2000 (leads), Synthesizers.com Studio-88 (leads), MiniMoog Voyager OS (bass), MacBeth M5N & Korg MS-20 mini (sequence with Doepfer MAQ)
composed, arranged & performed by Bruno Ender Lee
2014 Velvet Voyage Productions / all rights reserved
Stacking sequences in a polyrhythmic manner with the Tip Top Audio's Z8000 Matrix Sequencer.

Patching used in this video shown in screen shots.
The Z8000 is sending pitch cv to the Analogue Solutions VCO Sub Oscillator. Which is being filtered with the 12dB Doepfer A124 Wasp VCF. Make Noise Maths 2 is sending Clock to the Z8000. No effect processors used
CAUTION -boring !- -only 4 fans of this Synth (with me its five)-
(all others should jump to 12:00)
i was in the mood to tweak my most favorite synth – the Leipzig-S
everything recorded live in one piece, no FX used on the Leipzig
Drums: GrooveAgent (+ a bit reverb), Arp: BassStation II
Here's a quick test of the EML Polybox:
The GATE IN is accepting signal from the Analogue Solutions Oberkorn for purposes of rhythm.
http://www.vintagesynth.com/eml/polyb…
In only a few minutes it has already become obvious that this little box is capable of much more than standard basic polyphony…
HAPPY HOLIDAYS FROM ANALOGUE SOLUTIONS!
Here's some holiday synthpop action featuring the Analogue Solutions' Polymath modular synthesizer (all synth sounds heard in the video) as well as the wildly talented and unforgettable Christine Anderson on vocals!
The track was assembled layer by layer using ONLY the Polymath as the sound source. Each track was recorded separately into Logic Pro. From the percussive analogue sequencer loops to the quirky retro leads: each sound was created specifically for use in the "Polymath Night" song and video.
The reverb heard on the instrumentation is from Polymath's own Spring Reverb. However, some slight delay was added on a couple of tracks for effect.
Christine Anderson offers her one of a kind sound and unique abilities as a vocalist, lyricist and overall creative contributor. Her "magic" touch can be seen and felt throughout the production and her fun-loving spirit brings an overflow of charm and fun to this project! Christine is also a star on the piano and an analogue enthusiast!
The musical bed uses all original Polymath sounds and was produced especially for the holidays by Sound of Science.
*If you enjoyed this video, please share!
More Info:
Christine Anderson: http://www.christineanderson.net
Analogue Solutions: http://www.analoguesolutions.com
Sound of Science: http://www.soundofscience.org
HAPPY HOLIDAYS EVERYONE!
BRUNO ENDER LEE – "Klangspiel" – performed live, December 7. 2013
Korg MS-20 Mini (sequence with Doepfer MAQ 16/3), MiniMoog Voyager OS, Roland Juno-106, Synthesizers.com Studio-88, Analogue Solutions Vostok, Korg MS2000