runo Ender Lee – "Saturn" – studio recording August 16. 2014
the new album "Saturn" is now available:
http://brunoenderlee.bandcamp.com/alb…
Roland JP-8000 (Pads), Roland Juno-106 (bass), ARP Odyssey, Moog Little Phatty & Analogue Solutions Vostok (fx), Korg MS2000 (leads), Synthesizers.com Studio-88 (leads), MiniMoog Voyager OS (bass), MacBeth M5N & Korg MS-20 mini (sequence with Doepfer MAQ)
composed, arranged & performed by Bruno Ender Lee
2014 Velvet Voyage Productions / all rights reserved
Stacking sequences in a polyrhythmic manner with the Tip Top Audio's Z8000 Matrix Sequencer.

Patching used in this video shown in screen shots.
The Z8000 is sending pitch cv to the Analogue Solutions VCO Sub Oscillator. Which is being filtered with the 12dB Doepfer A124 Wasp VCF. Make Noise Maths 2 is sending Clock to the Z8000. No effect processors used
CAUTION -boring !- -only 4 fans of this Synth (with me its five)-
(all others should jump to 12:00)
i was in the mood to tweak my most favorite synth – the Leipzig-S
everything recorded live in one piece, no FX used on the Leipzig
Drums: GrooveAgent (+ a bit reverb), Arp: BassStation II
Here's a quick test of the EML Polybox:
The GATE IN is accepting signal from the Analogue Solutions Oberkorn for purposes of rhythm.
http://www.vintagesynth.com/eml/polyb…
In only a few minutes it has already become obvious that this little box is capable of much more than standard basic polyphony…
HAPPY HOLIDAYS FROM ANALOGUE SOLUTIONS!
Here's some holiday synthpop action featuring the Analogue Solutions' Polymath modular synthesizer (all synth sounds heard in the video) as well as the wildly talented and unforgettable Christine Anderson on vocals!
The track was assembled layer by layer using ONLY the Polymath as the sound source. Each track was recorded separately into Logic Pro. From the percussive analogue sequencer loops to the quirky retro leads: each sound was created specifically for use in the "Polymath Night" song and video.
The reverb heard on the instrumentation is from Polymath's own Spring Reverb. However, some slight delay was added on a couple of tracks for effect.
Christine Anderson offers her one of a kind sound and unique abilities as a vocalist, lyricist and overall creative contributor. Her "magic" touch can be seen and felt throughout the production and her fun-loving spirit brings an overflow of charm and fun to this project! Christine is also a star on the piano and an analogue enthusiast!
The musical bed uses all original Polymath sounds and was produced especially for the holidays by Sound of Science.
*If you enjoyed this video, please share!
More Info:
Christine Anderson: http://www.christineanderson.net
Analogue Solutions: http://www.analoguesolutions.com
Sound of Science: http://www.soundofscience.org
HAPPY HOLIDAYS EVERYONE!
BRUNO ENDER LEE – "Klangspiel" – performed live, December 7. 2013
Korg MS-20 Mini (sequence with Doepfer MAQ 16/3), MiniMoog Voyager OS, Roland Juno-106, Synthesizers.com Studio-88, Analogue Solutions Vostok, Korg MS2000
The 606 has been modded by Analogue Solutions.
Much punchier than my old one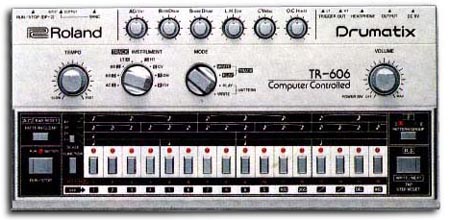 The 606 was the percussion side-kick to the TB-303. It even looks like the 303. It stores up to 32 patterns and 8 songs. The 606 allows switching between Pattern Play and Write mode while running – making the 606 the only drumcomputer in the X0X series that can be edited while performing and switching patterns. It is also possible to link up to 4 consecutive patterns in Pattern Play mode. There is only a mono audio output, however there are mods from Kenton Electronics and Analog Solutions that will add individual outputs for each drum tone.
The 606 has seven analog drum sounds which are simple, yet great! Kick, Snare, 2 toms, open hat, closed hat, cymbal, accent. The hi-hats are a very tinny electronic sound and its toms are great for soft tribal patterns.
More live Polymath!
Here's a little paraphonic action (chords) while Polymath's onboard sequencer steps a steady rhythm. Nothing is processed and MIDI is NOT used in this example. The chords were played live, hence the slight off-beat nature of the performance.
After the first bit, you'll hear ENV1 being switched to ENV2 (manually).
4 VCOs. Each have Pulse Width, Portamento, Saw wave, Square Wave, CV inputs, CV outputs, Sync. VCO1 has Sub-Osc output too
Multimode VCF based on (not a clone) the Oberheim SEM (LPF, BPF, HPF, Notch) with multiple CV control
Audio input, to allow processing of external audio (vocals, for example, from your DAW, etc) through the filter
2 LFOs
2 ADSR Envelopes
8 Step Analogue Sequencer with sliders
Arpeggiator – with Up, Down, Up/Down modes and Octave range
Poly Mode (Paraphonic)
Note Trig/ReTrig
Unison Mode for mega-fatness
Ring Modulation
Sample and Hold
Noise
Multiples
Adaptor
Spring Reverb – a triple spring Accutronics unit is used.
MIDI to CV Converter
Mixer
Inverter
Headphone Amp
VCA
Real Wood sides made by Lamond Design
2 LED Gooseneck Lamps included
Solid steel and aluminium construction
Carry handle
Includes an assortment of patch cables
Background video description:
This is something i am experimenting with. I'm creating a techno track and thought why not start here!
Background video description:
One of my subscribers needed help interfacing his SH-101 with the Europa sequencer. In this video, I demonstrate clocking the SH-101's arpeggiator and internal sequencer to the Europa using one of its 7 drum triggers. In this instance, I used trigger "B" since it did not have a drum assigned to the MIDI note number on the Roland R-8M. First, I program a steady stream of eighth notes and then sixteenth notes. I also experiment with dropping various steps to create a pattern. The simple bass line used in this video is from a Novation BassStation rack synth. I added some delay to the 101 with the Lexicon MX400.
Next, I hook up a Roland MPU-101 MIDI to CV converter box to control the SH-101 from the Europa sequencer.