Background video description:
This is something i am experimenting with. I'm creating a techno track and thought why not start here!
Background video description:
One of my subscribers needed help interfacing his SH-101 with the Europa sequencer. In this video, I demonstrate clocking the SH-101's arpeggiator and internal sequencer to the Europa using one of its 7 drum triggers. In this instance, I used trigger "B" since it did not have a drum assigned to the MIDI note number on the Roland R-8M. First, I program a steady stream of eighth notes and then sixteenth notes. I also experiment with dropping various steps to create a pattern. The simple bass line used in this video is from a Novation BassStation rack synth. I added some delay to the 101 with the Lexicon MX400.
Next, I hook up a Roland MPU-101 MIDI to CV converter box to control the SH-101 from the Europa sequencer.
Analogue Solutions tells us that the Polymath modular synth has been officially released and is available for pre-order.
Features:
4 VCOs. Each have Pulse Width, Portamento, Saw wave, Square Wave, CV inputs, CV outputs, Sync. VCO1 has Sub-Osc output too
Multimode VCF based on (not a clone) the Oberheim SEM (LPF, BPF, HPF, Notch) with multiple CV control
Audio input, to allow processing of external audio (vocals, for example, from your DAW, etc) through the filter
2 LFOs
2 ADSR Envelopes
8 Step Analogue Sequencer with sliders
Arpeggiator – with Up, Down, Up/Down modes and Octave range
Poly Mode (Paraphonic)
Note Trig/ReTrig
Unison Mode for mega-fatness
Ring Modulation
Sample and Hold
Noise
Multiples
Adaptor
Spring Reverb – a triple spring Accutronics unit is used.
MIDI to CV Converter
Mixer
Inverter
Headphone Amp
VCA
Real Wood sides made by Lamond Design
2 LED Gooseneck Lamps included
Solid steel and aluminium construction
Carry handle
Includes an assortment of patch cables
Pricing and Availability:
Available for pre-order.
Estimated UK retail price: £2899 GBP (exc. VAT and delivery)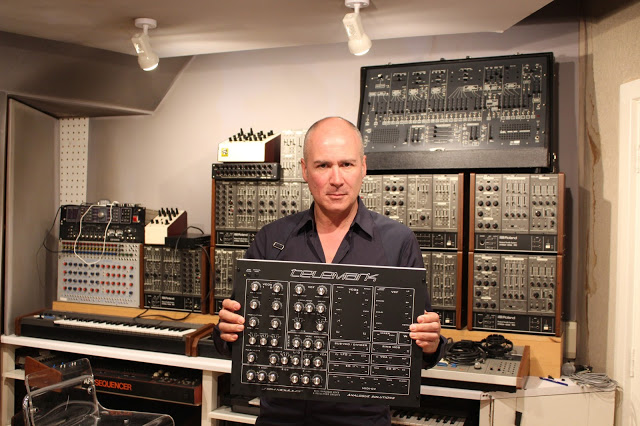 British 'boutique' analogue synthesiser and accessory designer/manufacturer Analogue Solutions is proud to announce that bona fide synthpop pioneer Phil Oakey has added a Telemark V2 semi- modular analogue monosynth to the stunning synthesiser collection currently residing at The Human League's legendary HL Studios in Sheffield…
Human League main man Phil Oakey needs little in the way of introduction. Having co-penned some of pop's finest musical moments with memorable hits spanning several decades — notably 1981's chart-topping perennial favourite 'Don't You Want Me' (which sold well over a million copies in the UK alone, making it the 25th biggest-selling single of all time there, then shifted another million copies to secure the coveted US number one spot during the following year), he helped forge a popular music landscape-changing template for pre- programmed, synth-driven song structures that are still reverberating around the world today.
Back in the day, The Human League 'Mk I' co-founder Ian Craig Marsh wasn't adverse to rhythmically riding a mid-Seventies-vintage Roland System 100 semi-modular analogue synthesiser's resonance and filter faders to create a track's Model 104 Sequencer-driven bass and snare drum on the fly! No need to do that today, of course, for HL Studios is packed floor to ceiling with old and new synths to die for. Indeed, it's fair to say that what Phil Oakey doesn't know about synths simply isn't worth knowing!
Now something of a connoisseur, Oakey owns a considerable collection of synths, sequencers, and drum machines at HL Studios, many of which are analogue. Which is exactly why he has taken delivery of an Analogue Solutions Telemark V2, a dual-VCO, rack-mountable, semi-modular analogue monosynth with multimode VCF featuring lowpass, highpass, bandpass, and notch filter types, which will be perfectly at home there since the healthy socket selection dominating the right-hand side of its spacious control panel means it can comfortably be patched to work with other modular systems and analogue sequencers for added flexibility. Features like those, combined with a generous helping of modulation routing options, provide the Telemark V2 with an extraordinarily diverse range of sound possibilities, including leads, basses, effects, and percussion, as well as being able to be used as an effects processor thanks to its audio inputs (feeding audio signals directly into its mixer).
Another distinguishing feature of the Telemark V2 is its 100% analogue voice and modulation circuitry formed from discrete components. Nothing travels through digital circuitry here, so turning a knob directly affects the associated analogue circuitry to produce a characteristic sound straight from the Seventies/early-Eighties — albeit reliant on today's reliable technology!
Improvements to Telemark V2 over and above the original version of the instrument include adding an octave divider (SUB-VCO/DIVIDER) — for creating a fuller, fatter sound or for use as a clock divider designed to be a source of lower frequencies (particularly suited to rhythmical usage) — and a ring modulator (RING MOD), typically used for fashioning metallic-type sounds (although it has other uses).
Little wonder, then, that the original Telemark and now its V2 successor are so sought after by those in the know. Chances are the characteristic sounds of Phil Oakey's new and improved Telemark V2 — in limited-edition black, no less! — could well be being heard on some more memorable musical moments from The Human League in the not too distant future. We wish them well.
Telemark V2 is available to order online directly from Analogue Solutions (http://www.analoguesolutions.org.uk/concussor/telemark.htm) for £749.00 GBP (excluding VAT and delivery) or through one of their dealers. Alternatively, the keyboard- equipped Telemark-k V2 is available for £1,099.00 GBP (excluding VAT and delivery).
Analogue Solutions Polymath Mega Modular Synth to feature: 4 VCOs. Each have Pulse Width, Portamento, Saw wave, Square Wave. VCO1 has Sub-Osc output too. Multimode VCF based on (not a clone) the Oberheim SEM (LPF, BPF, HPF, Notch) 2 LFOs 2 ADSR Envelopes 8 Step Analogue Sequencer with sliders Arpeggiator Poly Mode (technically this is Paraphonic). Unison Mode Ring Modulation Sample and Hold Noise Multiples Adaptors Spring Reverb MIDI to CV Converter Mixer Inverter Headphone Amp VCA Real Wood sides made by Lamond Design 2 Gooseneck Lamps included Solid steel and aluminium construction, with handy carry handle.
*Available for order now!
Preliminary information & web site:
http://www.analoguesolutions.org.uk/p…
Station X , is the amazing cute little monophonic analogue synth from Analogue Solutions. There are 6 sequences in total, status indicators show fx's when used.
Fx List
Sonalksis Stereo Tool ( convert mono to stereo )
Arts Acoustic Reverb
X-Delay (Orion native DAW fx)
Tube Distortion (Orion native DAW fx)
Here are a couple of Analogue Solutions Oberkorns working together.
Oberkorn 1 is performing the duty of clock source and divider while Oberkorn 2 is stepping at a divided rate and controlling transposition of all CV synths — hands free in real time.
Multiples are used for CV Pitch.
EKG sequencer is the primary sequencer controlling the pattern while Oberkorn 2 is governing pitch changes.
Synths heard: Roland System 100m, Analogue Solutions Telemark x 2
http://www.medicmodules.com
http://www.analoguesolutions.com
http://www.soundofscience.org
Quick video demonstrating some gating f/x via the Defibrillator and Oberkorn sequencer. Some Leipzig-s is thrown in for good measure.
Utilizing the Oberkorn + Defibrillator can create some really interesting gate f/x when used with the AS Spring Reverb module.
No processing other than the spring reverb is used.
Synths: Telemark, Leipzig-s
Quick demo of a 6HE eurorack that Youtube alias 'pjoris2′ has put together, details below – and as always the more we get the feeling that you are inside a space station the better

Analogue Solutions SQ8 sequencer 2x
Analogue Systems RS-80 VC-LFO 2x
Doepfer A-110 Standard VCO 2x
Doepfer A-114 Dual Ringmodulator
Doepfer A-106-1 X-Treme Filter
Doepfer A-188-1C BBD 2048 Stages
Doepfer A-156 Dual Quantizer
Doepfer A140 ADSR: 2 stuks
Doepfer 2x84TE 6HE Low-Cost-Case
Doepfer A-138b Mixer exponential
Doepfer A-183-1 dual passive attenuator
Doepfer A-131 VCA (logarithmic)
Doepfer A-132-1 Dual Low cost VCA
Doepfer A-180 multiple: 2x
Background video description:
I seem to have acquired a lot of eurorack delays. So I thought, let's make some demos. These are however a lot of work. I also note I have a lot of dust on my modular! But anyway: here is the first: a demo of the Analogue Systems RS-390 echo (digital delay). I got bored with filming the synth itself, so I added a few shots of the vegetable patch on my balcony … Probably next demo will be the Pittsburgh Analog Delay. But don't hold you breath, this may take a while.
Any suggestions for other patches to try are welcome.