Sequential Session with Elektron Analog Four and Moog Little Phatty.
Tried to take my Moog Synth Jams to the Next level.
"Sound Edited with Ableton. I used two tracks for each sound to make it phatter."
Follow him on Instagram for more jams and gear:http://instagram.com/taylor__wall
runo Ender Lee – "Saturn" – studio recording August 16. 2014
the new album "Saturn" is now available:
http://brunoenderlee.bandcamp.com/alb…
Roland JP-8000 (Pads), Roland Juno-106 (bass), ARP Odyssey, Moog Little Phatty & Analogue Solutions Vostok (fx), Korg MS2000 (leads), Synthesizers.com Studio-88 (leads), MiniMoog Voyager OS (bass), MacBeth M5N & Korg MS-20 mini (sequence with Doepfer MAQ)
composed, arranged & performed by Bruno Ender Lee
2014 Velvet Voyage Productions / all rights reserved
Improvisation / demonstration using the Little Phatty Stage II and the MFB Synth II – the only two sound sources in this little jam. The LPSII patch – SpringStretch – is part of a complete set for the LPSII currently under production for eventual release for purchase (details will be on the musicinclusive web site hopefully shortly)
There is a little reverb added on the LPSII but nothing else. The MFB Synth II has some phaser, chorus and reverb added, but the sweep is part of the patch programmed on the synth.
(The MFB Synth II is being played via a Fantom X8 keyboard – which you can see supporting it).
Minimoog Voager
Moog Little Phatty
DSI Prophet 08
DSI Evolver
Novation Bass Station 2
Roland Alpha Juno 2
Lexicon MX 300
TC Electronic M 300
EHX Small Stone
Digitech Digidelay
The Little Phatty was released in 2006 as a tribute to the life and legacy of Moog Music founder and synthesizer pioneer, Bob Moog. Following the passing of Dr. Moog, The Little Phatty was the first Moog synthesizer designed by Moog Music's Chief Engineer, Cyril Lance.
Over the course of its seven year production run, the Little Phatty has gone through three incantations including The Tribute, Stage I, and Stage II editions. During that time, the Little Phatty has become one of the best selling professional analog synthesizers in history. Its sonic impact on modern music can be heard on thousands of records, and its signature swooped-back silhouette can be seen in top recording facilities around the world as well as on the stages of internationally touring musical acts such as Rush, Jack White, Queens of The Stone Age, No Doubt, Bernie Worrell and the hit shows American Idol, Nashville and Portlandia
This modification comes with a Little Phatty gig bag and full tune up to bring your Little Phatty back to original factory specification.
The Little Phatty CV Out modification unlocks a host of modular control features and flexibility tucked away in your Little Phatty.
It allows you to connect to Moogerfoogers, synthesizers and other analog gear to create sounds in new ways not possible with MIDI.
You also gain access to the Little Phatty's analog noise source for creating powerful analog snare drums and percussion effects.
Mod Bus Output- Provides access to any selected modulation source. Send an LFO to your Moogerfooger, or select noise as a source and patch it to the Phatty's audio input for hard-hitting snare drums and percussion effects.
Pitch Output- As the pitch of your synthesizer increases, so does the control voltage.When this output is connected to any control input on a Moogerfooger or analog synthesizer, that control inputs value will increase as higher notes are played and decrease as lower notes are played.
Gate Output- Each time a note is pressed, a gate signal is sent and when that note is released, the signal ends. This output can be used creatively with the Phatty's built in arpeggiator to create rhythmic, drone, percussive effects in analog synthesizers and Moogerfoogers.
Volume Envelope Output- The shape of your Volume Envelope is outputted as a control voltage. When connected to other analog devices, an envelope yields dynamic and evolving control information that can be used in a variety musical ways.
Filter Envelope Output- The shape of your Filter Envelope is outputted as a control voltage. When connected to other analog devices, an envelope yields dynamic and evolving control information that can be used in a variety musical ways.
Video description: Just having fun with the Prophet 08, Moog Little Phatty and Reaktor Neewscool. All recorded in HDV to provide the image and sound quality that this demo deserves.
About the Newscool: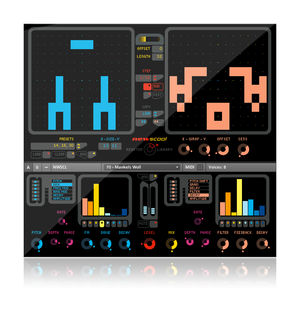 Newscool is a REAKTOR classic. The sound engine consists of a tone generator and a multi-effects unit. The innovative sequencer is based on the Life model developed by John Conway in the 1970s.
A two-dimensional pattern is processed in steps: An element of the pattern becomes alive in the following step if at least three of its eight neighbors are alive in the current step.
Background video description:
This may appear that isn't an improvisation, but it is. The thing is that after hours playing with both, I was inspired!

Sub Phatty
Little Phatty
EHX Cathedral
Focusrite Scarlett 2i2
This is a keyboard cover of Tron Legacy's original soundtrack by Daft Punk. Everything was played and recorded with the Moog Little Phatty Stage II.
"The SYNTHWAY address is for my brazilian blog… only in portuguese. :)The first part was a bit difficult to sync with the video, but I guess you can imagine that! I played the thing 2 times in a row while recording the MIDI file (with a little bit of quantize to keep the thing like an arpeggio).The knob tweaking part is showing a nice feature of the Little Phatty, named Pot Map. I'm changing 3 parameters of the filter in realtime… the modulation knob (not seen) is for the EG Amount, oscillator knob for resonance and the filter knob for cutoff.Third part, playing the melody while changing the OSC2 pitch, to get that nice OSC Sync effect. Nothing really special… added a very smooth delay in that lead, from EHX Deluxe Memory Boy.Fourth part, playing the melody in a different way, while using the modulation wheel for controlling filter cutoff, getting that nice wah-wah sound. This part is using the internal LP arpeggio for playing the high-pitched pattern. A little touch of delay in both synth lines.Didn't record it in video, but the deep bass and drum sounds were made with the LP. Everything was recorded thru Scarlett 2i2 in Logic Pro 9.I hope you enjoy!"
Back in 2011 Mutemath stepped into the Moog factory to record a Moog Sound Lab Session, here they transform "Blood Pressure" from their 2011 LP "Odd Soul".
For those of you curious about the instrumentation:
"Blood Pressure" fades in with Darren playing pulsing bass lines in the verse and higher etherial notes on Animoog, being controlled by a Minimoog Voyager.
Paul sings and plays a Little Phatty Stage II, holding out elongated single lines while opening and closing the Filter Cutoff knob with the Resonance set high.
Roy uses his Minimoog Voyager Select Series for low rumbling bass to hold the foundation.
Darren plays the Trap-Kat, triggering 3 Minimoog Voyager Rack Mounts through an MF-104Z Analog Delay for rhythmic echo.
See more of the Moog Sound Lab series at: http://www.moogmusic.com/sight-and-so…
and be sure to check out more of Mutemath at: http://mutemath.com/