No external effects! Recorded with Ableton Live
"Hello my name is Solvent and I enjoy making spontaneous aggro eurorack jams like this. This was all sequenced with an MFB Urzwerg, with 3 channels of CV going into the Modcan: Mix CV, Filter CV, and the key to what you are hearing here, the Delay CV.
Other modules used: Flight Of Harmony IMP, Intellijel Dual ADSR + uVCA, Frequency Central Vogue VCF, Blue Lantern Asteroid BD, hexinverter.net batteryACID (I Dream Of Wires edition)"
Brief write up on Solvent: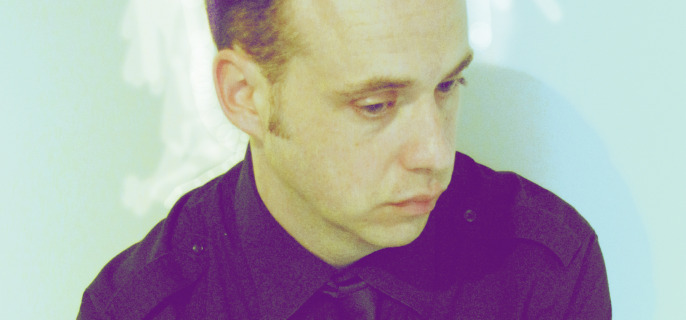 For over a decade, Jason Amm's work as Solvent has neatly defied categorization. His music is too sweetly melodic for techno or acid, his compositions too fiendishly detailed for synth-pop. He was too steeped in the sounds of the '80s to participate in the incipient IDM scene; he was briefly lumped in with the short-lived electroclash movement, only to outlive it; he's played "minimal wave" parties and goth clubs, indie-rock shows and techno all-nighters. But even as words fail in the face of Solvent's music, its pleasures are anything but elusive.
Today, Zimbabwe-born Jason Amm lives in Toronto, ON, where he spends his time obsessively grappling with an outsized collection of vintage analog synthesizers, samplers, and sequencers. Solvent first materialized in 1997 with a string of singles and full-lengths (1998's Solvent, 1999's Solvently One Listens) on Amm's own Suction Records, the Toronto-based
label he founded with Lowfish's Gregory DeRocher. The watershed release Solvent City (2001) on Berlin-based Morr Music introduced Amm's sound to a wider audience, and Apples & Synthesizers (2004) marked Solvent's move to Ghostly International. Along with notable remixes of artists including Soft Cell, Alter Ego, and Adult., Solvent tracks have appeared on high-profile DJ mixes and seminal compilations.
Solvent's most recent record on Ghostly International, 2010?s Subject to Shift, marks a turn for the darker as Amm embraces his love of the abrasive sounds of acid and industrial. And while a sinister tone or two now dances among Solvent's sparkling hooks and bright streaks of synthesizer, and while Amm's music drifts even further from accepted genre-specific reference points, Solvent's sound has only deepened. After more than ten years of composing love songs for robots, Amm sounds like nothing more than himself. (via Ghostly)
Background video description:
Just acquired the Tanzbar! Here it is in action controlling the PMF with the CV/GATE outs from Tanzbar to PMF.
Pure Analog sequence & sound, CV 1 and Gate 1 from the Urzwerg controls the VCOs of the Micro Zwerg. LFO 2′s frequency is modulated by CV3 and later GATE3 from the Microzwerg. Headphones are recommended ;).
Controlled by MFB Urzwerg CV/Gate step-sequencer. At 3.30 Ableton live's ping pong delay is added.
This time the only drum sound from the Tanzbär (which is mainly used as a CV sequencer) is the fantastic BD2, a 808 style bass drum. The other drum sounds are generated by the small modular system Tinysizer & the Mikrozwerg. Both synths are patched into each other. At the second half of the recording I am using LFO tool by Xfer Records to filter the VCO 2 of the Tinysizer.
Tenori-on MIDI sync to the MFB desktop Filter and the Urzwerg Pro sequencer.
Tenori "drums" are through the MFB Filter & it is sequencing:
1) Moog Minitaur
2) Cwejman S1
3) Moog Slim Phatty
4) Prophet 08
Then the Urzwerg Pro seq. the Polivoks.
No effects were added, but Lots Of EQ!!
MFB Kult, a sample based drumcomputer that collect many samples of famous drummachines from the 80′s
In MFB's own words about the machine:
On the occasion of MFB's 25th anniversary, we are proud to announce something special. Since 1979 four rhythm machines were developed and produced: MFB-301, MFB-501, MFB-512 and MFB-612. In Germany these devices are very popular, since the inexpensive machines contained interesting rhythms for rock musicians. MFB digitized some of these sounds, and a multiple sounds of other far common rhythm machines. All these samples are packed into the memory of the MFB-KULT. The 192 sounds are divided in 16 sets, whereby each set contains 12 sounds. Since not every each rhythm machine had 12 sounds, a set consists of sounds of up to three rhythm machines. On a keyboard each set has one octave, so that a 4 octave keyboard or each MIDI channel has four sound sets.
Sounds from following drummachines and devices are available: Boss 55, Casio PT-68, Casio VL-1, CR-78, CR-8000, Drumtracks, Drumulator, El. Harmonix, Hohner, Korg DDD1, Korg-220, KPR-77, Linn 1, MFB-401, MFB-501, MFB-512, MFB-612, Pearl SC-40, Rhythm Ace, Simmons Clap, Simmons SDS, TR-606, TR-727, TR-808, TR-909 and Vermona.
With each sound the volume and the panorama can be programmed. Beyond that the Attack time and the release time can be programmed for each sound. Since the sounds cannot be longer than the original sample, with longer release the compression is increased. The sounds can be played naturally also individually over the tracer. The sound can be stopped with an automatic controller .
Additionally an integrated Sequencer is available, which can play some rhythms of the MFB-501. The speed is adjustable. The MFB-KULT has an stereo output. Additionally there is the MIDI IN. As current supply a plug power pack is provided.
In this video:
Elektron Analog Four Demo
Sounds = Analog Four
Beats = MFB Tanzbär
MFB Tanzbär – Dancing Bear (GER), Analog Modular System Tinysizer (GER), moogerfooger MF-104M analog delay (USA), Korg Monotribe (JAP).
Sequenced and recorded with Ableton Live, a bit of reverb added to Monotribe but no other additional effects.