April 4, 2014 · Posted in
Uncategorized
·
Comments Off

on Solvent "King Vincent" (IDOW soundtrack – official video)
Solvent "King Vincent"
Official video, by Hard Science.
hardscience.ca
"King Vincent" is taken from Solvent's "New Ways: music from the documentary I Dream Of Wires)" album, released Feb 11 2014, via Suction Records – suction026.
suctionrecords.com
CD/Digital and Deluxe Vinyl (2×12″ LP + 7″) avail to order via:
sciencewithsynthesizers.com/solvent-neww­ays
I Dream Of Wires
idreamofwires.org
February 5, 2014 · Posted in
Uncategorized
·
Comments Off

on I Dream of Wires – Solvent
The soundtrack for the modular synth documentary I Dream Of Wires (IDOW) is featured on NPR.
The IDOW soundtrack is by Jason Amm, aka Solvent, and features lots of vintage and modern modular synthesizers. The music video, above, is for Amm's Burn The Tables, from the IDOW soundtrack New Ways.
For the music video, director Jennifer Stratford took footage from I Dream of Wires and mixed the signal into a LZX Video Synthesizer and a Fairlight CVI, the vintage machine responsible for some of the effects seen in the first MTV videos.
November 25, 2013 · Posted in
Uncategorized
·
Comments Off

on Electronic music artist Solvent on a Eurorack jam w/Modcan Dual Delay
"Hello my name is Solvent and I enjoy making spontaneous aggro eurorack jams like this. This was all sequenced with an MFB Urzwerg, with 3 channels of CV going into the Modcan: Mix CV, Filter CV, and the key to what you are hearing here, the Delay CV.
Other modules used: Flight Of Harmony IMP, Intellijel Dual ADSR + uVCA, Frequency Central Vogue VCF, Blue Lantern Asteroid BD, hexinverter.net batteryACID (I Dream Of Wires edition)"
Brief write up on Solvent: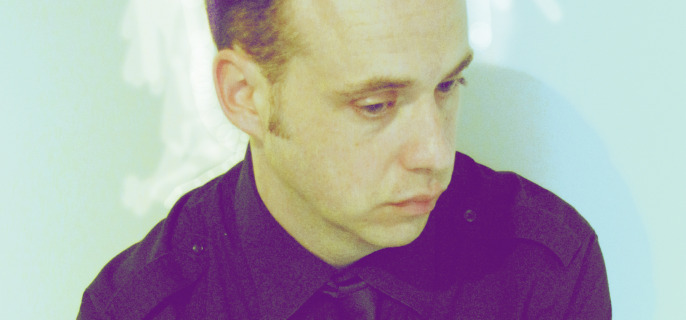 For over a decade, Jason Amm's work as Solvent has neatly defied categorization. His music is too sweetly melodic for techno or acid, his compositions too fiendishly detailed for synth-pop. He was too steeped in the sounds of the '80s to participate in the incipient IDM scene; he was briefly lumped in with the short-lived electroclash movement, only to outlive it; he's played "minimal wave" parties and goth clubs, indie-rock shows and techno all-nighters. But even as words fail in the face of Solvent's music, its pleasures are anything but elusive.
Today, Zimbabwe-born Jason Amm lives in Toronto, ON, where he spends his time obsessively grappling with an outsized collection of vintage analog synthesizers, samplers, and sequencers. Solvent first materialized in 1997 with a string of singles and full-lengths (1998's Solvent, 1999's Solvently One Listens) on Amm's own Suction Records, the Toronto-based
label he founded with Lowfish's Gregory DeRocher. The watershed release Solvent City (2001) on Berlin-based Morr Music introduced Amm's sound to a wider audience, and Apples & Synthesizers (2004) marked Solvent's move to Ghostly International. Along with notable remixes of artists including Soft Cell, Alter Ego, and Adult., Solvent tracks have appeared on high-profile DJ mixes and seminal compilations.
Solvent's most recent record on Ghostly International, 2010?s Subject to Shift, marks a turn for the darker as Amm embraces his love of the abrasive sounds of acid and industrial. And while a sinister tone or two now dances among Solvent's sparkling hooks and bright streaks of synthesizer, and while Amm's music drifts even further from accepted genre-specific reference points, Solvent's sound has only deepened. After more than ten years of composing love songs for robots, Amm sounds like nothing more than himself. (via Ghostly)
February 20, 2013 · Posted in
Uncategorized
·
Comments Off

on Interview with the 'I Dream of Wires' producer Jason Amm
POEM's Thomas Janak talked to "I dream of wires" producer Jason Amm about the documentary and the work it entailed, future plans such as the announced shorter theatrical version and more but the conversation also touched on the modular synths themeselves, what they do to people, why they are still popular and why the resurgence of using modular systems is at an all time high. Note: The 4 hour hardcore version of the documentary is only available for a very short time and you should get your copy NOW! www.idreamofwires.org
"I dream of wires" – a 4 hour documentary about Modular Synths by Poem on Mixcloud
August 8, 2012 · Posted in
Uncategorized
·
Comments Off

on Synth artist Solvent meets the Make Noise Phonogene
Here's what Solvent has to say about the video:
Hi my name is Solvent and I make electronic music. Here is a rather indulgent video of my first experiment with the Make Noise Phonogene module. Actually, indulgent as this may be, I liked this enough to press record. I used a square wave LFO to chop the splices evenly, and the SH-101 krbrd is choosing the splices via the "Organize" Cv-in. End-of-splice ("EOS") triggers a TipTipAudio BD808 kick drum, running through the Doepfer A-189-1 Bit Modifier. Phonogene loop is processed through a Pittsburgh Modular Filter + Midiverb reverb. The source of the sample was some lame YouTube film trailer about space.
August 8, 2012 · Posted in
Uncategorized
·
Comments Off

on Gear and synth pictures form Vince Clarke's studio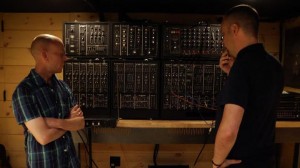 The I Dream of Wires crew checkod out Vince Clarke's new Brooklyn studio in July 2012. Above: Vince Clarke and Jason Amm (Solvent) contemplate The Roland System 700…check out the huge sequencer!
Vintage Emu Modular on the left and ARP 2500 in the background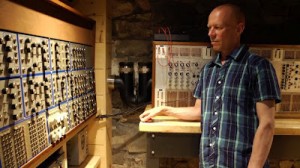 Oberheim SEM wall, OB-1, Xpander, Sequential Circuits Prophet-5 & more in the background.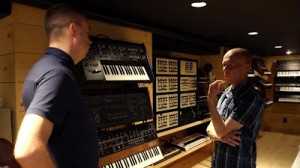 Remaining pictures can be found here >>
July 30, 2012 · Posted in
Uncategorized
·
Comments Off

on Solvent's digital/analog modular synth jam
Synth maestro Solvent has uploaded this nice Eurorack synth jam, here's what he has to say about it:
Hello my name is Solvent and I make electronic music. It's been a long while since I posted a new video, so…
Here is a little jam with my Eurorack modular. I've got digital sources being processed by analog (Modcan FMVDO digital oscillator into Pittsburgh Modular Filter vcf), and analog sources being processed by digital, then back through analog (Tip Top Audio BD808 + SD808 analog drum modules into Doepfer 189-1 Bit Modifier, then into a Harvestman Polivoks VCF filter). The FM bassline occasionally has some delay on it, from the Flight of Harmony Sound of Shadows digital delay module, which has the Intellijel Dr Octacture vcf patched into it's feedback loop. The whole thing is sequenced by Make Noise modules – a MATHS + Brains/Pressure Points combo.
July 14, 2012 · Posted in
Uncategorized
·
Comments Off

on Modular jam by Solvent
Fat sounding sequence from Modcan OSC and Pittsbourgh Filter, there are more modules involved in here like TipTop 808 and bit modifier from doepfer to from the snare I guess – and there's a delay on it. – the sequencer is a Make Noise Brains with Pressure Points and Maths.
May 24, 2012 · Posted in
Uncategorized
·
Comments Off

on Solvent – Modular Encounters
Canadian electronic artist Solvent was commissioned to create an all-modular synthesizer based soundtrack for the forthcoming documentary I Dream of Wires; The challenge allowed him the opportunity to work with a vast array of modular synthesizers, both new and vintage.
Solvent, born Jason Amm in Zimbabwe, and currently residing in Toronto, Canada, has been releasing his unique brand of analogue synthesizer music since 1997, encompassing crunchy IDM, melodic electro, and vocoder synthpop. Best known for his releases on Morr Music and Ghostly International, Solvent is also co-founder of the obscure, yet influential electro(nica) label, Suction Records. All of the music heard in this video segment was created by Solvent during several on-camera album recording sessions. No drum machines, samples, or hardwired synthesizers were used; each and every sound was created from scratch on the following selection of modular synthesizer systems: Eurorack, Modcan, Synthesizers.com, and Moog 15.
In addition to creating the film's soundtrack, Amm has recently been serving as writer and producer for "I Dream Of Wires".
Solvent was scheduled to perform live on June 2nd, 10pm at the Satosphere as part of I Dream Of Wires' 2012 MUTEK showcase, but unfortunately his performance at the event has been cancelled.
For more info on Solvent:
solventcity.com
facebook.com/solvent
soundcloud.com/solvent
I DREAM OF WIRES is a forthcoming documentary film about the history and resurgence of modular synthesizers. The film is currently in production. This is the 6th in a series of extended interviews, which will be produced and released in various formats throughout the production, and following the release, of the film. I DREAM OF WIRES extended interview segments are sponsored by MATRIXSYNTH (m.matrixsynth.com).
Catch I DREAM OF WIRES' showcase at Mutek Montreal 2012: Saturday June 2 @ Satosphere, with live performances, all incorporating modular synthesizers, by Sealey/Greenspan/Lanza (Orphx/Junior Boys), Keith Fullerton Whitman (Kranky/Editions Mego), Clark (Warp Records), and Container (Spectrum Spools).
For info on the film: facebook.com/idreamofwiresdocumentary
May 2, 2012 · Posted in
Uncategorized
·
Comments Off

on Solvent in the studio
Veteran Canadian producer and hardware lover, Solvent, gave StudioFeed an inside look at his Bloor-West home studio set-up, as well as discussed everything from why he makes music to the story behind his recent RDJ-CS5 EP. Jason touched on many topics involving music in this lengthy interview, including what it's like to have a fifteen-year career and to still be considered a "relatively obscure" musician. In addition to making music, Solvent is also involved in a documentary on modular synthesizers called "I Dream of Wires" that is expected to be released later in 2012.
Dowload StudioFeed's whole interview with Jason from our Soundcloud player (35 mins):
soundcloud.com/studiofeed/studiofeed-interview-solvent
for more info:
solventcity.com
solvent.bandcamp.com