An electronic music piece representing the mindset of a humanoid on the way home from work. This is live performance / improvisation with sequencers. No computer involved.
This is also a prelude to "Are We There?" – his journey back to work.
Equipment:
Music From Outer Space 16-step sequencer
Doepfer MAQ 16/3 sequencer
Club of the Knobs C951 Arpeggiator
Club of the Knobs C1680 Analog Delay
Happy Nerding Super Sawtor
Kristp 1 S-VCO
Dotcom Q106 Oscillator
Dotcom Q109 Envelope Generator
Dotcom Q108 Amplifier
Dotcom Q112 4 Channel Mixer
Dotcom Q118 Instrument Interface
Korg EMX-1 Drum Machine
The ARP 1601 sequencer controls VCO pitch
The Doepfer Dark Time modulates the ARP's filter
The Doepfer Dark Energy provides some LFO action.
All sounds are live, unprocessed and from the ARP only.
A patch & setup pic can be viewed here:
http://djjondent.blogspot.com.au/2014…
The music has been made using a Moog Slim Phatty and an analog modular system including an A-115 and an Echophon.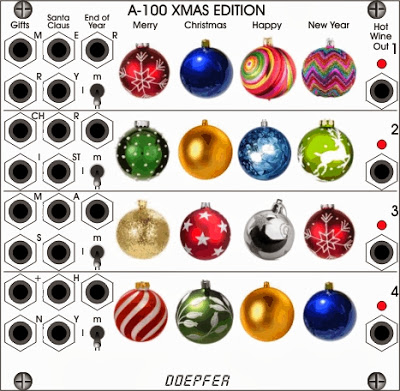 "Season's greetings and best wishes for the New Year to all our customers and business partners !" – Doepfer
BRUNO ENDER LEE – "Klangspiel" – performed live, December 7. 2013
Korg MS-20 Mini (sequence with Doepfer MAQ 16/3), MiniMoog Voyager OS, Roland Juno-106, Synthesizers.com Studio-88, Analogue Solutions Vostok, Korg MS2000
A multi-part segment of improvised patching. "The Intermission Patch" is aptly named due to it acting as an intermission during the regularly scheduled Doepfer A144 series. Stay tuned for a completed version later this month. For now some patching. Sound and Video by Raul Pena.
This is a demo of the Boomstar 4075 (ARP 2600 filter) being sequenced by a Doepfer Dark Time. Because of the nature of the demonstration, it could get a little boring during some sections. Pay attention to the subtle changes and you will be impressed. Stay tuned through the whole video to see how much range the Boomstars can cover. This is only a short segment as well, these synths are capable of much more. This is a Perfect Circuit Audio favorite of 2013!
Look out for another Boomstar demo coming soon, this time played by a MIDI controller.
Another shot of Brian Fedirko's Moog and Doepfer setup at the studio.
Paper circuit controlling a Doepfer A-152 sequencer, details below:
Hello ! My name is Frederic Gerchambeau. I have made this movie and this music. The music has been made using a Doepfer analog modular system including an A-152. Enjoy !
I am a (proud !) member of the french association PWM (Patch Work Music) :
http://patch-work-music.blogspot.com/
The Groovesizer (http://groovesizer.com) with Alpha firmware is a DIY 32-step sequencer and synth. In this video, it's controlling a Doepfer Dark Energy via MIDI. The video shows off the random pattern generation of the Groovesizer Alpha (major, minor, pentatonic, chromatic).
The Groovesizer (pronounced groove-a-sizer) is a DIY 8-bit audio platform. It's a musical chameleon that can take on a number of different roles from sequencer to synth, drum machine, or midi controller. Exactly what the Groovesizer is at a given moment depends on the firmware it's running. Existing firmware can be freely hacked, or new firmware developed using the beginner friendly Arduino IDE. Firmware is loaded to the board directly from the Arduino IDE, either via an AVR ISP programmer, or by flashing the Atmega chip on an Arduino board and swapping it out.
The Groovesizer is based around a custom PCB that features 6 potentiometers and  5 rows of 8 tactile switches and leds  (4 rows for the sequencer / trigger buttons and 1 row dedicated to control functions). It features an integrated Arduino clone, an 8-bit DAC option, an LM386 amp output, MIDI in/out/sync and is configurable to work with some of the most popular existing Arduino audio projects.
Furthest along in its development is the Alpha firmware which features a 3 oscillator monosynth attached to a 32-step sequencer with 112 memory locations to store patches and patterns.