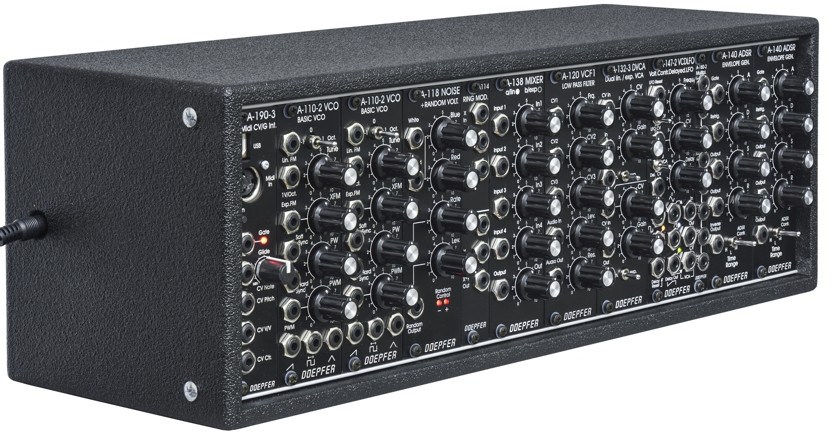 Eurorack modular creator Doepfer will be introducing 'Vintage Versions' of their A-100 modular synth line and they will also introduce several new modules.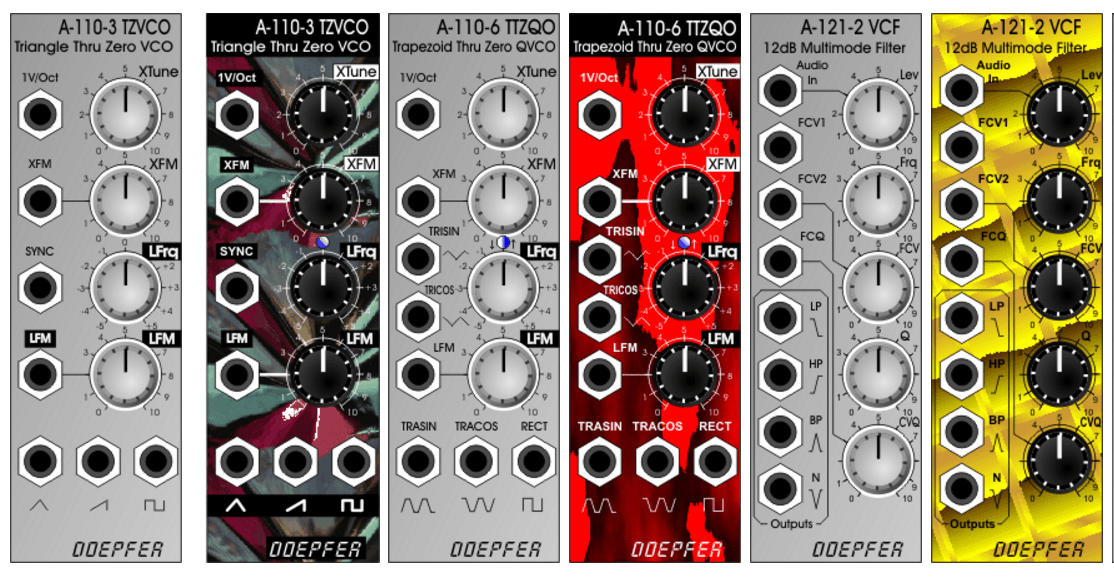 A-110-3 is a Thru Zero VCO with triangle core. The term "Thru-Zero" means that even "negative" frequencies are generated. But this a bit a misleading term as negative frequencies do not really exist. "Negative" means in this connection simply that the triangle wave will stop when the linear control voltage reaches 0V and continue with the opposite direction as the linear control voltage becomes negative and vice versa.
A-110-4 is a Trapezoid Thru Zero Quadrature VCO. The module is based on an idea by Donald Tillman from 2003 but has been revised for the use of modern electronic circuits (no OTAs/CA3280). Because of it's unique trapezoid core it's totally different compared to other VCOs. But the trapezoid core is not the only specialty: it is also a quadrature VCO and features linear thru zero frequency modulation.
Module A-121 is a voltage-controlled multi-mode filter with a cut-off slope of -12 dB / octave. Four simultaneous outputs are available, each with different characteristics: low-pass, band-pass, high-pass and notch (or band reject). The cut-off frequency determines the point at which the respective filter effects appear. The frequency can be adjusted manually, or by voltage control (Filter modulation, for instance by an LFO or ADSR). Two CV inputs are available, whose control voltages are summed. Resonance (Emphasis or Q ) can be adjusted manually, or by voltage control, right up to self-oscillation, in which case it will behave like a sine wave oscillator.
Module A-168-1 is a pulsewidth modulation generator (PWM Module). It derives a rectangle signal with adjustable pulsewidth from an external triangle, sawtooth or sine wave. The external signal can be an LFO, VCO or any other signal with falling/rising slopes (e.g. ADSR). In addition the pulsewidth can be modulated by a CV signal (e.g. LFO or ADSR). The typical application is the generation of a rectangle signal with PWM from VCOs or LFOs which do not yet have this feature (e.g. A-110-4, A-145, A-147-2, A-143-4, A-143-9).
Note: The colorful alternate faceplates are only a design study, made with a self adhesive foil printed by a color laser printer. There are no plans to offer these versions of the modules commercially. But Doepfer plans to offer the panel designs as downloadable designs that owners can print. Doepfer has also previously introduced colorful knob options.
Sequential Session with Koma Elektronik Komplex Sequencer, Doepfer Dark Energy, Elektron Analog Four, Moog Slim Phatty, Moog Little Phatty, and Waldorf Blofeld.
A short overview and demonstration of the A-111-1 and Pulse width modulation. Sound and Video by Raul Pena.
Jam Session with Doepfer A-100, Roland Aira, Elektron Octatrack, Analog Rytm, Korg Kaoss Pad
Audio: http://soundcloud.com/zeropage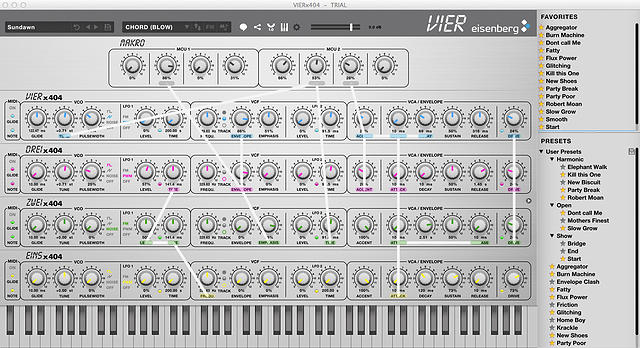 A new emulation of the venerable Doepfer MS-404 – the vibe of classic hardware with all the features of modern software

Eisenberg Audio, a German audio software developer, has released a new software synthesizer VIER. VIER, which means 'four' in German, emulates the Doepfer MS-404, a famous monophonic analogue synthesizer from the 1990s. Today, the now vintage MS-404 is not only known to synthesizer insiders, but enjoys a large fan base of musicians.

The Doepfer MS-404 was a single rack device, and VIER combines four independent rack modules in one seamless interface. VIER uses modern technologies for its synthesis engine, such as anti-aliasing oscillators, which are capable of audio range modulation and zero-delay feedback filters best known from synthesizers like LuSH, Monark or Diva.

VIER offers a wide range of options for parameter linking and cross modulation as well as intelligent voice management. Thus, VIER is much more than an emulation of a vintage synthesizer, and much more than the sum of four parts.

The parameter linking allows the building of groups, which can be manipulated and modulated by macro parameters together, offering fast access to the most important sound properties, and operates the four modules as one unit. VIER also contains a broad variety of factory presets that may be loaded, adjusted, saved, or marked as favorites. Additionally, users may create, save and load their own presets.

The intelligent voice management offers different creative modes, in which each note of a chord can be assigned to the four different modules and operated with unlimited polyphony. The results are truly unique and inspiring.

VIER runs stand-alone on Windows and Mac OS X or as plugin via VST, AU, RTAS and AAX

Availability & Pricing
VIER is available now at www.eisenberg-audio.de/vier for regular $99.00 (EUR 99.00).
Until September 30, 2014, VIER is available for an introductory price of $69.00 (EUR 69.00)
A free trial version is available at http://eisenberg-audio.de/downloads/vier
For more information, please visit www.eisenberg-audio.de/vier
Sonic caught up with Herr Doepfer at Musik Messe in the Spring
If you've had any exposure to modular synthesizers, chances are you'll have seen some Doepfer modules.Dieter Doepfer sarted to build right from studying physics, with a phaser module for the Formant Synthesizer then the single voice MS-404. , Thanks to him, the Eurorack module format has become a standard – adapted from the scientific rack testing system tweaked to work for synthesis. He doesn't want to take much credit, but in reality, a better power system, internal CV and Gate bussing, plus a lower cost ribbon connector system required some innovation and in my opinion has had a major impact in the proliferation of modular synthesizers in recent years.

Currently in the Doepfer range there are 171 modules
Dieter Doepfer introduces his new modules at Musikmesse 2014
Doepfer A-190-4 USB/Midi-to-CV/Gate/Clock Interface
Doepfer A-127 is a Breakout module for triple VCF
Doepfer A-101-6 is a six stage Opto-FET VCF A-101-6
and spoke about the new trigger sequencer
An electronic music piece representing the mindset of a humanoid on the way home from work. This is live performance / improvisation with sequencers. No computer involved.
This is also a prelude to "Are We There?" – his journey back to work.
Equipment:
Music From Outer Space 16-step sequencer
Doepfer MAQ 16/3 sequencer
Club of the Knobs C951 Arpeggiator
Club of the Knobs C1680 Analog Delay
Happy Nerding Super Sawtor
Kristp 1 S-VCO
Dotcom Q106 Oscillator
Dotcom Q109 Envelope Generator
Dotcom Q108 Amplifier
Dotcom Q112 4 Channel Mixer
Dotcom Q118 Instrument Interface
Korg EMX-1 Drum Machine
The ARP 1601 sequencer controls VCO pitch
The Doepfer Dark Time modulates the ARP's filter
The Doepfer Dark Energy provides some LFO action.
All sounds are live, unprocessed and from the ARP only.
A patch & setup pic can be viewed here:
http://djjondent.blogspot.com.au/2014…
The music has been made using a Moog Slim Phatty and an analog modular system including an A-115 and an Echophon.