Dave Smith & Analog four "Analog Home"
Just a programmed sequence with the Tempest master (home)CLOCK. The Poly Evolver, Mopho X4 are following. Slim Phatty doing some ambient leads.
Enjoy and dutch Grtz from the Netherlands !
AfroDJMac has made some Ableton Live instruments by running samples of a Shruthi through a Moog Slim Phatty. They are available for free on his site!
Shruthi Buzzer: http://bit.ly/freesynth82
Shruthi Hover: coming soon
Shruthi Bass: coming soon
Visit his site for more stuff like this, including Live Instrument downloads, tutorials and music! http://www.afrodjmac.com
Live session in Arjen Schat's living room with Elektron Analog Four, Moog Slim Phatty + CP-251 and Waldorf Blofeld.
Elektron Analog Four and Octatrack
Jake Widgeon from Moog Music demonstrates the Moog Slim Phatty analog synthesizer at Kraft Music.
Jake Widgeon from Moog Music demonstrates the Moog Minimoog Voyager Rack Mount Edition analog synthesizer at Kraft Music.
Jake Widgeon from Moog Music demonstrates the Moog Little Phatty analog synthesizer at Kraft Music.
Enjoy
Going behind the scenes of the Moog factory to look at the Moog Slim Phatty, the Moog Little Phatty, and the Moog Guitar.
Elektron tapes (#9). Beat making and noise design inspired by Aphex Twin, Autechre, Pan Sonic & Venetian Snares productions — using Elektron Octatrack, Moog Slim Phatty and Glamour Box.
Performed by sound artist & noise designer Zviij © 2012.
* Booking : zviij AT zviij.com
• Discography:
- Zviij "Quadrifolium" (Album/Digital) http://zviij.bandcamp.com/album/quadrifolium (Bandcamp)
- Zviij "Sub-system design" (Album/CD) http://www.odiolorgnette.com/discography.html
- Zviij "Naked flowers" (Album/Digital) http://zviij.bandcamp.com/album/naked-flowers (Bandcamp)
Zviij — (born Franck Smith) is a French sound artist, noise designer and electronic musician, active as a soloist, living and working in Brussels.
Background details:
Hello ! My name is Frederic Gerchambeau. I have made this movie and this music. The music has been made in one take using a Moog Slim Phatty, a CP-251, an MF-101, an MF-102, two MF-107, Plogue Bidule and Audacity. Enjoy !
http://www.myspace.com/fredericgerchambeau
Ira Wolf Tuton of Yeasayer produced some rich bass tones and melodic arpeggiation from the Slim Phatty using his MIDI Bass.
Learn more about the Slim Phatty at:
http://www.moogmusic.com/slimphatty
"Just messing around with a MFB-522, Moog Slim Phatty, Jomox Mbrane 11, Electro Harmonix Clap Track and Boss DM-100 delay."
MFB-522 is a drum computer with a fully analogue sound engine that offers plenty of editing capabilities. It includes a step-sequencer with popular TR-style running-light-programming. Memory locations are available for 72 patterns as well as for 8 songs.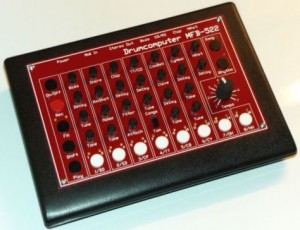 The step-sequencer allows programming of 72 basic patterns plus 72 fill-ins. The latter being associated to the basic pattern memory location, resulting in a two-bar-pattern when using the fill-in. Patterns can be combined to eight songs that each hold a user-definable sequence of up to 64 patterns. In addition to the instruments, a global accent-track is available. When set, the corresponding step will be played with a higher or lower volume-setting in comparison to the standard level. The MFB-522's sequencer offers three different steps of shuffling. A stereo output will carry all instruments minus those where individual outputs are in use (bass drum, snare drum/rimshot, claps and Hihat). Using the MIDI-In, drum-sounds can be played with a keyboard or external sequencer. Here, the sound sources act velocity sensitive. Finally, MFB-522 can be synchronized to incoming MIDI-clock.
I guess this quote says it all

"WOOW some awesome sounds!"