This is just a comparison between the Minimoog Model D and the Voyager's different waveforms.
>> "I realize after making this that one can't really compare one synth's saw to another's square."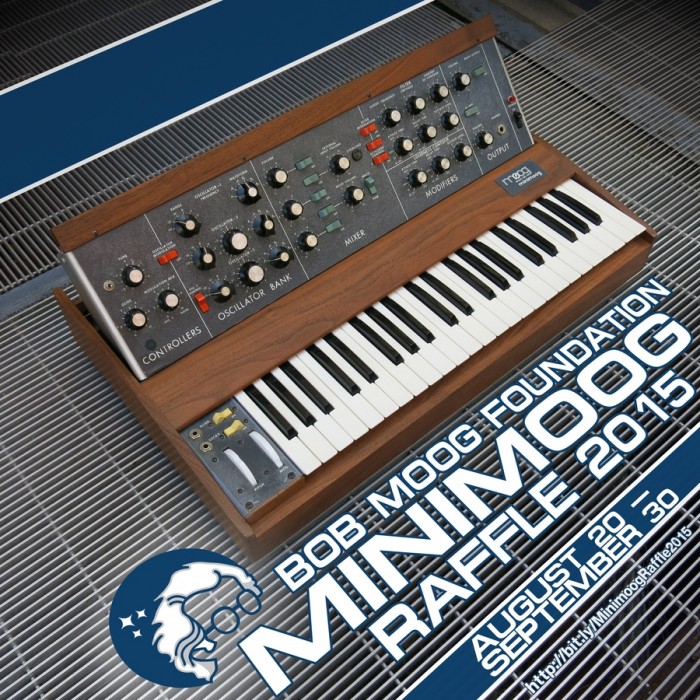 The Bob Moog Foundation has launched a raffle for a much sought after vintage Minimoog synthesizer.
Proceeds from the raffle will benefit the Foundation's educational and historical preservation projects. Tickets to enter the raffle are $20 each, or 6 for $100 and can be purchased through the Foundation's website: http://bit.ly/MinimoogRaffle2015. The raffle, which is open internationally, closes at midnight on September 30, 2015. Only 2,000 tickets will be sold.

The Minimoog Model D being offered, serial number 2120, was built at Moog Music's Williamsville, NY factory in the early 1970s. It is in excellent technical and physical condition and has been serviced by a technician with expertise in Minimoogs. The instrument has been modified, although the modifications have been disabled to preserve and maintain the integrity of the instrument.

The Minimoog Model D is widely regarded as the most iconic synthesizer of all time, and was so recognized in an international voters' poll by SonicState.com. When released in 1970, it represented a musical and technological revolution due to its combination of portability, affordability, accessible user interface, and innovative sounds and functions. Its robust construction has allowed the instrument to withstand the test of time. Minimoog Model Ds are coveted by synthesizer enthusiasts and regularly sell on eBay for $4,000-$7,000.
The raffle closes at midnight on September 30th, 2015.
Comparing the sounds of the new Korg ARP Odyssey with a MiniMoog Model D (circa 1974). Plus the Hammond M-100 gets in on the action.
Of course there will be snippets of your favorite prog rock tunes (poorly played I might add), because PROG ROCK WILL NEVER DIE!!!
Thanks to Andrew Amado for the synths & the editing.
http://stjamestheapostles.bandcamp.com
http://wizardhat.bandcamp.com
Bob Moog explaining the aspects of the analog synthesizer by using the analog board of the Minimoog Voyager
Vintage synthesizer sound tutorial series featuring the Minimoog
supported by UVI: http://bit.ly/retrosound-uvi
The infamous lead sound in Pink Floyd`s "Welcome To The Machine" made with the Moog Minimoog Analog Synthesizer (1975)
album: Wish You Were Here
Minimoog Demo Part 3. First using the Minimoog as a beatbox. Then classic Minimoog Sounds. I always love this Synth. Using Lexicon Lxp-1 (reverb) and Kurzweil Mangler (Stereo Delay). My Computer was turned OFF.


at 2:30 Bass Synth
at 3:16 Harmony and Solo
at 9:40 Bass with Ext.Input (Minimoog self)
Alesis Andromeda A6 + EHX Small Stone + Deluxe Memory Boy + Cathedral Stereo Reverb
Moog Taurus III
Roland SH 01 GAIA
Roland Juno Di
Moog Minimoog Voyager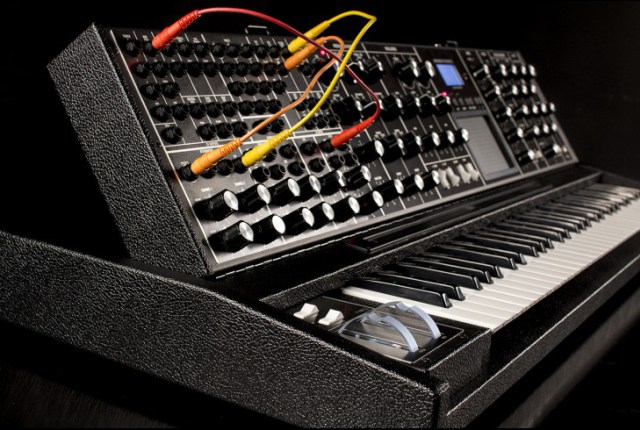 Moog's new Tolex Minimoog Voyager XL – a limited production run (100 pieces) version of the Minimoog Voyager XL, in honor of the 50th anniversary of the Moog modular synthesizer.
The Minimoog Voyager XL is designed to combined the immediate playability of a Minimoog with the flexible synthesis options of a traditional modular synthesizer.
With the Tolex Minimoog Voyager XL, the wood cabinet has been hand-wrapped in black tolex, just as the Model 15 modular synthesizer, and the chassis has been updated to parallel that of the original Moog modular synthesizers.
Features:
61-Note Velocity Sensitive Keyboard with After-Pressure
Ribbon Controller with Pitch and Gate CV Outputs
Touch Surface Controller with X, Y, A and Gate Outputs
External Audio Input
Effects Loop Insert
2 Active Attenuators
4-Input CV Mixer
Lag Processor
Additional LFO Source with Multiple MIDI-Syncable Waveforms
3 Four-Way Mults
20 Control Voltage Outputs
3 Gate Outputs
10 Control Voltage Inputs
4 Gate Inputs
2 Modulation Busses
Solid Maple Cabinet
Tilting Control Panel
The Tolex Minimoog Voyager XL is available now, priced at US $5,500.
Shadowgate Ending musical theme on a modified Minimoog Model D with OSC sync, env. re-trigger and VCO3 Reset.

Polyphony was made with a VST called Notelogic
Life Force Stage 1 musical theme on a modified Minimoog Model D with OSC sync, env. re-trigger and VCO3 Reset.

If you have any questions, leave me a message
Double Dragon – Stage 1 – Nintendo Musical Theme – Roland Jupiter 4
Minimoog Voager
Moog Little Phatty
DSI Prophet 08
DSI Evolver
Novation Bass Station 2
Roland Alpha Juno 2
Lexicon MX 300
TC Electronic M 300
EHX Small Stone
Digitech Digidelay