Moog's new Tolex Minimoog Voyager XL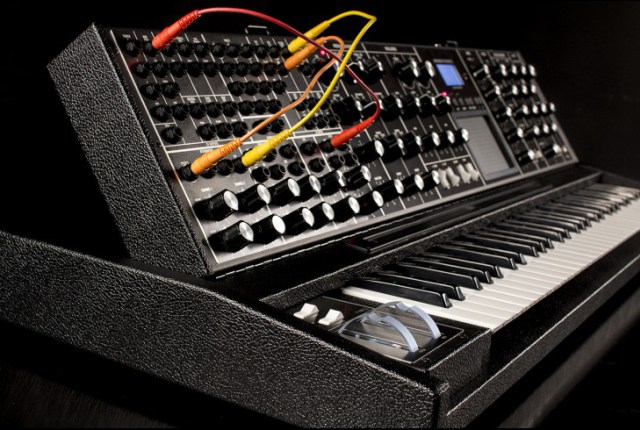 Moog's new Tolex Minimoog Voyager XL – a limited production run (100 pieces) version of the Minimoog Voyager XL, in honor of the 50th anniversary of the Moog modular synthesizer.
The Minimoog Voyager XL is designed to combined the immediate playability of a Minimoog with the flexible synthesis options of a traditional modular synthesizer.
With the Tolex Minimoog Voyager XL, the wood cabinet has been hand-wrapped in black tolex, just as the Model 15 modular synthesizer, and the chassis has been updated to parallel that of the original Moog modular synthesizers.
Features:
61-Note Velocity Sensitive Keyboard with After-Pressure
Ribbon Controller with Pitch and Gate CV Outputs
Touch Surface Controller with X, Y, A and Gate Outputs
External Audio Input
Effects Loop Insert
2 Active Attenuators
4-Input CV Mixer
Lag Processor
Additional LFO Source with Multiple MIDI-Syncable Waveforms
3 Four-Way Mults
20 Control Voltage Outputs
3 Gate Outputs
10 Control Voltage Inputs
4 Gate Inputs
2 Modulation Busses
Solid Maple Cabinet
Tilting Control Panel
The Tolex Minimoog Voyager XL is available now, priced at US $5,500.
Comments