Background video description:
A walk through of our store front in Austin, TX to allow you (the viewer) to quickly glance at some of our inventory.
This week your hearing an improv recording of the Korg PS-3100 and SCI Pro-One.
The Pro-One is providing the sequence and the PS-3100 is providing the pads and leads. Both are running through a Roland RE-201 Space Echo (tape delay). Enjoy!
If you see anything you would like to know more about please feel free to e-mail us at:
switchedonaustin@gmail.com
or Call us: (512) 782-8806 Noon-6pm (Central Standard Time)
Switched On buys, sells, repairs and restores all manners of musical electronics…new, used, and vintage.
Shop with us online:
http://www.switchedonaustin.com
Keep updated on events and new inventory:
@SwitchedOnTX
*and*
http://www.facebook.com/switchedonaustin
Understanding the iPolysix Step Sequencer.
We go over Step Switches,Step Zones,Gate Sliders,the 6 Sequence Modes and More!
The heart of the iPolysix.
Background video description:
MS 20: Korg bringt den 70er Jahre Klassiker jetzt "geschrumpft" auf den Markt. Wieviel MS 20 steckt wirklich in der Mini-Version?
BRUNO ENDER LEE – "Galaxies (part 2)" – studio recording May 19. 2013
-stereo-track 1: Absynth 4 – (drone)
-stereo-track 2: Korg Mono/Poly VST (arpeggio)
-stereo-track 3: MiniMoog Voyager OS (bass)
-stereo-track 4: MiniMoog Voyager OS (leads)
-stereo-track 5: Synthesizers.com Studio-88 (effects)
-stereo-track 6: ARP Odyssey (leads & effects)
composed, arranged & produced by Bruno Ender Lee
2013 Velvet Voyage Productions
Copying Drum Tracks in One Shot!
Here is another hidden charm for iPolysix users that copy drum tracks one at a time..
Background video description:
And finally, there's my version of the End Titles of Tron Legacy remade completely in a Nintendo DSi with Korg DS-10+ software. The audio was just recorded in DAW without post processing or effects adding.
Sorry for the mistakes while I'm playing, those keys are very tiny ahahaha.
Thanks for watching!!!
We have seen quite a few demos of the MS20 mini now, but of course we all want more

Here is a demo of the brandnew KORG MS-20 MINI monophonic analog synthesizer. It is a reissue of the classic MS-20 synth from 1978. The sound of the Mini is damn close!
On some sounds I used a Lexicon MPX-500 for reverbs and a Roland DEP-5 for delay effects. In the intro I used the Doepfer Dark Time sequencer to control the MS-20 mini via MIDI.
The original Polysix is a six-voice synth from the early 80s most notable for its affordability and fabulously warm analogue sound. The iPad version again ticks both of those boxes, comprising not one but two synth engines, as well as a six-track drum machine that uses sampled Polysix sounds as source material. And while it might be quite expensive for the App Store, it's excellent value for money in terms of sound, features and the amount of work that's clearly gone into it.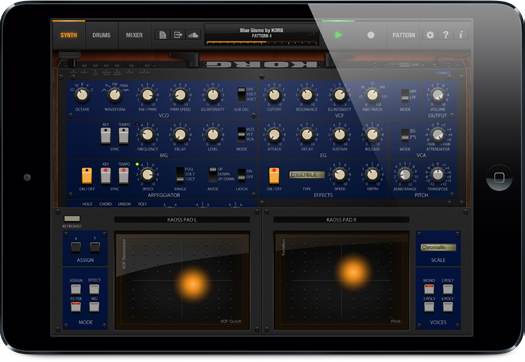 iPolysix is an analog polyphonic synthesizer that's been carefully designed to take full advantage of the 7.9-inch display of the new iPad mini as well as the iPad. Bringing together a sequencer, drum machine, and even a mixer, it transforms your iPad or iPad mini into the ultimate analog synth studio. Pack an amazing set of early-'80s analog equipment into your iPad, and time-travel back to the dawn of polyphonic synthesizers!
❮Highlights❯
● The world-wide best-selling Polysix polyphonic synthesizer, fully replicated on your iPad
● Use the newly developed Polyseq polyphonic step sequencer to control the Polysix
● A music production environment including two Polysix units, a drum machine, and a mixer
● Dual Kaoss Pads with chordal support make it easy for anyone to play analog synth sounds
● Polyshare powered by SoundCloud lets you publish, share, and remix songs with iPolysix users
Background video description:
I normally stop recording upon taking a new step like when Saving or extending the Sequence Step Length..this Tutorial will show a continuous workflow while Recording in Sequence Mode,Automating,extending Step Length,adjusting Gate,changing sounds, Saving while in record and showing useful tips along the way…
Korg's first digitally controlled analog synth hybrid; 8 sampled digital waveforms, analog resonant filter with separate VCF and VCA ADBSSR envelopes. Parameters can be altered in real time via a single programmable slider. 6 voice polyphony in two modes, or one monophonic mode with all six voices stacked. 12 digital oscillators (2 per voice) with 8 simple to complex waveforms, 1 de-tunable and with programmable interval. 64 presets that can be reprogrammed by the user.
Awesome fat basses, lovely warm sounding, pulsing strings, and hard, nasal leads. Some wonderful swirling effects can be found. Imagine a Poly 800 with 8 waveforms instead of 2, and you get the picture.
Due to reliance on sampled waveforms, it does not sit well through distortion, and some waveforms do not go well in a mix when used as a pad. Overall, an exceptional and underrated bass and lead machine with some nice pad sounds to boot.
The DW-6000 was quickly surpassed by the DW-8000: it expanded it to 8 notes polyphony, 16 sampled waveforms, a velocity sensitive keyboard with programmable aftertouch, auto-bend, a simple arpeggiator and a digital delay unit.
very underrated synthesizer – the presets are quite 80′s trying to do DX7 of the time —but with the correct programming can sound huge fat and very vintage analogue — I prefer it to the similar Rolands —i.e. juno and jx3p. The resonant VCF filter is awesome and very expressive. No external effects —just the pure sound of the korg—sometimes using the stereo chorous for sting like sounds –I find a mono out with no chorous best for punchy bass like sounds
Just playing with some of the factory preset FX from this great app by Sugar Bytes
Turnado is a revolutionary multi-effect tool, crafted especially for massive real-time audio manipulation. It combines unique and dynamic effects with the most intuitive and immediate control you can imagine. Just turn it on and crank it up.
In the studio, simply dial in your effect from a super-sweet selection of 24 pro-quality algorithms, then mash up your audio content with minimum fuss, quickly adding dynamic variation to your arrangements. Take it to the stage and unleash Turnado's true power. With instant access to eight effects and immediate control over key parameters, Turnado is guaranteed to cause devastation on the dance floor, shredding beats and crunking breaks to insane proportions.
The idea is simple:
Turn a knob and the effect is on.
Turn the knob further to adjust effect parameters and apply modulations.
Turn the knob down and the effect is off.
With its instantaneous, one-knob, multi-parameter modulation features, Turnado will lay waste to the audio landscape. Giving you the power to crunch, chop, twist, mash and elevate your music to new levels, Turnado will have you creating wicked new sounds that will blow any crowd away.
Unlocking the power of your MIDI controller each effect requires only one knob to control it. Underneath this simplicity lies a matrix of effect parameters and modulation engines, all controlled by the main knob. This control matrix provides serious depth to the plugin and gives you the ability to create original and truly unique effect programs.
If the power of one-knob action still doesn't rock your boat, the awesome "Dictator" mode will sink your battleship. It allows you to animate all the main knobs and run that animation with just one fader. That's one fader, controlling up to 8 different effects, with potentially hundreds of parameter changes!
Turnado's primary focus is on beat manipulation, so you will find lots of loopers, slicers and grain tools in the rack. Alongside these beat-mashing effects are an arsenal of distortions and filters as well as first-class delays and reverbs. With extensive modulation possibilities each effect can produce millions of unbelievable variations that can be morphed and twisted into something new every time you tweak those knobs.
Turnado will inspire you again and again, delivering completely new variations of your original sounds and grooves every time, so what are you waiting for…turn it on.
Turnado comes for Mac/PC as Standalone application and VST/AU/RTAS/AAX plugin.
Turnado takes realtime audio manipulation to the next level.
Just assign effects to knobs and crank them up! Lots of new
granulizing, freezing, filtering, slicing, looping and scratching effects
have been developed to make Turnado the best effect you ever had!