Just trying and toying factory preset sounds and sequences of KORG minilogue with no outboard effect, recorded directly from minilogue to Zoom Q4. , I got a tiny beast 😀
This is the unboxing of and my initial go at using Korg's brand new Minilogue Polyphonic Synthesizer. This is a four voice analog polysynth with a BBD-style delay. It sounds fantastic and allows you to store 200 patches. It also has a 16 step sequencer storable per patch that allows you to store your melodic ideas and parameter automations to remind you of what you had in mind stylistically for the patch in addition to its tone. This will serve as my main keyboard-style synth in The Galaxy Electric. It's analog, allows for a decent amount of patch storage, and it has a built-in beautiful sounding delay which is typically my go to effect for the kind of synth work I do. I am a fan and found its timing to be very serendipitous.
Great deals on Korg minilogue at Kraft Music:
http://www.kraftmusic.com/brands/korg…
The Korg minilogue polyphonic analog synthesizer at the 2016 Winter NAMM Show.
Rhythmic sequences with Korg Monologue. No external FX.
We talk to the designer about the latest Volca
zZounds: http://www.zzounds.com/lp/zzounds-bac…
Korg has announced the nanoKONTROL Studioand nanoKEY Studio, light-weight battery operated mobile MIDI controllers that provide users the freedom to create music more intuitively than ever before.
nanoKONTROL Studio provides transport keys and a mixer section, allowing for control of DAW or DJ software. The nanoKEY Studio, mobile MIDI keyboard, provides a velocity-sensitive keyboard, knobs, trigger pads, and a Kaoss-style touch pad, allowing for instant conversion of inspiration into sound. Both the nanoKONTROL Studio and the nanoKEY Studio can connect via USB or wirelessly via Bluetooth to iPhone/iPad or Mac/Windows for more music production freedom.
The efficient size and wireless power of the nanoKONTROL Studio and nanoKEY Studio make these controllers ideal for mobile or desktop use, are slim enough to travel alongside a laptop computer or tablet, and can easily connect to iPad/iPhone music apps such as KORG Gadget and Apple GarageBand, or Mac/Windows music production software. The simple, refined, and stylish designs of these mobile MIDI controllers feature illuminating white LEDs.
nanoKONTROL Studio provides all the controllers needed to operate DAW; sliders that feature generous spacing and stroke, plus a convenient jog wheel. The nanoKONTROL Studio is compatible with any software that supports MIDI input, and includes the Korg KONTROL Editor software allowing users to freely customize the settings of their nanoKONTROL Studio. In spite of its compact size, this controller provides generous power and a solid feel, making it a convenient and versatile MIDI controller, and due to careful tuning, users can enjoy low latency and high stability.
The 25 velocity-sensitive keys of the nanoKEY allow for easy step-recording and the Scale Guide function illuminates the keys to show recommended notes in the scale, making it easier to play. With a variety of performance modes that allow users to produce musical phrases using any keys, the eight trigger pads, and touch pad inherited from the KAOSS series, nanoKEY Studio delivers all-purpose music production power.
The nano Studio series come with a bundle of mobile and desktop music software and the sounds and functionality of iPad/iPhone apps can be expanded by connecting them to a nano Studio series unit.
Each unit is priced at $149.99 and will be available in March of 2016 and will be on display at the Korg USA NAMM booth #6440, Hall A.
For more information visit www.korg.com.
The KRONOS, KORG's flagship synth, is now available in a platinum color panel with real ebony wood end. Make a bold visual statement with the Kronos Platinum.
Music Production by Greg Phillinganes
Like/Follow us:
https://www.facebook.com/korgusa
https://www.twitter.com/korgusa
http://instagram.com/korgofficial


Announcing a limited-edition platinum-colored model of the KRONOS-88.
Since its launch at the end of 2014, KORG's flagship KRONOS music workstation has been acclaimed worldwide by many notable musicians for its sound and advanced capabilities. Now, as an expression of our gratitude to all KRONOS aficionados, we announce a special limited- edition of the 88-key model.
With a platinum-colored panel and dark colored side panels, this new model shines beautifully on stage under the spotlight. For serious musicians, this instrument emanates a special aura of superior quality.
* All specifications other than color are identical to the conventional model of the 88-key KRONOS.
In this video I review and get you started with Gadget by KORG. This is a great app that I am really enjoying, big thanks to KORG for sending this to me. In the video I show you how to get started making a song from scratch. I talk about all the really great features the app has, only downsides seem to be the lack of audio recording, no effects in the mixer, and that you can't use IAA within the app. all in all it's a really good app that any type of musician can get use out of. Highly recommend picking it up if you haven't already.
You can download Gadget from the appstore by follwing this link: https://geo.itunes.apple.com/ca/app/k…
For more info and other videos like this, please visit www.iosmars.com
Korg today officially announced the minilogue – a new four-voice polyphonic analog synth.
The Korg minilogue is a fully programmable four-voice polyphonic analog synthesizer; complete with a 16-step polyphonic note and motion sequencer, arpeggiator, and delay.
It features an easy-to-understand signal flow, featuring two oscillators, noise, a filter with two options for filter slope, dual ADSR envelopes, a LFO and amplifier. 
A new Voice Mode lets users choose how the four available voices are configured; from Polyphonic to Duophonic, and Unison to one note Chords, plus more.
In addition to offering up information on presets and editable parameters, the OLED display also features a real-time oscilloscope, providing visual feedback as you tweak sounds.
The minilogue also is built to be rugged and attractive, with a curved sand-blasted aluminum face panel, a Pyinkado wood back panel, solid, chassis-mounted potentiometers and rubber-coated knobs.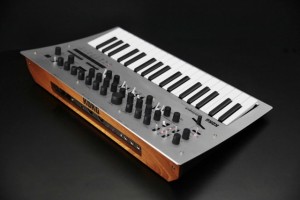 "We are beyond proud of the work our designers, engineers and voicers have put into this instrument," says James Sajeva, Brand Manager for Korg Technology products. "minilogue also brings a new level of affordability to the world of programmable polyphonic analog synthesizers. At $499.99 it is priced like a digital synth, but is armed with superb true analog sound, convenience of programmability, a striking design and quality build."
The Korg minilogue will make its official debut at next week's 2016 Winter NAMM Show. The minilogue will be available in stores on January 21st.
Background video description:
I noticed there was no TR-808 / Volca Beats comparison on YouTube, so I thought of posting one for today's daily video. I know, I know… it's sort of a silly endeavor and also a bit unfair to compare a mega-classic that these days goes for $3K to a super-cute little $150 box… but I think both machines are great and each has their own unique character! I have to say, I am impressed by the whole Volca line (I recently got all four models and will be posting videos of the others soon). The bass drum on the Volca Beats is amazing, by the way!
Synth veteran Richard Geere demos the Korg DW-6000. Custom patches with no external effects.
In this video I use the synth line we created in Korg Volca Keys poly mode tutorial ( LINK BELOW ) . I'll use this sequence in octave mode to show you how thick the Korg Volca Keys can be by itself and some added effects. Subscribe to me for more videos on the Korg Volca Keys , other gear and live videos . Thank you , have a great day !!!
Link – https://www.youtube.com/watch?v=a37_F…
on twitter https://twitter.com/toddjsmith1979
on google+ https://plus.google.com/1138731349833…
This Video will cover Poly mode sequencing on the Korg Volca Keys. The Korg Volca Keys has a very fun , on the fly style sequencer that really works great in poly mode . This video will show you how to unlock the full power of the Korg Volca Keys sequencer in Poly mode . No added effects are used in this video. Enjoy !!