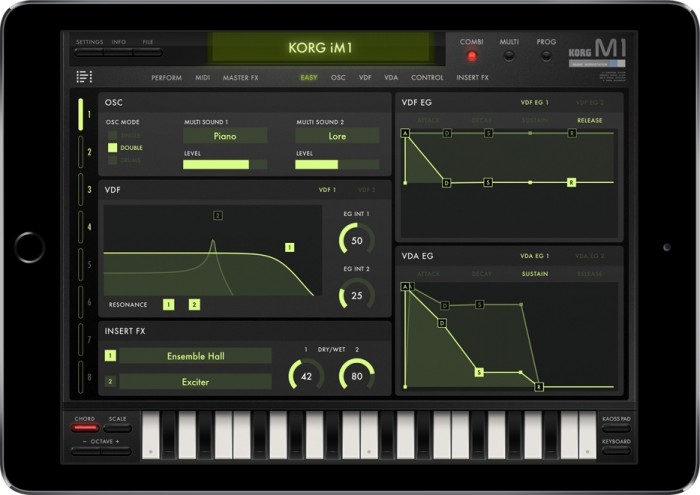 Korg has announced the release of iM1, a digital synthesizer workstation for iPad.
Since it went on sale in 1988 the legendary M1 music workstation rapidly achieved record-breaking sales, becoming a mainstay of the music scene from the late 1980s and beyond. The appearance of the M1 helped musicians deliver professional-quality songs using just a single piece of equipment.

The design goal of the M1 was to deliver sound that would satisfy professional needs in two areas: performance and music production. This goal became the new direction for the PCM synthesizers and desktop music sound modules that subsequently appeared, and has been carried on to the present day with KORG's flagship model the KRONOS.

High-capacity sampling and the increase in computer speed have enormously improved overall sound quality from a computer, but generating sound that delivers a real sense of presence demands technology and ideas beyond those that merely improve sound quality. The common element of electronic instruments that have left their name in history is that they had a unique sound that was difficult if not impossible to replicate. Sounds such as the "M1 Piano" and "M1 Organ" are instantly recognizable and have appeared on countless hit records over many years, and yet these are sounds that could only be produced by the M1. And that's what you can now have on your iPad!
iM1 features
Advanced Integrated System with 8 parts.
3,300 sounds (incl. all expansion sound cards) and 34 effect types.
MIDI program change, Virtual MIDI and Bluetooth MIDI.
Virtual keyboard and performance via external MIDI keyboard.
KAOSSILATOR-style "Touch Scale".
Gadget-style "Smart Keyboard".
Usable as a Darwin gadget within the Gadget app (Programs only).
Compatible with KORG Legacy Collection M1 format (.m1all file type).
Inter-App Audio, Audiobus 2 support, Core MIDI.
iM1 for iPad is available for purchase for the introductory price of $19.99 until June 30th, 2015 (regular $29.99 USD). The M1 Cards Pack and T1 Cards Pack are available as in-app purchases of $4.99 USD each.
Experimental movie and soundtrack.
Video was edited with Kdenlive on Debian jessie GNU/Linux.
Soundtrack was programmed with KORG DSN-12 on Nintendo 3DSLL and recorded with ZOOM Q4.
Jam Session with Doepfer A-100, Roland Aira, Elektron Octatrack, Analog Rytm, Korg Kaoss Pad
Audio: http://soundcloud.com/zeropage
Introduced by Matt Berry, this is the legendary Radiophonic workshop live at the UK launch of the ARP Odyssey.
The video features Radiophonic Workshop – a group made up of members of the original BBC Radiophonic Workshop. The group features original members Peter Howell, Roger Limb, Dick Mills and Paddy Kingsland, along with archivist Mark Ayres and Kieron Pepper (The Prodigy).
100 presets in 47 programs for Korg Radias, 32% OFF:
http://www.albaecstasy.ro/korg-radias/
100 presets divided in 47 programs: crazy & atmospheric pads, deep basses and sweet leads, fast sequencers & arpeggiators, drums included. 100% royalty free!
Background video description:
Finally an opportunity to tweak my new ARP ODYSSEY a bit as the MS-20 chugs out a simple bass step sequence on the SQ-1. LOVING this new ARP! My 79′ ODDY was never this easy to play. I got used to the MS-20 Mini's keys this past year, so it was no problem adjusting to the SlimKeys of the Oddy. They actually have great playability and make the package for more useable than the heavier and clunky ARP keys. My original ARP crackled on the sliders and protested under heavy use by drifting in tune religiously. I love the three filter revisions. This demo utilizes the #3 revision and is very nasaly. There is a lot going on with the drum machines as the Volca and TR-707 hiss their cymbals, the CR-78 is DYN sync'd to the TR-707 tapping out latin bongo's to the SP-1200 bass and snare. The SP-404SX is adding more cymbals and handclaps. Everything is synced to the MTC being directed by the SQ-1. ENJOY Don't forget to check out my Facebook page!!ALL SONGS ARE THE PROPERTY OF FARMYFARM/LLC/LIMITED(c)https://www.facebook.com/VintageSynth…
One of the most famous ARP Odyssey sounds of all time is the bass sound from Herbie Hancock's Chameleon. Here's the recipe…
Additional info:
For loads more on working with Korg's ARP Odyssey recreation, check out the full Producer's Guide in issue 291 of Future Music: http://bit.ly/FMU291
See more info.
http://www.korg.com/cortosia/
KORG has answered the question: "Can a tuner recognize good sound?" With the KORG cortosia you'll see what's missing from "good sound" with just a glance. Even practice that's slightly boring (such as practicing the production of single notes) will become enjoyable. The cortosia is a completely new type of interactive tuner app designed to improve the overall quality of sound produced by the artist. The initial release supports the flute, clarinet and trumpet with future upgrades expected to increase the variety of instruments supported.
Vote for the Korg LFO Module in the littleBits bitLab today!
The LFO module is currently under consideration for manufacture at the littleBits BitLab. At the BitLab, visitors can view proposed new modules and vote for the ones that they'd like to see manufactured. 
The LFO is an oscillator module that allows you to make slow sweeping changes to sound parameters in the synth kit or with other littleBits modules. You can control the following parameters directly on the module:
Rate/Frequency knob (speed of oscillation)
Waveshape control knob (change the duty cycle of a pulse wave or morph a sawtooth to triangle to ramp waveform)
Waveform selection switch (select triangle/saw or pulse waveform)
The input of the module controls the amplitude of the LFO. An onboard LED shows the rate of oscillation.
CV Module available at http://littlebits.cc/bits/control-vol…
Integrate your Synth Kit with other analog synthesizers like modular synths or analog keyboards.
control littleBits module behaviors like the pitch of oscillators, the cutoff frequency of filters and more from your analog synth gear!
control analog synthesizers with littleBits modules, like a bend sensor, light sensor or any other input from the littleBits library to create new control interfaces for your synth.
Sync your littleBits modules to other gear like Korg's Volca series.
The CV module developed in partnership with Korg, a pioneer of electronic musical equipment, enables amateur and professional musicians to easily explore the iconic synthesizer instrument, allowing you to make exciting new sounds and build their own infinitely customizable and expandable analog modular instrument and put on your own performances – all with little to no engineering or musical knowledge.
Check out the latest Synth Modules at http://littlebits.cc/new-synth-modules
Find out more at littleBits.cc