Right from the beginning, KORG Gadget gives you 15 compact synthesizers and drum machines. Each Gadget possesses an irresistible presence and can function as the core of your electronic music productions. The parameters are carefully constructed to take you right to the sound that you want, and they're ideal for producing all forms of electronic music. Even if you don't play a musical instrument, no worries! Each synth offers a keyboard featuring a Scale function that makes it impossible to play wrong notes, combined with a sequencer that supports the function, Just download KORG Gadget to your iPad, and start exploring 15 Gadgets.
Background video description:
Here I take another look at the brand new app from Korg and attempt to unravel some of its hidden or less obvious functionality. You can read more about this app and me at my website www.gazwilliams.me
Korg's new Taktile controllers include lots of, well, tactile control such as a KAOSS touchpad. There's even a model with built-in sounds from the classic Triton workstations.
DETAILED REVIEW / DEMO of this amazing new App from KORG, which features 15 Virtual Synthesizer "Gadgets" that make composing new EDM, Hip Hop, etc. tracks fun! At the same time, this could be considered the most powerful app yet from KORG, because there is so much variety in possible sound design. "It's as simple or as complicated as you want to make it." Watch as I show the construction of multiple styles of music. Subscribe to VJ Franz K for more reviews of Apps and Hardware, on YT, FB, Twitter and other social media sites!
All music featured in this video are my original compositions, played with the synthesizer app I am reviewing.
NAMM 2014: Korg's New Keytar Korg reimagines their RK-100S Synth/Controller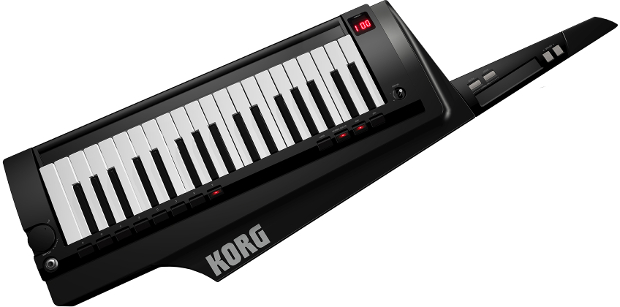 Korg is debuting the RK-100S synth/controller for the 30th anniversary of the original RK-100. Korg's latest keytar offering provides an alternative to traditional keyboards by allowing players to step out from behind a keyboard and into the spotlight.
Housed in a stylish, solid wood body, the battery-powered RK100S offers a number of additional updates from the original model. Equipped with a full palate of keyboard sounds from the built-in microKORG XL+ engine, it enables users to perform in a wide variety of music genres wherever inspiration may strike. It also functions as a USB/MIDI controller, as well as a vocoder.
There are 200 programs available in the onboard MMT sound generation system, including a broad range of oscillator algorithms such as the characteristic sawtooth and square waves found in analog synthesizers, plus formant waveforms, noise, and classic PCM/DWGS waveforms.
In addition to the 37-note slim keyboard (as featured on the Korg MS-20 Mini), a short ribbon controller on the neck and a long ribbon controller in front of the key bed are included for controlling parameters such as pitch and filter. The long ribbon runs the entire length of the key bed and can also be used to play scales over three octaves. Also included is a built-in arpeggiator, with six arpeggios available. Notes in the arpeggiator can be individually switched on/off, for even more rhythmic variation.
The RK-100S comes equipped with a vocoder function that lets players use their voice, via the optional headset mic, to process the sound of the oscillator.
The Korg RK-100S synth/controller runs on six AA batteries or the optional AD adaptor and is available in a choice of three colors: red, white and black. It will be available June 2014, with U.S. pricing to be announced shortly. For more information, please visit www.korg.com .
Appearing in 1984, the RK-100 remote keyboard broke the chains of keyboardists, setting them free to perform as they liked. It allowed the keyboard player to challenge the vocalist or guitarist for the main role on stage. Now, thirty years later, the RK has been resurrected. Although beautiful curved surfaces have been added, the essence of the original and very popular design is unchanged. What had been a somewhat large and heavy body has been made more compact and lightweight thanks to modern components such as a slim keyboard. While the original required an external sound module, the new RK-100S contains a built-in analog modeling sound generator. New features and functions include two ribbon controllers, an arpeggiator, and a vocoder, and there are also "favorite" buttons that allow you to register frequently-used sounds for one-touch selection. The RK-100S is your choice for smarter, more active, and more enjoyable performance. Enjoy play anywhere performance utilizing AA batteries. The RK-100S Remote Keyboard is available in White, Black & Red.
For more information on the KORG RK-100S, head over to http://www.Korg.com
Like Us – https://www.facebook.com/korgusa
Follow Us – https://www.twitter.com/korgusa
KORG fully enters the realms of iOS with this powerful app, details below:
For every situation that creative minded people face, KORG's answer is "KORG Gadget."
KORG released the iELECTRIBE simultaneously with the appearance of the first-generation iPad in 2010, and ever since has maintained its position at the forefront of mobile music apps. And now we've brought you the ultimate all-in-one studio app for serious mobile music production.
KORG Gadget provides a collection of 15 different synthesizers and drum machines called "Gadgets", which can be freely combined to produce powerful electronic music. Users can take advantage of the simple and intuitive sequencer, and experience track-making in an environment that's been perfectly optimized for mobile use, while retaining professional quality in everything from the effects to the mixer. Also, songs created using KORG Gadget can be shared on "GadgetCloud," a music sharing site for KORG Gadget users worldwide.
There's a roadmap for future updates that will add new gadgets and support audio tracks, further perfecting the system as a mobile music production studio. KORG Gadget will continue to evolve in support of serious mobile music-making.
—————————————-
­—————
KORG Gadget is available on the App Store:
World: https://itunes.apple.com/app/korg-gad…
Japan: https://itunes.apple.com/jp/app/korg-…
—————————————-­—————
Learn more about Gadget at http://www.korg.com.
Music & Video produced and performed by Mee Zanook
- The ultimate mobile synth collection on your iPad -
KORG Gadget – the all-in-one music production studio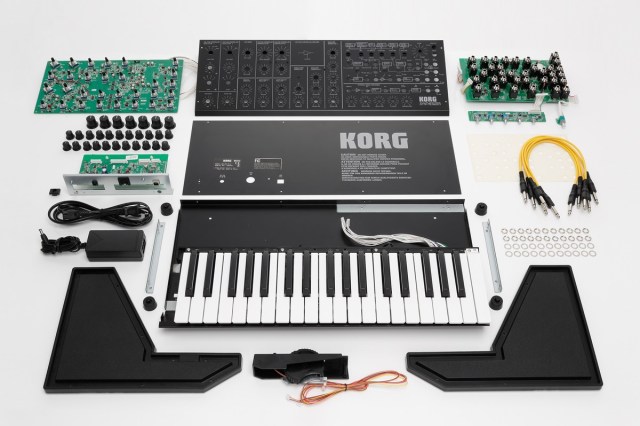 Korg MS-20 Synth Kit – a limited edition MS-20 Kit is a kit that lets you create a real, full-size MS-20 by assembling the parts yourself.
The MS-20 Kit is a true-analog, 1:1 scale reissue of the MS-20, with both filters built in (the more aggressive early production filter and more mellow late production one). Every details has been replicated, right down to the packaging, which includes a letter from the original MS-20 engineers and the President of Korg, Inc.
Just like the MS-20 mini, development of the MS-20 Kit was led by the original engineers themselves, who spared no effort to perfectly replicate the circuitry of the original unit. When it was necessary to substitute a part, the engineers made the decision based on their own ears, ensuring that the exact sound of the original unit has been reproduced.  According to Korg, the sound of the MS-20 kit has a 'somewhat bright and extreme quality' to it, because its sound is that of an original MS-20 in mint condition at the time it went on sale, before any of the components aged.
The MS-20 Kit comes dissembled, and can be put together with simple tools (some included), providing the user with a bit of the experience that often went hand-in-hand with ownership of vintage modular analog gear.
No soldering or understanding of circuit diagrams required. The updated MS-20 also features the same modern connectivity (MIDI and USB MIDI) as the mini.
The MS-20 Kit is a being released as a limited edition product.
Features:
A full-size, true analog MS-20
Build yourself with simple tools
Early and late filters at the flip of an internal switch
¼" patch cables
Limited edition
The Korg MS-20 kit is expected to have a street price of about $1,400 and to be available in March.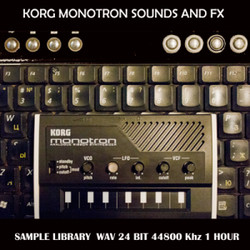 Softrave announced Korg Monotron Sounds and FX, a collection of analog synth samples and effects from the Monotron synthesizer by Korg.
This library represents 1 hours of recording mono 24 bit 44800 Khz flow of noise effects weird bleeps basses and fx

I did not make any loops, special melodies sample banks or any improvements. You are welcome to do that by yourself in a way it fits your sampler or DAW. I think you can find at least 1000 really cool analog sounds , loops & special effects in this recording
The sample pack is available to purchase for $9.99 USD / 7.39 EUR.
This machine, normally associated with beats, can transmit MIDI notes from each of the drum triggers. I tuned the first seven triggers to the Eb scale, with the further three notes on the lower octave.
The accent control functions in the same way, allowing you to vary it`s relative level.
Second half of the video has the synth output going into the ER-1, allowing the use of `Motion Sequence` and `Tempo Delay` effects.
FIRE JAM
Live performance by Ciacci Simone a.k.a. "Storm 3003″
Select HD for a better experience!
Equipment for this video:
- Elektron Analog Four
- Korg Volca Beats
Check Out = "DARK JAM":
http://youtu.be/7QDQoxOXmwA