Here I take you on a sound ride with the Korg Sigma, a beautiful and powerful synth of Korg released in 1979.The Korg Sigma is here driven by a sequence from the Analogue Solutions Oberkorn.
The Sigma is an interesting bi-timbric synthesizer consisting of two sections: a genuine analog "Synthe" and a Preset "Instrument" section. All together, there are 19 presets on it that give a variety of sounds. There are 11 presets for the "Instrument" section which include fuzz guitar, electric bass, clavi, string, flute, double reed, trumpet, hammered percussion, etc. And there are 8 presets for the "Synthe" section that give variable waveforms (square, pulse, sawtooth) in different pitch ranges (from 32′ to 4′). Each preset has its own rotary control to vary its sounds. The Sigma is also unique for its ability to combine the synth and instrument sections for a nicer, layered synth sound or effect. While the synth section is nice, the instrumental sounds (tuba, trumpet, strings, guitar, etc.) are pretty darn bad, and only get interesting when mixed with the "Synthe" section sounds.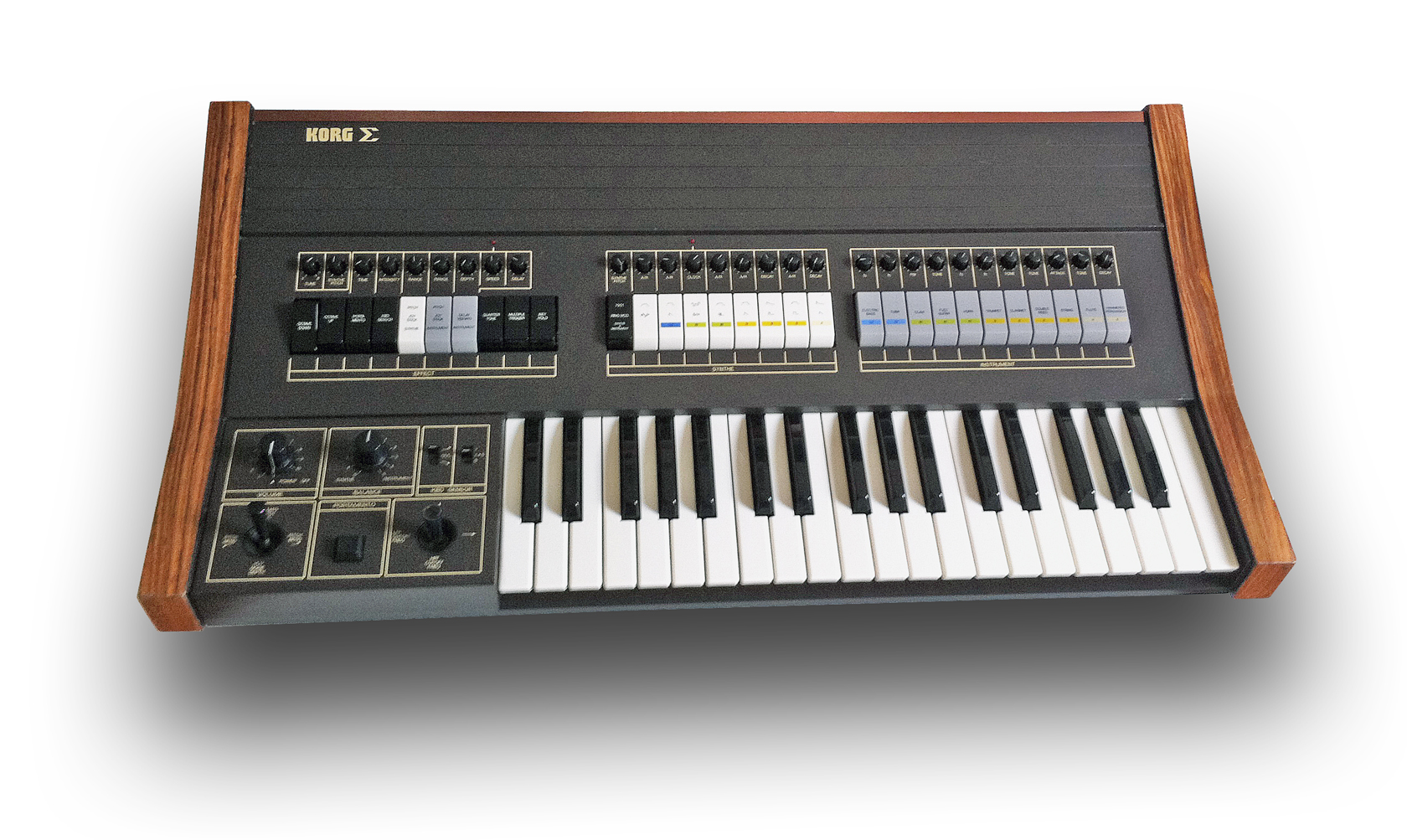 Cool joysticks add multi-dimensional control. Use one to control pitch, noise and vibrato and use the second joystick to edit the low-pass and hi-pass voltage controlled filters! There is also an "Effect" section which is for Vibrato, Portamento, Sample and Hold, Noise, Key Hold, Multiple Trigger and Ring Modulator (each with it's own rotary control to vary it's sound). Even though it has a switch labelled "Ring Mod," it's actually a cross-mod. It lets you cross modulate between the instrument and Synth sections.
Ultimately, however, a basic design, limited edit-ability and a pure lack of memory and MIDI leave the Sigma far behind on the evolutionary scale (although it does let you play a quarter-tone scale). The Sigma has a metal music stand that slides out the back to hold your sheet music suggesting it may have been aimed at hobbyists
Vintage synthesizer demo track featuring the Korg Polysix
supported by UVI: http://bit.ly/retrosound-uvi
all synthesizer sounds: KORG Polysix Analog Synthesizer (1982)
drums: KORG KR-55B (1982)
recording: multi-tracking without midi
fx: reverb and delay
Arturia Minibrute – arpeggio and improvised melody
Volca Keys – pads and bass
A simple arp made from a sequence on the Minibrute, then random notes from a chord played by hand over the top. Pad sections were made with the Volca Keys in polyphonic mode, using a midi keyboard to play it.
More Minibrute SE here: https://www.youtube.com/watch?v=1Sxa6…
キーボード・マガジン2015年WINTER号(12月10日発売)掲載の連載コーナ­ー­『四本淑三のシンセ漫遊記』取材時の音源です。第3回目のゲストであるOmoda­kaが­コルグmini kaoss pad 2SとiKaossilator V3を使って「下津井節」を演奏しています!
レポート記事はキーボード・マガジンをチェック!→http://www.rittor-music.co.jp/magazine
製品に関する詳細はこちら→コルグWebサイト:http://www.korg.com/jp/products/synth…
Googlish:
Keyboard Magazine 2015 WINTER issue (December 10 release) This is the sound source at the time of interview "synth Man'yu Symbol of four this Yoshisan" series corner of publication. Third round of guest at is Omodaka have to play the "Shimotsui clause" using the Korg mini kaoss pad 2S and iKaossilator V3!
Report article check the keyboard magazine! → http: //www.rittor-music.co.jp/magazine
For more information about the product here → Korg Web site: http: //www.korg.com/jp/products/synth …
Generative Music with Ableton Live
http://en.wikipedia.org/wiki/Generati…
Dsi Prophet 08 launching clips in Ableton Live
Moog Voyager + Moog MF Delay
Moog Little Phatty
DSI Evolver
Akai VX 90
Roland Alpha Juno 2
Novation Bass Station 2
Jomox AirBase 99
Lexicon MX 300
TC Electronic M 350
Boss CE 20
Korg Monotron Filter on Cymbals
Allen & Heath Zed 428
The best sounds, available to everyone.
Announcing a new high-quality mobile sound module app for iPad!
Maintaining its position at the forefront of mobile music apps, KORG now offers you a new style of performance and production with KORG Module for iPad. Ideal for performance and music production, KORG Module is a high-quality sound module app for iPad that contains a sound library over 1 GB. If you have an external MIDI keyboard and an iPad, you can play studio-quality keyboard and grand piano sounds anywhere. You can also use the sounds of KORG Module for the KORG Gadget music production app.
More Details:
http://www.korg.com/module/
Features:
90 programs
Five modules

Acoustic Piano
Electric Piano
Organ
Clav
Multi

Master Effects

Modulation effect
Ambience effect
Usable simultaneously

MIDI

Play using an external MIDI keyboard
Program change
The damper pedal can be used to switch the rotary speed
Virtual MIDI
MIDI over Bluetooth

Usable in Gadget as five types of Gadget
Set List Functionality

Change programs for each song you perform
View images or PDF scores
Use the internal camera to capture memos, etc.
Edit text to create memos
Load text files
Load and play songs from the library of the Music app
Adjust the playback speed of songs

MIDI Player

Load and play Standard MIDI Files

Audio Recording

Upload to SoundCloud
Upload to Dropbox
Export to Mac/PC via iTunes file sharing

Velocity Curve

Dynamics can be varied by your playing on a MIDI keyboard

Other

Inter-App Audio
Audiobus 2 support
Experimental video clip and soundtrack.
Camera : Zoom Q4 for DSN-12/Canon PowerShot G12 for telephoto shot
Edited with Openshot and Kdenlive on Debian wheezy.
Background video description:
Sharing the satisfaction of assembling my very own synthesizer; the reissue of the 1978 Korg classic monosynth! At the end is a brief audio demo including modular sequencing of the MS-20.
Background video description:
bad news
my KORG new electribe…….initial defectiveness!!!!!
Electribe leaves my home with initial defectiveness.
It was slightly 2-day self-possession.
bad and sad news
開封して2時間くらいでこの動画を撮りました。
撮影後、あれこれ機能を確認していた最中に本体の異常があったので、
購入店に連絡して確認したところ初期不良でした。新しいelectribeは僅か2日­間で我が家から去りました。
electribe2で演奏しました。2回目です。
Please listen with headphones.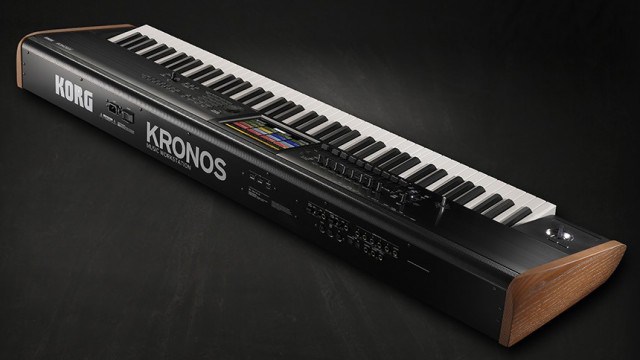 Korg today introduced the new Kronos – the most powerful version of their flagship keyboard music workstation to date;
"The new Kronos features the unrivaled 9-engine structure from previous versions, with numerous improvements to both sound capability and overall functionality," said Korg Brand Manager James Sajeva. "Truly, this is the most powerful synthesizer on the planet."
Sajeva explains what's been updated in the new Kronos: "Our SGX piano engine, already revered for its German and Japanese grands, now also includes a 9GB Berlin grand with dedicated una corda (soft pedal) samples, plus sympathetic string resonance that works on all the SGX pianos" he continued. "It's truly an amazing piano experience. There are new banks of sounds based on famous song titles for our cover players and those looking for 'that' sound for their recordings, plus a 'best of' bank from KaPro, who has created numerous libraries for the Kronos line."
Other new features include system-wide Touch/Drag via the Kronos' color TouchView screen; allowing the user to edit onscreen parameters faster than ever.
An evolved Set List mode provides the capability to resize their custom text per set list entry, and enter text via either an onscreen QWERTY or external USB ASCII keyboard. Entries can also be color-coded for better organization and visibility, and users can even decide how many set list entries appear on the screen at time, allowing for more (and larger) onscreen text to remind you of lyrics, changes, or other notes.
An improved search function helps users to find the perfect sound faster than ever.
Other improvements include onscreen metering in Combination and Sequencer modes, along with the ability to edit Programs within a Combination to hear the edits in context with other parts.
The improvements don't end with the software, either; the new Kronos also boasts natural wood side panels, easier-to-read silkscreened text and gold-plated audio I/O jacks.
Korg Kronos synth engines:
SGX-2 Premium Piano
EP-1 MDS Electric Piano
CX-3 Tonewheel Organ
HD-1 High Definition PCM Synthesize
MS-20EX & PolySixEX Legacy Analog Modeling
AL-1 High-Fidelity Analog Modeling
MOD-7 Waveshaping VPM Synthesizer
STR-1 Plucked Strings Physical Modeling
Other features include one-cable USB DAW integration for MIDI and Audio, powerful effects processing with up to 16 effects at a time, a 16 MIDI/16 Audio track sequencer, 16-part Combinations, a tremendous assortment of real time controllers, KARMA phrase generating technology, vector control and more.
This is Part 1 of our video manual for the Korg Kronos Music Workstation, focusing on basic navigation.