"ギター用ボーカロイド・エフェクターMIKU STOMP。
http://www.korg.com/jp/products/effects/mikustomp/
※2014年10月下旬発売予定"

Hatsune Miku sings to match the picking of the guitar!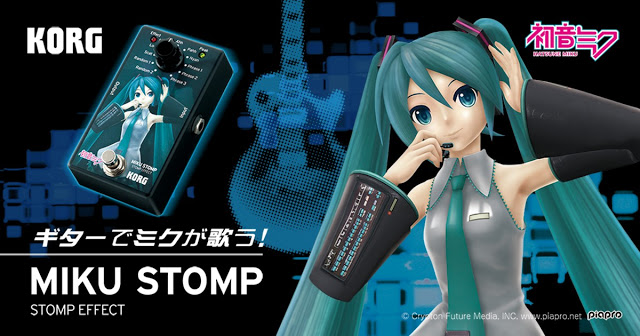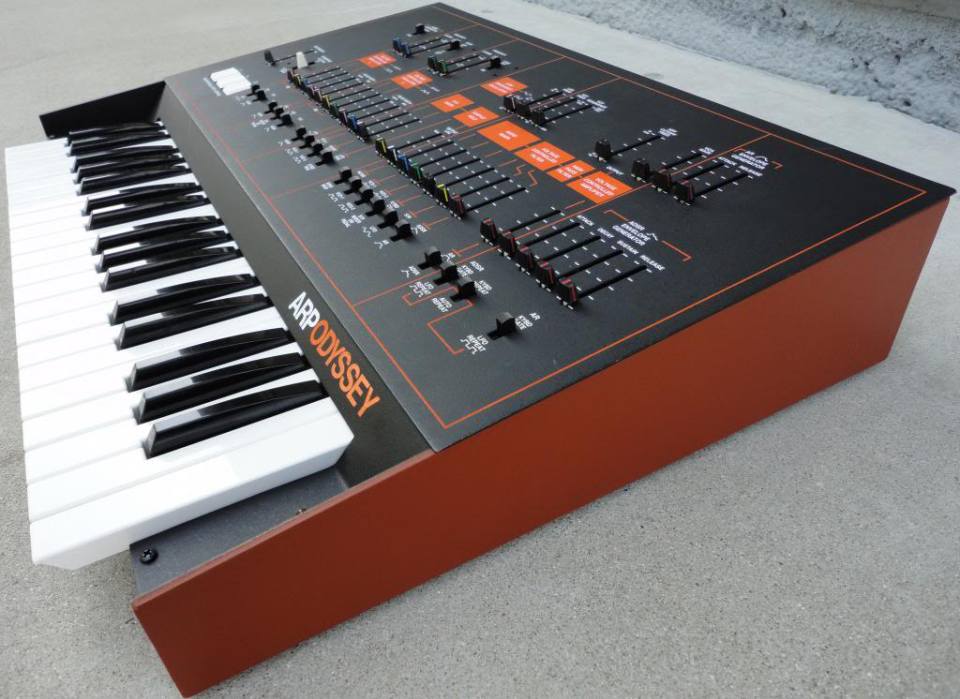 Korg has announced an update for the release date for the reissue of the ARP Odyssey analog synthesizer.
Korg's new schedule has the updated ARP Odyssey shipping in early 2015 The original shipping schedule was September 2014.
"We are sorry for this delay especially since the extraordinary reaction to the initial Odyssey announcement. We are refining the Odyssey to make this product even better.
We appreciate your understanding regarding this delay and thank you for your continued interest in the reissued Odyssey."
More info to follow….
This is a Demonstration and Overview of the "Great" Korg Prophecy. The Korg Prophecy is a fantastic sounding synthesizer with great potential. All you need is a good sound that you know well, and familiarity with this synthesizer's parameters.
Digital does analog! The Prophecy was among one of the first synthesizers to lead a revolution started in the mid-nineties by synthesizer makers to satisfy a growing segment of the market that was lusting after old-school vintage equipment in the pursuit of making electronica-style music, by providing a state-of-the-art retro synthesizer that could sound like a classic analog.
The Prophecy Solo Synthesizer was unveiled in 1995, and was a purely monophonic solo/lead synthesizer. It employed DSP synthesis first developed for the Korg OASYS synthesizer, with algorithms for producing realistic analog timbres, VPM (Variable Phase Modulation) tones similar to FM synthesis, and physically modeled brass, reed, and plucked string instruments. At your finger tips were tons of real-time control over traditional analog editing parameters like filter cutoff and resonance, envelopes and the arpeggiator. It had a pitch wheel, a mod wheel, an expressive dual action ribbon wheel, six effects processors and more!
Karaoke with lyrics
Enjoy!
Original video footage from Jam Sessions' Fabriek Magnifique video.
All sound come from The Korg MS-20 mini. No midi just some tape echo from the virtualizer pro and some triggering with Doepfer Dark Time.
Korg MS-20 mini
Doepfer Dark Time
Virtualizer Pro
runo Ender Lee – "Saturn" – studio recording August 16. 2014
the new album "Saturn" is now available:
http://brunoenderlee.bandcamp.com/alb…
Roland JP-8000 (Pads), Roland Juno-106 (bass), ARP Odyssey, Moog Little Phatty & Analogue Solutions Vostok (fx), Korg MS2000 (leads), Synthesizers.com Studio-88 (leads), MiniMoog Voyager OS (bass), MacBeth M5N & Korg MS-20 mini (sequence with Doepfer MAQ)
composed, arranged & performed by Bruno Ender Lee
2014 Velvet Voyage Productions / all rights reserved
KORG DS-10 only
Vintage synthesizer demo track featuring the classic Polysix
all sounds: KORG Polysix Analog Synthesizer (1982)
drums: KORG KR-55B Analog Drummachine (1982)
recording: multi-tracking without midi
fx: reverb and delay
The PolySix was a milestone because, along with the Roland Juno 6 which appeared almost simultaneously, in 1981 the PolySix was the first opportunity ordinary mortals had to get their hands on a proper programmable polysynth. Up until then, you had to be loaded to afford a Prophet 5, Oberheim OB-Xa, or Roland Jupiter 8.
At first glance it looks like a scaled-down Mono/Poly, but really it's not! In fact it had a lot of great new features such as 32 memory patches, 6 voices of polyphony, cassette backup of memory, even programmable modulation effects and Chorus, Phase, Ensemble!
The Polysix has warm-sounding real analog oscillators, softer and brassy-er sounding than the Juno. Engage the built-in Chorus on a simple single-oscillator sawtooth patch and you were pretty darned close to that expensive Prophet sound. But the big ace in the Polysix's hand was the Ensemble effect. Instant Mellotron-like strings.
Like the Mono/Poly the voices can be played in Unison for a 6-oscillator lead sound that was so big, it was often too big! The advanced arpeggiator can memorize and sequence chords across the keyboard. The PolySix has now been recreated in software as part of the Korg Legacy software bundle!
Background video description:
A music I've made for a video game. I try to do sort of "8 bit music" only with my Volca Beats, Keys and my Microbrute.
Hope you'll like it

©Arthur Eloy 2014
App: Korg Gadget
Instrument: London Hypersonic PCM Drum Module
Get awesome sounds on your iPad with Korg Gadget.
—
AppSessions are Jam Sessions powered by iOS Music Apps
—
Follow AppSessions on twitter:https://twitter.com/AppSessionsShow