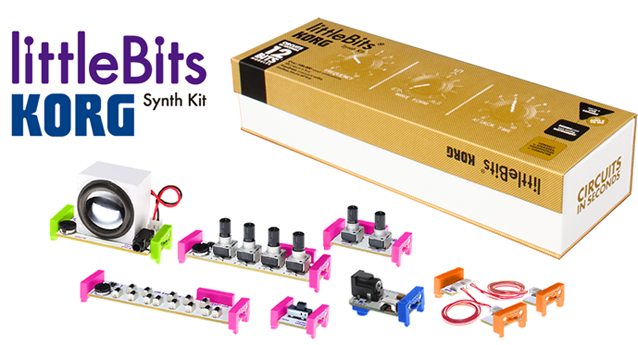 Korg has teamed up with the littleBits and created a kind of modular system set with which you could create a modular synth/instrument. With the original littleBits Exploration Kit Series anyone and everyone can use the modules to create circuits and explore the world of electronics.
The littleBits Synth Kit is a scalable and easily customizable modular synthesizer system for anyone who's interested in building their own little 'analog' system. Without knowledge of music or electronic circuit design, you now can easily assembly a synthesizer.
The whole system is really based on the littleBits Exploration Kit, however the intention is that it will and can be used for live sound and recording. The Synth Kit will be available in Japan first. If this kit will be available worldwide is not been confirmed.
The synth kit offers a variety of modules:
Power
Oscillator
Random
Keyboard
Micro Sequencer
Envelope
Filter (MS-20 style)
Delay
Mix
Split
Speaker
For now the littleBits Korg Synth Kit is expected to be released in Japan in December 2013. Pricing is expected to be around the price of ¥ 16,000. No official announcement has been released however.
This video will provide instructional information on how to use the Envelope Generator onboard the Korg MS-20 mini.
For more information on the KORG MS-20 mini, head over to http://www.korg.com/ms20mini
This video will provide instructional information on how to use the Oscillators that are onboard the Korg MS-20 mini.
Playing Moog Etherwave with KORG Volca beats/bass/keys.
Experimental play with KORG Volca beats, bass, keys and Amazon Kindle ( using kindle's "Text to speech" function ) The text is from Volca bass's manual

Quick groove sound check of custom & stock sounds on Korg's R3 Virtual Analog Synthesizer
The R3 is marketed as a "Synthesizer/Vocoder", and the included gooseneck mic lets you take full advantage of its 16-band vocoding capabilities right out of the box. Simply enter Vocoder mode for access to all of the vocoder's variables that work with an internal or external carrier signal. It also lets you record up to sixteen 7.5-second Formant Motion sequences, allowing you to play saved phrases—albeit at a fixed tempo—through the vocoder without external input. Whether you're looking to channel the spirits of sci-fi robots, make a guitar do backing vocals or are in need of some unconventional choral accompaniment, the R3′s pro-grade vocoder earns its place in both the mix and the title.
Each of the 128 editable patches can contain up to two timbres, sharing the somewhat meager polyphony between them. These can be layered or divided across the keyboard and can be assigned to individual MIDI channels. Each of these two timbres contain all the capabilities listed, so despite being well suited for mono and lead styles it's possible to get surprisingly complex, evolving pads which belie its 8-note polyphony. This is best displayed when using each timbre's modulation sequence, which lets you record a variable's knob changes and can yield complex changes in a single key press. There's also a 6-mode arpeggiator with a toggle button and latch control to further animate the sound.
Every timbre consists of two LFOs, two oscillators, a wave-shaper with sub-oscillator options, two insert effects, and three envelope generators for filter, amp, and one for assignment using the Virtual Patch system. This feature lets you define up to six additional routings, giving the unit a fitting touch of modular dynamics which can add subtle dynamics or make sounds spiral off into mayhem. Unfortunately the routings are limited, but most of the logical sources and destinations are included. The two oscillators cover a wide range of traditional analog waveforms with some useful extras (osc1 includes 64 DWGS preset waveforms and the vowel-like Formant wave) and allow a number of interactions between them: ring mod, VPM and unison, among others. External signals can also be processed through the filters, gates and effects. All of this is wrapped up with one master effect and a variable 2-band EQ with some other fine-tuning mods to polish the finished sound.
All of this programming demands an intuitive interface, and although it involves some menu-diving, this is handled by selecting the category with a rotary encoder and then editing individual variables with the 4 main pots. Though it isn't "per-knob" editing, each pot is encircled by a slick-looking LED halo which shows the value regardless of the knob's current position. Each knob also has its own small LCD screen which can show the variable or its value by hitting the shift key. This combination along with the Original Value light takes much of the drudgery and guesswork out of building your own patches, but it's recommended to load up the included software editor since some sub-variable and effects tweaks can seem cryptic at first.
LIve recorded livejam with the three Korg Volcas.
all sequences where produced with the internal sequencers of the Korg Volcas.
a midikeyboard was used for playing and recording notes on the Volca Keys.
Minor EQ-ing in the high- and low-ends on each track and also on the Mastertrack was made.
also added 2 Effects from the Ableton Live library.
Background video description:
This is a recording from august when i got my mini.
I must say i love the Korg Ms-20 mini,
It have a warm and nice vintage sound and its very creative to play.
Keys.nois and build quality…..i dont have time to think about that when im in orbit


So this is me exploring the MS-20 mini next to the Moog Rogue
Free Drum Rack for Ableton Live featuring Korg Volca Beats samples!
Free Download @ http://bit.ly/freesynth92
*Requires Ableton Live 9*
Visit AfroDJMac's site for more stuff like this, including Live Instrument downloads, tutorials and music! http://www.afrodjmac.com
Gear:
Korg Volca Keys
Korg Volca Beats
Korg Volca Bass
Boss DR-660 with Line 6 M13 multi effects
A little piece of a new track jam session!
Background video description:
Autumn is on his way…
Wind and rain here on the North Netherlands coast … Its better to stay at home and make some music on the rhythm of the rain …
I try to make a special groovebeat with the powerful MD, best you can listen with a headphone for perfect stereo.
I play the Mopho (desktop) with the keys form the PEK and I make a sound on the great Radias.
I bought the Radias a few days ago, its a powerful dream-synth in newest condition and hardly used

Soon more with the Radias…
Enjoy and grtz
FREELANDERRIDE