Monotribe synced to a Korg SQ-1 sequencer, which triggers the Sugar Bytes Unique on the Samsung Galaxy S6.
Korg Minipops 7 with MIDI Interface.
This is the first of a series of Tutorials on Korg's Volca Sample.
For more information, please visit http://filipe-teixeira.com/index.php/…
Enjoy your Volca!
The video series covers:
Create patterns on the Korg Volca Sample:
Tweaking samples and granular synthesis on the Volca Sample;
Volca Sample pattern automation;
Song mode;
Volca Sample MIDI features; and
Loacing custom samples.
The Volca Sample has a street price of about $150. See the Korg site for more info on it.
In this video, we hook up the Roland TR8, Access Virus C and Korg Volca Bass for a downtempo electronic trip.
Sequencer A controls the Virus C, while Sequencer D controls the Volca Bass. The Komplex is slaved to the TR8's MIDI clock. The skip step mode is used on the Volca Bass to vary the bassline. Meanwhile, ratcheting repeats are added to the Virus C's pattern to create unique rhythms. The gate length and output range also change.
The KORG DS-10 series was an enormous hit for the Nintendo DS. Now, seven years later, it has undergone a further evolution while staying true to its original spirit. Now available is the KORG iDS-10, a portable synthesizer studio for iPhone.
The KORG iDS-10 combines a cutting-edge analog synthesizer, voice synthesizer, and analog drum machine inspired by motifs from the original KORG DS-10. This iPhone app gives you a hand-held system to easily create electronic music, which requires persuasive sound with a minimal number of notes.
More Details:
http://www.korg.com/korg_ids_10_for_i…
*"KORG DS-10″ ©2008-2009 Marvelous Inc.
all sounds: KORG EPS-1 Analog Piano & Strings (1983)
drums: KORG KR-55B (1982)
recording: multi-tracking without midi
fx: reverb and delay
Chief engineer Tatsuya Takahashi walks you through a step by step of how to program a step sequence on the volca sample OK GO edition.
– Check out other tutorial!
Introducing volca sample OK GO edition – Part 2: Sample Edit
http://www.youtube.com/watch?v=g-u6gv…
– And OK GO's introduction video!
volca sample OK GO edition – Get the volca sample and remix OK GO!
https://www.youtube.com/watch?v=9KyfE…
– Get more details about this product!
www.korg.com/volca_sample_okgo_edition/
Chief engineer Tatsuya Takahashi explains the basics of how the 11 parameters can manipulate the way samples sound on the volca sample OK GO edition.
Analog, digital and virtual

A synth jam with Yamaha DX7II, Moog Sub 37 and Korg Gadget for iPad.
Fx: TC-Helicon Voice Live GTX (chorus and reverb for the DX7 II) and Zoom MS70 CDR (chorus, reverb and delay for the Sub 37).
A powerful partnership between KORG and OK GO – a special edition of the volca sample.
Packed with 100 carefully selected audio samples from "Hungry Ghosts," the latest album from OK GO, the limited edition OK GO volca is now here. You can freely edit their numerous iconic sounds, such as the vocal line from "I Won't Let You Down" or the bass from "The Writing's On the Wall," and arrange them to create your own music. Use the content to create your own version Ok GO's infectious tunes, mix and match content with your own samples create remixes, or create entirely original sample-based music using the simple, step-based recording layout of the volca sample.
OK GOの最新アルバム『Hungry Ghosts』のレコーディング素材から激選された、100個のオーディオ・サンプル­を詰め込んだ電子楽器です。『I Won't Let You Down』のボーカルラインや、『The Writing's On the Wall』のベースなど、彼らの数々のアイコニックなサウンドを自由自在にエディット­、アレンジして自分の音楽を作リ出すことができます。volca sample OK GO editionで、OK GOをリミックスしてみましょう!
More Details:
http://www.korg.com/volca_sample_okgo…
KORG Module is a high-quality mobile sound module app that's ideal both for performance and for music production, and features a pro-level high-quality sound library. In addition to the iPad version, it's now available for iPhone as well. Your iPhone, together with a MIDI keyboard such as the new microKEY, is all you need to easily perform unsurpassed grand piano and studio-quality keyboard sounds anywhere and anytime.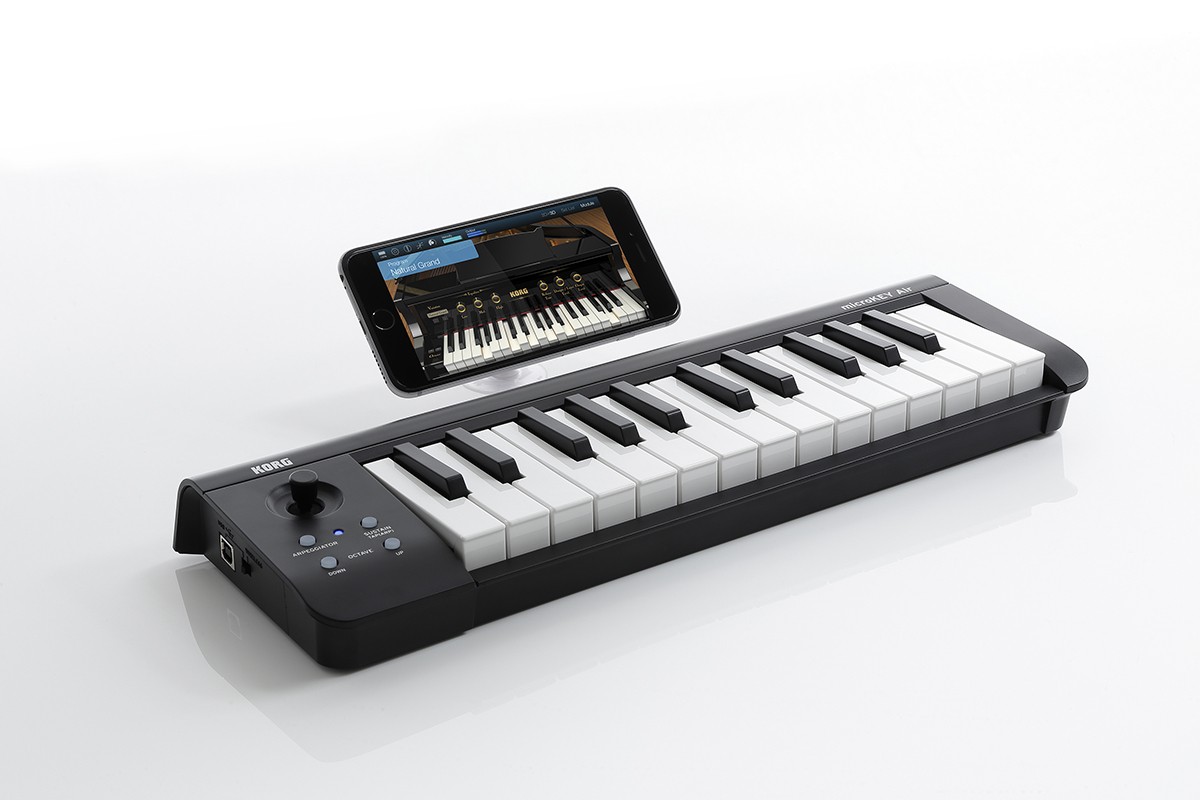 More Details:
http://www.korg.com/korg_module_for_i…
http://www.korg.com/korg_module_for_i…
http://www.korg.com/microkey2_air/
http://www.korg.com/microkey2/