A new project, AUUG Motion Synth, explores the possibilities the iPhone and iPod touch, converting the devices into wearable motion-controlled instruments. Using it, you can control iOS synths, desktop music apps and even hardware.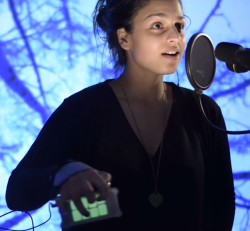 The platform is made up of three components:
The AUUG grip positions the screen of an iPhone or iPod touch to be played by the fingers and secures the device to the user's hand during motion: The AUUG app converts your iOS device's motion sensor data into signals for shaping sound, and transfers these signals to other iOS sound apps or external devices. The AUUG app does not produce its own sounds, but instead acts to control other iOS audio apps running on the same device (as well as external devices). The AUUG app can be installed on iPhones (4S and up) and iPod touch devices (5th generation and up). The AUUG cloud is online service at that allows AUUG app presets to be shared with other users, via your iPhone or iPod touch (no laptop or desktop needed).
Background video information:
Demo of Looptical Music Studio for iPhone, available from the App Store. For more information see: www.moocowmusic.com
Looptical is the complete music production solution for your iPhone. Record your musical ideas on the go, and mix them into a finished track there and then, or use them as the basis for a new project back at your studio.
Background video description:
The Smallest Official MPC is Here! It runs on your iPhone now ( after previously being made for iPad ) Make beats anywhere. This little App is going to be a big deal, because it can export directly to the larger MPC software set ups on your main computer, or via audio export into any DAW. Don't forget Soundcloud upload, where you can share your beats as soon as you make them. This is my introductory review / demo of iMPC for iPhone! Get it now, it's on introductory sale!
All music in this video is my own original composition, made with the software instruments that I am demonstrating.
Made using Vidrhythm for iOS
For more information:
Anything can be used to make beats, just using your imagination!
eBook – http://howtomakeverysickbeats.com/hip…
Follow us Twitter @JFilt
Like us Facebook @ http://www.facebook.com/pages/Verysic…
Soundcloud- http://www.soundcloud.com/verysickbeats
Bandcamp- http://verysickbeats.bandcamp.com
I decide to test myself with using only sounds from the iphone and a familiar breakbeat.
Arpeggionome for iPhone: A New Musical Instrument for Controlling Arpeggios with the Touch of a Finger. Only $0.99 through May 31:http://itunes.com/apps/arpeggionomefo…
Arpeggionome for iPhone transforms your iPhone into a new and expressive musical instrument. Design intricate patterns of musical notes, then trigger those patterns at different pitches and speeds with an x-y matrix. Tilt the iPhone for accelerometer-controlled pitchbend and volume, and with the MIDI Upgrade in-app purchase, control other iOS MIDI apps, external MIDI gear, and computer software like never before.
MORE INFO: http://www.alexandernaut.com/arpeggio…
Background video description:
My friend Deceptikon (http://deceptikon.net) tries Arpeggionome for iPhone for the first time, connecting it to his MS-20 mini. Levels, drums, and effects with M-Audio Evolution U-Control controlling Ableton Live.
Phil Morse of Digital DJ Tips gives a ten-minute talkthrough of all the main features of Traktor DJ for iPhone from Native Instruments, a groundbreaking DJ app for iPhone. Full review at: http://www.digitaldjtips.com/2013/05/…
The Verge's Trent Wolbe is joined by Jim Mazur to show off the new Traktor DJ app for iPhone. Previously only available on the iPad, Traktor DJ allows you to mix music using an easy touchscreen interface.
TRAKTOR DJ, the pro DJ app for iOS, is now available for iPhone and iPod Touch. More info and videos: http://www.native-instruments.com/tra…
Deliver devastating DJ sets using familiar iPhone gestures, with beautiful waveforms at your fingertips. Set up beat grids, cue points and BPM tags on your iPhone to sync with your TRAKTOR PRO setup. Perfectly adapted to the iPhone's compact screen estate, TRAKTOR DJ for iPhone puts professional DJing in the palm of your hand.
TRAKTOR DJ for iPhone is available now at the iTunes App Store for only $4.99 / 4.49 €.
http://ow.ly/kzEzo
The iPad version is available for only $19.99 / 17.99 €.
http://ow.ly/kzEGz
Tracks by Modeselektor – Pretentious Friends (Instrumental version), Berlin (Instrumental version)
iKaossilator Jungle Jam
The "iKaossilator" app was ranked the number one selling app* in the music section of the App Store internationally, and now it's been updated to Version 2.1! With the new ability to import audio loops, it's a great companion for the Kaossilator 2. While retaining its accessibility for musicians and non-musicians alike, as well as its ability to create tracks at the touch of a finger, iKaossilator has evolved to a new level that goes beyond the realm of synthesizers.
iKaossilator Version 2.1 Highlights

Audio Loop Import

Seamless operation in tandem with the Kaossilator 2


Support for "AudioPaste"