The KORG DS-10 series was an enormous hit for the Nintendo DS. Now, seven years later, it has undergone a further evolution while staying true to its original spirit. Now available is the KORG iDS-10, a portable synthesizer studio for iPhone.
The KORG iDS-10 combines a cutting-edge analog synthesizer, voice synthesizer, and analog drum machine inspired by motifs from the original KORG DS-10. This iPhone app gives you a hand-held system to easily create electronic music, which requires persuasive sound with a minimal number of notes.
More Details:
http://www.korg.com/korg_ids_10_for_i…
*"KORG DS-10″ ©2008-2009 Marvelous Inc.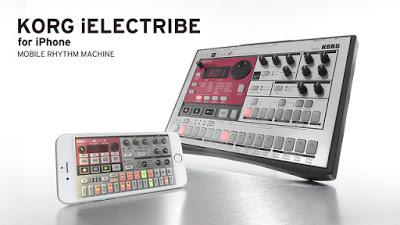 A full-fledged rhythm machine for iPhone. This app's intuitive operation allows anyone to easily create powerful beats on the ELECTRIBE series. The enormously popular ELECTRIBE-R instantly became a must-have item for track-makers around the world, and now it's been reborn as an app for iPhone.
With this app, we've effectively "put the original hardware chassis into your iPhone," by faithfully reproducing the sound engine and design of the ELECTRIBE-R. We've also included the latest preset patterns and many new functions that are currently featured on the "iELECTRIBE for iPad", released in 2010. , taking a further evolutionary step in technology. Taking advantage of the ease of use that you expect on iPhone, we have maximized the intuitive nature of the ELECTRIBE to make this new product worthy of its name: the iELECTRIBE mkII.
It won't take long for you to enjoy the ultimate experience of the Electribe series. This apps intuitive nature and familiar interface make it easy to create beats with an analog feel that's like nothing else.
Amazing rhythm machine that generates powerful grooves
We've perfectly replicated the thick-sounding synth engine of the ELECTRIBE-R and its intuitive step sequencer. Now you can instantly obtain extreme tonal changes and powerful rhythms with just one touch
Not only can iELECTRIBE for iPhone be easily enjoyed by anyone, but it also allows detailed beat-making that transcends iPhone specs. In addition to playing back the provided audio data, you can also freely synthesize sounds from a single waveform and combine those sounds into your own original beats. This allows for the true experience of music production that connects all musicians.
Three hundred built-in rhythm patterns that only this app can produce
With 64 of the latest preset patterns, 192 from the first-generation ELECTRIBE-R, and 32 template patterns for various genres, this app successfully draws out the full potential of the thick sounding analog beats. There are approximately 300 inimitable rhythm patterns that you'll hear only from iELECTRIBE for iPhone. Electro, house, techno, drum'n'bass, dubstep, hip hop, techno pop, and IDM are some of the wide range of electronic music genres that are provided.
An ELECTRIBE that you can put in your pocket and take anywhere
Whether you're on the train or bus while commuting to school or to work, at a coffee shop, or in your bedroom, you can enjoy beat-making anywhere and anytime you like. Your completed beats can be transferred to your DAW software via the audio export function. You can also use the WIST function to play wirelessly with a friend using two devices simultaneously.
Powerful functions that bring infinite possibilities to your grooves
We've packed maximum potential into this machine with eight types of powerful master effects featured on the upper-level models of the ELECTRIBE. This includes the ring modulation function of the ELECTRIBE-R and the cross-modulation function of the ELECTRIBE-R mkII. This app allows you to switch back and forth to choose between the two. It also includes the BEAT FLUTTER function that uses a proprietary randomizer to create fresh rhythms and the motion sequence function that remembers your knob movements. In addition, you can use an external USB-MIDI device such as the nanoPAD or nanoKONTROL for performance and control. There's also support for the latest iOS technologies such as Inter-App Audio, Audiobus, Virtual MIDI, and iCloud.
Operating Requirements
OS: iOS 8 or later
Device: iPhone 6, iPhone 6 Plus, iPhone 5s, iPhone 5c, iPhone 5, iPod touch fifth-generation, iPod touch sixth-generation
*Because of differences in screen resolution between models of iPhone, the display is smaller on the iPhone 4s. For the best experience, we recommend using iPhone 5 or later.
The ELECTRIBE is on sale for $9.99 (which is 50% off for launch)
Phone In Your Beatmaking! A remade iElectribe arrives for your iPhone, so you're ready to play anytime, anywhere.
This was just announced, this is my "First Look" review. Lots more soon, stay tuned!
Note: Please listen with headphones, iElectribe beats have a lot of bass you can't hear on smaller speakers! This is a direct "Line In" recording.
Yes, I realize the voice was recorded too loud, the next video will be better.
Do they sound the same? Check it out!
iElectribe for iPhone: https://itunes.apple.com/br/app/korg-…
A new project, AUUG Motion Synth, explores the possibilities the iPhone and iPod touch, converting the devices into wearable motion-controlled instruments. Using it, you can control iOS synths, desktop music apps and even hardware.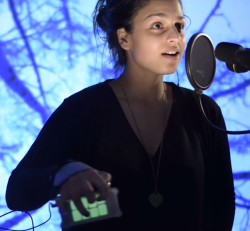 The platform is made up of three components:
The AUUG grip positions the screen of an iPhone or iPod touch to be played by the fingers and secures the device to the user's hand during motion: The AUUG app converts your iOS device's motion sensor data into signals for shaping sound, and transfers these signals to other iOS sound apps or external devices. The AUUG app does not produce its own sounds, but instead acts to control other iOS audio apps running on the same device (as well as external devices). The AUUG app can be installed on iPhones (4S and up) and iPod touch devices (5th generation and up). The AUUG cloud is online service at that allows AUUG app presets to be shared with other users, via your iPhone or iPod touch (no laptop or desktop needed).
Background video information:
Demo of Looptical Music Studio for iPhone, available from the App Store. For more information see: www.moocowmusic.com
Looptical is the complete music production solution for your iPhone. Record your musical ideas on the go, and mix them into a finished track there and then, or use them as the basis for a new project back at your studio.
Background video description:
The Smallest Official MPC is Here! It runs on your iPhone now ( after previously being made for iPad ) Make beats anywhere. This little App is going to be a big deal, because it can export directly to the larger MPC software set ups on your main computer, or via audio export into any DAW. Don't forget Soundcloud upload, where you can share your beats as soon as you make them. This is my introductory review / demo of iMPC for iPhone! Get it now, it's on introductory sale!
All music in this video is my own original composition, made with the software instruments that I am demonstrating.
Made using Vidrhythm for iOS
For more information:
Anything can be used to make beats, just using your imagination!
eBook – http://howtomakeverysickbeats.com/hip…
Follow us Twitter @JFilt
Like us Facebook @ http://www.facebook.com/pages/Verysic…
Soundcloud- http://www.soundcloud.com/verysickbeats
Bandcamp- http://verysickbeats.bandcamp.com
I decide to test myself with using only sounds from the iphone and a familiar breakbeat.
Arpeggionome for iPhone: A New Musical Instrument for Controlling Arpeggios with the Touch of a Finger. Only $0.99 through May 31:http://itunes.com/apps/arpeggionomefo…
Arpeggionome for iPhone transforms your iPhone into a new and expressive musical instrument. Design intricate patterns of musical notes, then trigger those patterns at different pitches and speeds with an x-y matrix. Tilt the iPhone for accelerometer-controlled pitchbend and volume, and with the MIDI Upgrade in-app purchase, control other iOS MIDI apps, external MIDI gear, and computer software like never before.
MORE INFO: http://www.alexandernaut.com/arpeggio…
Background video description:
My friend Deceptikon (http://deceptikon.net) tries Arpeggionome for iPhone for the first time, connecting it to his MS-20 mini. Levels, drums, and effects with M-Audio Evolution U-Control controlling Ableton Live.
Phil Morse of Digital DJ Tips gives a ten-minute talkthrough of all the main features of Traktor DJ for iPhone from Native Instruments, a groundbreaking DJ app for iPhone. Full review at: http://www.digitaldjtips.com/2013/05/…
The Verge's Trent Wolbe is joined by Jim Mazur to show off the new Traktor DJ app for iPhone. Previously only available on the iPad, Traktor DJ allows you to mix music using an easy touchscreen interface.