For more information:
Anything can be used to make beats, just using your imagination!
eBook – http://howtomakeverysickbeats.com/hip…
Follow us Twitter @JFilt
Like us Facebook @ http://www.facebook.com/pages/Verysic…
Soundcloud- http://www.soundcloud.com/verysickbeats
Bandcamp- http://verysickbeats.bandcamp.com
I decide to test myself with using only sounds from the iphone and a familiar breakbeat.
Details below:
running "triqtraq" on iPad mini.
It's so nice groove maker!!
Audio Interface : Presonus FireStudio Tube
DAW : Apple Logic
Effect Processor : Lexicon MX300
Camera : Sony DSC-HX30V
Music producers and DJ's will find dozens of possibilities inside triqtraq to compose and tweak beats on the fly.
Jam out some grooves, tweak them with the advanced effect automation and the unique loop range feature, and chain patterns to build up entire tracks.
Are you just starting out making music? Don't worry, triqtraq is straightforward enough to get you good sounding results quickly…
Grab your iPhone and start to improvise; live, in your studio or on your couch.
Pick sounds from the included sample library, or import your own samples to get that unique sound.
triqtraq strikes the right balance between musical possibilities and limitations and lets you focus on the most important part of making music… having FUN!
KEY FEATURES:
✔ create musical patterns fast and intuitively
✔ record beats live or by using the step editor
✔ automate all effects in real-time
✔ record/automate multiple tracks simultaneously
✔ specify the length of a sequence per track
✔ unlink automation envelopes from main tracks
✔ change sounds while jamming
✔ store up to 16 patterns
✔ chain up to 16 patterns with the queue feature
✔ switch seamlessly between patterns
✔ use the loop range to create poly-rhythms
✔ use sounds from the 350+ factory sample library
✔ import your own sounds via iTunes file sharing
NEW version 1.5
◆ New lower price : $4.99 instead of $9.99
◆ Support for iOS 6 and the iPhone 5
◆ New features : MIDI Input Support & User Samples Support
◆ New sounds and songs
ElectroBeats is a very intuitive beat making application for iPhone, iPad and iPod touch, conceived in collaboration with the worldwide-renowned and the most demanded producer David Guetta.
With a powerful real-time approach and an impressive sound library, you'll create great sounding beats at a glance.
FEATURES
◆ Realtime workflow experience with sixteen pads and five different modes:
Pad, Pitch, Velocity, Erase, Mute/Solo
◆ Exclusive and electro oriented sound library, with hundreds of sounds including Bass Drum, Snare, Clap, Rimshot, Cymbal, Hi-Hat, Open Hi-Hats, Acoustic Percussion, Electronic Percussion, FX, Bass, Chords, Leads, Instruments, Vox…
◆ Synthesis oscillator
◆ Dozens of ready to use drum and construction kits
◆ Hundreds of patterns to use with the drum kits
◆ Note Repeat in multiple resolutions
◆ Dynamically change the quantize/repeat resolution while recording : the key to build beats very fast
◆ Default quantization for instant gratification
◆ Save and share your tracks using iTunes
◆ Bounce song in Wav format
◆ Import your files via File Sharing in iTunes
◆ Multitrack export for use in sequencers like Logic™, Live™, ProTools™, Cubase™ and many more.
◆ MIDI input support
◆ Tap Tempo
◆ Realtime previews (pattern, kits and sounds)
◆ Convenient undo with snapshots support
◆ Embedded help in English, French, Spanish and Japanese.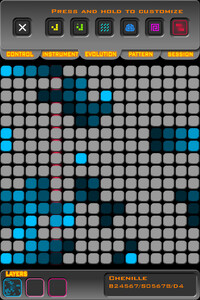 Team Popo has released BeatEvolve, a generative music app in which the grid of notes can 'evolve' according to rules such as Conway's Game of Life.
Anyone can make music with BeatEvolve! With 31 instruments to choose from, the intuitive interface lets you combine 3 layers of harmonies to create awesome riffs!

Select from one of six preset evolution rules or create your own from scratch then sit back and watch as the music changes all by itself.
BeatEvolve features
Three layers.
31 instruments.
Six evolution presets including Conway's famous Game Of Life.
Experiment by creating your own evolution rules.
Flip, rotate and shift the patterns you make.
Tempo adjust.
Save your musical creations to use later or show off to your friends.
Another Acidlab Autobot little jam with the Korg electribe ER-1 mkII by Isotroposphere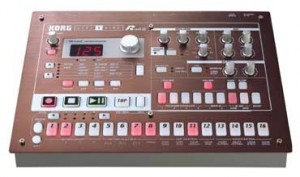 "Korg has created the ultimate analog beat machine. Simply by tweaking the knobs on the ELECTRIBE R, you have unlimited control over all the elements that make up the sounds – like pitch, modulation depth, waveform shape and much more. Drop these sounds into the built-in sequencer and you've got unique rhythms with your own creative signature. And with the ELECTRIBE R, you can hear every change you make as it happens, allowing you to mold the groove on the fly."
"The built-in step sequencer's 16 pad keys make it easy for you to produce rhythms from the sounds you create. Each pad keys lights up so you can easily see what rhythm a part is programmed to play. Plus, you can play in beats in real-time using the 12 trigger pads. Four of the pads are assignable to any analog modeling sound you come up with, two are reserved for controlling sounds accessed through the audio input, and the other four permanently control the indispensable PCM sounds. So you can tailor your own custom "kits" to fit each musical situation."
"To add even more life to your patterns you can record the real-time movement of any of the ELECTRIBE R's oscillator, amp or effect parameters as a Motion Sequence. This lets you change your sounds as your groove progresses in a way that more traditional drum machines just can't match! Plus, every sound or rhythm you create can be stored as a pattern that includes your knob movements. And you can save up to 256 1 to 4-bar patterns in internal memory."
"The ELECTRIBE R can also be controlled from an external sequencer, keyboard, or sampler to function as an analog sound rhythm tone generator, or set up to control or be controlled by other hardware or computer-based sequencers."
http://youtu.be/NgF_TbALpJQ
A short unboxing video of the beatMaker DJay app by Keith McMillen Instruments
Sample Collection for BeatMaker 2 by Intua:
32 drum kits with over 400 samples, 64 audio loops, 37 demo pattern
More infos: www.app-sound.com
Xylio has released this new app for performance sampling, here's there description in their own words:
BeatSpiral is an innovative sample performance instrument for the iPad, iPhone and iPod touch.
Chop samples, make beats and perform them live. Choose from the included library or import your own.
Take it for a spin. Give it a whirl. It's a Groovebox with a twist.
FEATURES:
● Create new sequences by rearranging and looping sample slices
● Hold the wave stripes at different locations to play slices, slide out to record
● The two waves on the left get recorded to one track, the others to the second
● Select different loop regions on each track, change their length, copy and erase content
● Mute pads for temporary silencing, erasing track content and deactivating waves
● Eject buttons for selecting sample files and setting volume and panning
● User sample import via iTunes File Sharing (mp3, wav, aiff, m4a)
● Animated metronome shows tempo controls (20-200 BPM) with Tap Tempo
● Zoom, Undo and Rotate tracks
● Audio engine featuring high quality interpolation and low latency
● Sample library and handy user guide to get you started
● Crossfader
● Autosave
Available now on the App Store: http://itunes.apple.com/us/app/beatspiral/id543138242
Video details below:
http://www.pointblankonline.net/ In the next 3 episodes in our 'Making Music with Apps' series Danny J Lewis shows you how you can put together professional sounding tracks on the move. In this tutorial he starts off with the beatmaking using Native Instrument's iMaschine.
This approach is all about making the most of the unique qualities of each app and recording the results into Ableton as audio clips. The advantage is that you are committing the sound that you have made to audio so there is no temptation to endlessly fiddle with the synth parameters or the intricacies of the midi patterns and you can get on with the task of arranging the parts to make that banging tune that your 8 bar loop had promised!
Go to: http://www.pointblankonline.net/courses/ableton-live-courses.php to find out how you can learn more about using Ableton Live as a recording tool. Please get in touch with our course advisors at advice@pointblankonline.net if you want to find out more.
Background information:
What's up youtube fam…this is ya boi Deleswa. I'm back and this time around I'm making a chopped/emotional type beat on Beatmaker 2
As a bonus for all you who have continued to support me….I decided not to be lazy and instead included beatmaking during the entire video.
That's right…you'll get to see me rockin' the pads and the keys. Also….you'll be able to watch the beat from beginning to end on the Beatmaker 2 DAW that I included in the video.
Coo….so that's about it…so check me out and please leave and comment and Subcribe and I will keep the sounds comin…cause music is what I do….God Bless!!!
Get hot beats for your next music production @ http://www.rocbattle.com/deleswa
Beats @ http://www.reverbnation.com/deleswa can be made avail for licensing upon request.
Follow me on Twitter @ http://www.twitter.com/deleswa
Official domain @ http://www.deleswaproductions.com (work in progress)
Get at me @ http://www.myspace.com/deleswaproductions
Check me out @ http://www.indiebychoice.com/deleswa
Latest album "Black Noise" and singles avail @ http://www.cdbaby.com/Artist/Deleswa