A quick 1 minute video getting into the awesome Moog Sub 37 analog synth with the Maschine Studio. Having a nice time with a funky hip hop beat.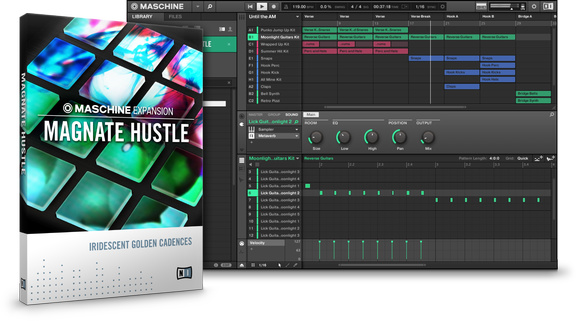 Native Instruments has launched Magnate Hustle, a new Maschine expansion pack tailored to the multi-faceted sound of today's urban pop styles.
MAGNATE HUSTLE provides producers of urban pop, R&B, and hip hop with a wealth of melodic material. An exclusive selection of guitar licks and chords allows beat makers to drop melodic and harmonic elements directly into their tracks. Licks can be used as they are or be chopped up within the MASCHINE environment for adding a personalized touch to projects. A set of multi-sampled instruments including basses, acoustic and electric pianos, and synths, plus vocal hits and one-shots provide additional melodic possibilities and texture. And a set of new MASSIVE presets designed specifically for contemporary urban pop offer producers near-limitless sonic variation for their tracks.

MAGNATE HUSTLE's selection of drum sounds includes a versatile set of samples processed for maximum punch plus four kits consisting of all-new presets for the MASCHINE 2 Drum Synths. The MASCHINE 2 Drum Synths allow users to adjust drum sounds on the fly, further tailoring the sound or adding a dynamic performance element to their music. The sounds were designed and tweaked by producers currently working on major label projects. Their expertise gives the drums in MAGNATE HUSTLE the larger-than-life sound of platinum-selling records heard in the charts worldwide.

A condensed version of MAGNATE HUSTLE is also available as an iMASCHINE Expansion, for creating beats on-the-go. The iMASCHINE Expansion features three projects, four drum kits, and three instruments. Tracks can be exported to MASCHINE STUDIO, MASCHINE, and MASCHINE MIKRO for completion.
Magnate Hustle for Maschine 2 is available for purchase for $49 USD/49 EUR/£44 GBP. The iMaschine expansion is available at the in-app store for $0.99 USD/0.89 EUR/£0.69 GBP.
Native Instruments has released a series of videos that look at Maschine workflows. 
In this first workflow-video, learn how to quickly create an inspiring drum beat with MASCHINE.
The features explored in this video are available on all MASCHINE STUDIO, MASCHINE and MASCHINE MIKRO hardware controllers.
The look-ahead looper is a mythical device which allows for incredible looping creativity. With a REGULAR LOOPER, you press "loop" and then you play something brilliant. That's stressful and error-prone. With a LOOK-AHEAD LOOPER, you play something brilliant and then hit the loop button. Or you can wait. The looper is always ready to loop the last 2 bars (or 4, or 8, or whatever you've set up).
In this video, Dan Rosenstark, Author & CEO of MIDI Designer, shows you how to set up the simplest kind of look-ahead looper in Ableton Live. This is the first video on Look-Ahead Loopers… there are more complex variations to come.
dream | create | play your perfect MIDI controller with award winning MIDI Designer: reviewed and LOVED by Recording Magazine (July 2013), Sound on Sound (June 2013), featured in Keyboard (May 2013), awarded Sonic Touch Gold Award for Best App (Episode 11 and featured in 23), loved by musicians, DJs, VJs, sound engineers, lighting and robotics experts the world over. If you can dream it, you can create it in MIDI Designer. Now available for iPad, iPhone and iPod touch.
Find out more at http://midiDesigner.com
Take a look at Maschine Mikro's latest cutting-edge tools and groove production workflow. More at http://www.native-instruments.com/en/…
Maschine Mikro is the compact groove production system combining software and hardware in perfect harmony. All the power and flexibility of MASCHINE's pattern-based sequencer, high-performance sampler, exemplary drum synths, pro studio instruments and effects, and acclaimed sound library in a compact, budget-friendly package. The perfect entry into the world of Maschine.
No matter which MASCHINE hardware you own, the MASCHINE 2.0 software will boost your beatmaking. It's a big update. The completely re-worked software offers a new audio engine, unlimited groups and effects sends, multicore support, Drum Synths, and much more. Your hardware. Faster workflow. Unprecedented power.
Background video information:
Just messing around with the new toy. I will have more detailed info up soon over at Fluxwithit.com
Don't forget to sighn up for the free Newsletter to get FREE Maschine packs.
This is how you set up the Novation Ultranova to be used inside of Maschine 2.o or really any DAW
Discover Maschine Studio's ultra-intuitive beatmaking and production workflow in this short overview video. http://www.native-instruments.com/mas…
MASCHINE STUDIO keeps you laser-focused on the quest for the perfect groove. Its pattern-based sequencer and high-performance sampler, exemplary drum synths, incredible suite of creative effects and pro instruments, and acclaimed sound library deliver ultimate production power. All with a fully tactile, hardware-focused workflow that puts you in total control of the groove.
With two new AMOLED screens and a more integrated control surface, Maschine Studio is now the flagship hardware in the range, with a major software upgrade in V 2.0 which also is compatible with the existing Maschine Hardware, there's a lot to digest. Gaz Williams takes us for a deep appraisal of the two new components.
Native Instruments just released MASCHINE STUDIO and its all new 2.0 software for the entire product line.
Massivebeatz chats in depth about the new features, prices, pros and cons, alternatives (MPC Renaissance, DSI Tempest) – and whether you might need to upgrade.
Content and photos copyright by Native-instruments.com, Createdigitalmusic.com, Akai, Massivebeatz and Dave Smith Instruments.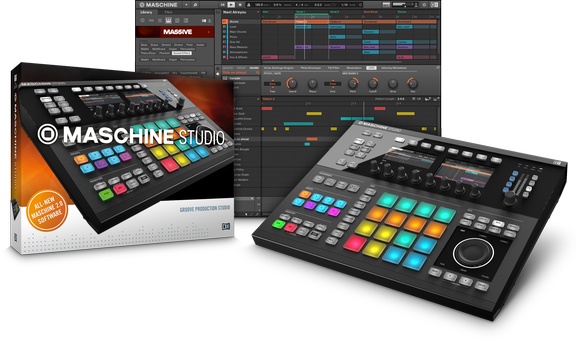 Native Instruments has announced MASCHINE STUDIO and MASCHINE 2.0, the new flagship groove production studio and next generation of MASCHINE software.
Considerably bigger than the original hardware, MASCHINE STUDIO provides expanded tactile control and new hi-resolution color displays, setting a new precedent in intuitive, hands-on, computer-based beat production. As with the acclaimed MASCHINE and MASCHINE MIKRO, MASCHINE STUDIO is an integrated solution combining the latest software technology with a hardware-based workflow.

MASCHINE 2.0 features a host of enhancements – including a new mixer page and dynamic drum synth plug-ins – designed to deliver more power and speed to all three MASCHINE production studios.
Providing complete hardware control over virtually all software functions, MASCHINE STUDIO's workflow is centered on 16 highly-responsive multi-color backlit pads, a new Edit Section with jog wheel, a Level Section and two hi-resolution color displays – a major hardware advancement. The displays enable producers to focus on MASCHINE's hardware workflow, providing detailed visual feedback of the software's powerful features. When editing samples or working in MASCHINE's clip-based pattern sequencer, the displays show an overview of the full selection on the left screen while the right screen allows for detailed fine-tuning when slicing, editing, and composing. When browsing, the displays provide easy navigation and selection of projects, groups, sounds, instruments, effects, and samples with KOMPLETE Instruments and Effects product icons visible directly from the hardware.
A new Edit Section provides dedicated buttons and a jog wheel with LED indicators for visual feedback and enhanced functionality. The jog wheel allows quick adjustments to volume, tempo, and swing settings, and speeds up browsing and editing. The Level Section provides a convenient volume knob and a multi-purpose meter display for master, group, sound, and cue levels plus monitoring for up to four selectable input sources when a multi-channel audio interface is connected. Dedicated control buttons allow fast switching between MASCHINE STUDIO's sampler, arranger, mixer, and browser, and provide direct access to channel settings and an all-new plug-in strip. For producers already using external equipment, one MIDI input and three MIDI outputs allow MASCHINE STUDIO to function as a command hub, controlling all equipment from one comprehensive controller. On the underside of the unit, a highly sturdy, built-in collapsible stand provides the optimal angle for working with MASCHINE STUDIO.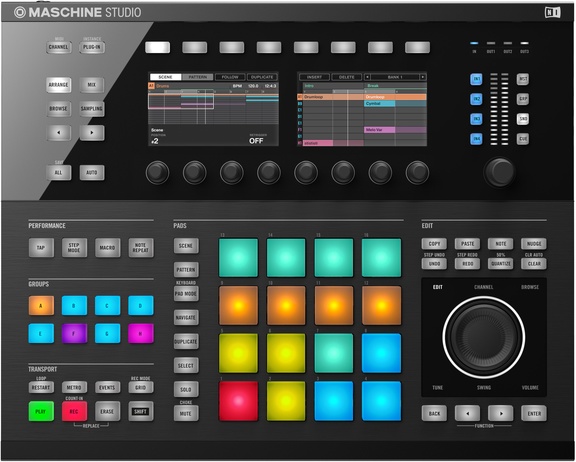 MASCHINE 2.0 presents a major revision of Native Instruments' groove production software, delivering a host of powerful features to MASCHINE STUDIO, and both generations of MASCHINE, and MASCHINE MIKRO. A tag-based attribute browser makes samples and presets easy to find while the new plug-in strip make MASCHINE's internal plug-ins much more accessible by displaying their individual user interfaces instead of generic buttons and knobs. A brand-new, dedicated mixer page provides detailed level adjustment and flexible routing of MASCHINE 2.0′s aux sends, plug-ins, and unlimited groups and insert effects. A new audio engine with multi-core technology adds sidechaining and allows higher instrument, effect, and plug-in counts, faster load times and more. High-quality 32-bit float internal summing delivers the latest advancements in professional sound quality.
Also new and exclusive to MASCHINE 2.0 are five drum synth plug-ins meticulously developed with Native Instruments' years of experience in software synthesis. Each instrument caters to a specific drum type, and delivers an easy-to-use interface. The plug-ins are capable of a wide range of sounds – from crisp and digital, to warm and analog, featuring accurate acoustic-sounding drums. Because they are based on synthesis, producers have a refined level of control over the sound of each drum.
Not only are these plug-ins fully-adjustable and automatable directly from the MASCHINE hardware, they now add a signature sound aesthetic to the world of MASCHINE.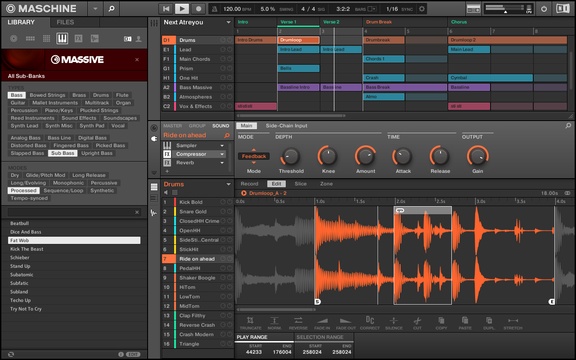 In addition to hosting any VST or Audio Units plug-in, MASCHINE 2.0 comes with an 8+ GB sound library of professional, production-ready sounds. Also included are full versions of Native Instrument's acclaimed MASSIVE synthesizer, the unique synthesizer for percussive and mallet sounds PRISM, the powerful compressor SOLID BUS COMP, and the meticulously sampled vintage electric piano SCARBEE MARK I, providing a versatile setup ready for any production task. MASCHINE can be used as a standalone on either MAC or PC systems, but also loads as a VST, Audio Units or AAX plug-in in all major DAWs for seamless integration with existing production environments. MASCHINE 2.0 software features batch export of full songs, groups, and single sounds in lossless WAV or AIFF formats in up to 32-bit/192kHz quality. Import of older MASCHINE projects, iMASCHINE projects, REX files, and MPC programs is also fully supported.
MASCHINE STUDIO is available for purchase at retailers worldwide and at the NI Online Shop from November 1, 2013 for $999 USD / 999 EUR. MASCHINE 2.0 is included with MASCHINE STUDIO and all MASCHINE and MASCHINE MIKRO products shipping on or after November 1, 2013.
Current MASCHINE users can purchase MASCHINE 2.0 on the NI Online Shop from November 1, 2013 for $99 USD / 99 EUR. Customers who purchase MASCHINE or MASCHINE MIKRO between October 1, 2013 and November 1, 2013 will receive MASCHINE 1.8 with purchase and a free download for MASCHINE 2.0. They will be able to download the new software on November 1, 2013.