Background video description:
It works. Using ASIO4ALL driver. VSTs that were active:
2 Massive vsts
5 reaktor
1 drum kit (stock 909 from Maschine, with 1 metaverb effect)
I had a lot of glitching and stopping because of some processes in
Windows. I advise that you reset your computer before using…
Here's a nice video putting the newly released MS Surface to the test, video details below:
Preface: There are about 6 Reaktor vst's going, 2 Massive vst's, and samples for beats. I am using the stock sound driver for the surface. Audio is being recorded by sampling the master output (in Maschine). As someone has mentioned, I threw pretty much everything at it to cause it to fail, and it survived for quite some time.
~~~~~~~~~~~~~~~~~~~~~~~~~~~~~~~~~
So I thought it would be cool to use the MS Surface Pro as an interface
for Maschine. I was able to make some fun beats with it and use it
fairly well, but it would freak out every so often. I thought I had it
under control when I was making this piece… but it ends abruptly when
the CPU just gives out. The audio cut out just fine apparently, but you
can see at the very end the software and hardware just give up. Welp,
that's why I like hardware grooveboxes, they don't just give up on me
when I'm writing stuff (of course, the Surface Pro isn't THAT great of
a piece of hardware either, but I did expect it to manage this song). Oh, and maschine, it's sound library, and all of the VSTs are on a 64gb class 10 micro SD card.
Yes, the levels seem to be off, I just wanted to experiment with
Maschine and the Surface Pro… It was a failed attempt I think.
Don't forget to turn your captions on. Japanese beat mastermind Olive Oil chops, arranges, and mixes his tracks entirely in MASCHINE.
Video details below:
http://www.native-instruments.com/mas…
He and his brother, visual artist Popy Oil, are part of Oilworks – an independent artist collective manufacturing and distributing records, clothes, paintings, and more from their shop in Fukuoka. To celebrate this new MASCHINE video, we're giving away a custom MASCHINE hand-painted by Popy Oil. Visit MASCHINE on Facebook tomorrow and enter to win.
MASCHINE and REAKTOR form a truly devastating beatmaking team. Here's how to make the most of REAKTOR's effects inside Native Instruments' famed groove production studio.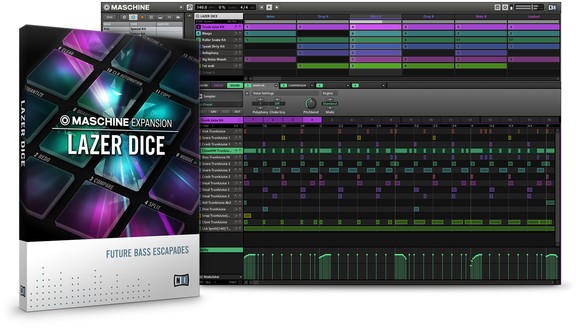 Native Instruments has announced the release of LAZER DICE, a new MASCHINE Expansion for producers of future bass and related genres.
Blending synth-heavy electronic and deep south hip-hop, the Expansion features custom drum sounds and patterns created to reflect the rugged beats and skittering rhythms of the genre. Native Instruments' synthesis expertise provides the screaming, future bass synth leads with new MASSIVE presets. Special Kits deliver new possibilities for live improvisation.

LAZER DICE's 47 drum kits include rough 808 sub-bass kicks, pitched snare rolls, time-stretched hats, and deep bass drops – sounds that deliver the impact future bass demands. Moreover, LAZER DICE provides 50
new MASSIVE presets created with Native Instruments' synth and sound design expertise, covering the full spectrum of aggressive leads, dark pads, and sweeping sub-basses that are an essential component of the
future bass aesthetic. The presets load on a pad as part of a drum kit, giving users fast access to the sounds when composing or performing. Key parameters also automatically map to MASCHINE's eight display knobs, making quick tweaks fast and intuitive. These elements are accompanied by psychedelic effects and pitched vocals that are staples of the trap sound. And LAZER DICE's Vocal Loop and Snare Roll Kits provide additional live performance possibilities with a set of elements perfect for on-the-fly composition.
LAZER DICE is available to purchase for $49 USD / 49 EUR. A compact version of LAZER DICE is also available for iMASCHINE in the in-app store for $0.99 USD / 0.89 EUR.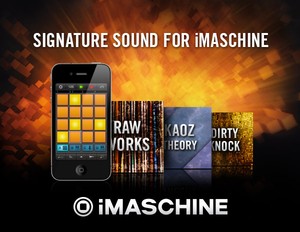 Native Instruments has recently released RAW WORKS, a signature iMASCHINE Expansion created by in-demand producer Nottz.
RAW WORKS is the third in a growing series of signature Artist Expansions exclusive to iMASCHINE – a complete, portable groove sketchpad for iPad and iPhone. Other Expansions in the series include sound packs from acclaimed DJ/producers Kerri Chandler and DJ Godfather.

RAW WORKS delivers five projects and five kits of Nottz's signature sound exclusively to iMASCHINE. Renowned for his work with Busta Rhymes, Snoop Dogg, Kanye West, and J Dilla, Nottz is known for his authentic, old school production style. For this Expansion, Nottz sampled live sessions with his own musicians, then handpicked sounds from the recordings to create a set of gritty drum sounds and melodic phrases. The Expansion's deep, raw basslines were processed with Nottz's sampling expertise, delivering a key component of the producer's signature sound.

KAOZ THEORY brings the unmistakable sound of Kerri Chandler to iMASCHINE – the deep, grooving house style that has made him one of the most respected artists on the underground scene for over 20 years. The Expansion contains a total of six kits, two instruments and two full projects. The three Drum Kits are made up of dirty, analog kicks, snares, hats, and claps. A Melodic Kit provides the trademark Chandler synth chords while two Special Kits deliver basses, vocal samples, synth stabs and keys. iMASCHINE users can also access two instruments and two full iMASCHINE projects created by Chandler himself – fully-conceived musical material available only in this iMASCHINE Expansion.

DIRTY KNOCK was created by DJ Godfather – the Detroit DJ, producer, label owner, and founding father of ghetto tech/Detroit bass. The genre combines elements of techno, house, Miami bass and turntablism, and has in turn influenced juke and trap music. Four projects and five kits deliver an array of rough basslines, analog sound effects, dirty drums, high synth stabs, rumbling 808s, and tight snares true to DJ Godfather's signature sound. The additional melodic kit comprises one shot beeps and sweeps for giving tracks an added nuanced flair.

All samples provided come in uncompressed .WAV format (16-bit 44.1kHz) and have been processed and tweaked for immediate use. Tracks created with iMASCHINE Artist Expansions can also be exported to MASCHINE and MASCHINE MIKRO for additional editing and finalization.
The full range of iMASCHINE Artist Expansions can be purchased in the iMASCHINE In-App store for $0.99 USD / 0.89 EUR each. iMASCHINE costs $4.99 USD / 4.49 EUR.
Learn how Maschine elevates the game of five Japanese beatmasters in this exclusive video. http://www.native-instruments.com/mas…
Beat warrior DJ Baku, performance duo Hifana, Fukuoka's talented Olive Oil, the international touring Kaito, and five-time DMC world champion Kireek all use Maschine to elevate their productions.
Tiesto – Take Me (kktp Remix) – with NI Maschine Mikro Mk2 and Ableton Live 9
Leap Motion and Geco Test
Left/Right, Up/Down motion was mapped to CC 1, 20 and 21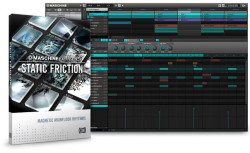 Native Instruments has released Static Friction a new 'tech house' expansion pack for Maschine.
The Expansion features 33 drum kits loaded with new kicks, snares, hi-hats, and claps, as well as seven Special Kits containing analog spring reverb samples, Ride and Snare kits optimized for live performance, and additional Spoken and Radio Voice Kits for additional textures.
New Massive presets provide basses, leads, pads, and effects for added variety.
Static Friction is available for Maschine and Maschine Mikro. A compact version is also available for iMaschine.
Static Friction is available at the NI Online Shop for US $49 / 49 Euro. An iMaschine version is available in the in-app store for US $0.99 / 0,89 Euro.