Awesome

【電音道-DEN ON DO-】 is
A Japanese woman's bride practice
MainPhrase 「SAKURA 」 A traditional children's song of Japan
- Roland MC-202 (Sequence & "SAKURA") DIN-SNYC MASTER
- Roland TR-606 (DrumBeats) DYN-SYNC SLAVE
- Roland TB-303 (AcidBass)  DYN-SYNC SLAVE
- BOSS BX-800 (8ch Mixer)  I Love Noisy Mixer !
by PuneumaRecord
http://www.pneuma.sakura.ne.jp/
http://pneuma.sblo.jp/
https://twitter.com/KousokuNabla
Don't forget to turn your captions on. Japanese beat mastermind Olive Oil chops, arranges, and mixes his tracks entirely in MASCHINE.
Video details below:
http://www.native-instruments.com/mas…
He and his brother, visual artist Popy Oil, are part of Oilworks – an independent artist collective manufacturing and distributing records, clothes, paintings, and more from their shop in Fukuoka. To celebrate this new MASCHINE video, we're giving away a custom MASCHINE hand-painted by Popy Oil. Visit MASCHINE on Facebook tomorrow and enter to win.
Background video description:
ボーカロイドにピンクフロイド「虚空のスキャット」を歌わせてみた。
made Vocaloid sing "The Great Gig in the Sky "
http://info.shimamura.co.jp/digital/r…
Digiland(デジランド)
島村楽器株式会社のデジタルガジェット情報配信サイト
http://info.shimamura.co.jp/digital/
Learn how Maschine elevates the game of five Japanese beatmasters in this exclusive video. http://www.native-instruments.com/mas…
Beat warrior DJ Baku, performance duo Hifana, Fukuoka's talented Olive Oil, the international touring Kaito, and five-time DMC world champion Kireek all use Maschine to elevate their productions.
A live recording of some Tokyo-style micro house.
facebook.com/RhythmDroid
youtube.com/RhythmDroid
twitter.com/RhythmDroid
soundcloud.com/rhythm-droid
rhythmdroid.com
EPK/Press: rhythmdroidepk.tumblr.com/
Recorded live in one take in Harajuku, Tokyo, JP. Rhythm Droid is a live house and techno artist based out of Tokyo and Los Angeles. Thirteen year veteran of laptop-free club music. This song will be reworked and featured on the forthcoming debut album "Rhythm Droid" to be released 2013.
Shot by http://www.chroniquesautomatiques.com/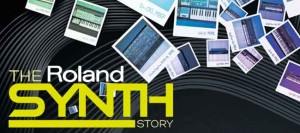 Roland has come a long way since its inception in 1972. Its synths, drum machines and effects have been used on some of the most famous records ever and have helped artists push sonic boundaries, creating new sounds and even radical new musical genres.  Taking part over three dates in November, the Roland Synth Story tour will explore this rich history through a roster of artists and experts. Roland says that it's an exciting opportunity for visitors to learn more about the company's synths, speak to three musical icons and even get their hands on some classic Roland vintage gear.
The panel of experts, including Richard Barbieri (Porcupine Tree and Japan), Graham Massey (808 State) and Jody Wisternoff (Way Out West) will all talk about their experiences creating electronic music as well as discussing their favourite Roland synths. They'll also be on hand to answer questions and chat to visitors after the event. All three guests are intrinsically linked to the history of the synthesizer. Richard Barbieri's first ever synth was the Roland System 700, and he's never looked back. His band, Japan, notched up numerous hits in the '80s and they became a cornerstone of the influential synth-pop movement.
Graham Massey infamously named his band '808 State' after the famous Roland TR-808 drum machine, which – along with the TB-303 – was an essential component to the way the band produced their music.
Jody Wisternoff uses a stable of Roland synths, including the Juno-106 and the legendary Jupiter-8, to make progressive house and breaks as one half of Way Out West. Their music didn't just hit the charts, it also found its way into TV shows and video games.
Guests will also have the chance to get their hands on some rare and ultra-covetable Roland gear, including the following: Jupiter-8, Juno-60, Jupiter-6, Jupiter-4, Juno-106, JX-8P, D-50, JD-800, JV-1080, JP-8000 and XV-5080.
Dates and Venues
26 Nov. – The Roland Music Academy, Walsall College, Walsall
28 Nov. – The Roland Music Academy, Ealing, Hammersmith & West London College
29 Nov. – Huddersfield University, Huddersfield
Pricing and Availability:
Free but spaces are limited and demand is high (two tickets per person)
More information:
Released last week, here´s the first demo of the new iOS synth
Description: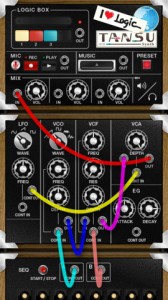 The iOS application – which is named "TANSU (dresser)", is a miniature
version of a Modular Analog Synthesizer. This synthesizer is the same as the
one used and mastered by Hideki Matsutake of LOGIC SYSTEM.
The sounds that were sampled and used for the VCO (Voltage Controlled
Oscillator) come directly from the actual "TANSU" owned by Hideki Matsutake
himself.
In addition, it also contains many original LOGIC SYSTEM recordings. The
application condenses the fun, experience and sound of an actual modular
synthesizer onto the small screen of an iPhone!!
What will the sound be like when using the application? This application is
focused on providing the user with the feeling and excitement of using the
actual synthesizer for which it is based.
Not only for a techno fan, but for any music lover!! Feel what it is like to
create your own music!!
Try this application to experience the "the birth of sound and music."
see this post for more info/address etc:
musicofsound.co.nz/blog/implant-4-osaka-synth-shop
While the Harajuku, Tokyo based Five G Synth store is very well known, it took me two attempts to locate Implant 4 in Osaka – the first time I was pushed for time and had an erroneous google maps link and visited an interesting part of the city… but this time I doubled checked the location with the map on their website, bookmarked the location on my iPad & set off feeling more confident…. If you happen to be in Osaka, save this location to your google map and you can't go too far wrong! This is the street it is located on, find the pink slug sign & go up the stairs…
Despite the slight cryptic header this is a nice machine

Akira Kurosawa's Seven Samurai 七人の侍 x0xb0x special tribute edition. Here are seven x0xb0x made with full audio analog modifications. They have an outstanding sound capabilities, not only clonning the original Roland TB303 sound, even adding more powerful sound mods. Totally hand made and with the name of each samurai engraved on it. Very limited edition of very powerful analog synth.