Boscomac has announced Mk2 versions of its Claviness and Wurlitsar instrument ensembles for Native Instruments Reaktor.
I announce that CLAVINESS and WURLITSAR are died … to be reborn better in their MK2 Version, Yeah ! Nothing is more difficult than doing a mk2 version that requires as much work as the creation of the instrument! But in the end, we get a better result, Yeah !
WURLITSAR is a Wurlitzer who has a warm et round sound! Now you can mix the direct signal with the amplified signal and get an interesting balance. You can also adjust the rate of distortion of the amplifier to get some "crunch" to the wurli. Vibrato has been replaced by the ability to adjust the tremolo on the panoramic. The instrument offers two types of sound, normal or round, and it has a nice little spring reverb …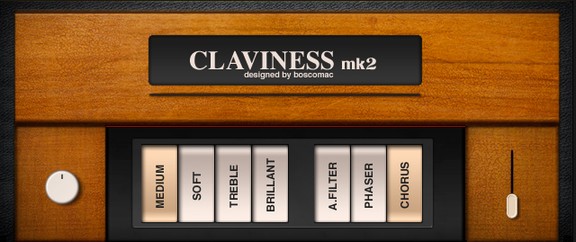 CLAVINESS is a clavinet with sensitive strings! More than MK2 version, it is a revisit to really approach the original instrument. The clavinet is an instrument that has a lot of feeling. Here, different tones are available with some very effective effects such as chorus, phaser and auto-filter and the ability to mute the strings. Ideal for the rhythmic players, it is almost impossible not to have the groove with such an instrument …
Both ensembles are available to download at no cost. Donations are appreciated.
Loupe 2 for Reaktor is a sample slicing and manipulation tool that also does granular synthesis and delay. It's available at http://www.reaktortips.com/2013/04/lo…
In this video one explores basic sample map mode.
A mellow house/techno track created in Ableton Live using MASCHINE and REAKTOR's Metaphysical Function, Gaugear, and MONARK.
The Minimoog is probably the most famous hardware synthesizer of all time—and likely the most emulated in the world of software. So does the world really need another Minimoog emulation? Native Instruments thinks so: Their new REAKTOR-based synth, MONARK, is based on years of research—but how does it sound?
Using Native Instruments Reaktor to create an 8-bit LED display out of the Expert Sleepers ES-3 Eurorack module. In the first demo using the Malekko 8nu8r to sweep the CV. In the second demo using my ArdCore Pseudo-Random Shift Register sketch. The Reaktor macro is calibrated for the ArdCore which only goes from 0 to 5V. The 8nu8r goes past 7V, so that's why the LEDs wrap around. This macro can be used as an ArdCore expander by using the ES-3′s outputs as triggers or gates.
Josh Morky – a Mac user for 10 years and also an iPad music app fan – was intrigued by the new Windows 8 Surface tablets
I've been a mac user for almost 10 years now and recently learned about the new Windows 8 taking the leap into touchscreen. More or less all new windows computers are touch. Its pretty obvious from the thousands of apps that have popped up on the iPad in recent years that performing electronic music on a touch screen is fun, expressive, and kind of what we've all been waiting for. It just makes sense. Ive used an iPad for playing music – which I love – but can't help but feel that Apple is purposefully limiting its potential. File management is a nightmare, and multitasking just doesn't work. The iPad is brilliant at making sure you get all your apps, music, movies through Apple. By controlling your work/data flow, they make more money – a good business model, but not good for the creative user.

Windows 8 seemed too good to be true, but nobody on the internet has been writing about it. I decided to take the leap and bought a Microsoft Surface. Best Buy has a great return policy, so if I didn't like it, I could always return it….

Basically, I ended up loving this thing. The operating system looks great, works great, and is altogether fun to use. Multitasking and switching between programs is great, and its really fun to be able to use a pen/stylus in addition to touch (its super precise and pressure sensitive). It really feels like the future of computers. I use a new 15″ macbook pro in my studio and a new 27″ imac at work, and now it feels like a bummer every time use them. They feel outdated. Trying to use the iPad is even more depressing. There are a lot of new windows tablets/laptops out there – but there are two things that made the Surface appeal to me more: 1) it comes with a pen (which helps if you need precision – especially with such a small screen – and taking notes or drawing is a lot of fun) and 2) the kickstand. I didnt really realize how nice it would be to be able to prop up a tablet – the ipad can be annoying to use in a lot of situations because it doesnt have one. Other things that are awesome is that it supports flash (Hulu!) and has usb – so you can use external drives, midi controllers, audio interfaces, etc….

Using Reaktor is great. I personally hate having to use midi controllers whose interface bears no resemblance to the patch Im using, and touch OSC on an ipad can be buggy and you have to create templates for every patch you use and end up constantly changing your template if you change anything in your patch. I also dont want to have to take 2 computers to a show, I want a tablet up there with me and thats all. Surface does this. Reaktor is really responsive and expressive – but it doesnt support multitouch yet. I thought this would make it pointless to use on a touchscreen, but I barely notice it. There are times it would be great to use multitouch, and things could definitely get more interesting with multitouch, but even just touching one thing at a time completely blows away using a mouse/midicontroller/touchOSC.

I tried using Ableton and it was super buggy with touch. You'd need a mouse, but even then, the screen on the Surface is just a bit too small.

As much as I loved the Surface, I ended up returning it. My car required $1000 to fix the day after I bought this thing, and as close to perfect as it was, the screen size of the Surface is just a bit too small for performing. At 10.1 inches, it has the same problem as the iPad in that you can't fit too much on a screen without making the controls too small. Its fine if you miss a knob when you're working in your studio, but in a live setting, you'd want something you can reliably hit 100% of the time. Unfortunately, most of the windows tablets are around 10/11 inches – and for some reason the idea of getting a laptop sounds too old fashioned to me – I DONT want a keyboard. Im going to wait around a little bit till things like the Dell XPS 18 come out (an 18 inch tablet with a sweet kickstand thats even more versatile than the Surface's – though doesnt have a pen) or Microsoft comes out with a second edition (rumors are that they'll make a 14 inch version, which sounds like the perfect size for mobility, home use, and performance). In the next 6 months a ton of new computer sizes/formats will be coming out – and they'll get cheaper. When the perfect one comes out, I'll be ready for it.

What REALLY needs to happen is that software companies need get on board. Theres not much yet that takes full advantage of multitouch. It'll come, but its not there yet. This is really exciting – its the obvious next step in the evolution of the computer. Windows made a great new operating system, now its the software companies turn to take advantage it.
This tutorial looks at using the Sine Bank Module in Reaktor to build basic waves such as Saw, Sqr, and Tri. We also talk about using the very powerful "Iteration" module to calculate all the partials as fast as possible, and briefly discuss the idea of Anti-Aliased Oscillators.
Icebreaker Audio has introduced Bitrate, a semi-modular, digital drum machine for Native Instruments Reaktor 5.
Offering a variety of sound generation styles, all based on digital synthesis from the late 80s and early 90s, BitRate is a gritty device with a retro heart of silicone.
Bitrate features
5 drum slots into which you can load any one of 13 different sound modules.
4 main sound engine types, each based on a different style of lo-fi digital sound generation.
A built-in sequencer with 2 modulation sequences per drum.
Automatic tempo-synchronization when used in a host.
EQ, Compressor, and Speaker Simulator master effects.
BitRate is available for the introductory price of £15 GBP until March 31st, 2013 (regular £25 GBP). Requires Reaktor 5.8 or higher.
The WaveChaser is a sample player that uses a granular synthesis engine to play any sample with independent control over pitch and time. Generating lush sequenced effects that scan and morph around the eight dimension windows, producing never ending midi playable wave sequencing textures.
For more information visit http://www.everythingturns.com/
The WaveChaser places the same sample in each of the eight windows, and then reads the waveform as the sequencer jumps from window to window in a repeating loop, each time a window becomes active it plays the waveform as it scans to the position set by the crosses in each window, the crosses set the sample position and playback length.

You can play a static window via MiDi to achieve a granular synthesis effect or you can get the WaveChaser to play 2 or more windows in a sequence and play them via MiDi or just let it do it's thing and record the loop via Reaktor's in built recorder, drag the loop to the desktop and then use it in your sequencer.