Have you ever seen heavy hitters like Richie Hawtin, Gui Borrato, and Richard Devine controlling a massive rig with nothing more than an iPad and wondered what it was all about? In brief, it's Lemur—an iOS controller environment that one could fairly describe as "the REAKTOR of controllers."
WHOOSH is a true sound design instrument and enables you to create breath taking whoosh and pass-by effects. It is possible to precisely design sounds varying from whistling wind whooshes to air ripping engine pass-bys or completely over the top granular sci-fi effects.
The included doppler effects engine was designed from ground up to physical model the acoustic phenomena of an object that approaches, passes, and recedes from an observer. The individual playback engines, the source mixer and doppler engine can be manipulated in synchronized connection to each other. This makes it possible to playback the desired sound effect at different durations while remaining everything in perfect sync.
Whoosh comes with an extensive onboard sample library licensed from leading sound effect recordists. It includes categories like wind, fire, metal, water, engine and explosion effects.
Whoosh is built for Native Instruments Reaktor 5.8 or later – (Player not supported).
Features:
• Enables you to design breath taking whoosh and pass-by sound effects.
• Complex but intuitive to use sound design engine.
• 4 loop / grain samplers, 4 impact samplers, wave mixer, doppler engine and post effects.
• Comes with over 240 sounds exclusively licensed from professional sound effect recordists.
• Note: Loading your own sounds is not supported at the moment – but it is possible.
(This will become officially available in a future update)
System Requirements:
• Mac or PC running a full version Native Instruments Reaktor 5.8 or later
• Download size: 150 MB zipped (200 MB uncompressed)
• Note: whoosh does not run in Reaktor Player – a full version of Reaktor is required.
Price: $79,00 US
Sergio Rodríguez playing metaphysical function ensemble from Reaktor 5 Native Instruments.
http://structweird.wordpress.com
http://soundcloud.com/structweird
REAKTOR's Lurker hybrid effect unit is a powerful and mysterious beast. Let's demystify!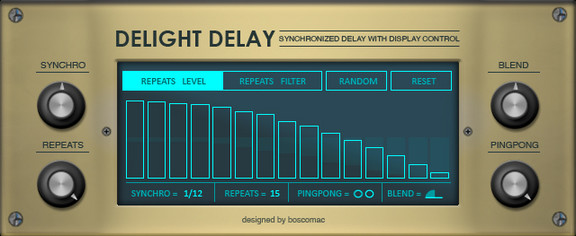 Boscomac has announced the release of Delight Delay, a free delay effect ensemble for Native Instruments Reaktor.
DELIGHT DELAY is a pattern-based delay controlled by a sequencer.

A central display allows you to set the level and filtering rehearsals and so draw a pattern. You can set the number of repetitions (1 to 15) determine the tempo (1/4 to 1/32), adjust the stereo (mono or pingpong) and adjust the blend.

Very easy to use, this delay grooves with guitars, runs with synths, installs synchronized vibes and many other things …
The ensemble is a free download for Reaktor (requires full version). Donations are appreciated.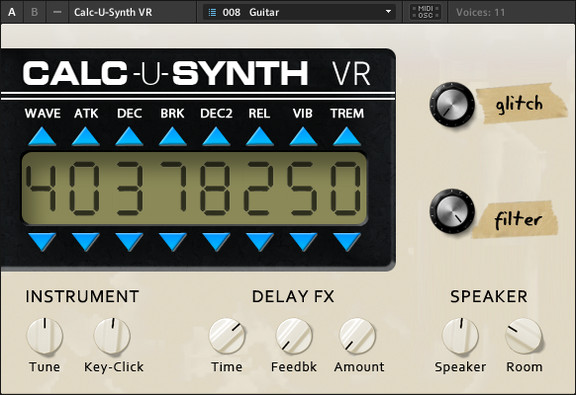 Icebreaker Audio has released Calc-U-Synth VR for Reaktor, an emulation of the classic Casio VL-Tone calculator/synthesizer combo from the '80s.
Precise measurements of the VL-Tone's volume envelope, vibrato, and tremolo were then gathered in order to faithfully emulate the whole instrument in Reaktor.

This library was designed in order to present the full capabilities of the VL-Tone's programmable features in a more convenient interface, while retaining the character of the original instrument.
Calc-U-Synth VR features
Full emulation of the Casio VL-Tone's programmable synth engine.
Built-in tempo-sync delay effect.
Speaker emulation with room simulation.
Additional "Bend" controls: Glitch and Filter.
Key-Click noise control.
The Calc-U-Synth VR for Reaktor is available to purchase for £4.50 GBP / $7 USD.
Icebreaker Audio has also announced a bundle sale, offering all its bundles at a 50% discount until November 30th, 2013.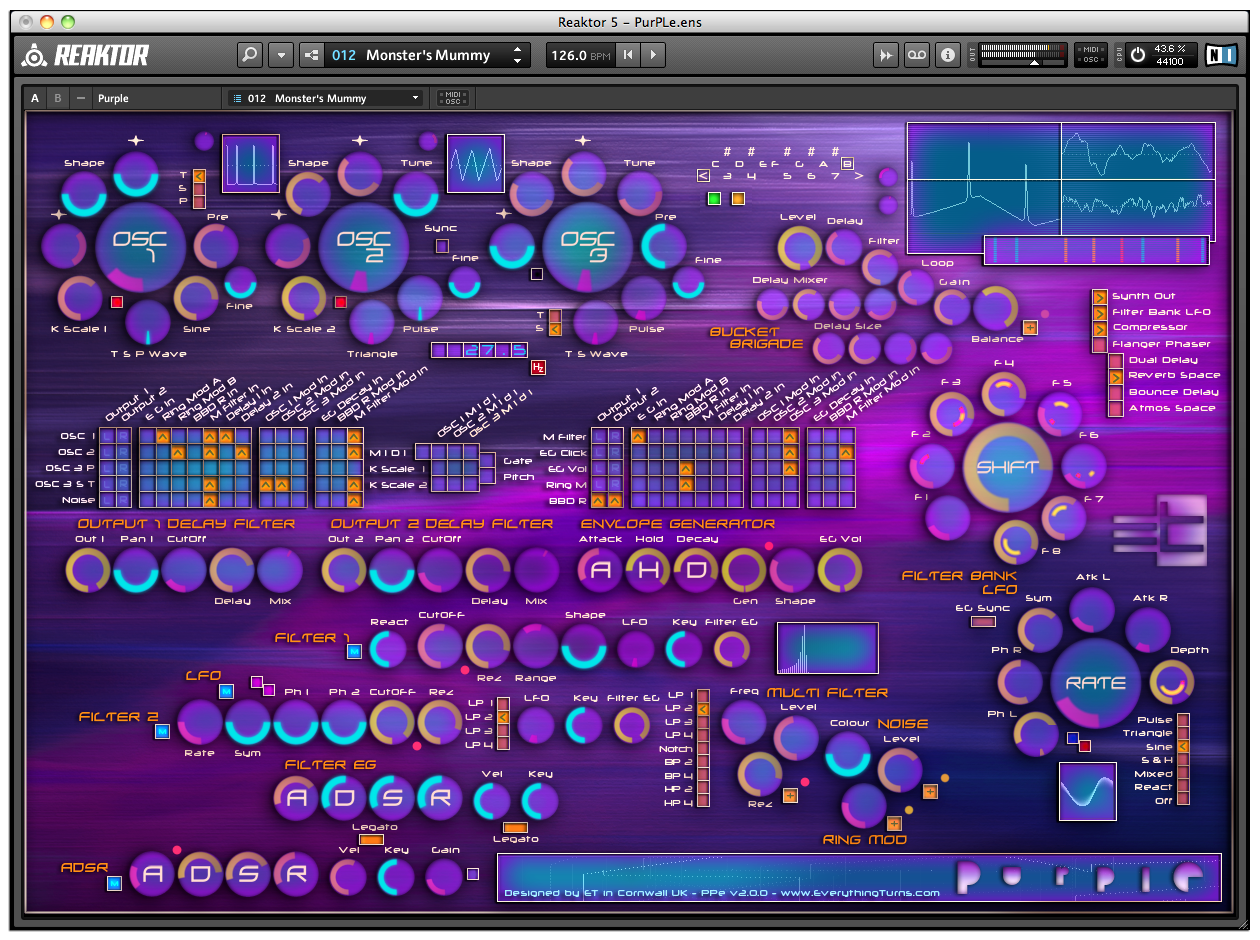 EverythingTurns has released PurPLe, a "Radiophonic Modular Analog Synthesiser – Sci-Fi Effect Generator" for Native Instruments Reaktor.
PurPLe takes its inspiration from the early days of synthesis and is dedicated to the pioneers of the sound effects departments that terrorised the audiences of the science fiction silver screen.

PurPLe's sound is generated by free running multi-wave oscillators, each delivering a diverse waveform that can twist and warp almost as if it's alive.

The key to this sonic arsenal is the Modulation Matrix Patch Bay, allowing the component parts of the synth to interact with each other. The Matrix opens up endless possibilities of frequency modulation and interaction by tapping into, chaining and merging the signal path. The more you explore the more possibilities you will discover.
PurPLE for Reaktor is available to purchase for £14 GBP. Requires Reaktor full version 5.8+.
Splitter is a granular beat production environment animated by a special old-school vibe to it that makes it extraordinarily fun and satisfying to use. Let's check it out…
Yet another random Reaktor jam.
The "Drum Seq" instrument triggers and randomizes the drum synth while the "Poly Tune" instrument triggers a simple sine wave synth with some reverb.
Background information below (Googlish):
From Córdoba, Argentina Córdoba but Martin Castro and Mauricio Piombo sent us some incredible instruments, Synthetic Instruments Reaktor ensembles to generate quite complex sounds and textures as is typical autechre, which certainly does not leave you indifferent. We have loved all your devices, also has a wide range, sound generators (RA1D3N v1 – SOUND GENERATOR), the beatbox Flash Dance (Matrix Drum Machine), the synthesizer wavetable rhythms (SINESTESYNTH – RHYTHMS WAVETABLE SYNTHESIZER ), and the synth TERRA INC0GN1TA – (sYNTH PADS) Flash Dance -