The Ring – Blocks Edition – new free Lemur for iPad template and Reaktor Blocks module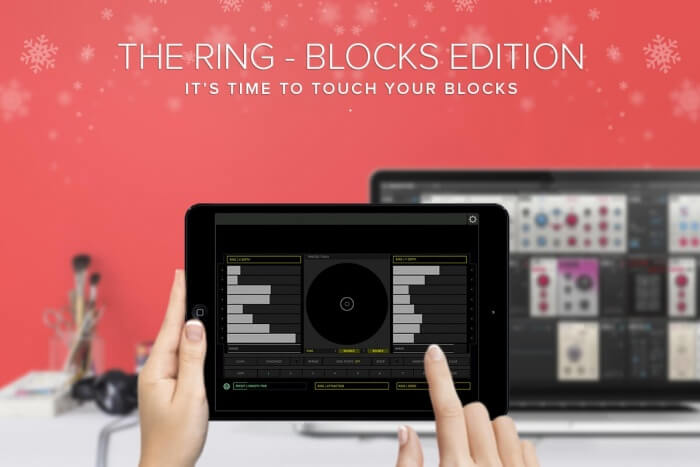 Twisted Tools has announced the release of The Ring – Blocks Edition, a free Lemur for iPad template and Reaktor Blocks module.
It's that time of year and Twisted Tools is celebrating the holidays with a free downloadable gift and by having a storewide sale (35% OFF).

THE RING – BLOCKS EDITION is a temporal modulation tool for creative sound design and a live performance using REAKTOR Blocks. The release consists of an iPad LEMUR template and a brand new REAKTOR Blocks module, together giving you the ability to get away from the mouse and modulate your Blocks using the power of touch.

The Blocks Edition of THE RING comes with a REAKTOR Block module, called THE RING – OSC RECEIVER. This module automatically receives and converts OSC control messages sent from the iPad to audio rate control messages designed to be used as modulation signals within the REAKTOR Blocks framework. This allows you to control REAKTOR Blocks using your iPad running THE RING inside the Lemur app. The only setup required is the OSC configuration, but other than that the Blocks module takes care of the rest. Just patch away as if it was any old REAKTOR block.
The Ring – Blocks Edition features
Advanced iPad Lemur Template by Antonio Blanca.
Fine-tuned controls for use with REAKTOR Blocks.
16 assignable OSC/MIDI controls.
REAKTOR Blocks OSC Receiver module with audio-rate modulation outs.
8 presets with morphing.
Easy configuration with no need for mapping.
Patchable with REAKTOR Blocks.
Advanced randomization and customization options.
RGB color settings.
Twisted Tools has also launched a storewide sale, offering 35% off all products until January 3rd, 2016.
Comments