echo | collective has released ORION, a drum library and step sequencer built for Native Instruments Kontakt.
In addition to the sequencer, ORION contains over 800 unlocked one shot percussion sounds. These are arranged into 18 future-retro inspired drum kits created from custom-sampled and processed classic analog synths and drum machines, DSP-manipulated acoustic recordings, and a kit built entirely from processed vinyl pops and clicks. This includes three artist signature kits created by producers Vital, Phrakture, and Timecop 1983.
The ORION instrument is designed to allow fast, easy, and intuitive sequencing of the drum library using a unique dual-view sequencer: Step View mimics the sequencing style of classic drum machines focusing on one drum sound at a time, while Grid View shows the entire pattern, inspired by modern software and grid-controller hardware.
A user can delve deeper with the advanced step modulation sequencer for per-note control of every parameter of every sound on every beat. Sequenceable send effects include programmable reverb and delay.
A user can also add grit and glue to the beat with the insert effect module, delivering tape saturation, compression and a selection of custom tape hiss and vinyl noise floor recordings.
Specs:
24-bit 44k unlocked wav files.
17 unique drum kits.
60+ Kontakt fully programmed unlocked .nki files.
.nki files require full version of NI Kontakt 5.5 or higher.
Price: $30 [Limited introductory price].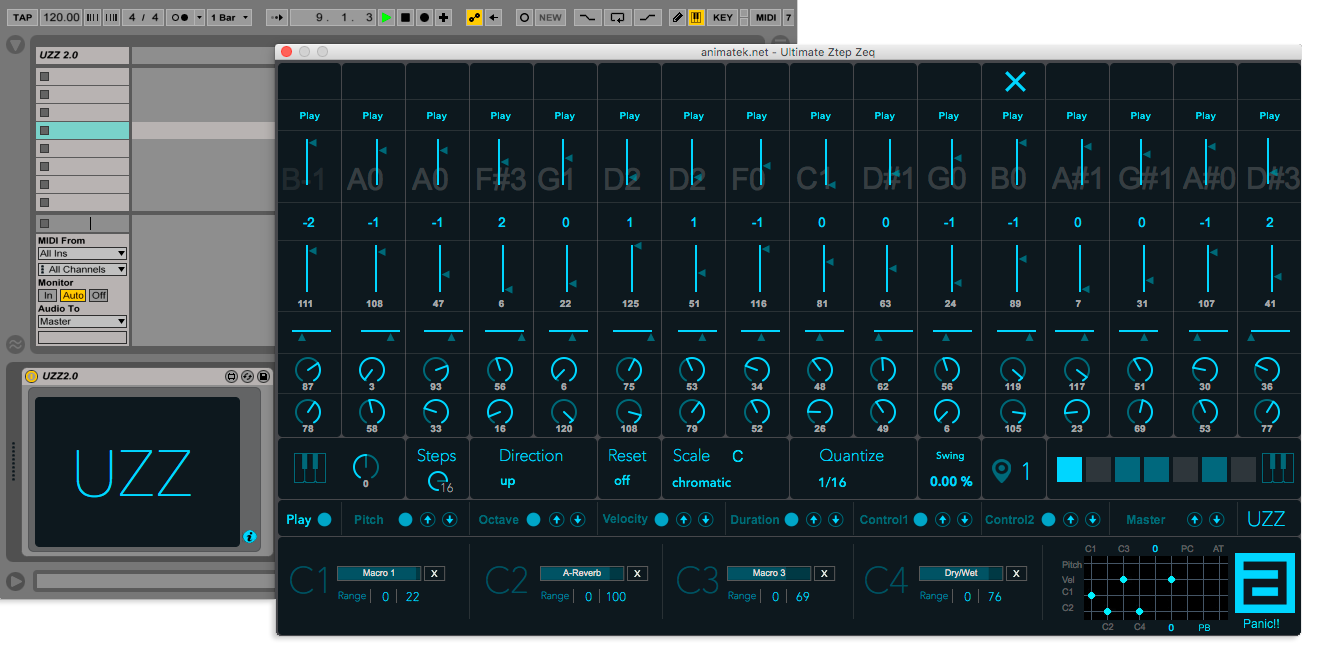 Animatek has announced the release of version 2.0 of the Ultimate Ztep Zequencer, a step sequencer for Max For Live.
UZZ is a Max For Live device inspired in the step sequencer created by Len Sasso for Logic Audio environment.

Uss has always been a base for my creations. Now with Max For Live I had the opportunity to recreate one of my favorite machines.

With only 16 steps you can create magical patterns, and changing a couple of parameters can rapidly mutate to a new level.
UZZ 2.0 features 2 additional controls, a matrix modulation, plus bug fixes and many other things.
Ultimate Ztep Zequencer is available for purchase for 7 EUR.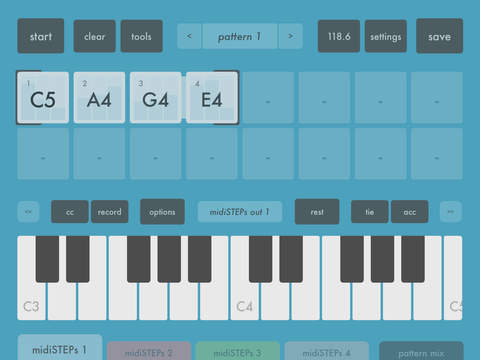 midiSTEPs is a powerful but fun MIDI step sequencer app that sends MIDI note and CC messages to other music apps and external synthesizers. It was designed to be super easy to use in a way that's similar to the SH-101 sequencer, where you can just quickly enter a few keyboard notes and you're ready to hit play. At the same time, it also incorporates many ideas from other classic and modern sequencers, allowing you to set control values per step, mute and skip existing steps, switch between multiple patterns and parts, sync and link patterns in various ways, and modify your sequences.
midiSTEPs was designed from the ground up as a touch-based iPad sequencer app, so it's super easy and intuitive to enter, edit and play sequences.
midiSTEPs features:
64 step sequencer based on the classic SH-101 sequencer
Set note, chord or rest per step
Set accent and tie per step
Set CC, velocity, length parameters per step
Mute and skip individual steps
Set start and end points within sequence
Edit individual steps
Transpose, loop or one shot, start and pattern sync options
Four independent sequencer parts with 16 patterns each per set
Parts can have different speeds, lengths, sync and trigger options
Pattern Mix page with clip-launcher style pattern triggering
External MIDI clock sync with clock shift adjustments and swing
Easy to set up CoreMIDI configuration and MIDI mapping
Easy to use touch interface designed specifically for iPad
'80s step sequencing with JP-6, MSQ-700, and DMX
Reverb: Alesis MidiVerb II
Koushion + littleBits combine to make a great CV Step Sequencer. Add Ableton Live and you also get some great tempo-synced effects. Applying all that to an Arturia MicroBrute results in some great sounds.
Learn more at experimentalsynth.com
First recording with iOS sequencer Koushion. Drone from the Waldorf Blofeld, arps from MS2000BR, Virus C and Supernova II. Plus super-pads and subspace whistles from the Supernova. Recorded live with no overdubs.
Koushion is a flexible step sequencer for your iPad. Like a traditional step sequencer, Koushion lets you program note patterns that are triggered in time with a MIDI clock (either an external source, or a configurable built-in one). But Koushion doesn't stop at what's already been accomplished by its hardware predecessors. With 16 layers, each containing 8 scenes of 16 steps (that's 2048 steps!), Koushion provides plenty of room for you to express your creativity. Each layer has customizable settings such as looping mode, MIDI channel, and musical key.
Koushion doesn't just work with expensive MIDI hardware, but also integrates with any of the hundreds of CoreMIDI-enabled synthesizer apps. Whether you use it as part of your existing studio setup, on stage, or as a piece of your self-contained iPad studio, you'll never run out of sounds to explore, thanks to the iPad's powerful inter-app MIDI system.
Analogue Solutions Megacity Step Sequencer
The steps run down like tears in the rain.
Up to 64 steps, or split into 2 x 32 steps.
Fill in patterns, portamento, quantiser, and much more!
Ideal for use with Eurorack.
More videos online, and full details at
http://synth.toys
The Megacity is a standalone 64-step analogue step sequencer, that they say offers 'a host of unique features'.
Features:
True analogue step sequencers using CV pot's not encoders
Analogue CV circuits
Massive 64 steps (series mode) or 2 x 32 steps (2 channel parallel mode)
2 CV outputs with Range and Glide (Portamento)
4 Gate outs (2 per channel)
2 CV quantisers
MIDI Out
Jump and Reset – activate from MIDI note, Push Button and external Gate
Fill In and clock divide modes for variation
Compatible with Eurorack and most analogue synths with CV/Gate input
Voltage controlled clock
Many options for sequence control
Very easy MIDI sync possible using a dedicated MIDI note
Solid steel and aluminum construction
High quality sealed potentiometers, sturdy switches.
Unique green LED matrix style tear drop raining LEDs
The SoundForce SFC-60, dedicated MIDI controller for the TAL U-NO-LX synth plugin (Roland Juno-60 model), has now new a built step sequencer function. The step sequencer function can be used with the TAL plugin as well as any other plugin instrument as it simply streams MIDI notes via USB-MIDI.
All users can upgrade their SFC-60 to the latest version of the firmware using the Arduino IDE and the teensy software-add-on. Please visit the support page on the SoundForce website : http://sound-force.nl/?page_id=1151. More detailed update toturial coming soon.
Quick demonstration of how to create a simple polyrhythm pattern using a Moon Modular 569 step sequencer (and other similarly capable step sequencers too)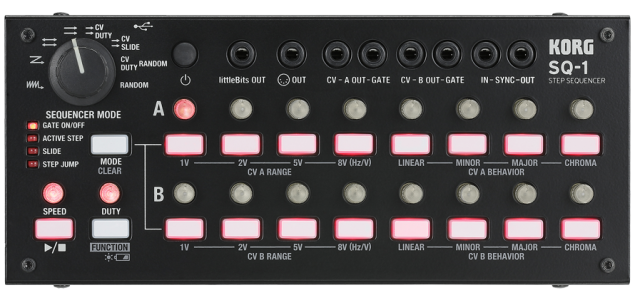 Korg has introduced the SQ-1 step sequencer, an updated take on the classic Korg SQ-10 step sequencer.
The Korg SQ-1 is a compact step sequencer with 2 x 8 steps. Its wealth of connection jacks allows it to be connected to the MS-20 and a variety of other synthesizers.
Both vintage analog synths and the latest compact synths can be controlled from the SQ-1.
Specifications:
Sequencer Mode – ALTERNATE, ORDER, PARALLEL TURN, PARALLEL ORDER, CV/DUTY, CV/SLIDE, CV/DUTY RADOM, RANDOM
Step Mode – GATE ON/OFF, ACTIVE STEP, SLIDE, STEP JUMP
Sequence Step Resolution – quarter notes, eighth notes, sixteenth notes
CV OUT Pitch – Linear, Minor, Major, Chromatic
CV OUT Voltage – 1V, 2V, 5V (Oct) 8V (Hz/V)
GATE OUT Polarity: + (positive polarity), – (negative polarity)
SYNC IN/OUT Polarity + (rise), – (fall)
Connectors

littleBits OUT jack (mini monaural phone jack)
OUT (MIDI OUT) jack (mini stereo phone jack)
CV – A OUT – GATE jack (mini monaural phone jack, CV OUT : Output Level 1V, 2V, 5V, 8[Hz/V], GATE OUT: output level 10V)
 CV – BOUT – GATE jack (mini monaural phone jack, CV OUT : Output Level 1V, 2V, 5V, 8[Hz/V], GATE OUT: Output Level 10V)
– IN – SYNC – OUT jack (mini monaural phone jack, SYNC IN: Max Input Level 20V,

SYNC OUT: Output Level 5V)
USB jack (type B, USB MIDI)
Power Supply – Two AA batteries (alkaline batteries recommended), or USB power
Battery Life – approximately 5 hours (when using alkaline batteries)
Dimension (W x D x H) – 93 x 84 x 63 mm/7.60″ x 3.31″ × 2.48″
Weight – 641 g/1.41 lbs.
Included Items – Two AA batteries for checking operation, mini plug – DIN cable
Options – Patch cable MS-CABLE-18
Pricing and availability for the Korg SQ-1 are to be announced.