July 7, 2015 · Posted in
Uncategorized
·
Comments Off

on Koushion "Hard Edged" CC Sequencing
Checking out some the latest Koushion update. You can now turn off MIDI CC smoothing. This lets you get some do some really nice rhythmic parameter changes. Great when used by itself, or in a clock-synced production environment.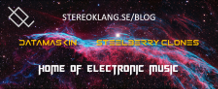 June 9, 2015 · Posted in
Uncategorized
·
Comments Off

on Koushion + littleBits + Ableton + MicroBrute :: CV Step Sequencer
Koushion + littleBits combine to make a great CV Step Sequencer. Add Ableton Live and you also get some great tempo-synced effects. Applying all that to an Arturia MicroBrute results in some great sounds.
Learn more at experimentalsynth.com
June 9, 2013 · Posted in
Uncategorized
·
Comments Off

on Koushion controlling Moogs
Experimenting with a few things here. Koushion step sequencer app controlling three Moog synths and a Moog MIDI-MuRF Moogerfooger. Drum track is from the Yamaha MO8 synced to the same clock. Koushion a MIDI step sequencer that allows you to easily program melodies and drum patterns using your existing hardware synthesizers, drum machine, or soft synths and samples in your DAW.
Learn more at www.experimentalsynth.com