Native Instruments REAKTOR opens up to you an infinite horizon of sonic possibilities. Here's what you need to know.
'A Box In The Sea' explores using gestural control with a Leap Motion and Ableton Push as controllers for Reaktor and a modular synthesizer.
Starting with a beautiful sound from the Braids and Morphing Terrarium. Sampled with the Phonogene and processed through the Echophon/ZDSP/Big Sky/EPSi. The Piano is Reaktor and a water sample played together. The beginning atmosphere is KORE2 animated circuits. The Leap is controlling all the modulation in Reaktor, Big Sky and KORE2.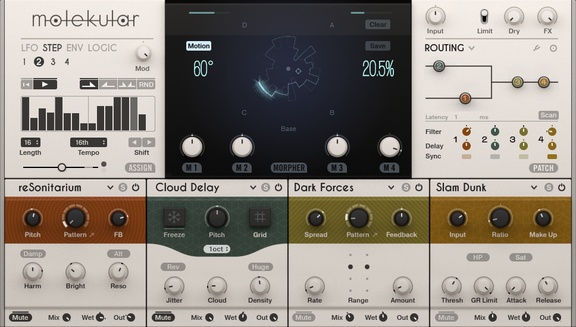 Native Instruments has released Molekular, a modular multi-effects system for the flagship synthesis studio REAKTOR 5 or the free REAKTOR 5 PLAYER.
MOLEKULAR features slots for up to four effect modules and near-limitless routing options for unique effect arrangements. Modules include a pitch and resonator section for transforming percussive sounds into melodic arpeggios. Delay, stutter, and glitch modules allow users to create new rhythmic structures or turn any incoming signal into washed-out soundscapes. Eight modulation effects offer incredible sonic versatility for augmenting tone – from classic modulation effects like flanger and chorus to yet-unheard effects such as a purposefully broken pitch shifter to create unusual new textures. Six dynamic and distortion effects include a 16-stage wave folder and a DSP that tracks a signal's pitch to control a variable waveform oscillator. MOLEKULAR also comes with essential 'bread and butter' effects for additional sonic adjustments and finetuning.

MOLEKULAR features 16 modulation sources, which can be routed to any parameter within the effects system. Modulators include four customizable LFOs and four step sequencers for emphasizing any part of the meter with rhythms from simple eighth notes to odd metric subdivisions. What's more, MOLEKULAR includes analog modular-inspired trigger sequencers – each with a dedicated envelope and an envelope follower to set accents or add bursts of effects to any production. A logic module adds an irregular, organic feel to the structure of sound sources with any degree of precision or chaos. Frequency-based parameters can be quantized to custom scales and it's even possible to route one modulator into another producing unusual, constantly evolving modulation structures.

By using the Morphing Field, it is possible to drastically twist the results via the interactive display. Producers can assign a starting point, define four master mutations and easily morph between them in real time – a new and near-limitless approach to performing with effects. The morpher can also be controlled by any of the modulation sources. Though highly advanced technology works under the hood, MOLEKULAR is straightforward to use, and also comes with a multitude of presets of highly inventive effects ready to use as creative starting points.
Molekular is available for $149 USD / 149 EUR / £129 GBP.
Minimojo is an emulation of an old synthesizer built in Reaktor, available for all registered product owners in the NI Reaktor User Library.
The Juice 3 is not in any way a copy of MONARK. The builder did not have access to or ever used MONARK during the making of Juice 3. Instead, the old ensemble Minimood made by NI in 1999, which has then been modified by several users, has been used as the starting point. I think that the basic structure will be recognizable from that early ensemble.
As the Model D is the most emulated synthesizer the world probably don't need yet another one. Juice 3 should be seen as a proof of concept; how to emulate the should of vintage synthesizers using the Reaktor environment.
The technology developed for this is called Analog Legacy. Analog Legacy is the theory of modulating all functions in a synthesizer at all frequencies. The key is to find the right balance of the modulation depth for each frequency. Juice 3 is the first attempt to use this theory in practice.
http://youtu.be/cAhNylHjX_4
ADSR Sounds say that BASSIC is a Reaktor synth made with the modern electronic producer in mind. They say that they created BASSIC with one thing in mind – Simplicity.
"Stripped of all the things that can distract or confuse when designing killer bass music instruments, BASSIC has all the basic components needed to create professional sounds in just a matter of minutes! No more spending countless hours dialling in settings across parameters that aren't even necessary. No more complex routing decisions. And no more time spent on things that only seem to derail the creative process!"
Download BASSIC here – http://adsrsounds.com/product/presets…

In this video, I show how to use my newest ensemble, Bassic, which can be bought here:
This video covers the layout and use of the Voicing controls to create huge, aggressive, bass sounds with ease.
Sergio Rodríguez playing Structsynth v. 1_0 ensemble from Reaktor 5 Native Instruments. Comin soon in Reaktor user library.
Twisted Tools has released Ultraloop, a new sample based loop engine for Native's Reaktor, details below:
AVAILABLE NOW: http://twistedtools.com/shop/reaktor/…
ULTRALOOP is a first-of-its-kind loop remixing sampler with a fast and intuitive visual workflow for Native Instruments *Reaktor. ULTRALOOP combines advanced loop layering, comping, effect processing and automation techniques to generate new grooves, riffs and song ideas. You can use ULTRALOOP with the included factory sample library or to remix your own samples, injecting new life into any existing loop library. ULTRALOOP is available now from the Twisted Tools Shop for $69.
Video by Scott Pagano.
Pricing and availability
ULTRALOOP is available from the Twisted Tools Shop for $69
Additional Expansion Loop Packs can be purchased for $19/each
Further product information and press material
http://twistedtools.com/shop/reaktor/…
Loop Expansions
http://twistedtools.com/shop/loops
Features
• Loop Remixing Sampler.
• Advanced layered sampler engine with intuitive interface.
• Visual loop compositing.
• Generative Gestural FX to create fills, articulations and variations.
• FX Sequencer
• Specialized track sequencer with mono and poly draw modes.
• Layered playback and editing of up to eight tracks simultaneously.
• Independent controls per layer, organized into parameter cells with sliders.
• Automatable Preset Grids per parameter group, with 17 memory slots each
• 8 Global Scenes per snapshot
• Preset Grids and Scenes are playable via mouse, MIDI or OSC.
• Extensive randomization options.
• Time and pitch stretching to allow loops with different BPMs.
• Flexible multi-output routing per layer.
• Master Punch control
• Swing
• Control nearly every parameter with included iPad Lemur OSC Template by Antonio Blanca
• 3+ banks of presets
• 2224 Sound Variations
• Over 800mb of included factory sample content by from Enig'matik Records, Loopmasters and Sounds of Revolution.
• Optional Expansion Packs by cutting edge artists such as Dusty Fungus, Chris Carter and Si Begg
Sample content and sound design by
• Antonio Blanca, Apparition, Chris Komus, Dusty Fungus, Fine Cut Bodies, Flint Kids, Josh Hinden, Ion Driver, Itsu, Kilowatts, Loopmasters, Oliver Schmitt, Sounds of Revolution, Sonictwist, Sun in Aquarius and Whitebear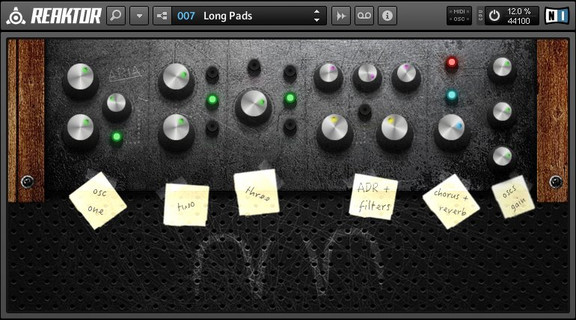 Need a Name has introduced Aria, a free synthesizer instrument for Native Instruments Reaktor.
Hey guys, I released a new Reaktor ensemble named Aria, it's an experimental synthesizer.

The synth is mostly enjoyable when playing it with a dynamic keyboard, 'cause filters are modulated by velocity.
Aria is a free download at Need a Name. Requires Reaktor full version.
Have you ever seen heavy hitters like Richie Hawtin, Gui Borrato, and Richard Devine controlling a massive rig with nothing more than an iPad and wondered what it was all about? In brief, it's Lemur—an iOS controller environment that one could fairly describe as "the REAKTOR of controllers."
WHOOSH is a true sound design instrument and enables you to create breath taking whoosh and pass-by effects. It is possible to precisely design sounds varying from whistling wind whooshes to air ripping engine pass-bys or completely over the top granular sci-fi effects.
The included doppler effects engine was designed from ground up to physical model the acoustic phenomena of an object that approaches, passes, and recedes from an observer. The individual playback engines, the source mixer and doppler engine can be manipulated in synchronized connection to each other. This makes it possible to playback the desired sound effect at different durations while remaining everything in perfect sync.
Whoosh comes with an extensive onboard sample library licensed from leading sound effect recordists. It includes categories like wind, fire, metal, water, engine and explosion effects.
Whoosh is built for Native Instruments Reaktor 5.8 or later – (Player not supported).
Features:
• Enables you to design breath taking whoosh and pass-by sound effects.
• Complex but intuitive to use sound design engine.
• 4 loop / grain samplers, 4 impact samplers, wave mixer, doppler engine and post effects.
• Comes with over 240 sounds exclusively licensed from professional sound effect recordists.
• Note: Loading your own sounds is not supported at the moment – but it is possible.
(This will become officially available in a future update)
System Requirements:
• Mac or PC running a full version Native Instruments Reaktor 5.8 or later
• Download size: 150 MB zipped (200 MB uncompressed)
• Note: whoosh does not run in Reaktor Player – a full version of Reaktor is required.
Price: $79,00 US