https://nonorder.wordpress.com/
Monolite Poly K is the ultimate evolution of the Monolite synth family for NI Reaktor 5.9.2 and later.
A perfect companion for experimental, noise, ambient and fx sound designers thanks to its extensive sonic capabilities.
Features:
– Monophonic/Polyphonic/Drone Play Mode for extreme flexibilty
– 4 dependent Oscillators, 2 Post Oscillators Clipping mode plus a Tone Cut Filter to create unique timbres
– Pre-Filter Grainer unit for granular processing
– Pre-Filter Fx unit with 17 different effects with automizable X-Y pad controller
– 4 Filter Mode (LP 4, HP 2, BP 2, LP 3 + Notch) with Envelope Amount and Keyboard tracking
– 2 Clockable LFOs with different waveforms (Sine, Tri, Pulse, Random, Random Hold)
– 4 Modulation Slots to allows a wide range of sonic sculpting
– 2 ADSR Envelope (Amp Envelope and Env 2) with Velocity and Glide function
– Crush Effect
– High Quality Reverb and Delay with two routing options
– Master Equalizer
In this video Salamanderanagram explains how he's using topology mode of the Percussa Wireless AudioCubes together with Reaktor.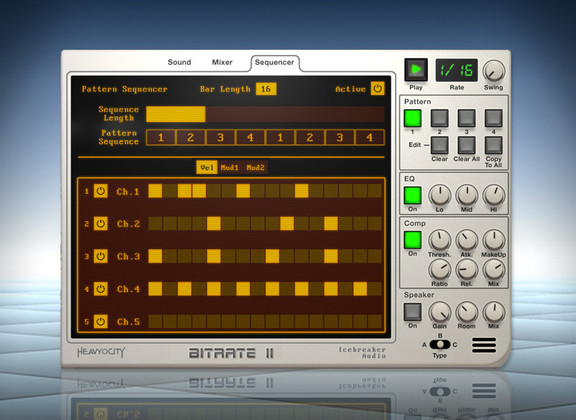 Heavyocity has partnered with Icebreaker Audio to release BitRate II, a major update to the BitRate semi-modular 8-bit drum machine for Reaktor.
BitRate II uses multiple methods of retro digital synthesis and sampling to produce charismatic and nostalgic drum sounds. The included sound engines cover chipsounds, FM synthesis, lofi sampling, and glitchy circuit bending.

On top of these unique sound engines, BitRate II also offers a 5-track mixer and a master fx section that includes an analogue modelled EQ, bus compressor, and speaker simulator for added lo-fi effect.

The drums can be triggered via MIDI or from the internal sequencer. The sequencer provides two modulation sequences per drum, which can be routed to virtually any combination of sound parameters in any amount.

BitRate II also comes bundled with the MonoBoy instrument, a melodic counterpart for BitRate II. MonoBoy uses similar sound engines, but in an interface more suited to melodic playing.

The BitRate II Bundle ships with a total of 140 preset snapshots including a variety of sounds from kits and beats to synths and samples.
BitRate II features
5 drum slots into which you can load any one of 4 sound engines.
4 lo-fi digital sound engines: Chip, FM, Sampler, Glitch.
The ability to sample from the audio input into a custom-built sample engine.
A built-in sequencer with 2 modulation sequences per drum.
Per-track sequence length, allowing for complex poly-rhythms.
EQ, Compressor, and Speaker Simulator master effects.
MonoBoy features
3 sound generator modes, including a unique DM sampler.
Easy-to-use arpeggiator and Voice Controls
2 Modulation sequences.
A master FX section that includes the one-of-a-kind Bit Delay effect.
The BitRate II & MonoBoy bundle is available for purchase for an introductory price of $29 USD for the first two weeks (regular $49 USD). During this period, original BitRate owners can buy BitRate II for $19 USD.
FREE DOWNLOAD: http://mcrow.net/free-reaktor-ensembl…
FM Radio is a free Reaktor Ensemble by Musicrow.
FM Radio will make your audio tracks and music sound as if they are played on the radio, including the typical reception disturbances, noises and sounds of switching between stations.
"FM Radio will make your audio tracks and music sound as if they are played on the radio, including the typical reception disturbances, noises and sounds of switching between stations. FM Radio produces new and beautiful lo-fi effects, and can be used as a unique lo-fi filter, swapping between clean and distorted radio sound."
Main Features:
An authentic radio effect
Unique tool for sound designing
New and beautiful lo-fi effects
Transition between 13 stations, each with its own special tone
Determine the radio noise level and the radio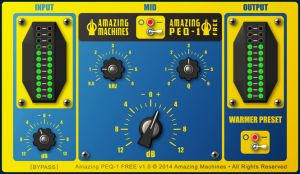 Amazing Machines has released the Amazing PEQ-1 Free. The Amazing PEQ-1 Free is a tone shaping tool capable of drastically changing an audio source with its 1-Band Mid-Range Equalizer and Preset Warmer.
Features:
1 Reaktor Ensemble.
1-Band Parametric Equalizer.
Preset Warmer.
Price: Free – Requires Native Instruments' Reaktor or the Free Reaktor Player, version 5.8 or newer.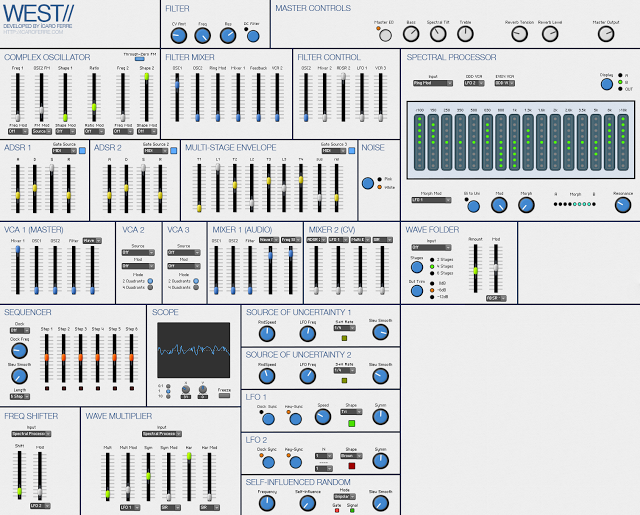 Here's what the developer has to say about it:
Hey guys, since a lot of you enjoyed the 1.0 version, I thought it'd be a good idea to let you know that I've just updated my WEST// Reaktor ensemble.
This new 1.1 version adds a clone of the Buchla 296e Spectral Processor, Wave Folder, Master EQ, LFO Key Sync, new MIDI modulation sources as well as a bunch of bug fixes. Check the link for the full changelog.
Get it for free from the Reaktor user library
WEST// is a west-coast style monophonic synthesizer.
Since there aren't too many of this kind of synths available for Reaktor I decided to try to create something. WEST// was inspired by the sounds of the Buchla modules and the semi-modular workflow from the ARP 2600 synthesizer.
It contains a Complex Oscillator (FM based dual-oscillator), a filter similar to a low-pass gate, 2 ADSRs, 1 Multi-Stage envelope, Noise generator, 3 VCAs, 2 mixers, 1 sequencer, 2 random modules inspired by the Source of Uncertainty, 2 regular LFOs, 1 Self-Influenced Random module, a frequency shifter and a Wave Multiplier.
The workflow on it is a bit particular so here are a few tips to get started:
– The VCA 1 is linked to the Master output and it's always controlled by the ADSR 1.
– The sliders available on the Complex Oscillator behave as offsets when there's no Modulation selected. Once you select a modulation source, the sliders turn into attenuators for the incoming modulation signals.
– Shape 1 and 2 are a bipolar slider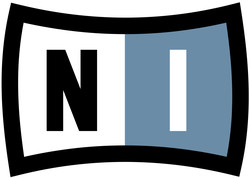 Native Instruments has released updates for Battery, Kontakt & Kontakt Player, and Reaktor & Reaktor Player.
Changes in Battery v4.1.4
Added advanced Komplete KONTROL integration.
Fixed an issue with kits being replaced when loading a host session with the kit-preview button enabled.
Other minor fixes.
Discontinued Mac OS X 10.7 support with this update.
Discontinued RTAS support with this update.
Changes in Kontakt v5.4.1
Added advanced Komplete KONTROL integration.
Added Snapshot system for Instruments.
Added load_array mode 2, nka files can now be stored in the resource container.
Fixed crashes.
Improved CPU performance in certain scenarios.
Discontinued Mac OS X 10.7 support with this update.
Discontinued RTAS support with this update.
Changes in Reaktor v5.9.2
Support for Komplete KONTROL S-SERIES.
Automation Module.
HW Control Module.
Various improvements and bug fixes.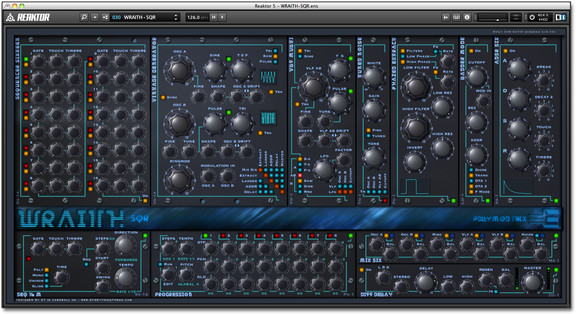 EverythingTurns has announced the release of Wraith, a PolyMod Rack series polyphonic modular analog synthesizer instrument for Native Instruments Reaktor.
Wraith is available in two form factors, the larger Wraith SQR has two built-in sequencers that can run independently to each other, Wraith Mini has all the same synthesis capabilities and is better suited for smaller screens.
PolyMod features
PolyMod is more of a template than an ensemble and has features built-in that will make the whole process of building new ensembles at ET better in so many ways.
All PolyMod ensembles have a consistent user interface making the learning curve for new designs greatly reduced.
PolyMod has skins built in – 22 to choose from and they are saved with each snapshot, having different colours for different tracks in a sequencer makes a lot of sense, red for bass and blue for pads, etc.
All PolyMod ensembles are pre-order only, this means no instant downloads, when an order is placed the instrument will be sent to you within a day or so and you will have the only copy, the original encrypted version is kept on the server as a backup if needed.
Each Ensemble is Unique to you.
Wraith is available for purchase for £18 GBP (SQR)/£14 GBP (Mini), or £28 GBP for a bundle of both. Requires Reaktor version 5.8+.

String machines has been the poor cousin to the proper synthesizers since the late 70s when poly synthesizers emerged. Thirty years later and thousands of softsynths later the charm of having a one-trick pony instrument with alot of character start to make sense again.
Probably the most sought after string machines and also one of the first is probably the Solina by Eminent/ARP. Eminent was the company inventing the ensemble chorus to start with.
ZooTooK has now released a Reaktor ensemble named String Machine MkII inspired by the Solina string machine. The appearance is of the Mk4 but the sound is more similar to Mk1 or 2. To be able to reproduce the raspy wave shaped tones of the divide down oscillators at the highest octave the sample rate is set to 176kHz. As a consequence using the effect both pedals in stereo mode makes this ensemble a real CPU hog. So if you are strapped of horse powers use only one pedal in mono mode.
To imitate the organic vintage sound the Analog Legacy algorithms were used.
Find the String Machine MkII in the Reaktor User Library.