BitRate II – Major update to the BitRate semi-modular 8-bit drum machine for Reaktor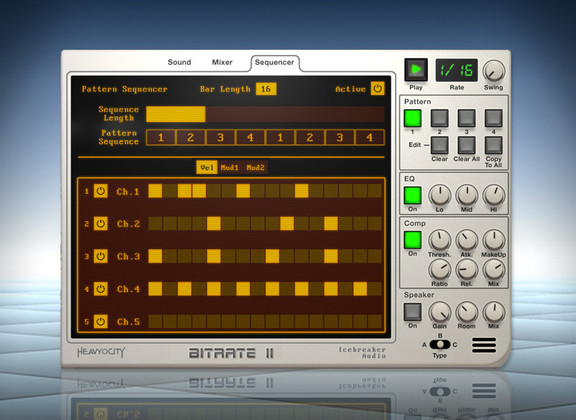 Heavyocity has partnered with Icebreaker Audio to release BitRate II, a major update to the BitRate semi-modular 8-bit drum machine for Reaktor.
BitRate II uses multiple methods of retro digital synthesis and sampling to produce charismatic and nostalgic drum sounds. The included sound engines cover chipsounds, FM synthesis, lofi sampling, and glitchy circuit bending.

On top of these unique sound engines, BitRate II also offers a 5-track mixer and a master fx section that includes an analogue modelled EQ, bus compressor, and speaker simulator for added lo-fi effect.

The drums can be triggered via MIDI or from the internal sequencer. The sequencer provides two modulation sequences per drum, which can be routed to virtually any combination of sound parameters in any amount.

BitRate II also comes bundled with the MonoBoy instrument, a melodic counterpart for BitRate II. MonoBoy uses similar sound engines, but in an interface more suited to melodic playing.

The BitRate II Bundle ships with a total of 140 preset snapshots including a variety of sounds from kits and beats to synths and samples.
BitRate II features
5 drum slots into which you can load any one of 4 sound engines.
4 lo-fi digital sound engines: Chip, FM, Sampler, Glitch.
The ability to sample from the audio input into a custom-built sample engine.
A built-in sequencer with 2 modulation sequences per drum.
Per-track sequence length, allowing for complex poly-rhythms.
EQ, Compressor, and Speaker Simulator master effects.
MonoBoy features
3 sound generator modes, including a unique DM sampler.
Easy-to-use arpeggiator and Voice Controls
2 Modulation sequences.
A master FX section that includes the one-of-a-kind Bit Delay effect.
The BitRate II & MonoBoy bundle is available for purchase for an introductory price of $29 USD for the first two weeks (regular $49 USD). During this period, original BitRate owners can buy BitRate II for $19 USD.
Comments