This is the music from the game Firequest.
Played on an original Commodore 64 with 8580 SID Chip (R5-3888).
This is the music from the 1989 Robocop Ocean crack by DCS.
Played on an original Commodore 64 with 6581 SID Chip (R2-4883).
Played on a REAL Commodore 64 with the 6581 SID chip.
— "I did not compose this and can't find out who did it. Sorry!"
Songs:
- Theme from Stationnary Ark
- Saturdays in Silesia
- Excerpt from Vangelis's "Spiral"
- Mike Oldfield's "Tubular Bells"
- Theme song from Magic Shadows
- ???
- Oxygene II
- Pachelbel's Canon in D minor
- ???
From the program "Swinth".
Chip64 brings the sound chips from vintage computers and video game consoles to the Reason rack.
Music by Tune Cooks.
Ochen K has released Chip64, described as a new synth Rack Extension that's an emulation of audio chips from vintage computer and video game consoles. 

A spokesperson told us, "Chip64 brings the sound chips from vintage computers and video game consoles to the Reason rack. Chip64 includes mathematical modeling of 5 chips: the TIA used in the Atari 2600, the SID chip used in the Commodore 64, the TA0x series used in the NES and Gameboy, the Vic-I used in the Vic 20, and the SN76489 chip used in the ColecoVision and Sega consoles. With an on-board sequencer, as well as a multi-mode filter, LFO, modulation envelope, and more, Chip64 brings true chip emulation to your rack."
Pricing and Availability:
Available at the Propellerhead shop.
€32.00
More information:
Chip64 is a new synth Rack Extension for Reason. Chip64 emulates audio chip synthesis from early video game systems. This is a preview video. If you'd like to beta test, send an email to reinfo@ochenk.com with your Propellerhead ID.
)
A demonstration of the WebSID, a synthesizer that runs inside your browser (Google Chrome or Safari 6+ required, though most mobile devices such as iPads are ready to go) that pays homage to the retro sounds of the SID chip, a.k.a. the audio module of the Commodore 64. The trademark pulse width modulated waves provide a testament to deep, heavy bass lines while playing chords on the top keyboard will result in the trademark arpeggiated lines so typically associated with old school video games. For further sound sculpting, a high res filter and echo have been added to turn the WebSID into a chaotic drone machine.
NOTE : the audio glitches in the video, but is a side effect of the screencast, no such glitches are present in the actual application.
You can play with the WebSID directly by following this link :
http://www.igorski.nl/experiment/websid
or get it as a (free) Chrome Web App so you can run it offline:
https://chrome.google.com/webstore/de…
All sounds come from the Commodore 64 Stereo Synthesizer, containing two 6581-SID chips. External EQ, delay and reverb added. Built by Björn Engstrand and Robert Engstrand.
Build your own one here:
http://www.ucapps.de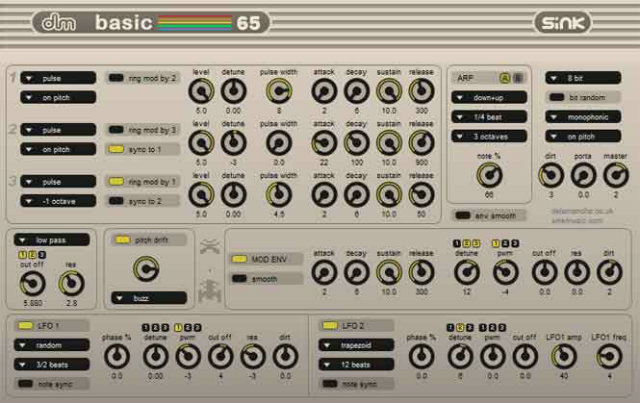 de la Mancha is continuing to put synths that were previously available for purchase online as free downloads. The latest is a monophonic synth, basic 65, inspired by the classic 80s home computer, the Commodore 64 and its legendary SID chip. Building on the waveforms and signal path of this famous chip, basic 65 adds further features and options to take things a step further. Here's more details:
The double arpeggiator allows complex versions of that retro 8-bit game sound and the modulation options inspire experimentation via the mod envelope and 2 comprehensive LFOs. Pulse width modulation, ring modulation and oscillator detune/sync are key ingredients in the signature sound. Throw in some pitch drift, bit drift, a sprinkle of dirt and randomisation and you have a wide range of lofi, chiptune, retro-tastic sounds at your disposal.
This version is the update to the popular basic 64, redesigned from scratch, with many improvements, new features and all new presets. basic 65 was co-developed with sink, who also made the amazing presets.
Features
Monophonic synth in VST format for Windows based hosts
3 oscillators with pulse, saw, triangle and noise waveforms
Pulse width can be modulated by envelope or both LFOs
Each oscillator can be sync'd to another and/or ring modulated by another
Each oscillator has its own ADSR envelope and can be routed to filter individually
Resonant filter with low pass, high pass, band pass and notch modes
2 tempo-sync Arpeggiators in series for complex arp sounds
Arp tempo, range and note length can be adjusted
Modulation envelope can control pulse width and pitch of individual oscillators as well as filter and dirt
2 tempo-sync LFOs with wide range of waveforms, including random
Both LFOs can control pulse width and pitch of individual oscillators
One LFO also controls filter and dirt, the other can modulate the depth and speed of the first LFO
Envelopes are non-linear and can be retriggered from zero or smoothed on each new note
Pitch drift models instability with variable depth and frequency
Options for 4, 6, 8, 12 or 16 bit audio with randomising feature
Developed with SE 1.1, so no problems with multiple instances
128 presets by sink covering arps, leads, bass, drums and lofi sounds
Pricing and Availability:
basic65 VSTi for Windows used to be a payware plugin, but is now free to download. However, if you like and use any de la Mancha plugins, please consider donating to Cancer Research UK in order to help care for and find a cure for cancer sufferers.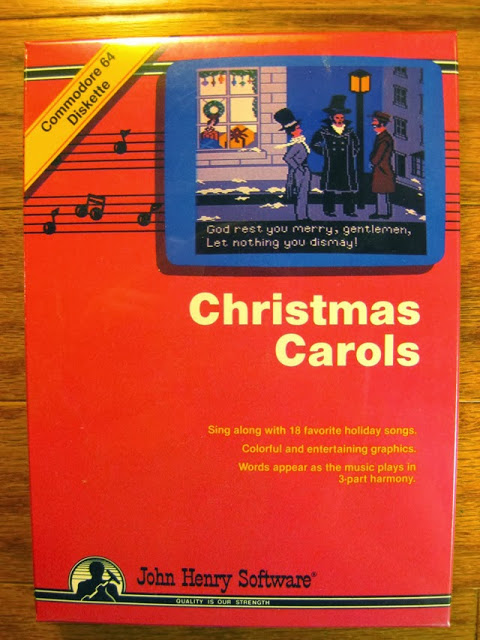 Sing Along With Your Favorite Christmas Carols
Here's a great way for you and your family to have fun with your Commodore 64™ or Commodore 128™ this Christmas. Our exciting Christmas Carols disk features 18 of your favorite holiday songs, with professionally-arranged music and entertaining graphics. For sing along fun, the lyrics appear in easy-to-read verse on your TV or monitor. Play just your favorite song or set your computer to play them all.
SONGS INCLUDE:
• Angels We Have Heard on High
• Deck the Hall
• O Come All Ye Faithful
• Away in a Manger
• The First Noel
• God Rest You Merry, Gentlemen
• Hark! The Herald Angels Sing
• O Holy Night
• It Came Upon The Midnight Clear
• Jingle Bells
• O Little Town of Bethlehem
• We Three Kings of Orient Are
• Jolly Old St. Nicholas
• Joy to the World
• O Christmas Tree
• Silent Night
• What Child is This?
• Up on the Housetop"
Kompositkrut rocks with a C64, details below:
Yo I remade the Monkey Island after a request. And I made a little demo or something to watch wile listening.
The song is composed in the native c64 tracker SID Wizzard 1.4 (by Hermit)
http://csdb.dk/release/?id=115599
The visuals are coded by me and I used Kick Assembler (by Camelot), Notepad++ and Charpad (by subchrist) for the gfx. The program visualisates the 3 voice on the SID
http://csdb.dk/release/?id=89532
http://csdb.dk/release/?id=101863
Yea and I crunched my program with BongoCruncher by Samar Productions
http://csdb.dk/release/?id=115758
Sorry for the poor video quality I recorded it via my Video capturing device, I will make my self a s-video cable. That might give me some higher video quality.
I will uppload the SID and the prg to CSDB after I done some adjustments