This is a brief demo of how to use the Obscura 8-bit synth's serial monitor mode. The Kickstarter campaign ends December 4, 2015. Back the Kickstarter campaign to receive an Obscura synth before it's too late. Campaign page: https://www.kickstarter.com/projects/…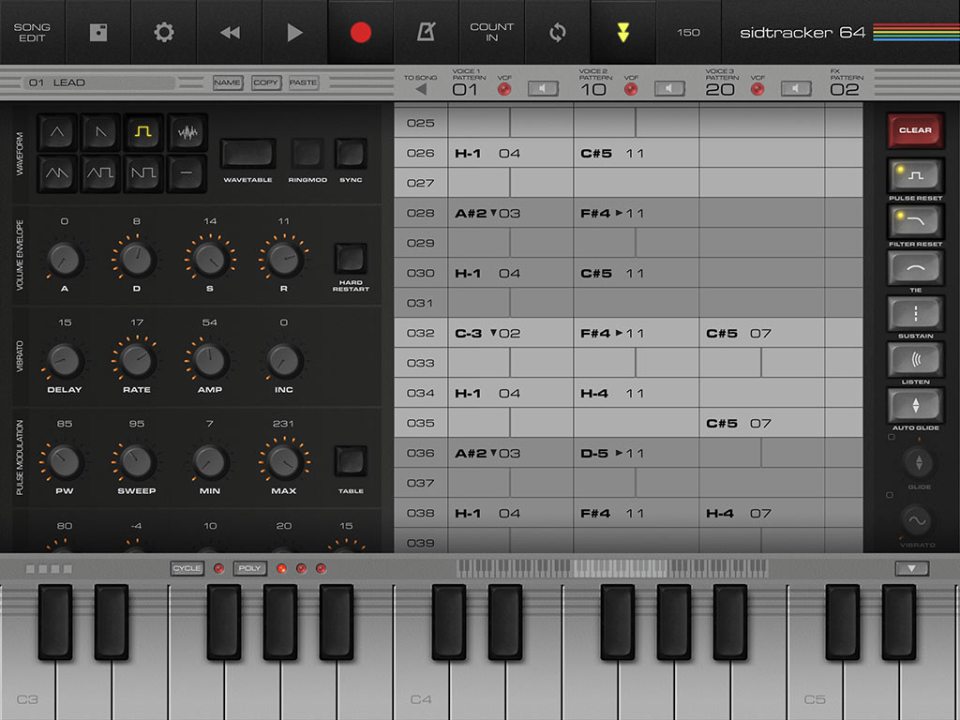 SidTracker64, a new app that turns your iPad into 'the ultimate chiptune production package tool'.
SidTracker64 emulates the classic SID sound chip from the Commodore 64. The app is a retro-style music creation tool and synthesizer, combined with modern features such as MIDI keyboard and controller input, Audiobus 2 and Inter-App Audio for recording in your favorite DAW-app.
MIDI clock in lets you sync to other apps and hardware drum machines and synthesizers.
SID synthesizer engine specs:
Fully emulated SID 8580 R5 chip.

3 separate voices

8 waveforms – tri, saw, pulse with pwm, noise, trisaw, tripulse, sawpulse, nowave

Wavetable editing

3 volume envelopes

Dedicated vibrato controls

1 multimode filter LP/BP/HP (12/6/12db) with sweep envelope

Filter table editing. Change filter cutoff and modes up to 1/240

Hard sync and Ringmod per voice

PWM sweep envelop

PWM table editing

Hard restart

Variable emulation speed from 25-240hz (standard 50)

32 instruments per song (copy/paste/rename)
Tracker (sequencer):
3 voice patterns

Mute voices on/off

Change instrument per step

FX pattern – change volume/filter/speed per step

Loop pattern

Song building

Live or step recording

Metronome / count in

Follow mode

Note effects (Glide/sustain/vibrato/filter & pulse reset/tie)

Song mode with transpose
Midi:
Keyboard input 1-3 voices (mono, duo and polyphonic)

CC-assignable synth parameteras

Modulation wheel vibrato

Pitch bend

Midi Clock in

Selectable input channel
Export:
.s64 – native SidTracker 64 file

.m4a – audio

.sid – for use in sidplayer

.prg – exports play data for a real Commodore 64
Chiptune Remix by Fredrik Segerfalk on SidTracker 64 for iPad
http://www.sidtracker64.com
3 voices of chip bliss, and a slight reverb added. Nothing else.
https://soundcloud.com/analogsweden/t…
Graphics by Vanja Utne: http://twitter.com/CheesePirateEq2
Video and extra GFX by Moppe
SidTracker programming by Daniel Larsson
SidTracker 64 for iPad
Want to make some soulful Bleeps?
Wether you just want some creative juice for your productions, or produce entire chiptunes , we have created the perfect chiptune platform for you.The SidTracker 64.
Original song: https://www.youtube.com/watch?v=ZTidn…
David Hasselhoff – True Survivor – Jörgen Elofsson & Mitch Murder(P) 2015 Universal Music AB. © 2015 Universal Music AB.
http://www.analogsweden.com/
https://instagram.com/sidtracker64
https://twitter.com/sidtracker64
https://www.facebook.com/SidTracker64
And even more!
SunVox is a small, fast and powerful modular synthesizer with pattern-based sequencer (tracker). It is a tool for those people who like to compose music wherever they are, whenever they wish. On any device. SunVox is available for Windows, Mac OS X, Linux, Maemo, Meego, Raspberry Pi, Windows Mobile (WindowsCE), PalmOS, iOS and Android.
http://warmplace.ru/soft/sunvox
AudioThing has released miniBit, a 8-bit/chiptune synthesizer.
miniBit is a 8-bit/chiptune style synthesizer that emulates the sound of 80s game consoles and retrocomputers.
It features a main oscillator with 12 waveforms paired with a sub oscillator (a square wave pitched one octave below). The waveforms are not bandlimited and will produce aliasing. Furthermore, using the built-in bitcrusher, is it possible to create even more noisy and retro sounds.
Details:
12 Waveforms.
Sub Oscillator.
Poly and Mono mode with Glide.
2-poles Low Pass Filter.
Delay and BitCrusher effects.
LFO with multiple destinations.
30 Presets.
Preset randomizer.
Formats: VST, AU, and AAX (32/64-bit).
Platforms: OS X, Windows.
Price: €20 / $24.50. miniBit is available for the introductory price of €16 / $19.60 until January 15th, 2015.
Know how to play video games? Like music? You'll love the Lo-Fi SES (Sound Entertainment System). It's an instrument that makes it easy to rock out as a chiptune artist.
The Lo-Fi SES is all fun with no practice. It may look like a game controller, but it's actually a music controller. You might've never learned to play piano or guitar, but I'll bet you rocked at more than a few video games. Lo-Fi SES lets you turn those hard fought skills into musical magic.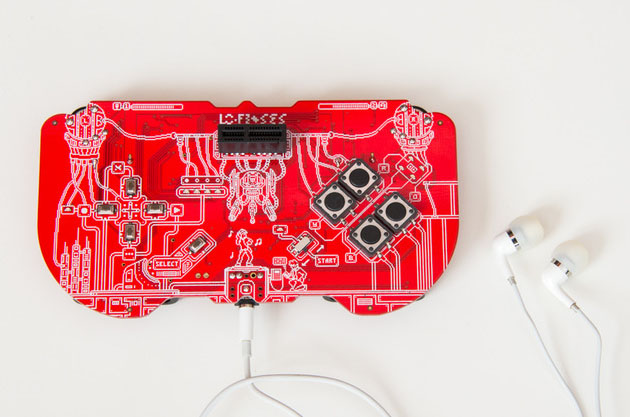 And, like any good guitar, the Lo-Fi SES has to look as good as it sounds. That's why the Lo-Fi SES itself is a work of art. The fantastic Doctor Octoroc divined the graphics for this instrument and produced the animation in the video.
The Lo-Fi SES is designed around the Arduino platform with an Atmega processor. As a result, you can replace the samples with actual sounds from an NES or other console. You can remap the buttons, do sophisticated open-source signal processing and even use it as a… game controller. The team says that no coding experience is needed, but if you like hacking, "it's the perfect platform for audio projects, budding bands or skilled instrumentalists." Finally there's a slot to add three cartridges: a second sound pack, a USB cartridge for custom tweaking and a "Smasher" cartridge that lets you dirty up the music.
The cover art for Electric Light Orchestra's Out of the Blue is spacey and iconic and it got us thinking about how fun an ELO-themed shmup might have been back in the day… Well, here's the next best thing: a chiptune tribute that could have worked as a soundtrack for such a game!
The eight artists here have used hardware and samples from various old video game consoles to pay tribute to some of Jeff Lynne's most memorable songs, and it only seemed fitting to commission cover artwork that mimicked the crappy Atari box art of the same era when ELO rose to prominence. We hope you have as much fun listening as we did putting it together!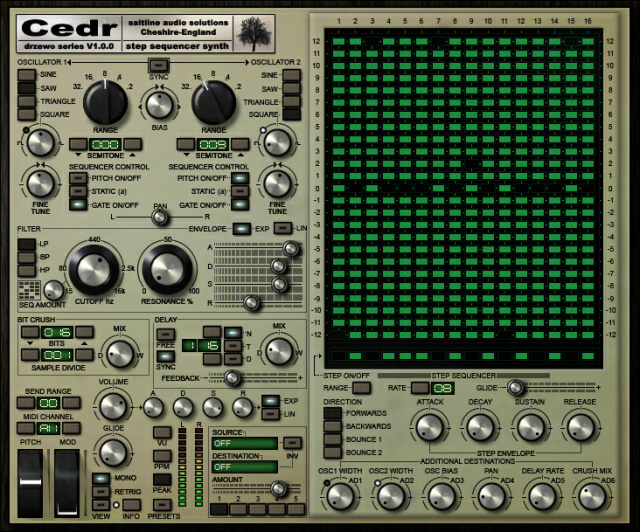 Saltline has released Drzewo Cedr – a free 2 oscillator subtractive synthesizer for Windows. with a 16-step pitch sequencer. Cedr was created with chip tunes in mind.
Features:
The sequencer can also be fed to several other of the synthesizer's controls.
The pitch sequencer can be turned on or off for each oscillator allowing for greater flexibility in sound creation
Bit crush and delay effects also add to the degraded yesteryear quality of Cedr.
Other controls include a step sequencer 'step envelope' giving the user the ability to create a range of sounds from choppy arps to strange pads and textures.
5 modulation slots also allow midi control routing, such as, key follow, velocity and aftertouch.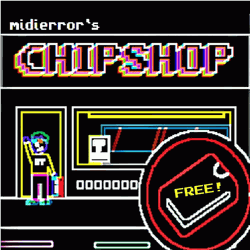 Midi Error has announced Chipshop, a free sample pack featuring 844 samples.
A free sample pack crammed with over 800 individual samples and 70+ Loops. All recorded direct from C64, AtariSt and Nintendo Gameboy.

We are the music makers.
Chipshop features
Gameboy (Nanoloop, LSDJ): 91 bass, synth, lead, perc and sfx hits and 117 sampeld drum hits.
SID (Cynthcart, Retroskoi): 61 bass, lead and sfx hits.
YM2149 (Various): 36 bass hits, 48 custom fx, 124 drum hits, 145 multi-samples (5 instruments over 5 octaves), 29 white noise hits, 29 sampled hits, 110 sfx hits, 54 synth hits.
70 loops: 22 full loops and 48 drum/synth loops.
844 samples in total.
The pack is a free download at Midi Error's SoundCloud page.