SidTracker64 finally released – Turns your iPad into a Commodore 64 chiptune workstation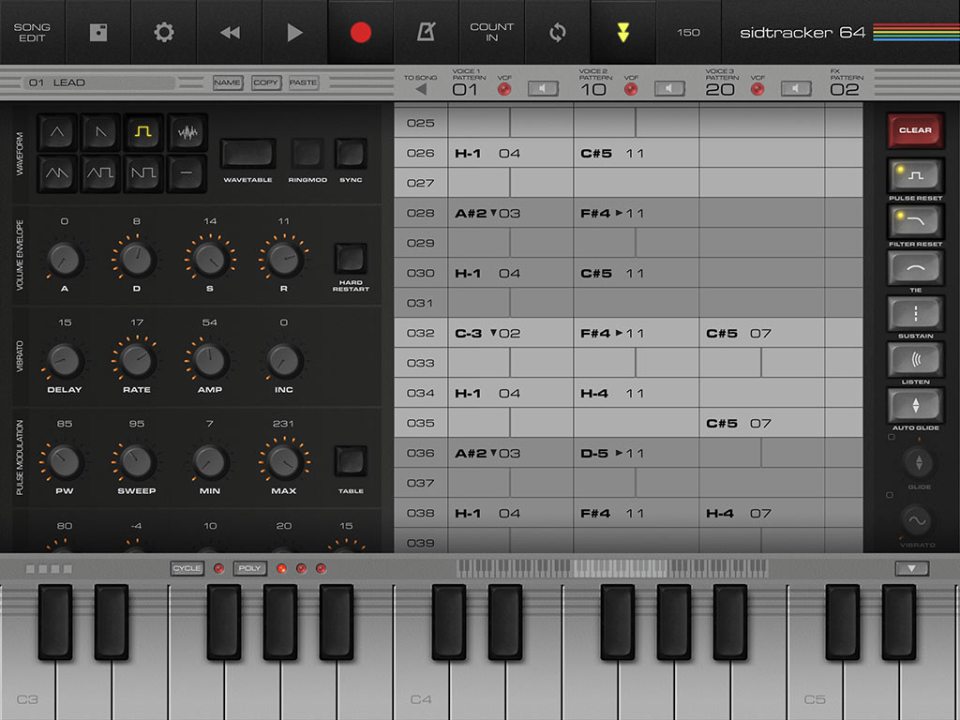 SidTracker64, a new app that turns your iPad into 'the ultimate chiptune production package tool'.
SidTracker64 emulates the classic SID sound chip from the Commodore 64. The app is a retro-style music creation tool and synthesizer, combined with modern features such as MIDI keyboard and controller input, Audiobus 2 and Inter-App Audio for recording in your favorite DAW-app.
MIDI clock in lets you sync to other apps and hardware drum machines and synthesizers.
SID synthesizer engine specs:
Fully emulated SID 8580 R5 chip.

3 separate voices

8 waveforms – tri, saw, pulse with pwm, noise, trisaw, tripulse, sawpulse, nowave

Wavetable editing

3 volume envelopes

Dedicated vibrato controls

1 multimode filter LP/BP/HP (12/6/12db) with sweep envelope

Filter table editing. Change filter cutoff and modes up to 1/240

Hard sync and Ringmod per voice

PWM sweep envelop

PWM table editing

Hard restart

Variable emulation speed from 25-240hz (standard 50)

32 instruments per song (copy/paste/rename)
Tracker (sequencer):
3 voice patterns

Mute voices on/off

Change instrument per step

FX pattern – change volume/filter/speed per step

Loop pattern

Song building

Live or step recording

Metronome / count in

Follow mode

Note effects (Glide/sustain/vibrato/filter & pulse reset/tie)

Song mode with transpose
Midi:
Keyboard input 1-3 voices (mono, duo and polyphonic)

CC-assignable synth parameteras

Modulation wheel vibrato

Pitch bend

Midi Clock in

Selectable input channel
Export:
.s64 – native SidTracker 64 file

.m4a – audio

.sid – for use in sidplayer

.prg – exports play data for a real Commodore 64
Comments