This week: Ondes from Olympia Noise Co.
Ondes is a fantastic app in my eyes for special playing with synthesis. You can also add it to your modular synthesizer setup
Inspired by early electronic instruments such as the Ondes Martenot and the Theremin, Ondes emulates the fluid playing style of those classic instruments with an interface and synthesis engine firmly grounded in the present day.
Whether you're gliding through melodies & chord changes or creating dense polyphonic sci-fi soundscapes, Ondes is an instrument unlike any you've played before.
Support Synth Anatomy and the app is available here: https://geo.itunes.apple.com/lu/app/o…
A new Episode of 7 Minutes with an Ipad Synth. This week I jam on Elastic Drums. This amazing app is a modular drum synthesizer and drum sequencer in one. Personally the automation of the parameters during the sequence is a fantastic way to make some crazy drum actions.
Available here and if you want to support my channel and work please use this link
https://geo.itunes.apple.com/lu/app/e…
Second Season of 7 Minutes with an Ipad Synth. This week the Casio CZ App is an emulation of the classic CZ Hardware Synthesizer.
The app is currently in sale for 11.99 USD (August 2015)
https://geo.itunes.apple.com/us/app/c…
Virtual Analog Polyphonic Synthesizer with Resonator.
https://itunes.apple.com/app/id101605…
http://ios.icegear.net/lorentz/
* Oscillators : Saw, Pulse, Sub, Noise
* High Pass Filter
* Low Pass Filter
* Resonator
* AMP
* Envelope Generator
* LFO
* Effects
* Chorus
* Delay
* Programmable Arpeggiator
* Inter-App Audio
* Audiobus
* MIDI
* CoreMIDI / Virtual MIDI Input
* MIDI Controller Mapping with MIDI Learn mode
* External MIDI sync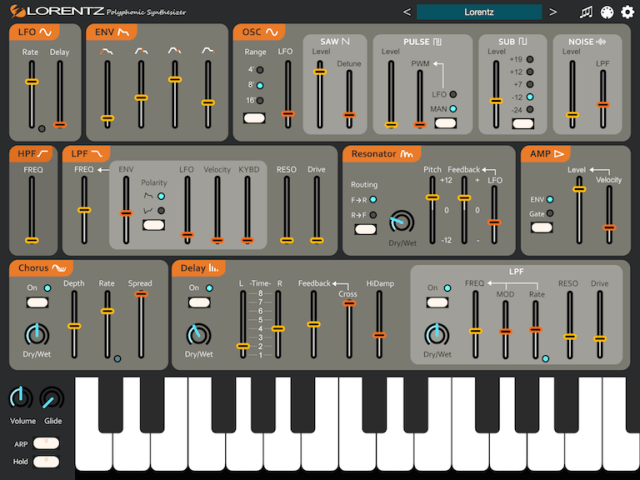 iceWorks has introduced Lorentz Polyphonic Synthesizer, a new virtual analog synth for iPad.
Features:
Oscillators : Saw, Pulse, Sub, Noise
High Pass Filter
Low Pass Filter
Resonator
AMP
Envelope Generator
LFO
Effects
Chorus
Delay
Programmable Arpeggiator
Inter-App Audio
Audiobus
MIDI
CoreMIDI / Virtual MIDI Input
MIDI Controller Mapping with MIDI Learn mode
External MIDI sync
Lorentz is available for US $5.99 in the App Store.
You can get Diode 108 Drum Machine here at the App Store
https://itunes.apple.com/us/app/diode…
Diode-108 is the only iPad drum machine on the market with direct control over every effect—HIT BY HIT. The new leader in drum machines is here, with 16 voices (not 9), drag-and-drop per beat effects, note mode to change pitch, and the ability to make and share kits. Revolutionize your groove-making and create sounds you've never heard before.
You can get Cubasis here at the App Store.
https://itunes.apple.com/us/app/cubas…
Cubasis is Steinberg's streamlined, multitouch sequencer for the iPad. Specially designed for quick and easy operation, Cubasis makes recording, editing and mixing a breeze. Record tracks in high-resolution audio quality, and edit your music with the Key and Sample Editors, while the included mixer and audio effects polish your song to perfection. Cubasis comes loaded with three virtual instruments which can be played in real time using the virtual keyboard and drum pads. Cubasis' projects can be even opened in Cubase under Windows and OS X! Cubasis places touch-intuitive production tools in your hands, opening up a new world of possibilities for your creativity.
Key features
• Unlimited audio and MIDI tracks (depending on the device used)
• 24 assignable physical inputs and outputs
• 32-Bit floating point audio engine
• Audio I/O resolution of up to 24-bit/96 kHz
• iOS 32- and 64-bit support (depending on the device used)
• Micrologue virtual analog synthesizer with 50 ready-to-go presets
• MicroSonic with over 70 virtual instrument sounds based on HALionSonic and 16 Allen Morgan drum kits
• MiniSampler with more than 20 instrument sounds to create your own instruments
• Mixer with 15 effect processors (insert and send effects)
• Over 550 MIDI and audio loops
• Virtual keyboard and virtual drum pads
• Sample Editor and Key Editor
• Automation
• MIDI CC, program change, aftertouch support
• AirPlay, Buetooth and HDMI audio out support
• Export to Cubase, Dropbox, SoundCloud, AudioCopy & email
• MIDI clock and thru support
• Core Audio and Core MIDI compatible hardware supported
• Full Inter-App Audio and Audiobus support
• Import audio from your iTunes music library or using iTunes filesharing, use AudioPaste or set up a Wi-Fi server in Cubasis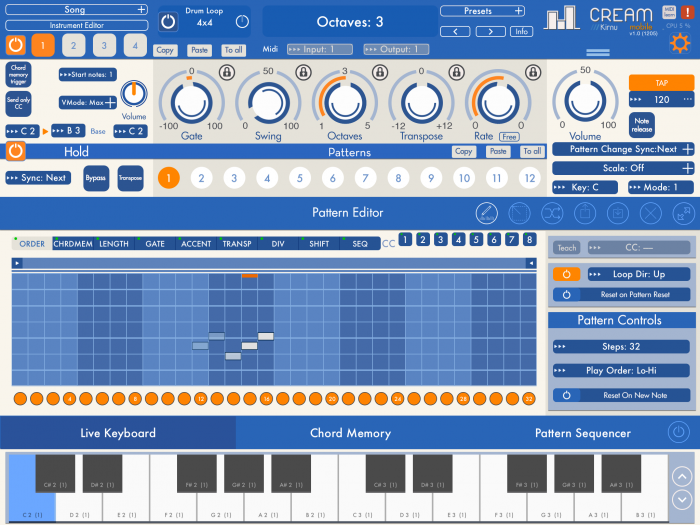 Kirnu has announced Cream Mobile, a new arpeggiator application for iPad devices.
Cream Mobile is an arpeggiator intended to be used with external keyboards or sequencers to control its internal synth or external synths.

Cream Mobile can also be used as a scratch pad for creating new songs using arpeggios and phrases.

It is described as a very powerful application with very precise audio/MIDI engine. It includes all necessary technologies every music app should have these days: Audiobus (generator), network, virtual MIDI ports, MIDI sync with host and slave mode, MIDI learn.
Cream Mobile features
4 independent tracks which can be assigned to different key range and MIDI in/out.
12 patterns per track.
Drum track with 50 high quality drum loops from Sample Magic.
Very powerful internal 2 OSC synthesizer for every 4 tracks.
Two different views: Classic and quick edit view.
Control Zone for changing most important parameters via external keyboard or MIDI events.
Many different scales to choose from. When scale is chosen every note played belongs to that scale.
Free rate tweaking. Now rate can be changed also in hertz.
Chord memory with 16 independent memory slots.
Pattern sequencer for automated sequencing.
Sample accurate MIDI engine.
MIDI learn for all knob controls.
Note release functionality which enables more smooth live playing.
Copy/paste functionality.
Easy to use note hold mode.
Presets are compatible with the plugin version.
Pattern step data section:
Tool section enables easy data editing.
All data sections are independent from each other.
Data sections can be looped with several different loop modes.
Chord memory section enables different chords to be used in every step.
Sequencer section enables sequencing the notes.
Accent, order, gate, accent, transposition, note divide, note shift.
8 CC controls in each pattern.
And lots of more…
The app is scheduled for release in Q3 2015, priced at $10.99 USD / 10.99 EUR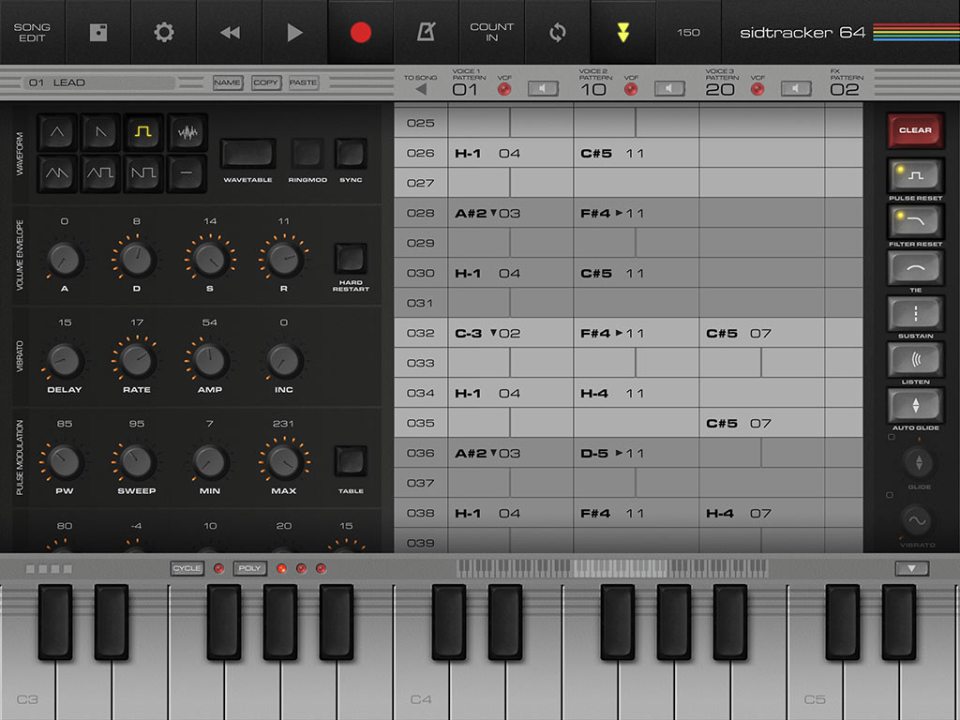 SidTracker64, a new app that turns your iPad into 'the ultimate chiptune production package tool'.
SidTracker64 emulates the classic SID sound chip from the Commodore 64. The app is a retro-style music creation tool and synthesizer, combined with modern features such as MIDI keyboard and controller input, Audiobus 2 and Inter-App Audio for recording in your favorite DAW-app.
MIDI clock in lets you sync to other apps and hardware drum machines and synthesizers.
SID synthesizer engine specs:
Fully emulated SID 8580 R5 chip.

3 separate voices

8 waveforms – tri, saw, pulse with pwm, noise, trisaw, tripulse, sawpulse, nowave

Wavetable editing

3 volume envelopes

Dedicated vibrato controls

1 multimode filter LP/BP/HP (12/6/12db) with sweep envelope

Filter table editing. Change filter cutoff and modes up to 1/240

Hard sync and Ringmod per voice

PWM sweep envelop

PWM table editing

Hard restart

Variable emulation speed from 25-240hz (standard 50)

32 instruments per song (copy/paste/rename)
Tracker (sequencer):
3 voice patterns

Mute voices on/off

Change instrument per step

FX pattern – change volume/filter/speed per step

Loop pattern

Song building

Live or step recording

Metronome / count in

Follow mode

Note effects (Glide/sustain/vibrato/filter & pulse reset/tie)

Song mode with transpose
Midi:
Keyboard input 1-3 voices (mono, duo and polyphonic)

CC-assignable synth parameteras

Modulation wheel vibrato

Pitch bend

Midi Clock in

Selectable input channel
Export:
.s64 – native SidTracker 64 file

.m4a – audio

.sid – for use in sidplayer

.prg – exports play data for a real Commodore 64
Can't wait for the SidTracker 64 to be released on appstore? Or maybe you think it is a viable alternative. Find out more in this compelling head to head battle!
SidTracker64 is the ultimate chiptune production package tool for the iPad. It emulates the SID sound chip from the dominating home computer of the 80s – The Commodore 64.
Get started immediately with the bundled songs and sounds in various styles, from old skool bleeps n blips to new school with multi speed and advanced table editing. Explore, remix and make new songs based on the old classics c64 game tracks "Commando" by Rob Hubbard or "Blood Money" by Fredrik Segerfalk, and the brand new youtube remix hit of the "True Survivor" Kung Fury soundtrack, all included in the app.
SidTracker64 is a retro-style music creation tool and synthesizer combined with modern features such as midi keyboard and controller input, Audiobus 2 and Inter App Audio for recording in your favourite DAW-app. Midi clock in lets you sync to other apps and hardware drum machines and synthesizers, such as the Elektron Analog Four.
SidTracker 64 can be used for live looping, making complete songs, and the minimum latency makes it suitable for live use. Export your music to Dropbox and e-mail as audio or .sid and even .prg files which you can run on a real Commodore 64.
Editing is based on hands on touch interaction or midi input instead of the hardcore style of direct data editing. Record live to a metronome or input notes step-style. Real SID-composing has never been simpler and more fun!
SID synthesizer engine specs:
· Fully emulated SID 8580 R5 chip.
· 3 separate voices
· 8 waveforms – tri, saw, pulse with pwm, noise, trisaw, tripulse, sawpulse, nowave
· Wavetable editing
· 3 volume envelopes
· Dedicated vibrato controls
· 1 multimode filter LP/BP/HP (12/6/12db) with sweep envelope
· Filter table editing. Change filter cutoff and modes up to 1/240
· Hard sync and Ringmod per voice
· PWM sweep envelop
· PWM table editing
· Hard restart
· Variable emulation speed from 25-240hz (standard 50)
· 32 instruments per song (copy/paste/rename)
Tracker (sequencer):
· 3 voice patterns
· Mute voices on/off
· Change instrument per step
· FX pattern – change volume/filter/speed per step
· Loop pattern
· Song building
· Live or step recording
· Metronome / count in
· Follow mode
· Note effects (Glide/sustain/vibrato/filter & pulse reset/tie)
· Song mode with transpose
Midi:
· Keyboard input 1-3 voices (mono, duo and polyphonic)
· CC-assignable synth parameteras
· Modulation wheel vibrato
· Pitch bend
· Midi Clock in
· Selectable input channel
Export:
· .s64 – native SidTracker 64 file
· .m4a – audio
· .sid – for use in sidplayer
· .prg – exports play data for a real Commodore 64
For more info:
http://www.sidtracker64.com
http://www.youtube.com/sidtracker64
http://www.instagram.com/sidtracker64
http://www.twitter.com/sidtracker64
http://www.facebook.com/SidTracker64