Understanding the iPolysix Step Sequencer.
We go over Step Switches,Step Zones,Gate Sliders,the 6 Sequence Modes and More!
The heart of the iPolysix.
Go here for more information and CODE to unlock more sounds: http://synthuniverse.com/dubstep-maker/
Go here to listen to app: http://www.youtube.com/watch?v=r4OSDd…
Dubstep Maker is an iPad app for making dubstep music. It features 38 assignable PADS,
a 8 note keyboard and a synth wobble modulator. There are over 100 drum loops, synth loops, vocal samples and fx sounds.
Dubstep Maker is an iPad app for creating dubstep music. It features 38 assignable PADS, a 8 note keyboard and a synth wobble modulator. The wobble modulator is placed where you would normally find a mod or pitch wheel. Next to that you have a selection of 6 synth sounds to modulate and create wobble sounds.

There are over 100 drum loops, synth loops, vocal samples and fx sounds. From a design point of view it's is simply laid out. Buttons are as big as a finger tip and spread out nicely.

The edit screens are where you assign different sounds to different pads.This is simply done by selecting a button to edit and pick your sound by touching the + button.

The only other functions available to change is the master volume, the tempo and the rate of the synth wobble using the sliders.

While there are lots of dubstep apps available none of them really stand out. WHOMP is perhaps the best and oldest of them but still not a stand out app one might expect. Dubstep Maker is an intriging app that it is well laid out (perhaps too simply? I'm not sure.) Its sounds are your standard dubstep sounds that doesn't set itself too far apart from the rest although there is a lot of variation.

The synth wobble section is probably where it will find its fans. Fair enough playing a wobble sample but to actually adjust
the wobble to suit is great. Maybe more sounds to play around with would not go amiss, or a dedicated page just to create wobbles would be nice.
Copying Drum Tracks in One Shot!
Here is another hidden charm for iPolysix users that copy drum tracks one at a time..
Here is a tutorial on how to get started with mSequencer (MIDI Pattern Sequencer). In this video I use mSequencer to control all 8 channels of Korg's iPolySix via virtual midi. This video doesn't even begin to touch what a great app this is. If there is interest in it, I will definitely be making more videos on some of the more advanced procedures you can use as well as a lot of other options I couldn't get to in this video.
I highly recommend using an external midi controller with this app to build your sequences.
Conclusion: This is an excellent app for anyone wanting to program midi sequences and send them to apps via virtual midi. It gives you a larger range of control then any other sequencer app I have ever used. This app does not support Audiobus but it definitely should. Well worth it's price.
Grab this app on the AppStore: https://itunes.apple.com/ca/app/midi-…
And be sure to visit http://www.iosmars.com for more great demos, reviews, and tutorial videos.
The original Polysix is a six-voice synth from the early 80s most notable for its affordability and fabulously warm analogue sound. The iPad version again ticks both of those boxes, comprising not one but two synth engines, as well as a six-track drum machine that uses sampled Polysix sounds as source material. And while it might be quite expensive for the App Store, it's excellent value for money in terms of sound, features and the amount of work that's clearly gone into it.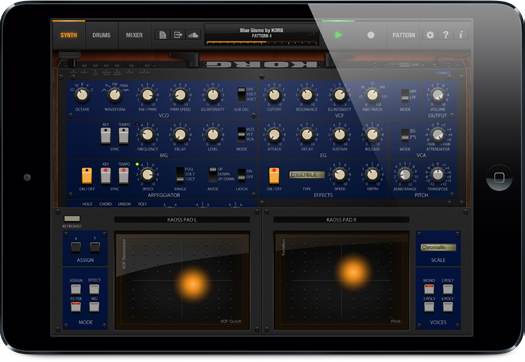 iPolysix is an analog polyphonic synthesizer that's been carefully designed to take full advantage of the 7.9-inch display of the new iPad mini as well as the iPad. Bringing together a sequencer, drum machine, and even a mixer, it transforms your iPad or iPad mini into the ultimate analog synth studio. Pack an amazing set of early-'80s analog equipment into your iPad, and time-travel back to the dawn of polyphonic synthesizers!
❮Highlights❯
● The world-wide best-selling Polysix polyphonic synthesizer, fully replicated on your iPad
● Use the newly developed Polyseq polyphonic step sequencer to control the Polysix
● A music production environment including two Polysix units, a drum machine, and a mixer
● Dual Kaoss Pads with chordal support make it easy for anyone to play analog synth sounds
● Polyshare powered by SoundCloud lets you publish, share, and remix songs with iPolysix users
Background video description:
I normally stop recording upon taking a new step like when Saving or extending the Sequence Step Length..this Tutorial will show a continuous workflow while Recording in Sequence Mode,Automating,extending Step Length,adjusting Gate,changing sounds, Saving while in record and showing useful tips along the way…
http://audio-mastering-ipad.com
The first fully functional audio mastering application for iPad. For everyone who wants to make own music tracks excellent quality. Based on the same algorithms which used in professional plug-ins this application turns your iPad into a real mastering studio.
This all-in-one tool lets you process sound, convert audio formats, change sample rate, convert bit depth, cut part of track for preview and make fade-in and fade-out.
With very easy and clear interface you can tweak all controls in real time and listening to the final result right away.
Audio processing features:
Linear phase 10-bands graphic Equalizer based on phase shifting.
Three bands Stereo Imaging with common Stereo Width level.
Harmonic Saturator with three sets of harmonics.
Loudness Maximizer with adjustable response speed and ceiling.
Sample rate converter from 96, 88.2, 48 to 44.1 kHz.
Bit depth converter supported 16, 24, 32 bits.
Dithering with noise shaping.
Supports .wav, .aif, .mp3 audio file formats.
Application features:
Predefined preset hotkeys, ability to create own presets.
All processing settings are stored for each file.
Processing group of selected files.
Exchange files thru internal Web service.
Compatible with AudioCopy / AudioPaste.
Supports iTunes file share.
Compatible:
iPad 2 and higher is recommended. Generally this application can be run with iPad 1 but there is possibility of dropping the signal out when playback, especially at frequencies above 44.1 kHz. Offline processing can be done with any iPads quite well.
Please note: This application is audio processing tool only. It does not have audio editor functions.
The app is priced at $9.99.
Wolfgang Palm shows how to edit a sound in PPG WaveGenerator for iPad.
For more information visit http://wolfgangpalm.com
Product description:
The PPG WaveGenerator comes with a multitude of wavetables. The sound material contains the typical sounds from the original PPG wave models, as well as many new sounds generated by versatile analysis tools and also hand edited waves.
This app enables the user, to create his own wavetables in a playful way, and to hear the result immediately. Also you can construct the waves by adding harmonics very precise.
Another way is to transform a picture into a wavetable. You can load photos from your album or even shoot a picture with the camera.
The waves are collected in a grid of 256 fields, to which the 3 oscillators of the synthesizer have arbitrary and independent access.
In a 3D display you get a visual impression on how the sound evolves. You can turn around the 3D object and zoom in and out,
The Parameters of the synthesizer are divided into modules, which allows easy, yet powerful editing.
It contains 3 oscillators with independent control of pitch and waveform. Each oscillator has its own glide, which gives a very dynamic sound.
With a sophisticated routing system, the diverse modulation sources can be connected to all important control points.
The keyboard is configurable totally freely, so you can setup all well-known musical scales, but also all imaginable custom scales that best fit into your music.
PPG WaveGenerator benefits all advantages of the iPad, like X/Y control after the key on event, or two finder gestures for spectrum control. After a key is hit, the tone may be modified and modulated in various ways, just by moving your finger.
A comfortable browser lets you sort the sound programs; you can categorize and rate them. Also complete custom sound banks may be created.
All significant parameters are controllable via MIDI.
There is a built in context specific help for all pages and modules.
Sugar Bytes awarded effects plugin TURNADO is now available for the iPad!
It features the full Turnado software with 24 effects which can be turned on and off
using big knobs.
For better iPad experience, we added a nice audio player, 4 XY pads and more!
Sugar Bytes Turnado, now on the App Store!
http://www.sugar-bytes.de/content/pro…
A look at the new upgrade for Alchemy Pro which now has Audiobus Compatabilty and lots of new features including a four track recorder, drum pads and lots of new sounds..This video concentrates on the sounds and playability via a midi keyboard.
Background video description:
Just picked up a pre-midi Juno 6 and wanted to clock the Arpeggiator. Had a thought about trying the Korg iElectribe on my iPad…didn't think it would work, but does. Audio from Juno 6 is direct in to Logic, but my Mic was from the crappy Camera.