Chipshop – free sample pack featuring 844 C64, Atari and Nintendo samples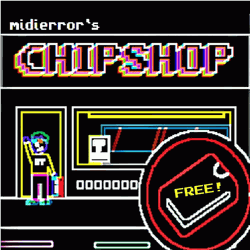 Midi Error has announced Chipshop, a free sample pack featuring 844 samples.
A free sample pack crammed with over 800 individual samples and 70+ Loops. All recorded direct from C64, AtariSt and Nintendo Gameboy.

We are the music makers.
Chipshop features
Gameboy (Nanoloop, LSDJ): 91 bass, synth, lead, perc and sfx hits and 117 sampeld drum hits.
SID (Cynthcart, Retroskoi): 61 bass, lead and sfx hits.
YM2149 (Various): 36 bass hits, 48 custom fx, 124 drum hits, 145 multi-samples (5 instruments over 5 octaves), 29 white noise hits, 29 sampled hits, 110 sfx hits, 54 synth hits.
70 loops: 22 full loops and 48 drum/synth loops.
844 samples in total.
The pack is a free download at Midi Error's SoundCloud page.
Comments