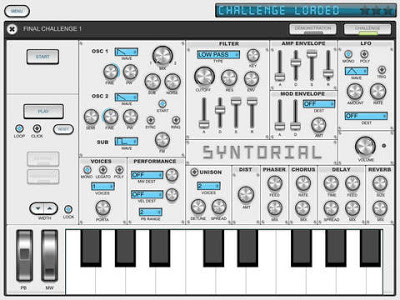 "Syntorial is the most direct route between hearing a sound in your head and knowing how to bring it to life." – Electronic Musician Magazine
"The most comprehensive and fun tool for learning synthesizer programming, hands down." – Keyboard Magazine
"The best training in synth sound-design we've come across. A unique and fun way to train your ears in re-creating synth sounds." – MusicTech Magazine
Syntorial is video game-like training software, that will teach you how to program synth patches by ear. By combining video demonstrations with interactive challenges, you'll get hands on experience programming patches on a built-in soft synth, and learn everything you need to know to start making your own sounds with ease.
* Electronic Musician Editor's Choice 2014 *
HIGHLIGHTS
Interactive Learning: Syntorial doesn't just show you how synth programming works. It engages you in Interactive Challenges in which you program patches on a built-in synth. You aren't just learning how to design sound, you are becoming a sound designer.
For Musicians, Not Physicists: Instead of talking about the science and physics behind synthesizers, Syntorial will show you how each control effects sound, as well as when, why and how you would use them when designing sounds. This is information that you can immediately apply to real-life situations.
It's All About The Ear: One step at a time, Syntorial trains your ear to recognize how each control shapes and manipulates sound. By the end of the program you'll be able to take the sounds you hear and re-create them, completely by ear.
LESSON SPECS
Challenges: Learn by doing! Complete challenges by programming patches with Syntorial's built-in synth.
Videos: Everything is taught through video demonstrations using the same synth that you'll use in the challenges.
Patches: Program, program, program. After all, that's what it's all about, right? By the end you will have programmed tons of patches, from simple to complex, familiar to strange.
Quizzes: Multiple choice questions to help you retain and remember everything you learn.
On Your Own: Syntorial will give you periodic tasks to be carried out on your own with whatever synth(s) you use.
SYNTH SPECS
Subtractive synthesis
Three Oscillators (Two with Waveform, Pitch, Pulse Width, and Mix controls, and a Sub oscillator with Waveform and Volume controls)
Saw, Pulse, Triangle and Sine waveforms
FM knob
Noise Oscillator
Oscillator Sync
Filter (Low, Band and High Pass) with Resonance and Key Tracking
ADSR Filter Envelope
ADSR Amp Envelope
AD Modulation Envelope
LFO with four waveforms, seven destinations, rate, amount, trigger, and mono/poly modes
Mono and Poly Voice Modes
Portamento
Unison with Voice, Detune and Spread controls
Ring Modulation
Distortion, Chorus, Phaser, Delay, and Reverb effects
Mod Wheel, Pitch Wheel and Velocity controls
Audiobus, Inter App Audio, and Virtual Midi enabled.
FREE VS UPGRADE
The free app comes with the first 22 lessons, as well as Syntorial's fully featured synth (see above). Upgrade to get:
All 199 Lessons, including 129 Challenges, 147 Videos, and 706 Patches covering the most common synthesis parameters.
Additional Lesson Packs covering Cakewalk Z3TA+ 2 and Minimoog Voyager, each containing 30+ videos. More Lesson Packs planned for the future.
Pay once and get access to all of the above on iPad, Mac and PC. Sync your progress across all 3 platforms. Train where you want, when you want, and how you want.
Plugin version of Syntorial's synth, Primer. Program, record and play Primer in your favorite desktop recording software. VST (Mac/PC) and AU (Mac).
Personally I think that £100 is too much for the IAP so I'll be passing this one up, but if you do go for it I'd be interested to know what you think of it in terms of value for money.
A peek at Tin Pan Rhythm, a songwriting app coming soon to iPad.
https://itunes.apple.com/app/apple-st…
Gil Carmel and team have released Tin Pan Rhythm, a song prototyping tool, based around chord progressions and acoustic instruments.
As a game developer, I've spent much of my career optimizing for … human factors – doing my best to craft experiences that are engrossing, intuitive and self-teaching. I wanted to apply these principles to an app aimed at the "musical middle class": folks who love music, maybe strum a guitar here and there or took viola lessons in third grade.

"My goal is to make tools that are musically expressive, accessible, playful and educational. They should be as fun as playing a real instrument. They should teach you something about music. They should let you make better music than you thought you could. And they should be designed for anyone who wants to use them.
Now available in the app store: appsto.re/i6L72ht
Rhythm necklaces are circular representations of repeating patterns. They've found application in fields as varied as Crystallography, Radio Astronomy, Nuclear Physics, and Ethnomusicology. When applied to musical rhythms, circular representations show the underlying geometric properties that make them enjoyable, such as the degrees of evenness and symmetry. Computer scientist Godfried Toussaint has found that analyzing rhythms geometrically reveals surprising relationships between rhythms the world over. In fact, Toussaint has shown how a core group of geometric algorithms can generate rhythms employed in African, Cuban, Balkan, and Spanish folk music, to name a few. The Rhythm Necklace iOS app is a musical sequencer for exploring the geometry of rhythm necklaces, and for experimenting with generating rhythms algorithmically.
Rhythm Necklace is made by Meara O'Reilly and Sam Tarakajian.
And even more!
SunVox is a small, fast and powerful modular synthesizer with pattern-based sequencer (tracker). It is a tool for those people who like to compose music wherever they are, whenever they wish. On any device. SunVox is available for Windows, Mac OS X, Linux, Maemo, Meego, Raspberry Pi, Windows Mobile (WindowsCE), PalmOS, iOS and Android.
http://warmplace.ru/soft/sunvox
Learn more and download Take for free: https://www.propellerheads.se/take
Take Creative Vocal Recorder is the fastest app for capturing your ideas on iOS so we figured we'd show you Take in action with the fastest video walk through. Record your voice, load backing beats, sing along with yourself, add effects, and even tune your voice from subtle pitch fixes to "that" hip hop sound. When you're ready, share your song ideas to Discover on Propellerhead to share your music with friends or to invite a world of other music makers to collaborate with your music.
Here's what's new in Take 2.0:
Tune your voice – stay in tune or go full-on robot voice with Take's Voice Tune effect.
Clean up, distort or color your recordings with effects on each channel
Give your tracks a "final mix" sound with mastering presets
Sing in a key that works for you with transposable backing tracks
Trim your songs to the desired length
Numerous performance and usability improvements
Take is a free download from the App Store.
Pepp is now available on the AppStore. Pepp can sound in an endless number of ways, this is just a quick live jam.
Pepp opens up the joy of electronic music making to everyone. Thanks to an intelligent rythm and harmony engine, no musical knowledge is needed. Pepp is immediate, intuitive and vastly musical by nature.
Make electronic music like there's nothing to it! Pepp is very easy to use yet it can produce a vast range of sounds. Forget about boring factory sounds. Come up with your own mindbending loops in no time, store them in memory slots, mix them live and jam with your friends. Tweak all parameters to the extreme without destroying your original loops.
This twisted groovebox/arpeggiator/synthesizer lets you quickly forge original electronic music using sixteen sliders and a sixteen step sequencer. Instantly save and recall your ideas without missing a beat. With 160 memory slots you're not likely to run out of storage.
Pepp can also be synced via MIDI, played live from a MIDI keyboard or sequenced from your favorite DAW. Naturally, all sliders can be mapped to midi controllers. Pepp is also integrated with Audiobus so you can use it with all of your audiobus compatible apps!
-=Features at a glance =-
Ten synth oscillators
Five drum oscillators
FM-synthesis
Audiobus
MIDI Clock in
MIDI in (Notes and CC)
MIDI Latch/Gate
Intelligent arpeggiator
Advanced rythm engine
Lo-/Hi-pass Filter w/ Resonance
Delay
Samle and hold
Instant resample/reloop
Detune
Portamento
Reverb
Gain
Glissando
Master octave +-2
Tempo multiplier
Oscillator types
-Sine
-Square
-Sawtooth
-Triangle
-Wavetable
-Noise
Some key features are disabled in this FREE version of Pepp. The full version of Pepp can be unlocked from within the app by using in-app purchase. UNLOCK NOW AT THE INTRODUCTORY PRICE!
Been working hard for a long time to create Pepp. I hope you enjoy it and appreciate your support!
Now, hook up your headphones… It's time to play!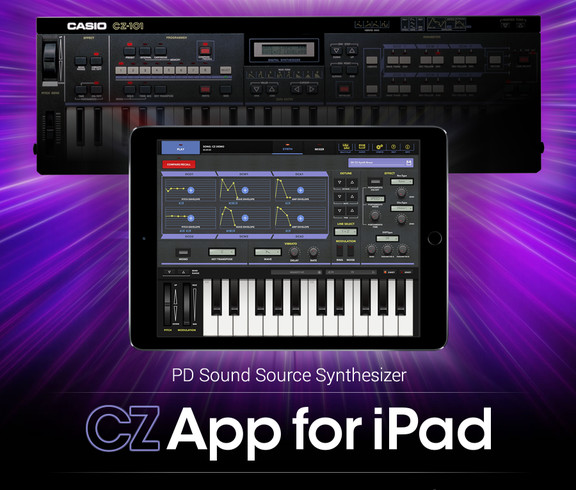 Casio has released CZ App for iPad, a virtual synthesizer app based on Casio's best-selling CZ series of synthesizers, including the CZ-101 model released in 1984.
Along with its electronic musical instruments, Casio has been developing musical apps with the goal of providing the joy of playing music to more and more people. To date, Casio has released several apps that have become widely popular: Chordana Viewer and Chordana Tap, which automatically detect the chord progressions of songs; as well as Musical Practice Tool, a useful app for practicing a musical instrument or singing.

Now Casio has released the CZ App for iPad, an iPad app that recreates its best-selling CZ series of classic synthesizers and includes several all-new functions. CZ App for iPad allows up to four separate parts to be played using the original Phase Distortion sound source by Casio, and features 36 types of waveforms for producing a wide range of sounds.
The app is available for purchase for $19.99 USD.
Quick demo of the upcoming Figooroo app for iOS (running on iOS simulator)
http://twitter.com/figooroo
Music by Missing Figures #MadeWithFigure
http://twitter.com/misfig
http://soundcloud.com/missing-figures
Send sample data directly from your iPhone to your volca sample!
AudioPocket enables you to program your volca sample memory with audio samples.
In addition to merely importing samples from your computer via iTunes, the free AudioPocket app has a built-in recorder – you can record something to sample as and when you need it, or you can record anything that crops up when you're out and about to put into your Volca Sample later, as long as you have your iPhone with you…
Coming Soon!
More Details about volca sample:
http://www.korg.com/volca_sample/
MiMiX is a mixer app for Audiobus. With MiMiX You can take total control of mixing of Your favourite Audiobus enabled apps' outputs in the most convenient way. Just insert MiMiX into the Output Slot of Audiobus, even into multiple chains to mix the sound of the connected input or effect apps. You can even insert MiMIX into the input slot to send the mix to an other app, like a DAV to record the mix. Coming soon to the App Store! Check details at http://ttrgames.hu/mimix/