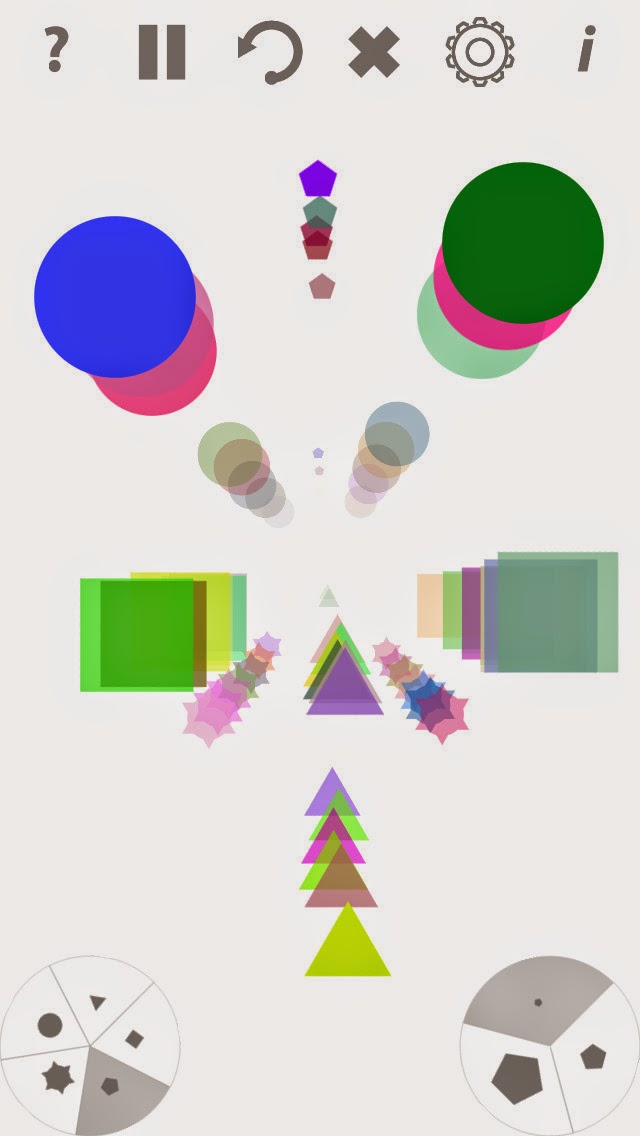 Shapes, colors, sound! Make music in seconds with Color Chime.

Tap to create a melodic sound collage. Includes simple controls for timbre, scale, tempo, delay, filter cutoff and filter resonance.

Color Chime is an amusement park for your fingers and a bubble bath for your ears.

And it's free too. 
Strom – a new iPad application that is designed to augment the Elektron Analog Rytm – using the iPad's large touchscreen to add new options for editing, performing and more.
Twitter: https://twitter.com/stromapp
Facebook: https://on.fb.me/1rcd1XG
Elektronauts discussion: http://www.elektronauts.com/topics/vi…
https://www.elektron.se
Strom is an advanced iPad App, providing unprecedented integration with the most powerful drum machine available, the Elektron Analog Rytm.
Strom makes uploading samples from iPad to Rytm easy.
Its quirky monophonic sampler can can also be used stand-alone.
Furthermore, Strom offers a kick-ass interface to enhance your live performance.
The App is designed to quickly and efficiently bend Rytm's vast sonic space, and to generate and mutate your beats.
Strom will be available at the App Store very soon.
The new symphonic music creation app for iPad, here's a demo of all 10 of the included sounds.EDIT–see my blog at wtomusic.com for a written walk through of the app…no followup video will be posted.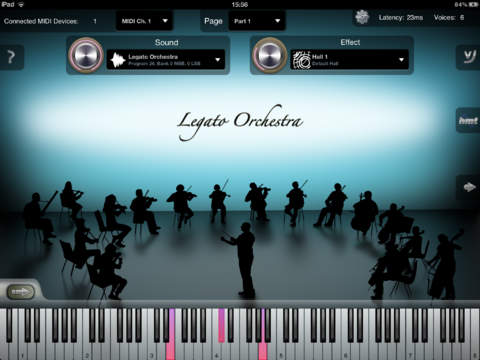 The ultimate orchestra sound app for sophisticated musicians, directed by Kurt Ader, designed as professional sound module for your iPad by connecting an external MIDI keyboard, using the Apple USB camera adapter or another adapter supported by Apple.¹

This app supports Apple's "Inter-App Audio" System (requires iOS 7 or higher) and the "JACK Audio Connection Kit" (up to iOS 6.1.3) for audio & MIDI connections from/to other audio apps!

iSymphonic Orchestra was designed with the goal to deliver you superb, extremely realistic and stunning orchestra sounds, instantly with the first key being pressed by you on your MIDI keyboard. Just select a sound and you are ready for your live performance or for a boost of creativity while composing new songs. The sounds used in this app were explicitly recorded to fulfill these requirements and involved several months of recording and post processing under supervision of Kurt Ader and included a variety of innovative, new recording techniques. So far these sounds were only available to very few, famous movie composers. Now they are finally available for the first time to everybody. The supreme quality of these sounds, combined with the unique way they were recorded and assembled, gives us confidence that you haven't heard anything comparable as of to date, even not on Mac or PC.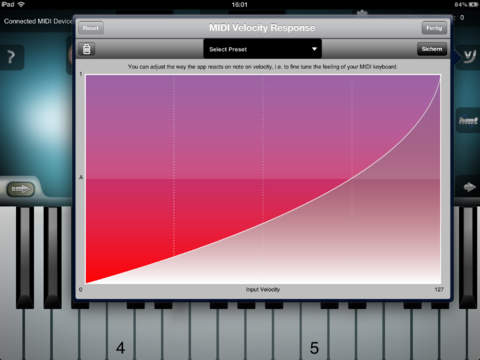 Sounds:
– 1. Orchestra Strings Spiccato & Legato
– 2. Orchestra Strings Slow 1
– 3. Chamber Arco Strings
– 4. Legato Orchestra Strings 1
– 5. Full Sordino Strings 1
– 6. Legato Orchestra
– 7. Staccato Orchestra 1
– 8. Staccato Orchestra 2
– 9. Tremolo Orchestra
– 10. Pizzicato Strings

>General Features:
– Low latency disk streaming.
– Polyphony up to 140 stereo voices.²
– Configurable audio latency down to 5 ms.
– Integrated effects with 18 presets.
– 16 parts.
– MIDI velocity response curve editor to fine tune the feeling of your MIDI keyboard.
– App can keep running in the background, so you can play on your keyboard while e.g. using Safari or another app to display scores or surfing the Internet.
– Hermode Tuning: Makes the sound more brilliant by controlling the pitch of the notes in multivoiced music to better frequency ratios than with fixed tuning. This dynamic tuning imitates the tuning behavior of well educated musicians of i.e. orchestras and choirs.
– Supports Apple's "IAA" system for audio & MIDI streaming between other apps (iOS 7 or higher).
– Supports "JACK Audio Connection Kit" for audio & MIDI streaming between other apps (up to iOS 6.1.3).
– Virtual on-screen piano keyboard with velocity support, scalable & scrollable.

MIDI Player / Recorder:
– Record, save and load your songs in standard MIDI file format.
– Unlimited amount of tracks.
– Configurable target MIDI channel per track.
– Unlimited recording and playback length.
– Download or upload MIDI files with iTunes.
– Load your favorite songs as MIDI files from the Internet, and watch at the virtual keyboard how to play it.
– Use the "Tempo Zoom" dial knob to i.e. slow down playback at any time and learn your favorite songs more easily.

Note: This app requires quite some hardware resources. In case there are problems with this app, please close apps in the background by double pressing the device's home button, the list of active apps appears on the bottom of the screen, tap and hold one app icon in the list, then press the respective app icon "minus" corner to quit those apps.

¹ For more informations about supported adapters and MIDI keyboard devices, please visit our product website.

² Sounds are using several voices per note. Polyphony depends on the exact device model being used. You find a polyphony table on our product website.

Anti-Spy Commitment: We take your privacy very seriously. None of our apps contain so called 'spy' behaviors and we committed ourself to a very high privacy standard. For more informations about our privacy commitment, read our 'Privacy Policy for Mobile Apps'.
Alexander Zolotov has introduced a new app, Nature – Oscillator, that lets you synthesize based on the world around you.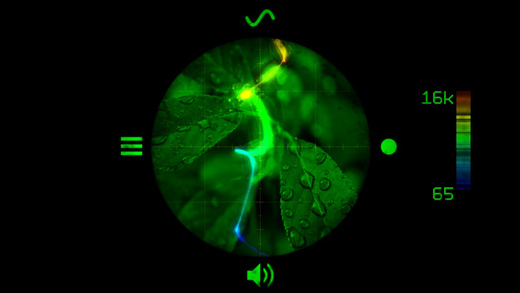 The world around us is an endless source of visual information, the flow of the fractal code of life. Nature – Oscillator is one of the attempts to translate this code to sound, using spectral synthesis algorithm of the Virtual ANS engine (software simulator of the unique Russian synthesizer ANS). The program continuously reads the image from the camera and interprets it as the spectrum of the sound.
Amen break – coming from the late 60's is one of the most famous drum loops sampled and remixed in hundreds of jungle, drum'n'bass and hiphop records. This six-second clip spawned several entire subcultures and gained massive fame among DJ's, producers and music fans. 

We bring you the Amen Break Generator – a vintage-looking loop player designed for a real-time generating of infinite combinations of this famous break! You can remix the loop with your fingers, use three different randomizing algorithms and add various DSP effects.


FEATURES 

• 44.1 khz, 16-bit low-latency audio engine
• beautiful vintage-looking graphics
• 16 buttons for manual tempo-synced triggering of the breaks
• live recording to WAV files
• randomization algorithm for automatic remixing
• single slice freezer and loop reverse mode
• high quality DSP effects including ring modulator, stereo hipass filter, chorus and resampler.
• 7 additional classic drum loops just for even more fun!
Take is an app from the makers of Thor and Figure, Its a quick way to capture your song ideas anytime you may have one
App: Korg Gadget
Instrument: London Hypersonic PCM Drum Module
Get awesome sounds on your iPad with Korg Gadget.
—
AppSessions are Jam Sessions powered by iOS Music Apps
—
Follow AppSessions on twitter:https://twitter.com/AppSessionsShow
For more about Take:
http://www.propellerheads.se/take
Sing, rap, hum, strum. Take lets you capture your musical ideas – anytime, anywhere. Take combines the drop-dead simplicity of your voice memos with features custom-tailored to vocalists' needs. Record harmonies along with your voice, blend in effects to sweeten the sound and sing along to inspiring beats and rhythms.
Sing, hum, rap, strum. Take captures your musical ideas—anytime, anywhere. With a single tap you'll be recording, beatboxing, overdubbing, riffing, writing, trying out song ideas that you'll want to share with the world.

Feel the groove. Stay on the beat. Keep in time. Inspiring built-in clicks, loops and beats to kick start your creativity.

Add new parts, double them up, create harmonies, sketch out the song

Three tracks to build on your tune and flesh out your ideas

Surprise yourself with how good you sound.

Processing and effects that make your iPhone's mic shine.

Share on Facebook, Twitter, email.

Designed by Propellerhead Software—makers of Figure, Apple App of the Year 2012—Take is a creative recorder for musicians. It's got the same drop-dead simplicity you've come to expect with your voice memos, with features custom-tailored to vocalists' needs—like the ability to record harmonies along with your voice, blend in effects to sweeten the sound and sing along to an array of beats and rhythms. Take will soon become your go-to sketchpad for musical ideas.

Note: Take is optimized for the built-in microphone on your iOS device. Wear headphones to hear your backing tracks. Best results come from using headphones (the ones without an integrated microphone) and recording into your iPhone/iPod/iPad mic directly.
Mitosynth is a unique new app, equipped with a hybrid additive-wavetable synth engine and a sampler. This app gets deep, with layers of modulation, but does so in an easy to use interface. All of this makes for big sounds and a fun time exploring them!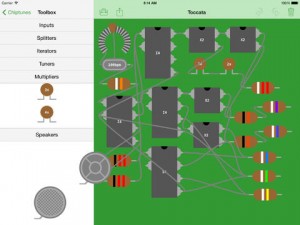 Chiptunes lets you make retro music the way it should be made – with chips! Build your circuit to lay down drum beats, basslines, and tunes.
Chiptunes Pro has all the features that can be unlocked in Chiptunes and will include all future updates.