Amen break – coming from the late 60's is one of the most famous drum loops sampled and remixed in hundreds of jungle, drum'n'bass and hiphop records. This six-second clip spawned several entire subcultures and gained massive fame among DJ's, producers and music fans. 

We bring you the Amen Break Generator – a vintage-looking loop player designed for a real-time generating of infinite combinations of this famous break! You can remix the loop with your fingers, use three different randomizing algorithms and add various DSP effects.


FEATURES 

• 44.1 khz, 16-bit low-latency audio engine
• beautiful vintage-looking graphics
• 16 buttons for manual tempo-synced triggering of the breaks
• live recording to WAV files
• randomization algorithm for automatic remixing
• single slice freezer and loop reverse mode
• high quality DSP effects including ring modulator, stereo hipass filter, chorus and resampler.
• 7 additional classic drum loops just for even more fun!
Take is an app from the makers of Thor and Figure, Its a quick way to capture your song ideas anytime you may have one
App: Korg Gadget
Instrument: London Hypersonic PCM Drum Module
Get awesome sounds on your iPad with Korg Gadget.
—
AppSessions are Jam Sessions powered by iOS Music Apps
—
Follow AppSessions on twitter:https://twitter.com/AppSessionsShow
For more about Take:
http://www.propellerheads.se/take
Sing, rap, hum, strum. Take lets you capture your musical ideas – anytime, anywhere. Take combines the drop-dead simplicity of your voice memos with features custom-tailored to vocalists' needs. Record harmonies along with your voice, blend in effects to sweeten the sound and sing along to inspiring beats and rhythms.
Sing, hum, rap, strum. Take captures your musical ideas—anytime, anywhere. With a single tap you'll be recording, beatboxing, overdubbing, riffing, writing, trying out song ideas that you'll want to share with the world.

Feel the groove. Stay on the beat. Keep in time. Inspiring built-in clicks, loops and beats to kick start your creativity.

Add new parts, double them up, create harmonies, sketch out the song

Three tracks to build on your tune and flesh out your ideas

Surprise yourself with how good you sound.

Processing and effects that make your iPhone's mic shine.

Share on Facebook, Twitter, email.

Designed by Propellerhead Software—makers of Figure, Apple App of the Year 2012—Take is a creative recorder for musicians. It's got the same drop-dead simplicity you've come to expect with your voice memos, with features custom-tailored to vocalists' needs—like the ability to record harmonies along with your voice, blend in effects to sweeten the sound and sing along to an array of beats and rhythms. Take will soon become your go-to sketchpad for musical ideas.

Note: Take is optimized for the built-in microphone on your iOS device. Wear headphones to hear your backing tracks. Best results come from using headphones (the ones without an integrated microphone) and recording into your iPhone/iPod/iPad mic directly.
Mitosynth is a unique new app, equipped with a hybrid additive-wavetable synth engine and a sampler. This app gets deep, with layers of modulation, but does so in an easy to use interface. All of this makes for big sounds and a fun time exploring them!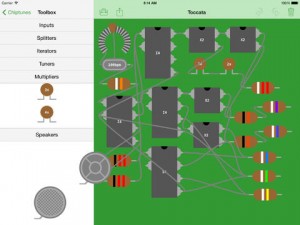 Chiptunes lets you make retro music the way it should be made – with chips! Build your circuit to lay down drum beats, basslines, and tunes.
Chiptunes Pro has all the features that can be unlocked in Chiptunes and will include all future updates.
This is a demo of my new app moonsynth running on a nexus7 2013 tablet with the monribe, volca bass and drums ad the akai mpx8 jacked into the monotribe audio input. Hard to see the tablet but moonsynth is running clean into the mixer which is plugged into a zoom g3 to add effects to all the parts.
Oscilab – a new mobile app that the developers say "gives you a hypnotizing musical experience."
http://2beat.io/oscilab
Oscilab gives you a hypnotizing musical experience, is both a music instrument to perform live and a sequencer to make unique loops and musical phrases.
No musical experience required, Available on iPad, iPad-mini and Android devices.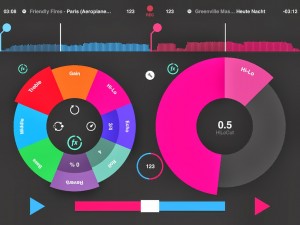 If you know your mobile music history you'll remember that Pacemaker originally brought out their handheld DJ device in 2007. Two years ago it arrived on BlackBerry. Now they've brought their DJ skills to your iPad. Here's what to expect from the app (and it's free).
MILLIONS OF TRACKS AT YOUR FINGERTIPS
The first DJ-app with a revolutionary Spotify connection. Your iTunes favorites works too.
With its carefully crafted design, Pacemaker makes djing easy, beautiful and fun.
Sync with the tap of a button; and
with a full set of colorful effects and a crossfader, you'll have unlimited creative influence over the music you love!
MIX IT
Spotify – Connect with Spotify and mix millions of tracks.
iTunes – Your iTunes favorites works too.
Sync – Automatically keeps everything in sync so you don't have to.
Scratch – Put the needle to the groove and scratch like the grandmaster.
Crossfade – Swipe to blend your tracks together. Voilà! A mix has been born.
LOOP IT
With a tap you can loop it, extend it, half it and re-loop it.
DROP IT
Build it up, maximize the tension and take it through the roof. Everybody's waiting. It's time to kill the effects. It's time to push the Drop button.
JUMP IT
Hop back and forth between the beats in a track to create your live remix with Beatskip.
BLEND IT
Adjust the Bass, Middle and Treble of your tracks and glue them together.
SAVE IT
Record the mix on the fly. Play it, cue it and rewind it (only with iTunes).
PEEK
Split the output and preview a track with the headphones crossfader before blending it into your mix (using the optional Urbanears Slussen adapter).
UPGRADE IT
Pick and choose from a wide range of colorful effects at the Pacemaker Store:
Hi-Lo – Remove the high or low frequencies from your tracks to create a swooping sound effect.
Echo – Echo echo…
Roll – Create a loop that spins on top of a track.
Reverb – Make the track sound as if it's being played in a small hut or the largest of cathedrals.
DETAILED REVIEW / DEMO of this amazing new App from KORG, which features 15 Virtual Synthesizer "Gadgets" that make composing new EDM, Hip Hop, etc. tracks fun! At the same time, this could be considered the most powerful app yet from KORG, because there is so much variety in possible sound design. "It's as simple or as complicated as you want to make it." Watch as I show the construction of multiple styles of music. Subscribe to VJ Franz K for more reviews of Apps and Hardware, on YT, FB, Twitter and other social media sites!
All music featured in this video are my original compositions, played with the synthesizer app I am reviewing.