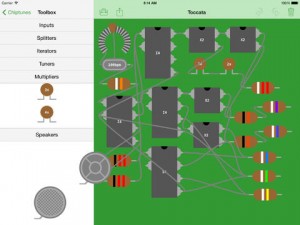 Chiptunes lets you make retro music the way it should be made – with chips! Build your circuit to lay down drum beats, basslines, and tunes.
Chiptunes Pro has all the features that can be unlocked in Chiptunes and will include all future updates.
This is a demo of my new app moonsynth running on a nexus7 2013 tablet with the monribe, volca bass and drums ad the akai mpx8 jacked into the monotribe audio input. Hard to see the tablet but moonsynth is running clean into the mixer which is plugged into a zoom g3 to add effects to all the parts.
Oscilab – a new mobile app that the developers say "gives you a hypnotizing musical experience."
http://2beat.io/oscilab
Oscilab gives you a hypnotizing musical experience, is both a music instrument to perform live and a sequencer to make unique loops and musical phrases.
No musical experience required, Available on iPad, iPad-mini and Android devices.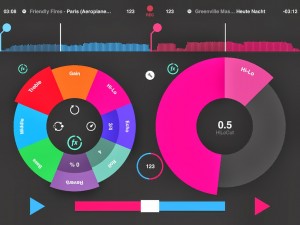 If you know your mobile music history you'll remember that Pacemaker originally brought out their handheld DJ device in 2007. Two years ago it arrived on BlackBerry. Now they've brought their DJ skills to your iPad. Here's what to expect from the app (and it's free).
MILLIONS OF TRACKS AT YOUR FINGERTIPS
The first DJ-app with a revolutionary Spotify connection. Your iTunes favorites works too.
With its carefully crafted design, Pacemaker makes djing easy, beautiful and fun.
Sync with the tap of a button; and
with a full set of colorful effects and a crossfader, you'll have unlimited creative influence over the music you love!
MIX IT
Spotify – Connect with Spotify and mix millions of tracks.
iTunes – Your iTunes favorites works too.
Sync – Automatically keeps everything in sync so you don't have to.
Scratch – Put the needle to the groove and scratch like the grandmaster.
Crossfade – Swipe to blend your tracks together. Voilà! A mix has been born.
LOOP IT
With a tap you can loop it, extend it, half it and re-loop it.
DROP IT
Build it up, maximize the tension and take it through the roof. Everybody's waiting. It's time to kill the effects. It's time to push the Drop button.
JUMP IT
Hop back and forth between the beats in a track to create your live remix with Beatskip.
BLEND IT
Adjust the Bass, Middle and Treble of your tracks and glue them together.
SAVE IT
Record the mix on the fly. Play it, cue it and rewind it (only with iTunes).
PEEK
Split the output and preview a track with the headphones crossfader before blending it into your mix (using the optional Urbanears Slussen adapter).
UPGRADE IT
Pick and choose from a wide range of colorful effects at the Pacemaker Store:
Hi-Lo – Remove the high or low frequencies from your tracks to create a swooping sound effect.
Echo – Echo echo…
Roll – Create a loop that spins on top of a track.
Reverb – Make the track sound as if it's being played in a small hut or the largest of cathedrals.
DETAILED REVIEW / DEMO of this amazing new App from KORG, which features 15 Virtual Synthesizer "Gadgets" that make composing new EDM, Hip Hop, etc. tracks fun! At the same time, this could be considered the most powerful app yet from KORG, because there is so much variety in possible sound design. "It's as simple or as complicated as you want to make it." Watch as I show the construction of multiple styles of music. Subscribe to VJ Franz K for more reviews of Apps and Hardware, on YT, FB, Twitter and other social media sites!
All music featured in this video are my original compositions, played with the synthesizer app I am reviewing.
Ryan McGee has released a new sound design app for iOS, VOSIS, that synthesizes sound based on the greyscale image pixel data from photos or live video input.
Description:
OSIS is an interactive image sonification interface that creates complex wavetables by raster scanning greyscale image pixel data.
Using a multi-touch screen to play image regions of unique frequency content rather than a linear scale of frequencies, it becomes a unique performance tool for experimental and visual music. A number of image filters controlled by multi-touch gestures add variation to the sound palette. On a mobile device, parameters controlled by the accelerometer add another layer expressivity to the resulting audio-visual montages.
Brute LFO is an iOS App for iPhone, iPad & iPod Touch, which outputs control voltages (CV) from the device's headphone output. Connect it to your Arturia Microbrute or other analog gear, like a Modular Synthesizer, to modulate your sounds. The headphone output voltages aren't very high on iOS devices, so it's more of a subtle modulation, but Brute LFO also sounds awesome when pushed into audio range. There are two simultaneous oscillators and a third one to modulate the other two's frequency. Switch on "Brute" mode to dirty the waveforms up some more. Not shown in the video: The performance pad mode, in which you can use two touch pads to adjust four parameters simply by swiping your fingers on the screen.
Visit the Brute LFO website here:
http://www.justuskandzi.com/brute-lfo…
"The Brute LFO is a powerful low frequency oscillator that modulates your analog gear. If you have a hardware synth that allows you to use external gear to modulate the pitch, the filter, or any other parameter, just plug the Brute LFO into the CV in and start playing. It consists of three separate LFOs. LFO 1 and 2 can be controlled using the control elements in the top half of the screen. The big knob in he middle sets the rate of both the LFOs. Additionally you can change the waveforms of the LFOs, detune LFO 2 and change its phase. The amount knob in the top half also sets the overall amount of the modulation. The elements on the bottom half (LFO 3) can be used to modulate the frequency of LFO 1 and 2. And the brute switch destroys everything!"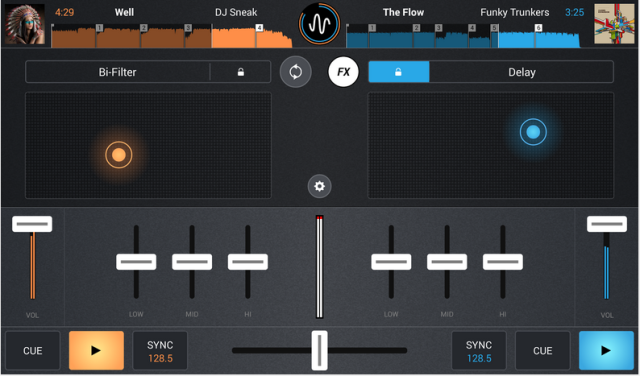 MixVibes has released Cross DJ for Android, an app they call the 'first pro DJ app' for the platform.
Features:
Mix in Sync

Accurate BPM detection, right down to the last decimal.
Sync button: one-press, and the 2 tracks never go out of phase.
Manual pitch & pitch bend.
Beat-grid editing, to sync your old tracks correctly.
Parallel waveforms: to visually check if your tracks are synced.
Quantize mode: set hot cues & loops automatically on the beat.
Smart-seek: Tap on the waveform to fast-forward & get a seamless jump.

Audio Performance

Low latency: music reacts instantly to your actions.
Extremely realistic scratch sound.
15 effects (Bi-filter, Low-pass, Hi-Pass, Delay, Echo, Phaser, Flanger, Cut, Crush, Bliss, Brake, Roll, etc.)
No loading time when starting-up the app.

Interface

1 crossfader, 2 turntables, 3-band EQ mixer.
Direct access to your device's music( MP3s, AAC & more.)
Multiple music sorting options: title, artist, album, BPM or length.
Large control pads: XY effect pad, 16 hot-cues pads.
HQ live recording of your mixes.
Optimized for display on 4″, 7″ & 10″ devices.

Minimum Configuration

Android 4.1
Android 4.3 for recording
4″ screen
RAM: 1GB
Dual-core processor
Cross DJ for Android is $4.99 – Get it here >>
This video illustrates the Star Trek™ Vulcan Harp features.
Fans of Star Trek™ can now play Mr. Spock's Vulcan harp on their iPad! Replicating the alien instrument from the classic Star Trek™ series, the app is fully functional and features multi‐level sounds, cool effects, and the iconic design of the original harp. Use the sleekly styled controls to compose spacey music or play fascinating songs.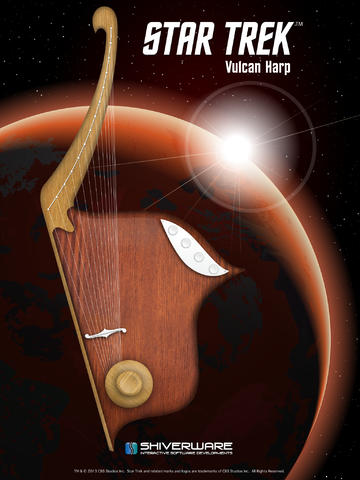 Whether you're a Trek fan, musician, or just interested in playing a unique instrument, the app's richly detailed appearance and wide‐ranging musical abilities make for an instrument unlike any other!
Features:
——-
• 15 vibrating strings – each identified, making it easy to play songs
• Distinct pluck dynamic where the sound occurs on release of a touch similar to a harp
• 5 instrument sounds from futuristic to the classic harp
• Large 6-and-a-half octave range in 5 octave banks
• Custom multi-level distortion and reverberation controls give you a wide range to experiment with
• Ability to select pentatonic scale (five notes per octave)
• One button background arpeggio (sequence chords)
• Rich, inlaid wood detail appearance on the harp and moving starfield background
• SoundCloud recording to share your creations
• Concise tutorial to locate controls
Looking for more information about the Vulcan harp app?
————————————————
Visit us online: startrekvulcanharp.com
Follow us on Twitter: @StarTrekHarp
YouTube video: youtube.startrekvulcanharp.com
Join us on Facebook: fb.startrekvulcanharp.com
Questions or suggestions? Email us at vulcanharp@shiverware.com
Vulcan Harp Background:
———————
The Vulcan harp is also called a Vulcan lyre, lute, lyrette, and lytherette.
The Vulcan harp is played in four episodes in Star Trek™: The Original Series: "Charlie X", "Amok Time", "The Way to Eden" and "The Conscience of the King".
Spock and Uhura both play the Vulcan harp. Tuvok owns one in Star Trek: Voyager™, Melian owns one in Star Trek: The Next Generation™, and (mirror universe) Kira Nerys owns one in Star Trek: Deep Space Nine™.
Spock plays "Row-Row-Row Your Boat" on the Vulcan harp in the film "Star Trek: The Final Frontier™".
Stated as the next generation groovebox for iPad coming soon, screen shots below: