Ryan McGee has released a new sound design app for iOS, VOSIS, that synthesizes sound based on the greyscale image pixel data from photos or live video input.
Description:
OSIS is an interactive image sonification interface that creates complex wavetables by raster scanning greyscale image pixel data.
Using a multi-touch screen to play image regions of unique frequency content rather than a linear scale of frequencies, it becomes a unique performance tool for experimental and visual music. A number of image filters controlled by multi-touch gestures add variation to the sound palette. On a mobile device, parameters controlled by the accelerometer add another layer expressivity to the resulting audio-visual montages.
Brute LFO is an iOS App for iPhone, iPad & iPod Touch, which outputs control voltages (CV) from the device's headphone output. Connect it to your Arturia Microbrute or other analog gear, like a Modular Synthesizer, to modulate your sounds. The headphone output voltages aren't very high on iOS devices, so it's more of a subtle modulation, but Brute LFO also sounds awesome when pushed into audio range. There are two simultaneous oscillators and a third one to modulate the other two's frequency. Switch on "Brute" mode to dirty the waveforms up some more. Not shown in the video: The performance pad mode, in which you can use two touch pads to adjust four parameters simply by swiping your fingers on the screen.
Visit the Brute LFO website here:
http://www.justuskandzi.com/brute-lfo…
"The Brute LFO is a powerful low frequency oscillator that modulates your analog gear. If you have a hardware synth that allows you to use external gear to modulate the pitch, the filter, or any other parameter, just plug the Brute LFO into the CV in and start playing. It consists of three separate LFOs. LFO 1 and 2 can be controlled using the control elements in the top half of the screen. The big knob in he middle sets the rate of both the LFOs. Additionally you can change the waveforms of the LFOs, detune LFO 2 and change its phase. The amount knob in the top half also sets the overall amount of the modulation. The elements on the bottom half (LFO 3) can be used to modulate the frequency of LFO 1 and 2. And the brute switch destroys everything!"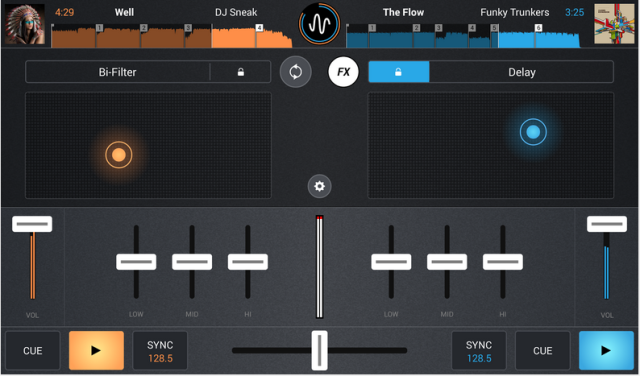 MixVibes has released Cross DJ for Android, an app they call the 'first pro DJ app' for the platform.
Features:
Mix in Sync

Accurate BPM detection, right down to the last decimal.
Sync button: one-press, and the 2 tracks never go out of phase.
Manual pitch & pitch bend.
Beat-grid editing, to sync your old tracks correctly.
Parallel waveforms: to visually check if your tracks are synced.
Quantize mode: set hot cues & loops automatically on the beat.
Smart-seek: Tap on the waveform to fast-forward & get a seamless jump.

Audio Performance

Low latency: music reacts instantly to your actions.
Extremely realistic scratch sound.
15 effects (Bi-filter, Low-pass, Hi-Pass, Delay, Echo, Phaser, Flanger, Cut, Crush, Bliss, Brake, Roll, etc.)
No loading time when starting-up the app.

Interface

1 crossfader, 2 turntables, 3-band EQ mixer.
Direct access to your device's music( MP3s, AAC & more.)
Multiple music sorting options: title, artist, album, BPM or length.
Large control pads: XY effect pad, 16 hot-cues pads.
HQ live recording of your mixes.
Optimized for display on 4″, 7″ & 10″ devices.

Minimum Configuration

Android 4.1
Android 4.3 for recording
4″ screen
RAM: 1GB
Dual-core processor
Cross DJ for Android is $4.99 – Get it here >>
This video illustrates the Star Trek™ Vulcan Harp features.
Fans of Star Trek™ can now play Mr. Spock's Vulcan harp on their iPad! Replicating the alien instrument from the classic Star Trek™ series, the app is fully functional and features multi‐level sounds, cool effects, and the iconic design of the original harp. Use the sleekly styled controls to compose spacey music or play fascinating songs.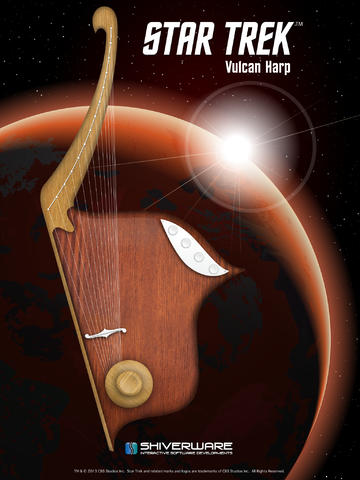 Whether you're a Trek fan, musician, or just interested in playing a unique instrument, the app's richly detailed appearance and wide‐ranging musical abilities make for an instrument unlike any other!
Features:
——-
• 15 vibrating strings – each identified, making it easy to play songs
• Distinct pluck dynamic where the sound occurs on release of a touch similar to a harp
• 5 instrument sounds from futuristic to the classic harp
• Large 6-and-a-half octave range in 5 octave banks
• Custom multi-level distortion and reverberation controls give you a wide range to experiment with
• Ability to select pentatonic scale (five notes per octave)
• One button background arpeggio (sequence chords)
• Rich, inlaid wood detail appearance on the harp and moving starfield background
• SoundCloud recording to share your creations
• Concise tutorial to locate controls
Looking for more information about the Vulcan harp app?
————————————————
Visit us online: startrekvulcanharp.com
Follow us on Twitter: @StarTrekHarp
YouTube video: youtube.startrekvulcanharp.com
Join us on Facebook: fb.startrekvulcanharp.com
Questions or suggestions? Email us at vulcanharp@shiverware.com
Vulcan Harp Background:
———————
The Vulcan harp is also called a Vulcan lyre, lute, lyrette, and lytherette.
The Vulcan harp is played in four episodes in Star Trek™: The Original Series: "Charlie X", "Amok Time", "The Way to Eden" and "The Conscience of the King".
Spock and Uhura both play the Vulcan harp. Tuvok owns one in Star Trek: Voyager™, Melian owns one in Star Trek: The Next Generation™, and (mirror universe) Kira Nerys owns one in Star Trek: Deep Space Nine™.
Spock plays "Row-Row-Row Your Boat" on the Vulcan harp in the film "Star Trek: The Final Frontier™".
Stated as the next generation groovebox for iPad coming soon, screen shots below: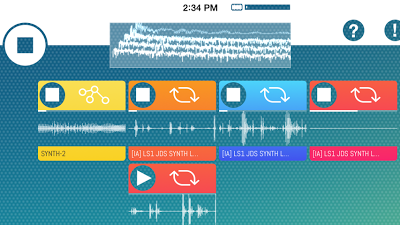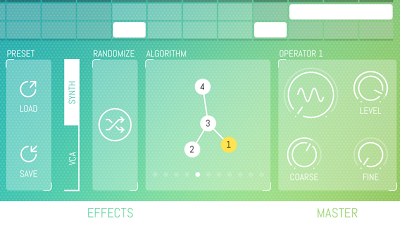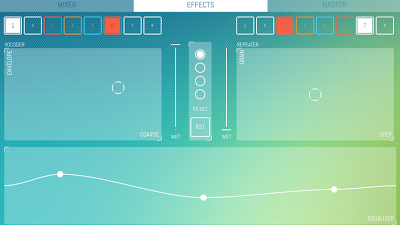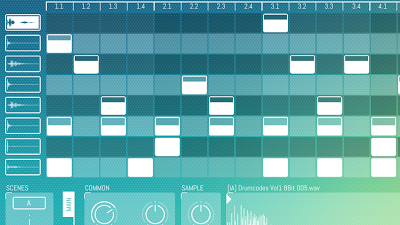 Here's a quick peek at the upcoming Caustic 3 App from SingleCellSoftware
Demonstrating the power of the new synths and many tracks now available. The maker of this video put this track together in just 2 hours.
This is definitely one of my favorite iPad apps right now, check out the video below to find out why, but I guess a hint would the choice of presets

"Kraftpad is a Drum Pad. I really love it because you can edit the 6 available Pads. Shape the sound of each instrument, or change it.21 kits are available. All, as the name of this App implies, dedicated to Electronic Music. You also have a reverb, and you'll be able to record and loop your Performances. No sharing features are available, and no Midi either. A Super + Drum Pad. I think that it could easily become a Killer One with AudioCopy / Paste and the Midi…"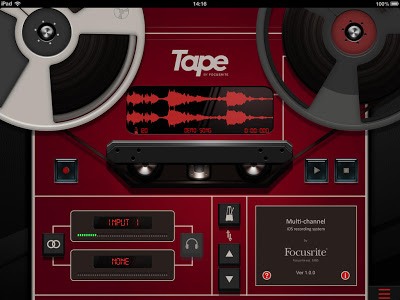 Tape – retro recorder from Focusrite. Simple, straightforward and free.
Tape is a beautiful recording solution, with easy to use 2-track recording, instant mastering, customisable tape artwork and social media connectivity.
Record from the inbuilt iPad microphone or any Core Audio compliant audio interface (including products from the Focusrite iTrack and Scarlett product ranges), and instantly add polish with one button mastering. Then simply add a title and album artwork and share online with friends and fans via Soundcloud.
Key Features
Record two separate inputs, or link them as a stereo pair
Use the meters to ensure input levels are just right
Plug and play support for Core Audio Compliant audio interfaces (including the Focusrite iTrack Solo and Scarlett range)
Low latency monitoring allows you to listen to your performance as you record
Apply mastering effects and instantly improve your recording
Keep time with an adjustable metronome
Apply a custom title and image to your music via Soundcloud (free Soundcloud account required)
Works on iPad 2, iPad (3rd gen), iPad (4th gen), iPad mini and above
Support for iOS 6 and above
Audio MIDI Connect has transformed into MIDImorphosis – an audio-to-MIDI app for iOS.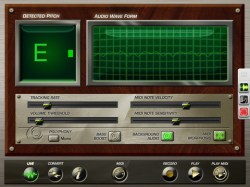 Here's what's new in MIDImorphosis:
In this version, the speed and accuracy of pitch detection has been greatly improved.
MIDI output now supports multiple destinations, both CoreMIDI and Virtual MIDI, as well as DSMIDI Wifi.
Audiobus support has been added, for both input and output slots.
Audio can be imported or exported using audio copy and paste. The app supports off-line conversion of audio to MIDI, with MIDI files being available using the "open in" method, or through iTunes file sharing.
Pitch detection now supports polyphonic playing. A toggle button selected between monophonic, small intervals, and chords.
https://itunes.apple.com/us/app/audio…
Introductory pricing — ends July 28th
MIDImorphosis captures the pitch of incoming audio, and converts it into MIDI notes that can be used to control iOS synthesizers or external equipment. With support for CoreMIDI, Virtual MIDI, DSMIDI Wifi, Audiobus, and background audio, connecting MIDImorphosis is a snap. Connections to laptop and desktop computers can be made using WiFi or with MIDI adapter cables.
The app performs both monophonic and polyphonic pitch conversion, and is designed to work best with a guitar or bass. We recommend dock-based instrument adapters; connections through the headphone jack frequently have crosstalk and poor frequency response. We also recommend running MIDImorphosis on an iPhone4s or better, or an iPad2 or better (this is especially true when using Audiobus).
Complex sounds can be created by combining a typical guitar effects app along with MIDImorphosis and a synthesizer app. The guitar effects app can provide tone control and immediate response, while the synthesizer can augment this with a deep, evolving sound.
With any conversion system, there is latency between a note played on an instrument, and when the note can be correctly identified; the slight delay motivates the combination of guitar effects and synthesizers. MIDImorphosis should be fast enough to work well for playing at moderate speeds. For guitarists in need of a system that can handle "shredding," we would recommend hardware converters by companies such as Roland or Fishman.
A number of videos are available on the app web page, to illustrate typical performance, and playing techniques to get the most out of the app. For guitarists, a light palm mute should be used to prevent unwanted notes from ringing. Pitch detection is typically best with the bridge pickup, and with a clean tone.
In addition to live conversion, MIDImorphosis can also convert recordings into MIDI (avoiding latency issues). The app can record audio; audio can also be imported using either Audio Copy or iTunes File sharing. Audio can be exported with Audio Paste. MIDI can be exported to other apps using the "open in" feature, or through iTunes. The app also allows scanning through audio files, to see the detected pitch at any given moment; this feature should be particularly useful to musicians interested in transcribing a recording. Recorded audio and converted MIDI can be played back through the app. The app is compatible with the Audiobus input and output slots.
For polyphonic pitch detection, the app supports both intervals and chords. Many guitarists play small intervals on adjacent strings; pitch detection has been optimized for this case. When set to chord detection, the app can find additional notes, but is less accurate.
Get the free demo version on Google Play: https://play.google.com/store/apps/de…
Turn your phone or tablet into a musical instrument! RD4 – Groovebox is a music making app with virtual analog synthesizers, drum machines and effects.  Compose and arrange your music in real-time. Choose instruments individually for the 4 channels. Record live or set notes with the dedicated sequencer or piano roll of each instrument. This multi-touch enabled app makes it simple to invent unique loops and musical phrases. Manipulate the sound of the synthesizers by tweaking the oscillators, resonant filters and audio envelopes. Add audio effects like reverb, distortion, phaser, filter and delay to your sounds. Appropriate both for experienced musicians and beginners. Loops you've created and exported with RD4 can also be automatically integrated into mikrosonic's audio mixer app SPC – Music Sketchpad.
Feature Overview
Mixer:
– 4 channel rack mixer
– Instrument selection for each channel
– Volume control with level meter per channel
– Direct audio effect channel assignment
– Tempo control with tap tempo
– Channel mute and solo
Sequencer:
– 2 banks with up two 8 bars per instrument
– Adjustable play modes from 1 to 8 bars and random modes
– Song Mode with a length of up to 99 bars
Choose between two virtual analog synthesizers and the drum machine for each channel:
Analog
– Modeled after legendary monophonic synths of the '70s
– For fat sounding bass and powerful lead sounds
– 3 oscillators with 6 different waveforms
– Each oscillator can be tuned precisely and has a warmth control for the typical analog sound
– Attack, Decay, Sustain and Release envelope generator
– Pitch wheel
– Low-pass filter (24dB/oct, 4-pole) with knobs for cutoff, resonance and an Attack/Decay/Sustain envelope generator
– Recording of played notes in real-time (depending on devices capabilities)
– Piano roll for editing recorded notes comfortably
– Or compose by drawing notes directly with the piano roll in 1/16 or 1/32 resolution
– Piano roll editing features: Transpose Pattern, Shift Sequence and Quantize Pattern
Bassline
– Reminiscent of the legendary 303 synthesizer
– Create bubbling basslines and screaming lead sounds
– High-quality low-pass filter with resonance, cut-off, and envelope controls
– Oscillator with 4 types of waveforms
– Real-time step sequencer with accent and slide
Beats
– Program beats with 10 classic drum kits: 808, 909, 606, CR-78, Linn, KR55, RX11, RZ1, DMX, DPM48
– Booming kick drums, snappy snares and throbbing percussions
– 8 channels per drum kit
– Punch control for volume and envelope adjustments
– Accent programmable for each drum channel
– Free assignable effects for each drum sound
– Channel mute, Closed Hi Hat can mute the Open Hi Hat
– Real-time pattern based step sequencer
Audio effects:
– 5 effects: Reverb, distortion, filter, phaser and delay
– Real-time controllable
– X/Y control field for each effect
– 4 effect sends
– Chaining of 2 effects
Technical features:
– Customized layouts for phones, 7 and 10-inch tablets
– Special additional rack view in portrait mode for 10-inch tablets
– Multi-touch control
– Live session recording
– Audio loop export feature
– SoundCloud Sharing Kit integration
– Session save capability
– Cut/copy/paste pattern
– OpenSL support for low latency*
– App2SD
System Requirements:
– Android 4.0 or higher
– Screen resolution 800×480 (WVGA) or higher
– 1 GHz CPU or faster supporting ARMv7
* Please note that for recording in real-time with the Analog synthesizer you will need a low latency Android device with Android 4.2 like the Google Nexus 4 or 10 or the Samsung Galaxy Nexus. Read more about audio latency on our FAQ: http://www.mikrosonic.com/faq
More details at: http://www.mikrosonic.com/rd4