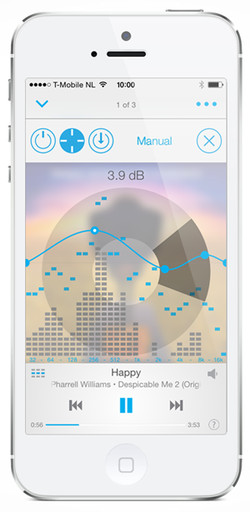 elephantcandy has announced the release of EQu for Spotify, the first quality equalizer for Spotify.
In 2010, audio software company Elephantcandy introduced audio equalizing for iPhone. With the EQu app, Elephantcandy created the famous equalizing curve that has become the standard in audio equalizing apps ever since. Now we take it to the next level with EQu for Spotify.
EQu for Spotify features
Pounding bass and crispy highs — Equalizing is the key to get the perfect sound from your system. EQu for Spotify is the first iPhone app that allows premium Spotify users to equalize their Spotify music. Subtly adjusting the spectral balance makes it possible to optimize audio to your speakers, headphones and acoustic environment. Top-notch technology wrapped up in a user-friendly interface.
FFT Equalizing — Whereas conventional equalizers allow you to amplify or attenuate predefined bands, Elephantcandy's equalizer makes it possible to design an extremely precise and smooth frequency response by directly manipulating more than 1.000 discrete bands. EQu's linear phase design also preserves all of the music's fidelity and introduces no spatial distortion.
Extra options — The standard version of EQu for Spotify is free. In-app purchases allow for more presets and offer a full version of the app, including extra precise tuning and the option to make and save personal presets.
EQu for Spotify is now available in the AppStore as a free download. The full version is available as an in-app purchase for $2.99 USD, and a presets pack is $0.99 USD.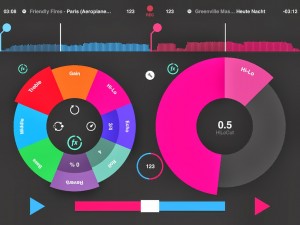 If you know your mobile music history you'll remember that Pacemaker originally brought out their handheld DJ device in 2007. Two years ago it arrived on BlackBerry. Now they've brought their DJ skills to your iPad. Here's what to expect from the app (and it's free).
MILLIONS OF TRACKS AT YOUR FINGERTIPS
The first DJ-app with a revolutionary Spotify connection. Your iTunes favorites works too.
With its carefully crafted design, Pacemaker makes djing easy, beautiful and fun.
Sync with the tap of a button; and
with a full set of colorful effects and a crossfader, you'll have unlimited creative influence over the music you love!
MIX IT
Spotify – Connect with Spotify and mix millions of tracks.
iTunes – Your iTunes favorites works too.
Sync – Automatically keeps everything in sync so you don't have to.
Scratch – Put the needle to the groove and scratch like the grandmaster.
Crossfade – Swipe to blend your tracks together. Voilà! A mix has been born.
LOOP IT
With a tap you can loop it, extend it, half it and re-loop it.
DROP IT
Build it up, maximize the tension and take it through the roof. Everybody's waiting. It's time to kill the effects. It's time to push the Drop button.
JUMP IT
Hop back and forth between the beats in a track to create your live remix with Beatskip.
BLEND IT
Adjust the Bass, Middle and Treble of your tracks and glue them together.
SAVE IT
Record the mix on the fly. Play it, cue it and rewind it (only with iTunes).
PEEK
Split the output and preview a track with the headphones crossfader before blending it into your mix (using the optional Urbanears Slussen adapter).
UPGRADE IT
Pick and choose from a wide range of colorful effects at the Pacemaker Store:
Hi-Lo – Remove the high or low frequencies from your tracks to create a swooping sound effect.
Echo – Echo echo…
Roll – Create a loop that spins on top of a track.
Reverb – Make the track sound as if it's being played in a small hut or the largest of cathedrals.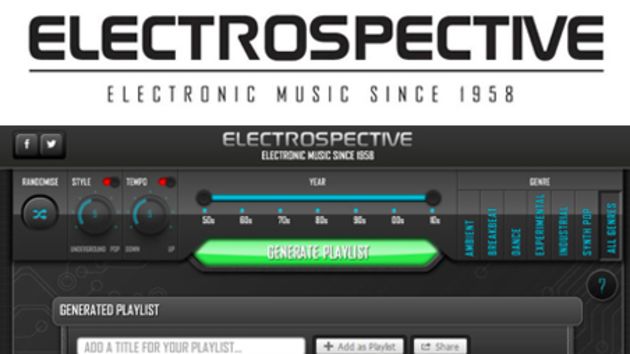 Electrospective, the multi-platform celebration of electronic music from 1958 to the present day, has added another string to its bow – the Electrospective Spotify app.
From the press release below:
Pop, classic rock, jazz, metal, and classical music are all already catered for amongst Spotify's apps – Electrospective fills the gap for fans of everything from synth pop, ambient, breakbeat and dance to experimental and industrial.
The app's home page offers event driven playlists, such as the set list from The Human League's recent Kew Gardens shows, artist curated playlists from the likes of Mute records founder Daniel Miller and artist focused playlists such as the Daft Punk collaborators playlist.
Want to look back through the ages of electronic music? Head to The Electrospective tab and navigate your way through the complete retrospective of 550+ albums. Too much music for you to take in? You can of course scale it back by selecting different decades and sorting by artist or specific sub-genre.
The real power of the app lies in its Playlist Generate function. Turn the style to your preferred setting (underground to pop, or anything in between), select the tempo, choose from a selection of sub-genres and a time span from the past 50 years. One click on generate and the app creates a bespoke playlist for your to listen to there and then, or save for later.
The app is the latest offering from the Electrospective project which was launched last Summer to bring together the extraordinary wealth of electronic music from the catalogues of Virgin, Parlophone, EMI and Mute. It chronicles the key works of visionaries like Kraftwerk and Brian Eno as well as the ground breaking success of Depeche Mode and The Human League, the explosion of electronic dance music in the late 80s and the rise of global stars like Daft Punk and The Chemical Brothers. The project is now being curated by the team at Universal Music Catalogue, with electronic gems from across Universal Music's labels due to join the already stellar line up.
Electrospective kicked off last year with a 2-CD compilation, offering the listener a snap shot of the collection. Merchandise including iconic logo T-shirts and limited vinyl LPs were available to purchase from the Electrospective online store.
A broader chronological selection was chosen for the Electrospective website which has a timeline highlighting key moments such as the invention of the Korg, Moog and Nord synthesizers, release of Propellerhead production software and the launch of online DJ store Beatport.
Artist interaction has been central to Electrospective, both on an offline. Visionaries, tastemakers and influencers Daniel Miller (The Normal and founder of Mute), Andy McCluskey (Orchestral Manoeuvres in The Dark), Martyn Ware (The Human League/Heaven 17), Mark Jones (Wall Of Sound/Back to The Phuture), Matthew Herbert and Bill Brewster (DJ and Co-author of Last Night A DJ Saved My Life) came together at Abbey Road last July to talk about the influence and importance of electronic music.
Other current DJs and producers such as David Guetta, Eric Prydz, Richie Hawtin and Paul Oakenfold have supported Electrospective by giving interviews and taking part in webcast events.
Anyone missing Pink Floyd on Spotify? We can now tell you that their whole catalogue is now available!
Why Spotify didn't exist in the '80s. Some people asked me for the PC noise version of the Smurf song of Father Abraham… Here it is: http://archive.org/details/Squirrel-monkey.comTerribleSmurfSong
Check out our massive genre based play lists on Spotify:
8-bit/Chip Tune/C64
Electronica, Click & Cuts and Glitch
Berlin School and Ambient electronic music
IDM, Leftfield and Breakcore
Electro Funk and Skweee
Minimal Techno
Several days of electronic music per genre!
Let's introduce music to your social life! Spotify and Facebook have come together to help you discover more free music than ever before. Just click any of the play buttons on Facebook to get started.
Music is one of the most social things there is. That's why for the past couple of years, we've been obsessed with what the next generation music service should look like.We knew that the service had to be free to draw people away from piracy. Helping them to listen to even more music. To do that, we also knew that the service would have to be inherently social. There couldn't be a better place to do this than Facebook. We're very excited to have been asked by Mark Zuckerberg to showcase this new experience at the f8 conference in San Francisco today. Take a look at these amazing new features in our video.

You'll now start seeing new music posts and play buttons all over your newsfeeds. Hit a play button and the music starts. Right there. Spotify fires up to give you a new soundtrack to your social life. Check out your new Music Dashboard and your real-time ticker to discover the music that's trending with your friends. This integration with Facebook will help everyone to discover more free music than ever before. Thanks to our unrivalled, truly free service, users can just hit play to enjoy the music, no hassle, no gimmicks; month after month after month. We hope many more people can enjoy the musical journeys that this integration will bring. Like the thrill of looking through a friend's music collection and finding a track that blows your mind. Or sending birthday playlists across the planet. Having free access to music on Facebook also gives us an opportunity to express ourselves in a new way. We're proud to share pictures of our lives. Now we can say something about ourselves through music. "Hi I'm Daniel – here's some Daft Punk."

We know that Spotify's users who connect to Facebook listen to more music on a weekly basis. They listen to a wider variety of music – in fact we have more than 400 million playlists created in Spotify now. Because these users are more social, they're more engaged. Because they're more engaged, they're more than twice as likely to pay for music. Social discovery on Facebook means that we're bringing people back to paying for music again. And that's how the brilliant artists who create this music can continue creating it for us to enjoy.
The award-winning music service that's taken Europe by storm has landed on US shores. Millions of tracks ready to play instantly, on your computer and your phone.
How to become an expert user:
Pagedown in results: First up, finding the song you want. Spotify has an annoying habit of only giving you the most popular editions of a track. If you want the whole list in search results, you can click a track in the list and hit the Pagedown key to get more. Keep holding it, and eventually you'll get to the bottom, far faster than through scrolling.
Ctrl-F to filter: Once you've got your nice long list of tracks, finding what you want in it by eye can be a bit of a pain. So hit Ctrl-F to bring up an enormously useful filter. Try it on a search for Label:EMI for Radiohead, for example. Much easier than scrolling and scrolling and scrolling.
Scrobble from Spotify: You guys have Pandora, right? Lovely. But it doesn't learn your taste when you're not using it, so Britain-based Last.fm pretty much blows it out of the water. Get yourself a Last.fm account, head to Spotify's preferences screen, put in your details, and every track you play will be logged for your perusal. That way, when you know what you want to listen to you can go to Spotify, and when you don't you can go to Last.fm. You can also import your loved tracks and recommendations back into Spotify using Spotibot. The perfect partnership.
Search through other people's playlists: Spotify appears to have pretty much stopped development on new features since its big social launch about a year ago, and one thing the service is crying out for is a way to easily discover playlists that other people have created. Happily, ShareMyPlaylists.com has stepped into the breach, and offers a nice way of searching through playlists that people have uploaded to the site.
Backup your playlists: There's always a chance — not an enormous one but a chance nonetheless — that something will go wrong on Spotify's database servers and all your playlists will be irrecoverably lost. That might not matter to you, but once you've gone through a year or two of Spotify and you've accrued playlists that you associate with particular moments in your life, you might want to back them up. It's simple. Select all the tracks in the playlist with Ctrl-A, drag it into a Word document or an e-mail, and voila — backup made.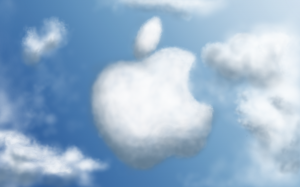 Steve Jobs and a team of Apple executives will kick off the company's annual Worldwide Developers Conference (WWDC) with a keynote address on Monday, June 6 at 10:00 a.m. At the keynote, Apple will unveil its next generation software – Lion, the eighth major release of Mac OS® X; iOS 5, the next version of Apple's advanced mobile operating system which powers the iPad®, iPhone® and iPod touch®; and iCloud®, Apple's upcoming cloud services offering.
Apple has confirmed maybe the worst kept secret in Silicon Valley: It's been working on a cloud service, and will announce it at the June 6 Worldwide Developers Conference.

So now we know annual developer's conference will unveil "iCloud®, Apple's upcoming cloud services offering," but we don't know yet what it is, or what exactly will reside at the domain name it may have bought for $4.5 million in April.

iCloud could be the mythical iTunes streaming service, a possibility that is looking increasingly likely now that Apple has most of the major record labels signed up for it, in a space pioneered by Amazon and Google, which has no such deals. Or it could be Apple's version of DropBox, the amazing sync and storage service that currently glues together the whole iOS ecosystem along with its desktop service.

Or it could be yet another abortion of an internet service, like Mobile Me, iDisk and Ping before it.

Whatever it is, it'll have to be good. DropBox is already the default file system for iOS, and can be used by any developer, on almost any other OS. If iCloud is to succeed, it needs to be just as available to developers. ITunes streaming, too, needs to be something special. A "cloud locker" service like Amazon and Google's is almost pointless, and we already have amazing streaming services like Spotify and Rdio.
WWDC will feature more than 100 technical sessions presented by Apple engineers. Mac® developers will see and learn how to develop world-class Mac OS X Lion applications using its latest technologies and capabilities. Mobile developers will be able to explore the latest innovations and capabilities of iOS and learn how to greatly enhance the functionality, performance and design of their apps. All developers can bring their code to the labs and work with Apple engineers.
For more details, visit the Apple Worldwide Developers Conference 2011 website at developer.apple.com/wwdc.