September 23, 2011 · Posted in
Uncategorized
·
Comments Off

on Spotify ♥ Facebook – The soundtrack to your social life
Let's introduce music to your social life! Spotify and Facebook have come together to help you discover more free music than ever before. Just click any of the play buttons on Facebook to get started.
Music is one of the most social things there is. That's why for the past couple of years, we've been obsessed with what the next generation music service should look like.We knew that the service had to be free to draw people away from piracy. Helping them to listen to even more music. To do that, we also knew that the service would have to be inherently social. There couldn't be a better place to do this than Facebook. We're very excited to have been asked by Mark Zuckerberg to showcase this new experience at the f8 conference in San Francisco today. Take a look at these amazing new features in our video.

You'll now start seeing new music posts and play buttons all over your newsfeeds. Hit a play button and the music starts. Right there. Spotify fires up to give you a new soundtrack to your social life. Check out your new Music Dashboard and your real-time ticker to discover the music that's trending with your friends. This integration with Facebook will help everyone to discover more free music than ever before. Thanks to our unrivalled, truly free service, users can just hit play to enjoy the music, no hassle, no gimmicks; month after month after month. We hope many more people can enjoy the musical journeys that this integration will bring. Like the thrill of looking through a friend's music collection and finding a track that blows your mind. Or sending birthday playlists across the planet. Having free access to music on Facebook also gives us an opportunity to express ourselves in a new way. We're proud to share pictures of our lives. Now we can say something about ourselves through music. "Hi I'm Daniel – here's some Daft Punk."

We know that Spotify's users who connect to Facebook listen to more music on a weekly basis. They listen to a wider variety of music – in fact we have more than 400 million playlists created in Spotify now. Because these users are more social, they're more engaged. Because they're more engaged, they're more than twice as likely to pay for music. Social discovery on Facebook means that we're bringing people back to paying for music again. And that's how the brilliant artists who create this music can continue creating it for us to enjoy.
May 26, 2011 · Posted in
Uncategorized
·
Comments Off

on Streaming music providers Spotify in bed with Facebook
Although Spotify is not launching in the US today, nor are Facebook and Spotify planning to launch a new music service together, however, the two companies do plan to formalize their already-mutually-beneficial relationship with a neat group-listening feature for Facebook users in countries where Spotify is already available:
1. Facebook will install an icon for Spotify to the left of the news feed. We assume this would appear as a regular app would, because those also show up there, but it's possible that, as Forbes' unnamed sources claim, this icon would appear as a default app to all Facebook users in qualifying territories. Apparently, clicking on this icon will install Spotify — the same way the Spotify link that's been on Facebook since last April already does.
2. More interestingly, Spotify and Facebook will apparently make it possible for users to set up listening rooms where Facebook users can listen to the same music together at the same time and chat about it — much like the feature already offered by Turntable.fm and Listening Room, but with hundreds of millions of users and countless friend networks ready to take advantage of it.
Spotify's ability to allow even non-paying users hear the songs their friends post in full and its ability to serve up direct links to songs, albums, and playlists makes it as natural a fit for Facebook in those countries as YouTube is in the United States. In addition, Spotify already integrates tightly with Facebook (and Twitter and Windows Messenger) by allowing users to share tracks on those networks from within the desktop app, so that wouldn't be anything new.
Spotify apparently plans to extend its already-impressive Facebook integration with a new group listening feature similar to the one that's picking up steam in other quarters. That's newsworthy to be sure, but some might question whether it warrants the gotta-read-it headline "Facebook To Launch Music Service With Spotify."
May 20, 2011 · Posted in
Uncategorized
·
Comments Off

on Sell your music via Facebook – here's how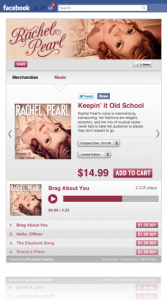 Moontoast Impulse is a new music app for Facebook that let's fans listen, share, and buy without leaving the site. The entire song transaction occurs within Facebook.
The app lives on an artist's Facebook page; it has a customizable interface. Fans can share individual songs and post them on their wall for their friends to see.
On the back-end, the Moontoast Impulse app lets artists look at top plays, top downloads, and top sales, as well as, who brought what and when.
If you're managing multiple accounts, you can easily toggle between stores.
"We believe social commerce – selling through social sites like Facebook – represents a huge opportunity for artists to take commercial control of their music," Moontoast CEO Blair Heavey told Hypebot. "We designed Moontoast Impulse to help musicians leverage the power of these communities."
Similar technology was used by Big Machine Label Group to boost the online sales of artists like Taylor Swift, Rascal Flatts, and Reba.
The app has no sign-up or subscription costs, but Moontoast, the creator of the app, does take 15% revenue share on all sales through Moontoast Impulse.
In the near future, they will be offering sales of physical merch, an e-mail mailing list builder, and a free download for an e-mail capture widget.
For now, the app is only for use on Facebook, but in the future Moontoast plans to build apps and widgets that can be used everywhere.
April 1, 2011 · Posted in
Uncategorized
·
Comments Off

on Finally – Stereoklang on Facebook (we Like)
Well we are definitely not the first to jump on the Facebook bandwagon, but who cares – now we are and we are happy to invite you to come and "Like" our fan page.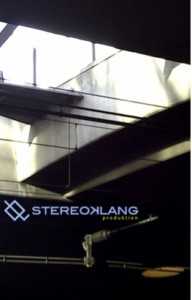 So why are we on Facebook now, well here are a couple of reasons:
1. Easier for you to comment and interact with us
2. We want to have one place where we can be a bit more speculative


3. We sometimes receive freebies that we would like to be able to share with you
4. Some things we learn are too much rumors for the blogg
5. Competitions and events -this is a way for easy interaction with you guys
So, it is brand new, there are still loads of stuff to be done, but make sure to head over to Stereoklang on Facebook and press the "Like" button
Cheers from the Stereoklang crew and depending on your whereabouts we promise to buy you a beer if you are in the neighbourhood.
March 24, 2011 · Posted in
Uncategorized
·
Comments Off

on Time to jump ship – MySpace is dying >> Fast
Look at the graph below: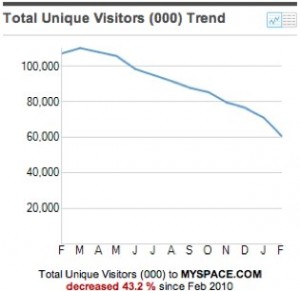 Some interesting statements I read today kind of confirms this:
Note that the following tweet early this morning by The Birthday Massacre summs it all up: "Myspace inbox: 3000+ unread. Mostly spam, I'm sure… and yet I feel like I should clean it out for the few that." Well, dear people from The Birthday Massacre, you shouldn't weed out the few 'valid' messages because you most probably won't find any.

And if you still believe in the power of MySpace, then you should read this testcase: Alfa Matrix once (2 years ago!) did a test and found that a dedicated mailing to 17.000 MySpace friends generated 1 (one, uno, une, ein) sale over a period of 30 days while a special viral action via Facebook generated 337 sales… in just one day (!). The label immediately halted its efforts on MySpace.
Heading over to Facebook now, LOL