In a pitch MySpace has elaborated on what the brand's future is under Specific Media umbrella. Unsurprisingly music remains at the center of all things with a heavy focus on content to capture and – most importantly – 'keep' audiences. With Justin Timberlake on board that makes perfectly sense. But question remains – is this enough or has MySpace been finally overrun by Facebook and others?
Look at the graph below: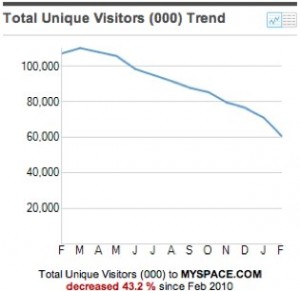 Some interesting statements I read today kind of confirms this:
Note that the following tweet early this morning by The Birthday Massacre summs it all up: "Myspace inbox: 3000+ unread. Mostly spam, I'm sure… and yet I feel like I should clean it out for the few that." Well, dear people from The Birthday Massacre, you shouldn't weed out the few 'valid' messages because you most probably won't find any.

And if you still believe in the power of MySpace, then you should read this testcase: Alfa Matrix once (2 years ago!) did a test and found that a dedicated mailing to 17.000 MySpace friends generated 1 (one, uno, une, ein) sale over a period of 30 days while a special viral action via Facebook generated 337 sales… in just one day (!). The label immediately halted its efforts on MySpace.
Heading over to Facebook now, LOL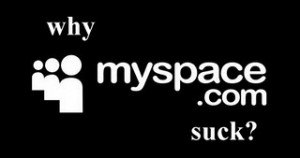 Perhaps you wont agree but I am pretty convinced that MySpace has completely played out its role as the main route to market for musicians. Other initiatives like Facebook, Bandcamp, CDBaby and SoundCloud provides much greater opportunity for today's bands to make themselves heard. Not to mention all the useless adds that tend to span and clutter the user experience of MySpace. The reason I am writing this is because MySpace has made some final spasmatic moves in the grave by redesigning the website to be more up to par with contemporary sites. Below is a video from MySpace that they hope will lure users back. I can just hope that if they succeed I sure hope they make it MUCH MUCH more easy to use and especially when it comes to re-design and customize your home page to reflect the bands cultural values and expressions.
Please feel free to agree or disagree with me on this, leave your commenst below


Welcome to the new Myspace

myspace | Myspace Video
…playing at ElectiXmas as cheezy I think it is to enroll OneTwo. OneTwo, who are close buddies with Erasure, still fall into that category of bands that does not have a unique style and expression, more than perhaps that they have a female singer (which is quite uncommon in the electro community).
Well I will still attend the event and definately so after Laibach came onboard however I will probably have a beer when OneTwo are playing – some kind of ugly mix of Erasure, Enigma and Kraftwerk look-a-like telephone calls – judging from their homepage at Myspace, hehe
Check everything out here:
And yes of course I give you LAIBACHHHHHHHH !!!
[youtube=http://www.youtube.com/watch?v=-zSRcFxZVAA]
Cheers