Time to jump ship – MySpace is dying >> Fast
Look at the graph below: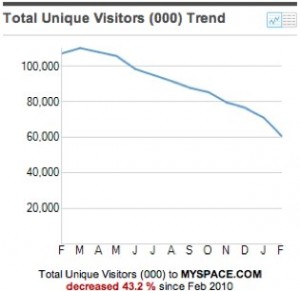 Some interesting statements I read today kind of confirms this:
Note that the following tweet early this morning by The Birthday Massacre summs it all up: "Myspace inbox: 3000+ unread. Mostly spam, I'm sure… and yet I feel like I should clean it out for the few that." Well, dear people from The Birthday Massacre, you shouldn't weed out the few 'valid' messages because you most probably won't find any.

And if you still believe in the power of MySpace, then you should read this testcase: Alfa Matrix once (2 years ago!) did a test and found that a dedicated mailing to 17.000 MySpace friends generated 1 (one, uno, une, ein) sale over a period of 30 days while a special viral action via Facebook generated 337 sales… in just one day (!). The label immediately halted its efforts on MySpace.
Heading over to Facebook now, LOL
Comments