'Gaudete' is taken from the new Erasure album, 'Snow Globe', which will be released on November 11th (November 12th in the USA) on Mute.
'Snow Globe' features brand new Erasure songs alongside classic seasonal favourites including Gaudete, White Christmas and Silver Bells.
Video by Martin Meunier & Tonya Hurley.
Make it wonderful this Christmas!
Snow Globe is available for pre-order now:
DELUXE 3-CD BOXSET: http://www.erasuresnowglobe.com
CD: http://smarturl.it/snowglobeCD
ITUNES: http://smarturl.it/snowglobeitunes
MORE INFORMATION: http://www.erasureinfo.com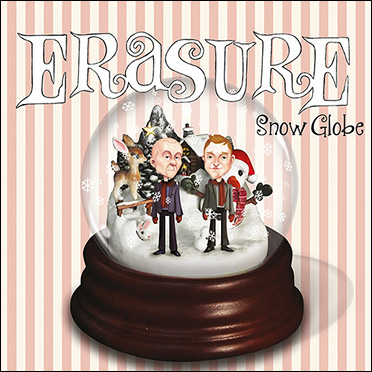 Out on November 11th is the new Erasure album, which will be called "Snow Globe". "Snow Globe" is a collection of 13 original compositions and seasonal classics. The album will be preceded by a single, "Gaudete", which is the band's interpretation of the Medieval Christmas carol that was also a folk hit for Steeleye Span in 1973.
Vince Clarke on what it will sound like:
Well, we'll strip the songs down as much as possible and go really minimal. The songs are great anyhow, and Andy will sing like… well, Andy is Andy and that won't change. The only thing that will change is the music. It will be very much 8-bit like and using sounds sparingly. I'm not sure people will like it, I'm sure they will though. But what we have done so far sounds very different to what we have done so far. (Interview via SL)
As being a hardcore MiniBrute myself, it is really nice to see one of the legends using it

Check out our exclusive interview with synth legend Vince Clarke at his studio in New-York, talking about MiniBrute, his relation to synths and his up-coming projects.
Erasure have spent this week writing material for their upcoming new album. Andy and Vince have been locked away in Vince's studio in Brooklyn where the duo made this video…
This video, of Erasure performing 'Fill Us With Fire', was filmed during the band's 2011 tour in support of their Frankmusik produced 'Tomorrow's World' album, which was released in October 2011.
'Fill Us With Fire' is the third single to be released from the album and will be available from March 12th 2012 as a eight-track CD and download.
Just in time for Christmas Mute Records offer an additional "Mute Sampler". Among the fifteen tracks Mute mixes newer addition to the record company's stables, such as SCUM and Apparat, with the band's more classic bands like Erasure, Depeche Mode, Cabaret Voltaire and Nick Cave side project Grinderman.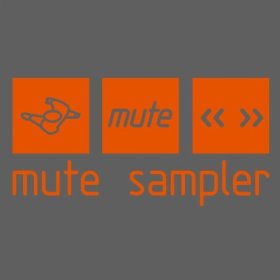 The latter made ​​the weekend one last gig at the Meredith Music Festival in Victoria and then front man ended by announcing the fans, "That's all from Grinderman. It's over. See you soon in ten years or so when we are even older and uglier. "
The collection is distributed for free (digital) here through Amazon United Kingdom.
Tracklist
Goldfrapp – Lovely Head
Erasure – When I Start to (Break it all Down)
Richard Hawley – Tonight the Streets are Ours
Depeche Mode – Behind The Wheel (Vince Clarke Remix)
Grinderman – Heathen Child
Yeasayer – Ambling Alp
Yosh T. Pearson – Woman, When I've Raised Hell (Edit)
S.C.U.M. – Whitechapel
Big Deal – Chair
Beth Jeans Houghton & The Hooves of Destiny – Dodecahedron
Apparat – Song of Los
Yann Tiersen – I'm Gonna Live Anyhow
Cabaret Voltaire – Yashar (Insurgent Mix)
Liars – Scissor
Polly Scattergood – Nitrogen Pink
Vince Clarke (Erasure, Yazoo, Depeche Mode) and Martin L. Gore (Depeche Mode) have announced that they are releasing an album as VCMG. It's the duo's first collaboration in 30 years.
According to Clarke and Gore, VCMG is an opportunity for the duo to "exercise their lifelong love of the genre as the techno-inspired VCMG."
"I've been getting into and listening to a lot of minimal dance music," says Clarke. "I got really intrigued by all the sounds."
"I realized I needed a collaborator," he adds, "so it occurred to me to talk to Martin."
"Out of the blue, I got an e-mail from Vince just saying, 'I'm interested in making a techno album. Are you interested in collaborating?'" says Gore. "This was maybe a year ago. He said, 'No pressure, no deadlines,' so I said, 'OK'."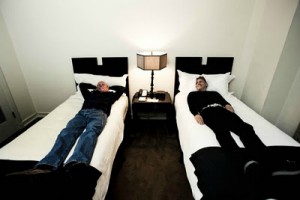 What do you think of the idea of Vince Clarke & Martin Gore collaborating again, after 30 years? And is VCMG the world's first electronic music supergroup?
VCMG – Spock
Clarke and Gore plan to release several EP's, as VCMG, followed by an album.
The first release is an EP entitled Spock. EP1 / SPOCK will feature remixes from Edit-Select, aka Tony Scott, the UK DJ / producer; Regis, British techno musician Karl O'Connor; Zak aka DVS1, founder of Hush Records plus XOQ, the alter ego of Überzone / Q, who mixed the VCMG album.
EP1/SPOCK will be available starting Nov 30th on Beatport, and in wider distribution on Dec 12. 12″ vinyl hits Dec 19th.
http://youtu.be/0n7O-_Dky3E
All of these videos has previously been released on Clarke's on home page, but have now been put out on Youtube, here are the remaining ones:
Playlist:
The Vince Clarke Analogue Monologues – Roland System 100m
The Vince Clarke Analogue Monologues – Arp 2600
The Vince Clarke Analogue Monologues – Roland Jupiter 4 and Boss DR-55
The Vince Clarke Analogue Monologues – Synton Syrinx synthesizer
The Vince Clarke Analogue Monologues – RSF Kobol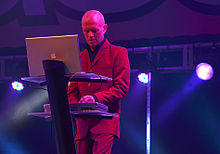 The Analogue Monologues is a new series of mini video documentaries. In each webisode Vince talks about one his analogue synths and explains where the on/off switch is. This series proves, once and for all, that he really doesn't know much about anything (a must see!).

Sign-up to the Vince Clarke mailing list if you want to receive news of the next Analogue Monologues webisode…

The video player below has been tested in all the main browsers, but if you find that you're getting a blank screen, or audio and no video, then refreshing your browser should help!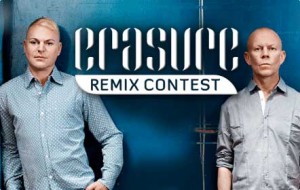 The monthly Beatport remix contests are a chance for producers out there to show their skills. This time Erasure and their song 'I lose myself' is ready to be remixed.
Here's all the details from the Beatport website:
Ready to get lost in the music? Beatport is proud to announce Erasure's "I Lose Myself" remix contest, featuring the pumping electro-disco single from the band's new album for MUTE, "Tomorrow's World."
If you a resident of US, EU, Switzerland, Iceland, or Norway, this is your chance to collaborate with two of synth-pop's veritable icons, Andy Bell and Vince Clarke (himself a founder of Depeche Mode and Yazoo), along with the pop producer Frankmusik; and the parts to the single lend themselves to a vast array of remix possibilities, from filthy dubstep to stadium-grade electro house.
The winning remix will rack up over $5000 in prizes including a TRAKTOR Scratch Pro 2, TRAKTOR S2, Novation Launchpad, Ableton Live 8, Elektron Octatrack, iZotope Stutter Edit, Sounds To Sample Elements Library and $200 in Beatport credits. The MUTE label team will narrow down their selections to 10 finalists; those 10, along with Beatportal's top 10 community-voted remixes, will then move on to the final round, with Erasure themselves selecting the grand-prize winner.
The submissions process begins on October 25, and the window for entries closes on Monday, November 11 10.00PM MST. Download the remix parts to get started.
More information:
Find the videos here