Background details (Googlish): Using an old broken radio to accommodate a mini analogue synthesizer and processor that uses an envelope filter, plus a basic VCO, delay effect, LFO (Pitch modulation and filtering) and audio input.
However I reused circuit area, especially are most reels, now occasionally leak radio signals that can be processed.
This box is a Mono Synth, Audio Processor and Radio signal generator!
This programme is an experiment. An exploration. It's been put together with enormous enthusiasm and equipment designed for other purposes. The basis of it is an unlimited supply of magnetic tape, recording machine, razor blade, and some thing to stick the bits together with. And a group of technicians who think that nothing is too much trouble – provided that it works.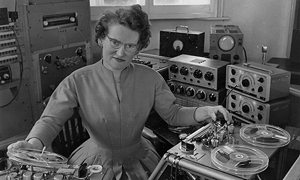 "You take a sound. Any sound. Record it and then change its nature by a multiplicity of operations. Record it at different speeds. Play it backwards. Add it to itself over and over again. You adjust filters, echos, acoustic qualities. You combine segments of magnetic tape. By these means and many others you can create sounds which no one has ever heard before. Sounds which have indefinable and unique qualities of their own. A vast and subtle symphony can be composed from the noise of a pin dropping. In fact one of the most vibrant and elemental sounding noises in tonight's programme started life as an extremely tinny cowbell.
"It's a sort of modern magic. Many of you may be familiar with it. They've been exploiting it on the continent for years. But strangely enough we've held aloof. Partly from distrust. Is it simply a new toy? Partly through complacency. Ignorance too. We're saying at last that we think there's some thing in it. But we aren't calling it 'musique concrète'. In fact we've decided not to use the word music at all. Some musicians believe that it can become an art form itself. Others are sceptical. That's not our immediate concern. We're interested in its application to radio writing – dramatic or poetic – adding a new dimension. A form that is essentially radio.
"Properly used, radiophonic effects have no relationship with any existing sound. They're free of irrelevent associations. They have an emotional life of their own. And they could be a new and invaluable strand in the texture of radio and theatre and cinema and television."E
Simple DIY module built around a Franzis FM Radio board from Conrad Electronics
The new cool App to turn your iPad into a real 80′s Stereo :
- Free access to 10000+ radios streaming all over the world
- Selection of 30 stations through 3 presets of 10 stations each
- Unlimited recordings (music, talk shows…) with our new tape recorder
- Play, pause, rewind, fast forward… listen to your tracks and have fun !
Offical Stereolizer website : http://www.stereolizer.com
Follow us on Twitter : http://twitter.com/stereolizer
Available on AppStore : http://tinyurl.com/63k9co2