September 25, 2014 · Posted in
Uncategorized
·
Comments Off

on Ryuichi Sakamoto: Sensing Streams – invisible, inaudible

Among his eclectic array of projects, Ryuichi Sakamoto has recently made it his main concern to explore audiation, or the process of making audible, of data extracted from the environment. Daito Manabe (b.1976) is a media artist internationally acclaimed for his work, ranging from his experimental work using advanced technology to visualize data received from CERN (The European Organization for Nuclear Research), to producing visuals for the Japanese electro-pop group, Perfume.
Their first collaborative piece senses, visualizes, and makes audible electromagnetic waves, which are usually undetectable to the human senses. The piece focuses on the background role that electromagnetic waves play in technology that has become integral to modern society, manifested in mobile technology, inseparable from everyday life.
At the Moerenuma Park, visitors will find a large "High Resolution Large Display" (7.2 meters by 3.9 meters) and speakers in a brightly lit space, visualizing and making audible electromagnetic waves between 80MHz-5.2GHz that are captured in realtime by antennas set up in various places in the venue, which collect signals from cellphones, Wi-Fi, digital terrestrial broadcasting, and FM radio.
Additionally, the piece contrasts electromagnetic waves recorded at the Sapporo Ekimae-dori Underground Walkway (aka Chi-Ka-Ho) to show the notable difference time and place makes on the electromagnetic waves. As the audience changes the frequency with a turn of the dial-like interface in front of the screen, various electromagnetic waves will become visible on the screen simultaneously. Furthermore, the usage of cellphones or smartphones in the venue will alter the sound and image, reflecting the changing electromagnetism in the surrounding space.
The flow of electromagnetism is often forgotten, yet composes an indispensable infrastructure in our modern life, and the piece attempts to expose that. The installation also makes visible a kind of ecosystem, created by the active participation of audiences, that is simultaneously bound to a frequency range—a distributed territory—assigned to certain broadcasters or carriers.
At Chi-Ka-Ho, visitors will also be able to see an archived version of the video of the piece, along with one of the antennas used to capture electromagnetic data before the premiere of the installation.
August 2, 2014 · Posted in
Uncategorized
·
Comments Off

on Fancy a shortwave radio in your modular synth set up?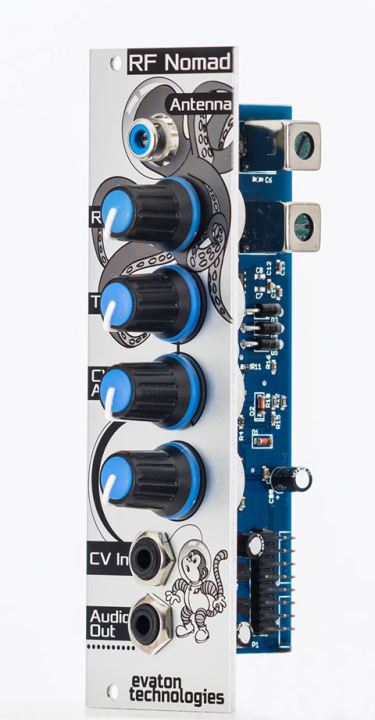 Evaton Technologies has released the RF Nomad Voltage Controlled Shortwave Receiver – a new Eurorack synthesizer module.
Here are the details:
Hissy interstation audio. Squealy heterodynes. Fading stations. Atmospheric noises. Faint voices in foreign languages from distant broadcast stations. Fire and brimstone. It's all in there, just like your granddad's old tabletop shortwave.
But, the RF Nomad adds a twist: The tuning is voltage controlled. Sure, when you were a kid, you discovered you could make spacy noises on Papa's shortwave by slowly turning the tuning dial.
But just how fast could you twist that dial? Faster than an audio-rate LFO? Hardly. Voltage controlled tuning means that the RF Nomad will let you explore sounds you never imagined you could get out of a shortwave receiver.
RF Nomad Voltage Controlled Shortwave Receiver
The RF Nomad is a voltage controlled shortwave receiver, tuning the 31 meter shortwave band. A bipolar control voltage input offsets the main tuning knob, allowing an external CV source to ramp tuning up and down from DC to audio rates.
The RF Nomad adds the squealy, squelchy, noisy, unpredictable vintage sounds of shortwave radio to your modular. According to the developer, it's been designed to be extra noisy, extra squealy, extra gritty, and just downright nasty.
No built-in output filtering means that a rich spectrum of harmonic content is available on the audio output jack. Audio levels can be driven to distortion. CV control lets you add your own creative spin on sound design.
The RF Nomad Voltage Controlled Shortwave Receiver is available now, priced at US $176.
November 28, 2013 · Posted in
Uncategorized
·
Comments Off

on Swedish electro vol2 – pre-listen to the full album on Radio Schwarze Welle
2 broadcasts, dedicated to the release of "swedish electro vol2".
All songs will be played – before the compilation will be released – and you will get many informations about the artists and their songs.
Part 1: Tuesday, 10.12.2013, 21:00 – 23:00 CET
Part 2: Saturday, 14.12.2013, 21:00 – 23:00 CET
The moderation will be in German! Here's a link to the channel and more info >>
And of course there will be a release party coming up: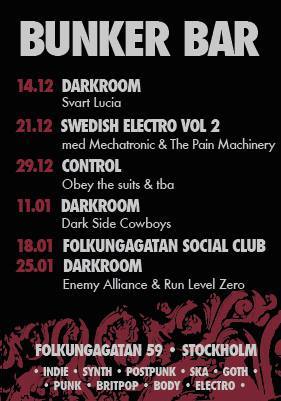 And with modesty we are of course delighted to announce that Steelberry Clones will be part of this album and featured on this radio broadcast event, with our new track "Deep down below"
the compilation will be available for free downloading!
it will be out on 15 December 2013 at 5:00pm (Athens) 4:00pm (Stockholm) 3:00pm (London)
Latest updates can be found here >>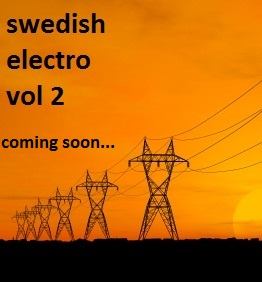 it will contain tracks from:
#366: A life lived
https://www.facebook.com/366alifelived?fref=ts
Andy Planck
https://www.facebook.com/andyplanck?fref=ts
Arachnophobias
https://www.facebook.com/pages/Arachnophobias/106830736076844?fref=ts
Art Fact
https://www.facebook.com/artfactmusic
Atari Cowboy
https://www.facebook.com/AtariCowboy
Chaos all stars
https://www.facebook.com/ChaosAllStars?fref=ts
Cryo
https://www.facebook.com/pages/Cryo/278251140549?fref=ts
Denormal
https://www.facebook.com/Denormal?fref=ts
DJ Man-Machine
https://www.facebook.com/dj.man.machine.swe?fref=ts
Dpoint
https://www.facebook.com/dpoint.sound.system?fref=ts
Electro act
https://soundcloud.com/electroact
Frontadero
https://soundcloud.com/frontadero
Henric de la Cour
https://www.facebook.com/HenricDLC?fref=ts
International
https://www.facebook.com/intlmusic?fref=pb&hc_
Kite
https://www.facebook.com/KiteHQ?ref=ts&fref=ts
Libra
https://www.facebook.com/Libramusik?fref=ts
Neueliebe
https://www.facebook.com/kire.nilsson?fref=ts&__rev=1024226
Machinista
https://www.facebook.com/machinistamusic?fref=ts
Mechatronic
https://www.facebook.com/pages/Mechatronic/276209142393782?fref=ts
Neurobash
https://www.facebook.com/neurobash?fref=ts
Nude librarians
https://www.facebook.com/pages/Nude-Librarians/300581350015272?fref=ts
Optic
https://www.facebook.com/Opticalism?fref=pb&hc_location
Radiant
https://www.facebook.com/pages/Radiant/123585621079010?fref
Ro 13
http://ro13.bandcamp.com/
Sad Sad Zoo
https://www.facebook.com/SadSadZoo?fref=ts
Sine city
https://www.facebook.com/sinecitymusic?fref=ts
Social ambitions
https://www.facebook.com/socialambitions?fref=ts
Steelberry Clones
http://stereoklang.se/
https://twitter.com/SteelberryClone
That secret
https://www.facebook.com/MyFrenchNerves?fref=ts
The pain machinery
https://www.facebook.com/thepainmachinery?fref=ts
The Phistols
https://soundcloud.com/the-phistols
Train to Spain
https://www.facebook.com/pages/Train-To-Spain/252355014792419?fref=ts
Vladimir from vostok
https://www.facebook.com/rugbert
Vogon Poetry
https://www.facebook.com/vogonpoetrymusic?fref=ts
Wolf dragonard
https://soundcloud.com/wolf-dragonard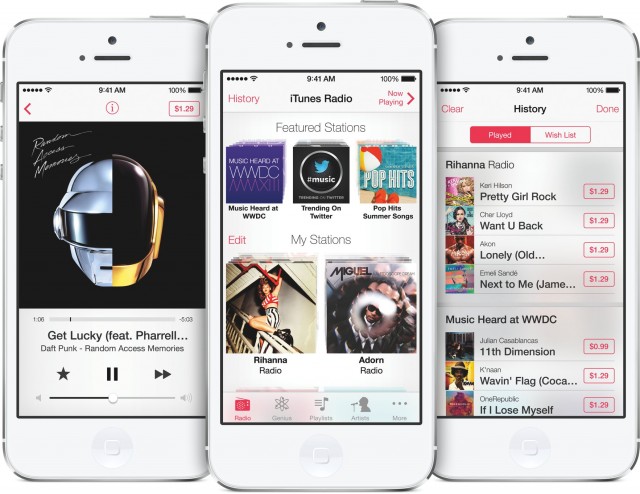 "Whether it's an exclusive single from an up-and-coming band or a pre-release stream of an entire album, iTunes Radio has it all. iTunes Radio will also be home to special events including live streams direct from the iTunes Festival in London and other exclusive iTunes Sessions."
So will this be the death sentence for the likes of Spotify, Pandora and Last.fm – perhaps / perhaps not. It will all boil down to the catalogues available, niche segmentation on music, ability to differentiate and size of user base, but it is clear that this will have an impact going forward. What may lie in favor of the existing players is that Apple will most likely not be an indie lover, as share holder profits come first and one may expect that there will be room for those who really differentiate on music – not just music for the masses. There's reason to assume this may be a long game going forward. While musicians may well wind up being as impoverished as always, the companies serving up the streams might eventually want to profit – Spotify for one is still chasing growth rather than profit, something that might have to change now.
"It's the music you love most and the music you're going to love, and you can easily buy it from the iTunes Store with just one click."
Apart from iRadio we were also treated with the all time fattest Mac Pro to date: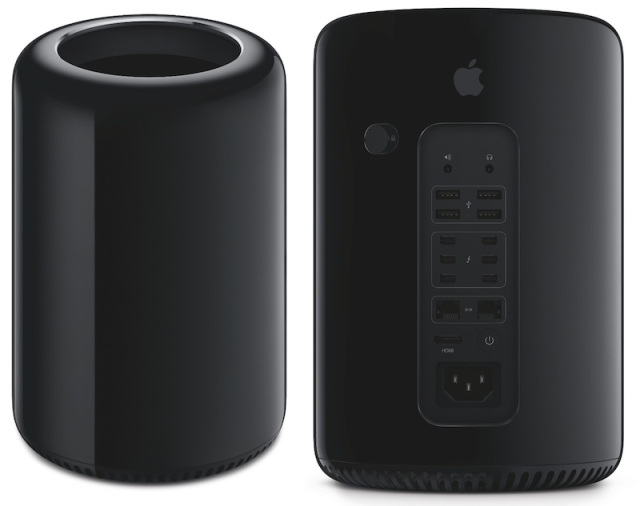 The next generation Mac Pro is architected around an ingenious unified thermal core that allows the desktop to efficiently share its entire thermal capacity across all the processors. The result is a pro desktop with breakthrough performance packed into a design that is one-eighth the volume of the current Mac Pro.
face-meltingNext generation Intel Xeon E5 processors with up to 12 core configurations deliver double the floating point performance. With two AMD FirePro workstation-class GPUs, the all-new Mac Pro is up to 2.5 times faster than the current Mac Pro and delivers up to an amazing 7 teraflops of compute power.
The new Mac Pro also features PCIe-based flash storage that is up to 10 times faster than conventional desktop hard drives and includes the latest four-channel ECC DDR3 memory running at 1866 MHz to deliver up to 60GBps of memory bandwidth. With all that power, the new Mac Pro lets you seamlessly edit full-resolution 4K video while simultaneously rendering effects in the background.
The next generation Mac Pro is the most expandable Mac® ever built. With six Thunderbolt 2 ports that can deliver up to 20Gbps of bandwidth to each external device, Mac Pro is perfect for connecting to external storage, multiple PCI expansion chassis, audio and video breakout boxes, and the latest external displays, including 4K desktop displays. Each of the six Thunderbolt 2 ports supports up to six daisy-chained devices, giving you the ability to connect up to 36 high-performance peripherals. Thunderbolt 2 is completely backwards compatible with existing Thunderbolt peripherals, and allows you to transfer data between Macs faster and easier than ever.
iOS 7: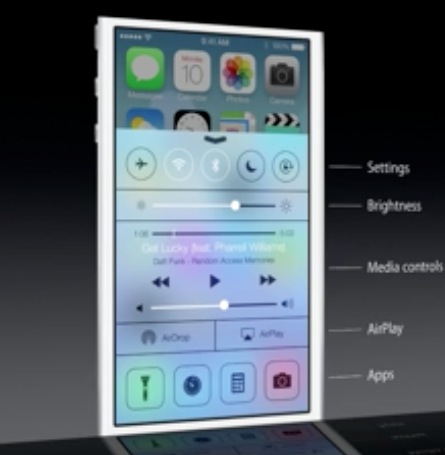 Well of course iOS has gotten a well deserved and long awaited face lift, but looking specifically at it from a music creation perspective the news are meager, but three things stand out though –
Multiple pages in folders
Multitasking for all apps
Automatic app updates will be a good thing
Rethinking home audio and understanding how and where people share music was the jumping point for creating Skube. We are moving more towards a digital and online music listening experience, current portable music players are not adapted for this environment. And sharing music in communal spaces is neither convenient nor easy, especially when we all have such different taste in music.
The result of our exploration is Skube, a music player that allows you to discover and share music and facilitates the decision process of picking tracks when in a communal setting.
It is a fully working prototype through the combination of using Arduino, Max/MSP and an XBee wireless network. We access the Last.fm API to populate the Skube with tracks and scrobble, and using their algorithms to find similar music when in Discover mode. Then using Applescript, we get Spotify to play the music. We use XBees for the wireless communication between the each Skubes and to the computer using custom software that manages all this.
For more information, please check out the blog post: soundplusdesign.com/?p=5516
Project by:
Andrew Nip – cargocollective.com/andrewnip
Andrew Spitz – andrew-spitz.com
Ruben van de Vleuten – rubenvandervleuten.com
Malthe Borch – ciid.dk/education/portfolio/idp12/students/malthe-martin-borch/
As part of the Tangible User Interface module at CIID ran by Vinay Venkatraman, David Cuartielles, Richard Shed, and Tomek Ness.
Music:
Artist – Kirsten & Marie
Track – My Dear
Album – Discover the Sound of Denmark
July 23, 2012 · Posted in
Uncategorized
·
Comments Off

on Vintage Radio Synth
Background details (Googlish): Using an old broken radio to accommodate a mini analogue synthesizer and processor that uses an envelope filter, plus a basic VCO, delay effect, LFO (Pitch modulation and filtering) and audio input.
However I reused circuit area, especially are most reels, now occasionally leak radio signals that can be processed.
This box is a Mono Synth, Audio Processor and Radio signal generator!
May 22, 2012 · Posted in
Uncategorized
·
Comments Off

on In the early days of sampling – radio exploration
This programme is an experiment. An exploration. It's been put together with enormous enthusiasm and equipment designed for other purposes. The basis of it is an unlimited supply of magnetic tape, recording machine, razor blade, and some thing to stick the bits together with. And a group of technicians who think that nothing is too much trouble – provided that it works.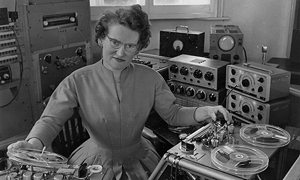 "You take a sound. Any sound. Record it and then change its nature by a multiplicity of operations. Record it at different speeds. Play it backwards. Add it to itself over and over again. You adjust filters, echos, acoustic qualities. You combine segments of magnetic tape. By these means and many others you can create sounds which no one has ever heard before. Sounds which have indefinable and unique qualities of their own. A vast and subtle symphony can be composed from the noise of a pin dropping. In fact one of the most vibrant and elemental sounding noises in tonight's programme started life as an extremely tinny cowbell.
"It's a sort of modern magic. Many of you may be familiar with it. They've been exploiting it on the continent for years. But strangely enough we've held aloof. Partly from distrust. Is it simply a new toy? Partly through complacency. Ignorance too. We're saying at last that we think there's some thing in it. But we aren't calling it 'musique concrète'. In fact we've decided not to use the word music at all. Some musicians believe that it can become an art form itself. Others are sceptical. That's not our immediate concern. We're interested in its application to radio writing – dramatic or poetic – adding a new dimension. A form that is essentially radio.
"Properly used, radiophonic effects have no relationship with any existing sound. They're free of irrelevent associations. They have an emotional life of their own. And they could be a new and invaluable strand in the texture of radio and theatre and cinema and television."E
February 9, 2012 · Posted in
Uncategorized
·
Comments Off

on Voltage Controlled FM Radio Module
Simple DIY module built around a Franzis FM Radio board from Conrad Electronics
March 24, 2011 · Posted in
Uncategorized
·
Comments Off

on Get funky with Stereolizer
The new cool App to turn your iPad into a real 80's Stereo :
– Free access to 10000+ radios streaming all over the world
– Selection of 30 stations through 3 presets of 10 stations each
– Unlimited recordings (music, talk shows…) with our new tape recorder
– Play, pause, rewind, fast forward… listen to your tracks and have fun !
Offical Stereolizer website : http://www.stereolizer.com
Follow us on Twitter : http://twitter.com/stereolizer
Available on AppStore : http://tinyurl.com/63k9co2