iRadio and more from WWDC – Apple crunch on Last.fm, Pandora & Spotify?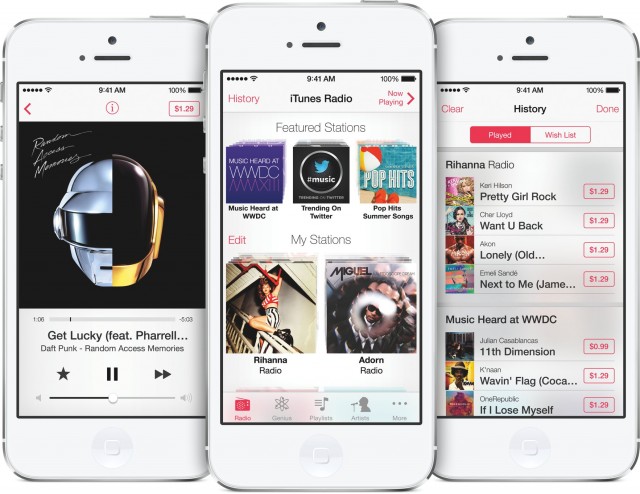 "Whether it's an exclusive single from an up-and-coming band or a pre-release stream of an entire album, iTunes Radio has it all. iTunes Radio will also be home to special events including live streams direct from the iTunes Festival in London and other exclusive iTunes Sessions."
So will this be the death sentence for the likes of Spotify, Pandora and Last.fm – perhaps / perhaps not. It will all boil down to the catalogues available, niche segmentation on music, ability to differentiate and size of user base, but it is clear that this will have an impact going forward. What may lie in favor of the existing players is that Apple will most likely not be an indie lover, as share holder profits come first and one may expect that there will be room for those who really differentiate on music – not just music for the masses. There's reason to assume this may be a long game going forward. While musicians may well wind up being as impoverished as always, the companies serving up the streams might eventually want to profit – Spotify for one is still chasing growth rather than profit, something that might have to change now.
"It's the music you love most and the music you're going to love, and you can easily buy it from the iTunes Store with just one click."
Apart from iRadio we were also treated with the all time fattest Mac Pro to date: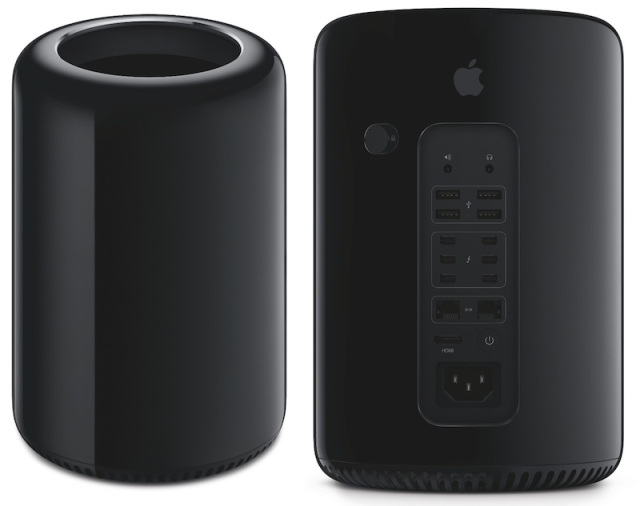 The next generation Mac Pro is architected around an ingenious unified thermal core that allows the desktop to efficiently share its entire thermal capacity across all the processors. The result is a pro desktop with breakthrough performance packed into a design that is one-eighth the volume of the current Mac Pro.
face-meltingNext generation Intel Xeon E5 processors with up to 12 core configurations deliver double the floating point performance. With two AMD FirePro workstation-class GPUs, the all-new Mac Pro is up to 2.5 times faster than the current Mac Pro and delivers up to an amazing 7 teraflops of compute power.
The new Mac Pro also features PCIe-based flash storage that is up to 10 times faster than conventional desktop hard drives and includes the latest four-channel ECC DDR3 memory running at 1866 MHz to deliver up to 60GBps of memory bandwidth. With all that power, the new Mac Pro lets you seamlessly edit full-resolution 4K video while simultaneously rendering effects in the background.
The next generation Mac Pro is the most expandable Mac® ever built. With six Thunderbolt 2 ports that can deliver up to 20Gbps of bandwidth to each external device, Mac Pro is perfect for connecting to external storage, multiple PCI expansion chassis, audio and video breakout boxes, and the latest external displays, including 4K desktop displays. Each of the six Thunderbolt 2 ports supports up to six daisy-chained devices, giving you the ability to connect up to 36 high-performance peripherals. Thunderbolt 2 is completely backwards compatible with existing Thunderbolt peripherals, and allows you to transfer data between Macs faster and easier than ever.
iOS 7: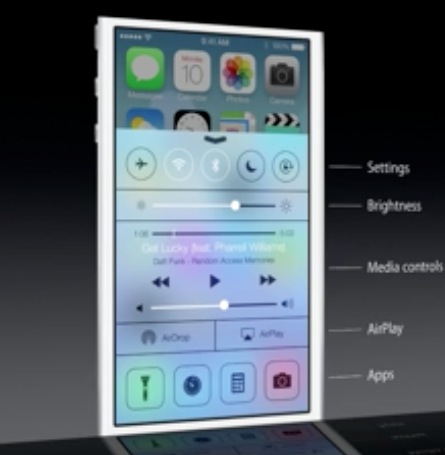 Well of course iOS has gotten a well deserved and long awaited face lift, but looking specifically at it from a music creation perspective the news are meager, but three things stand out though –
Multiple pages in folders
Multitasking for all apps
Automatic app updates will be a good thing
Comments