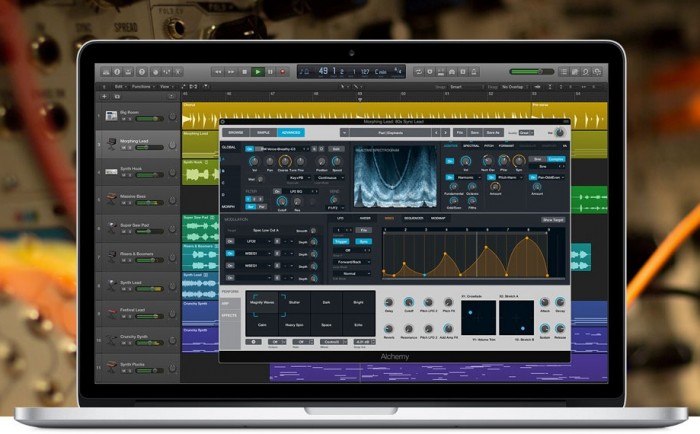 Logic Pro 10.2 gives you even more power to create electronic music with Alchemy, a next-generation synthesizer. Alchemy works hand in hand with all the beat-making and music-production features introduced in Logic Pro 10.1 to create all types of music, including EDM and Hip Hop.
Changes in Logic Pro 10.2
Introducing Alchemy – the ultimate sample manipulation synthesizer

Next generation synthesizer plug-in with multiple sound generators including; additive, spectral, formant, granular, sampler, and virtual analog.
Over 3,000 presets for all types of electronic music including electronic dance, hip hop, rock, and sound for picture.
Integrated keyword preset browser for finding the right sounds quickly.
Performance controls like the Transform Pad make it easy to explore and reshape sounds.
Combine up to four synth modules to create complex multi-layered sounds.
Virtual analog oscillators produce authentic recreations of iconic synth sounds.
Wide selection of modeled analog and special effect filters for producing sounds with vintage character and tonal complexity.
Create animated, dynamic instruments using over 100 modulation sources that include flexible LFOs, AHDSR and MSEG envelopes, and step sequencers.
Manipulate and combine samples in new ways using a collection of morphing and resynthesis tools.
Import EXS24 instruments or create your own using a robust set of sampler features.
Apply independent arpeggiators to each of the 4 sound sources to transform simple chords into elaborate performances.
Integrated effects rack with reverb, modulation, delay, compression, and a range of distortion effects.

New tabbed Transform Pad and X/Y Pad Smart Controls for Alchemy instruments.
Share directly to Apple Music Connect (Requires Apple Music Connect account).
Adds support for Force Touch trackpad.
Create custom track icons with your own image files.
1,000 new Apple Loops from a variety of popular instruments and genres including EDM, Hip Hop, Indie, Disco, Funk, and Blues.
Expanded MIDI clock options improve sync compatibility with external MIDI devices.
Multiple additional enhancement and stability improvements.
Logic Pro X is available for purchase for $199.99 USD.
We're excited to announce that Gobbler is now integrated in Logic Pro X – you can sync, version, and share your projects with Gobbler, all without leaving Logic!
Get started with Gobbler and Logic Pro X at http://www.gobbler.com/logic
The Beijing-based electropop musicians of Yaoband came together to explore new musical frontiers. iPad helps them capture, record, and perform their innovative music.
http://www.apple.com/your-verse/strik…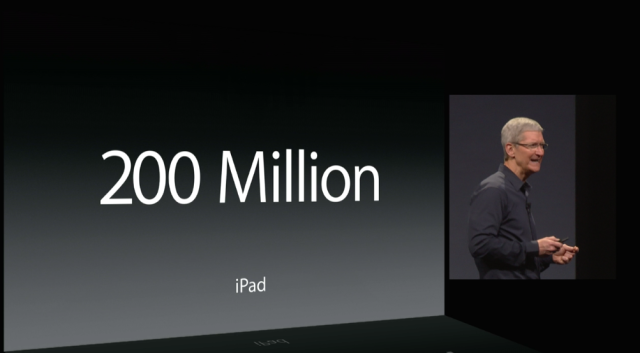 Apple today introduced iOS 8, at its World Wide Developer Conference (WWDC), being held June 2-6 in San Francisco, CA.
Key Features:
Faster and more intuitive user experience;
iCloud Photo Library lets you use your photos and videos more easily across your devices;
New Messages features to easily share voice, video or photos with just a swipe;
New Health app that gives you a clear overview of your health and fitness data all
Predictive typing for Apple's QuickType keyboard;
Extended Spotlight capabilities that integrates results from the Web, including articles from Wikipedia, findings from the news and results from places nearby;
Family Sharing, which lets you share music, purchases, photos and calendars within the same household; and
iCloud Drive, so you can store files and access them from anywhere.
From a music perspective:
Continuity – iOS 8 devices can sense the proximity of other devices. This lets you do things like quickly set up a hotspot for your iPad using an iPhone or answer a phone call on your iPad or Mac.
Messages has been updated to streamline sending audio, video and photos.
iCloud Drive is designed to make it easy to share documents across devices and applications. Apple also introduced iCloud storage tiers up to 1 TB.
Extensions – iOS 8 Extensibility lets developers create apps that run as Extensions within other applications and add features to other apps. For example, if you don't like the default iOS keyboard, you could install an alternate keyboard and make it your default.
Homekit – this is a new API that's designed to let your iOS devices control household hardware devices. While intended for home automation, it might also have interesting applications for musicians. For example, when you come into your studio, you could tell Siri to set up the studio for vocals, and it could wirelessly dim the lights, turn off devices that are noisy and turn on your mixer.
Swift – Apple introduced a new programming language for developers that's designed to streamline the creation of fast, secure apps. While this won't directly affect most musicians, it's designed to make it dramatically faster and easier to develop apps, so it could lead to more app development on iOS.
iOS 8 is available to developers as a beta now and will be available to users as a free upgrade in the fall.
The latest version of OS X, Yosemite, at the World Wide Developer Conference (WWDC), being held June 2-6 in San Francisco, CA.
Key new features include:
The UI has been streamlined, making it more iOS-like, but not a shocking change;
iCloud Drive is located within the Finder and lets you store any type of file and share it across devices;
Handoff lets you start an activity on one device and pass it to the other; and
Instant Hotspot makes using your iPhone's hotspot as easy as connecting to a Wi-Fi network.
From a music perspective:
Mail Drop allows you to easily send large videos, images or files up to 5 GB from the Mail app to any email address. This could be very handy for collaborating with other musicians and sending media files to vendors or clients.
Messages – Now you can add titles to ongoing message threads so they are easy to find, add new contacts to ongoing conversations, or leave those conversations you no longer want to follow. With 'Soundbites' you can create, send and listen to audio clips right in Messages.
iCloud Drive – sort of a built-in Dropbox, it's designed for easy sharing between OS X, iOS & Windows. It works like any other folder on a Mac, so you can drag documents into it, organize them with folders and Tags and search for them using Spotlight.
Airdrop now lets you easily share files wirelessly between iOS and OS X.
Continuity – 'Proximity awareness' lets your devices sense each other. When your iPhone or iPad is near your Mac, Handoff lets you start an activity on one device and pass it to the other. Instant Hotspot makes using your iPhone's hotspot as easy as connecting to a Wi-Fi network. Now the SMS and MMS messages that previously only appeared on your iPhone appear in Messages on all your devices. You can even send SMS or MMS messages directly from your Mac and make or receive iPhone calls, using your Mac as a speakerphone.
As with Mavericks, Yosemite will be a free release, coming in the Fall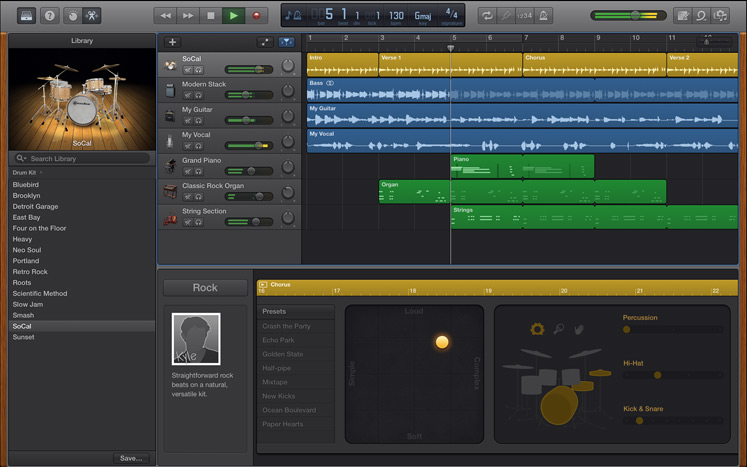 GarageBand for Mac has received its biggest update ever with a fresh new look, all new Sound Library, and new features, like Drummer and Smart Controls, giving you everything you need to easily make a great-sounding song.
GarageBand for iOS has been updated to match the look and feel of iOS 7 and taps the power of 64-bit to bring musicians a full recording studio with up to 32 tracks. With iOS 7 Inter-App Audio you can record third-party music apps right into GarageBand, and AirDrop allows you to wirelessly share your song projects with other iOS users so you can work on songs together. iCloud helps keep your song projects up to date across your devices, and users can start a song on iOS and pick up where they left off using GarageBand for Mac.
What's New in GarageBand for iOS v2.0:
All-new streamlined design.
Create a song with up to 32 tracks* using Touch Instruments, audio recordings, and loops.
Record compatible Third-Party music apps using Inter-App Audio in iOS 7.
Drag and drop audio recordings to create Sampler instruments.
Support for AirDrop in iOS 7.
64-bit support.
Pricing & Availability
GarageBand for Mac and iOS are free for all OS X Mavericks and iOS 7 users. Additional GarageBand instruments and sounds are available for a one-time in-app purchase of $4.99 for each platform. More info here >>

Apple has presented a new, slimmer iPad, the iPad Air, that is designed more like the iPad mini. The new iPad Air has the same 64-bit A7 chipset as the iPhone 5S, that is branded the A7X, with a slightly upgraded SOC that is optimized for the iPad's Retina display.
7.5mm thin, 20 percent thinner than outgoing model.
9.7-inch Retina display with a smaller bezel. 43 percent thinner.
Lighter as well: 1 pound, down from 1.4 pounds. Very light!
M7 motion co-processor as well.
Up to 8x faster performance, 72x faster graphics performance.
Faster WiFI, with MIMO for multiple antennas for 2x speed 802.11ac More LTE bands
5MP iSight, FaceTime HD camera with larger pixels, dual microphones, 1080p HD video recording, improved backside illumination on the sensors
10hr battery life
Comes in silver and white, and space gray and black.
Replaces the existing full-sized iPad. Starts at $499 for 16GB WiFi, $629 to add in LTE
iPad Air ships November 1st in a huge list of countries, including China in the first wave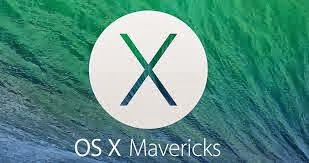 Finally has Apple announced the final version of OS X 10.9 Mavericks, with a lot of new features. One of them is a new multitasking feature that saves battery life by putting apps that you don't use at the moment in a kind of sleep mode, so that they don't use any power anymore. When you then need to use these apps again, they start immediately, so you will not see or feel any difference. It will not slow down your productivity, just give you more battery life.
Another feature is a new way to keep users engaged with your website. You can now use the Apple Push Notifications Service to send notifications to your website users through popup alerts, the notifications will appear in your desktop and in OS X's Notification Center even when Safari isn't running. Safari Push Notifications work just like push notifications for apps. They display your website icon and notification text, which users can click to go right to your website.
Another new feature is the iCloud Keychain, it takes your saved passwords and credit card numbers in OS X, and makes them available on all your iOS devices.
OS X 10.9 is available from today, and it's totally free. Free for existing users.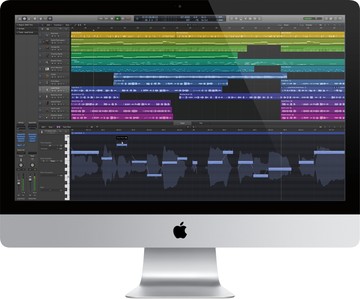 Apple has announced the release of Logic Pro X, featuring a new interface designed for pros, powerful new creative tools for musicians, and an expanded collection of instruments and effects.
Logic Pro X includes Drummer, a revolutionary new feature that provides a virtual session player that automatically plays along with your song in a wide variety of drumming styles and techniques, and Flex Pitch, which provides integrated pitch editing for audio recordings. Apple also introduced Logic Remote, an innovative new way to play and control Logic Pro X from your iPad®, giving musicians the flexibility to create and mix their music from anywhere in the room.
"Logic Pro X is our most powerful version yet, with advanced tools and a modern new interface designed to streamline the process of creating professional quality music," said Philip Schiller, Apple's senior vice president of Worldwide Marketing. "Musicians are going to love creative new features like Drummer, Flex Pitch, Track Stacks and the Arpeggiator."

"Logic Pro was critical to writing and recording our debut album Night Visions, so we couldn't wait to get our hands on Logic Pro X," said Wayne Sermon, guitarist of the Platinum-selling band Imagine Dragons. "We love the new design, and the creative features of Logic Pro X have already been inspiring us to write new material while we're on tour."
Logic Pro X has been designed with a modern new look while preserving and expanding the power and features that professional users rely on. The streamlined interface provides access to advanced tools and functionality for more technical tasks, or can be hidden to allow musicians to focus on being creative. Flex Pitch helps users fix out-of-tune vocals and even change the melodies of recorded audio by manipulating individual notes within an audio waveform. Track Stacks lets you organize and collapse multiple tracks into one, or can be used to create rich, layered instruments. Smart Controls allow you to manipulate multiple plug-ins and parameters with a single move for quick and powerful sound design. An improved Mixer helps manage mix sessions more efficiently, with increased visibility into signal flow and dynamics and faster ways to manipulate channel inserts.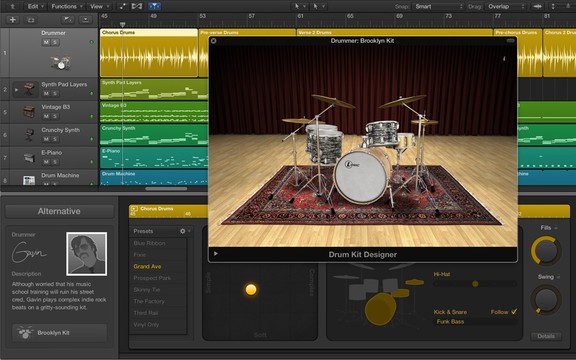 Logic Pro X provides a collection of new creative tools for songwriting and music production. Drummer delivers professionally produced, realistic drum tracks that respond to your direction and can perform millions of unique grooves in rock, alternative, songwriter and R&B genres. Drummer is powered by the performances and sounds of some of the industry's top session players and recording engineers, including legendary mixer/producer Bob Clearmountain, who has worked with the Rolling Stones, Bruce Springsteen and David Bowie. Designed to work with Drummer, the new Drum Kit Designer plug-in lets you build your own custom kit using a diverse collection of professionally recorded snare drums, toms, hi-hats and cymbals that you can mix, match and fine tune to get the right drum sound for your song.
Logic Pro X expands Logic Pro's rich collection of synthesizers and keyboards with more new instruments. The Arpeggiator is one of nine new MIDI plug-ins and can transform a simple keyboard chord into an elaborate performance. The new Retro Synth emulates some of the most popular classic synthesizer tones from the 70s and 80s, and Vintage Keyboards offer realistic models of electric pianos, B3 organs and clavs, with sophisticated tone-shaping controls. Bass Amp Designer allows bass players to play and record using vintage and modern bass amps, with cabinets and microphones that can be configured to build a custom bass rig. Logic Pro X also features an entirely new Sound Library with an updated loop collection and over 1,500 instrument and effect Patches that make creative use of Track Stacks, Smart Controls, the Arpeggiator and other new plug-ins.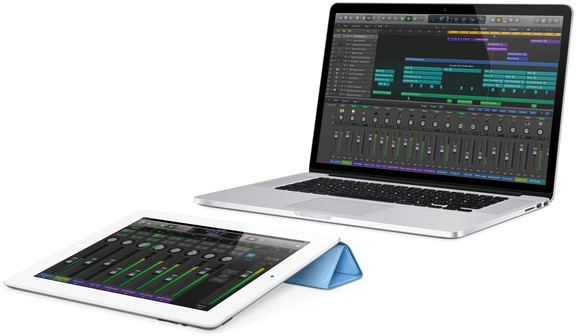 Logic Remote is an innovative new way to extend the creative power of Logic by using your iPad. Designed to take full advantage of the iPad Multi-Touch™ display, Logic Remote gives users new ways to record, mix and even perform instruments in Logic Pro X from anywhere in the room, turning their iPad into a keyboard, drum pad, guitar fretboard, mixing board or transport control.
MainStage® 3, a major update to MainStage, is the live performance companion app for Logic Pro X, turning the Mac® into a live rig that makes it easy to bring sounds from the studio to the concert stage. MainStage 3 features a new user interface and maintains compatibility with the new Logic Pro X plug-ins, Patches and Smart Controls.
Logic Pro X and MainStage 3 are available to purchase for $199.99 USD and $29.99 USD, respectively. Logic Remote is available as a free download from the App Store.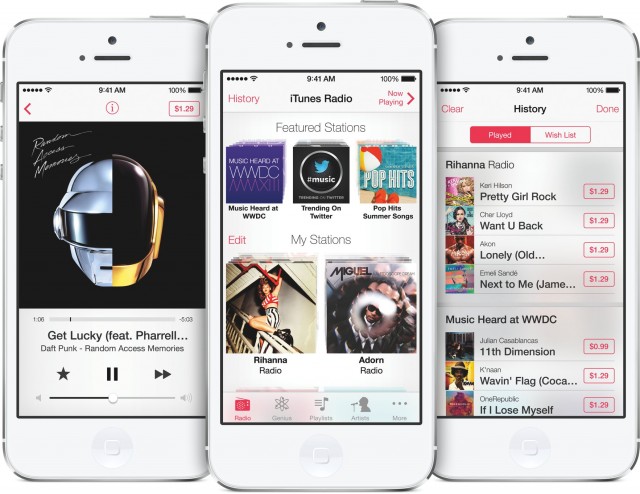 "Whether it's an exclusive single from an up-and-coming band or a pre-release stream of an entire album, iTunes Radio has it all. iTunes Radio will also be home to special events including live streams direct from the iTunes Festival in London and other exclusive iTunes Sessions."
So will this be the death sentence for the likes of Spotify, Pandora and Last.fm – perhaps / perhaps not. It will all boil down to the catalogues available, niche segmentation on music, ability to differentiate and size of user base, but it is clear that this will have an impact going forward. What may lie in favor of the existing players is that Apple will most likely not be an indie lover, as share holder profits come first and one may expect that there will be room for those who really differentiate on music – not just music for the masses. There's reason to assume this may be a long game going forward. While musicians may well wind up being as impoverished as always, the companies serving up the streams might eventually want to profit – Spotify for one is still chasing growth rather than profit, something that might have to change now.
"It's the music you love most and the music you're going to love, and you can easily buy it from the iTunes Store with just one click."
Apart from iRadio we were also treated with the all time fattest Mac Pro to date: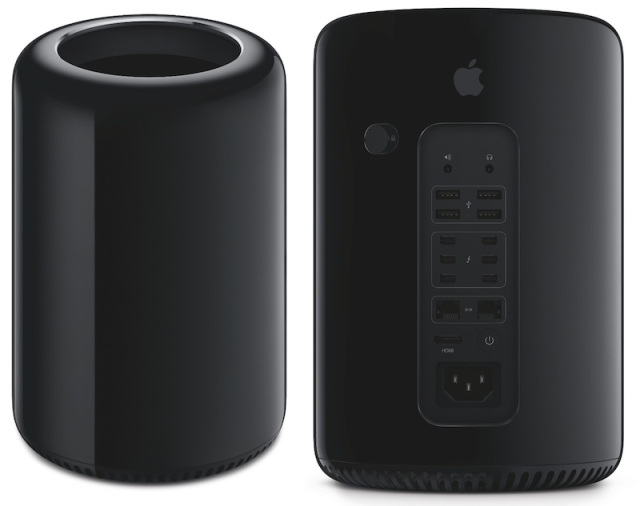 The next generation Mac Pro is architected around an ingenious unified thermal core that allows the desktop to efficiently share its entire thermal capacity across all the processors. The result is a pro desktop with breakthrough performance packed into a design that is one-eighth the volume of the current Mac Pro.
face-meltingNext generation Intel Xeon E5 processors with up to 12 core configurations deliver double the floating point performance. With two AMD FirePro workstation-class GPUs, the all-new Mac Pro is up to 2.5 times faster than the current Mac Pro and delivers up to an amazing 7 teraflops of compute power.
The new Mac Pro also features PCIe-based flash storage that is up to 10 times faster than conventional desktop hard drives and includes the latest four-channel ECC DDR3 memory running at 1866 MHz to deliver up to 60GBps of memory bandwidth. With all that power, the new Mac Pro lets you seamlessly edit full-resolution 4K video while simultaneously rendering effects in the background.
The next generation Mac Pro is the most expandable Mac® ever built. With six Thunderbolt 2 ports that can deliver up to 20Gbps of bandwidth to each external device, Mac Pro is perfect for connecting to external storage, multiple PCI expansion chassis, audio and video breakout boxes, and the latest external displays, including 4K desktop displays. Each of the six Thunderbolt 2 ports supports up to six daisy-chained devices, giving you the ability to connect up to 36 high-performance peripherals. Thunderbolt 2 is completely backwards compatible with existing Thunderbolt peripherals, and allows you to transfer data between Macs faster and easier than ever.
iOS 7: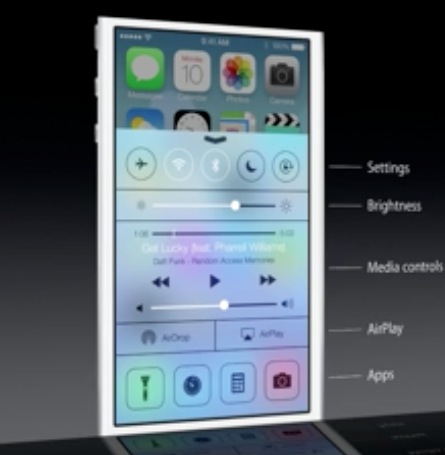 Well of course iOS has gotten a well deserved and long awaited face lift, but looking specifically at it from a music creation perspective the news are meager, but three things stand out though –
Multiple pages in folders
Multitasking for all apps
Automatic app updates will be a good thing
This is the October 8 version the getting started with logic video.
More info here on Logic Pro >>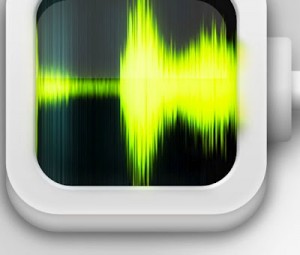 "This morning, Apple finished reviewing the first version of Audiobus, and it has been approved.
We've been working with a small group of third party developers that we already have a close connection with because we want to make sure that those apps can serve as examples for all the other developers (currently more than 400) for how to implement Audiobus.
Once our initial community of developers have finished the Audiobus integration, we'll be all launching together and opening up the SDK to the public."
So what is it?
Audiobus will allow the audio of one app to be process by another. You will be able to process your iOS synths with other synths and effects. Until now you could only run them in parallel and you could only sync or control them via virtual MIDI. Audiobus will fix this going forward.
Slightly off topic, but thought it still quite interesting to share with you all
Assembly Summer 2012 Real wild demo competition entry, 1st place.
Platform: Apple Lisa 2/10
Notes: Technique: Custom hardware for audio card and DVI output, otherwise unmodified Lisa 2/10
Title: Introducing the iLisa
Author: Art: lroop, mdille3, scgruber, uG/bG Staff; Code: awesie, kbare, mdille3, mkasick, tylerni7; Hardware: kbare, lroop, mdille3; Music: coda, kbare, Rick Astley
Blip Interactive has released a Mac OS X version of its popular iOS virtual studio, NanoStudio.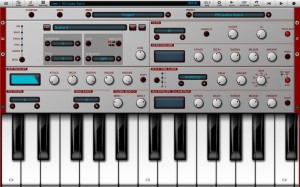 NanoStudio, the award winning music production app for iOS, is now available on the Mac App Store! Transfer your NanoStudio projects between iOS, OS X and Windows to make music wherever and whenever it suits you. Made a banging tune on your computer and need to go out? Email it to your phone and just carry on where you left off! NanoStudio has virtual analogue synths, sample trigger pads, a comprehensive sequencer, a sample editor, a mixer and multiple effects all integrated into a single application. Record your ideas in real time, mix synth layers with samples, compose and arrange your tune using the powerful sequencer and bring the mix alive with effects such as reverb, compression and EQ. Transfer projects between your computer and your iOS device, or use NanoStudio's comprehensive audio mixdown options and export features to get your ideas over to your favourite desktop DAW.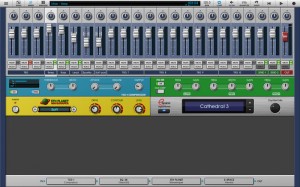 Key Features:
NanoStudio has virtual analogue synths, sample trigger pads, a comprehensive sequencer, a sample editor, a mixer and multiple effects all integrated into a single application.
Record your ideas in real time, mix synth layers with samples, compose and arrange your tune using the sequencer and bring the mix alive with effects such as reverb, compression and EQ.
You can transfer projects between your OS X or Windows computer and your iOS device, or use NanoStudio's audio mixdown options and export features to get your ideas over to your favourite desktop DAW.
Other features:
Eden synth (also plays samples) – single or dual keyboards, XY controllers, pitch bend and accelerometer control
Sequencer with up to 64 tracks and a piano roll editor for note, velocity and controller events, all with undo/redo
TRG-16 sample trigger pads
Sampling and resampling, sample editor and effects processor with undo/redo
Mixer with 4 inserts per channel, 2 global send busses and volume/pan automation on every channel
Transfer samples, final mixes and individual track mixdowns to your Mac/PC using NanoSync or email
MIDI input
Built in help
It's free  – so check it out in the Mac App Store