Used: iPad Mini, Garageband, Amplitube, iRig, Ibanez Mikro, iRig Mic. Music & Lyrics by Kraftwerk Ⓟ
Cover by Alex Agrico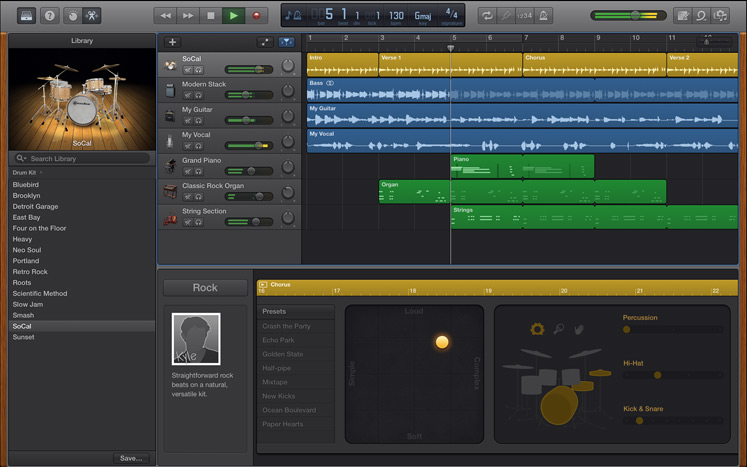 GarageBand for Mac has received its biggest update ever with a fresh new look, all new Sound Library, and new features, like Drummer and Smart Controls, giving you everything you need to easily make a great-sounding song.
GarageBand for iOS has been updated to match the look and feel of iOS 7 and taps the power of 64-bit to bring musicians a full recording studio with up to 32 tracks. With iOS 7 Inter-App Audio you can record third-party music apps right into GarageBand, and AirDrop allows you to wirelessly share your song projects with other iOS users so you can work on songs together. iCloud helps keep your song projects up to date across your devices, and users can start a song on iOS and pick up where they left off using GarageBand for Mac.
What's New in GarageBand for iOS v2.0:
All-new streamlined design.
Create a song with up to 32 tracks* using Touch Instruments, audio recordings, and loops.
Record compatible Third-Party music apps using Inter-App Audio in iOS 7.
Drag and drop audio recordings to create Sampler instruments.
Support for AirDrop in iOS 7.
64-bit support.
Pricing & Availability
GarageBand for Mac and iOS are free for all OS X Mavericks and iOS 7 users. Additional GarageBand instruments and sounds are available for a one-time in-app purchase of $4.99 for each platform. More info here >>

Apple has presented a new, slimmer iPad, the iPad Air, that is designed more like the iPad mini. The new iPad Air has the same 64-bit A7 chipset as the iPhone 5S, that is branded the A7X, with a slightly upgraded SOC that is optimized for the iPad's Retina display.
7.5mm thin, 20 percent thinner than outgoing model.
9.7-inch Retina display with a smaller bezel. 43 percent thinner.
Lighter as well: 1 pound, down from 1.4 pounds. Very light!
M7 motion co-processor as well.
Up to 8x faster performance, 72x faster graphics performance.
Faster WiFI, with MIMO for multiple antennas for 2x speed 802.11ac More LTE bands
5MP iSight, FaceTime HD camera with larger pixels, dual microphones, 1080p HD video recording, improved backside illumination on the sensors
10hr battery life
Comes in silver and white, and space gray and black.
Replaces the existing full-sized iPad. Starts at $499 for 16GB WiFi, $629 to add in LTE
iPad Air ships November 1st in a huge list of countries, including China in the first wave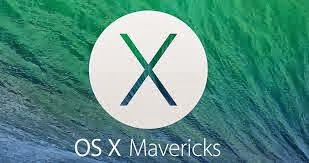 Finally has Apple announced the final version of OS X 10.9 Mavericks, with a lot of new features. One of them is a new multitasking feature that saves battery life by putting apps that you don't use at the moment in a kind of sleep mode, so that they don't use any power anymore. When you then need to use these apps again, they start immediately, so you will not see or feel any difference. It will not slow down your productivity, just give you more battery life.
Another feature is a new way to keep users engaged with your website. You can now use the Apple Push Notifications Service to send notifications to your website users through popup alerts, the notifications will appear in your desktop and in OS X's Notification Center even when Safari isn't running. Safari Push Notifications work just like push notifications for apps. They display your website icon and notification text, which users can click to go right to your website.
Another new feature is the iCloud Keychain, it takes your saved passwords and credit card numbers in OS X, and makes them available on all your iOS devices.
OS X 10.9 is available from today, and it's totally free. Free for existing users.
How to make a pattern for Chill out (like Cafe del Mar)? This video shows you how to start with GarageBand 1.4 for iPad. Download the song data for free: www.app-sound.com/free
This video demonstrates how a Garageband song created collaboratively using sample loops of Sweet Home Alabama on a mac and an ipad Garageband easily converted into a series of Roland MC-808 compatible sample loops and transferred quickly onto the MC-808.
1. The song is put together collaboratively using Garageband on the Mac and iPad
http://www.youtube.com/watch?v=qDIosK…
2. The samples are then extracted from the song using the fixed1t Garageband Archive audio sample extractor
http://www.youtube.com/watch?v=Zhj88r…
The samples are then reviewed to check their type using the fixed1t audio samples data lister
http://www.youtube.com/watch?v=gNMJEc…
The Samples are then converted into WAV, little endian files and renamed in line with the MC-808 fast sample loading convention, using the fixed1t Garageband to MC-808 sample convertor.
The video then shows you have to get the sample quickly onto the MC-808 and play them.
Please rate the video and leave comments.
Cheers fixed1t
http://www.insideout.co.jp/apps/
The applications that we used…..
– Super Manetron (Mellotron Simulator for iPhone /iPad) as Flute, Brass, Cello
– GarageBand for iPad as Giutar, Bass
– Sitar Piano as Sitar
– iLectric as Piano
Personnel:
Koya Matsuo – Voice
Junichiro Yamasaki – iPad
Super Manetron is the Mellotron for iPhone and iPod touch. Genuine sound sampled from Mellotron M400S (serial number 761) manufactured in the 70's.
The Mellotron is an vintage sampling keyboard by analog tapes. The Mellotron had a strong impact on rock music, becoming a trademark sound of the progressive rock bands.
You can see an internal mechanism (tape running animation) and can enjoy simulation of Mellotron with eyes and an ear.
Features:
– Core MIDI compatible
– 35Kyes of sampled sounds from Mellotron M400S serial number 761 manufactured in the 70's.
– 8 sec PCM full sampling sounds each Key
– Scrollable Keyboard & dual Keyboards with switchable key width
– No loop sounds (real performance feeling)
– Pre-loaded with 7 instruments including Flute, 3violins (Strings), Cello, Oboe, 8-voice Choir, Vibes, Brass
– 7 instrument sounds can be set as the favorite position of A,B,C position on setting screen
– A+B, B+C mix sounds position
– The sound of motor and tape rewind mechanical noise
– Tape running animation
– Pitch control by accelerometer
– Built-in Reverb that simulates spring reverb
– Original sounds source are recorded by 96KHz/24 bits
– Compiled under the supervision of Fumitaka Anzai (Famous vintage keyboard player & collector of Japan)
The Arpeggionome Pro is a professional MIDI controller designed specifically for iPad. With the Arpeggionome Pro, you design and perform intricate patterns of musical notes at incredible speeds and with precise control.
Introductory Sale: 25% Off! Offer valid until January 15th!
http://itunes.com/apps/arpeggionomepro
Download Audio: http://soundcloud.com/alexandernaut
Tutorial on how to use Cubasis with GarageBand and FL Studio instuments. Take the best from all your app.
Download Cubasis from AppStore – goo.gl/Zq89a
Read iPad DAW's Overview – goo.gl/ZMmis
Find more on ipadmusic.com
If you're wondering how the app was built, Airborne Beats was programmed in C++ using g-speak and the creative coding library, Cinder. As for hardware, we pulled together one screen equipped with an IR sensor, a "commodity" computer (with g-speak installed), and speakers. For the most-part, it was designed and developed by a single person. Although Airborne Beats is currently a demo, the users of this application could be composers, DJs, or perhaps even children or educators. And the ability to recognize multiple hands opens up some unique collaborative possibilities (guest DJ, anyone?).
Apple has released an update to GarageBand for iOS.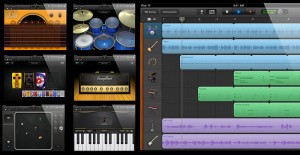 Here's what's new in GarageBand 1.3:
Create custom ringtones and alerts for your iPhone, iPad, or iPod touch*
Import songs from the Music library on your iOS device
Play or record with GarageBand in the background while using other apps**
Addresses a number of minor issues related to overall performance and stability
* Requires iOS 6 or later
** Requires iPhone 4S, iPad 2 or later
GarageBand is $4.99 in the App Store.
Mobile Keys™ are the first keyboards that directly connect to iOS devices plus Mac and PC computers—so you can use the same great-feeling controller any time you want to create. See how easy it is to start an idea using Core MIDI apps on your mobile device, then finish it on your Mac or PC using software such as GarageBand.