http://www.insideout.co.jp/apps/
The applications that we used…..
- Super Manetron (Mellotron Simulator for iPhone /iPad) as Flute, Brass, Cello
- GarageBand for iPad as Giutar, Bass
- Sitar Piano as Sitar
- iLectric as Piano
Personnel:
Koya Matsuo – Voice
Junichiro Yamasaki – iPad
Super Manetron is the Mellotron for iPhone and iPod touch. Genuine sound sampled from Mellotron M400S (serial number 761) manufactured in the 70′s.
The Mellotron is an vintage sampling keyboard by analog tapes. The Mellotron had a strong impact on rock music, becoming a trademark sound of the progressive rock bands.
You can see an internal mechanism (tape running animation) and can enjoy simulation of Mellotron with eyes and an ear.
Features:
- Core MIDI compatible
- 35Kyes of sampled sounds from Mellotron M400S serial number 761 manufactured in the 70′s.
- 8 sec PCM full sampling sounds each Key
- Scrollable Keyboard & dual Keyboards with switchable key width
- No loop sounds (real performance feeling)
- Pre-loaded with 7 instruments including Flute, 3violins (Strings), Cello, Oboe, 8-voice Choir, Vibes, Brass
- 7 instrument sounds can be set as the favorite position of A,B,C position on setting screen
- A+B, B+C mix sounds position
- The sound of motor and tape rewind mechanical noise
- Tape running animation
- Pitch control by accelerometer
- Built-in Reverb that simulates spring reverb
- Original sounds source are recorded by 96KHz/24 bits
- Compiled under the supervision of Fumitaka Anzai (Famous vintage keyboard player & collector of Japan)
The Arpeggionome Pro is a professional MIDI controller designed specifically for iPad. With the Arpeggionome Pro, you design and perform intricate patterns of musical notes at incredible speeds and with precise control.
Introductory Sale: 25% Off! Offer valid until January 15th!
http://itunes.com/apps/arpeggionomepro
Download Audio: http://soundcloud.com/alexandernaut
Tutorial on how to use Cubasis with GarageBand and FL Studio instuments. Take the best from all your app.
Download Cubasis from AppStore – goo.gl/Zq89a
Read iPad DAW's Overview – goo.gl/ZMmis
Find more on ipadmusic.com
If you're wondering how the app was built, Airborne Beats was programmed in C++ using g-speak and the creative coding library, Cinder. As for hardware, we pulled together one screen equipped with an IR sensor, a "commodity" computer (with g-speak installed), and speakers. For the most-part, it was designed and developed by a single person. Although Airborne Beats is currently a demo, the users of this application could be composers, DJs, or perhaps even children or educators. And the ability to recognize multiple hands opens up some unique collaborative possibilities (guest DJ, anyone?).
Apple has released an update to GarageBand for iOS.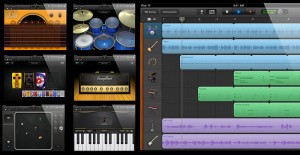 Here's what's new in GarageBand 1.3:
Create custom ringtones and alerts for your iPhone, iPad, or iPod touch*
Import songs from the Music library on your iOS device
Play or record with GarageBand in the background while using other apps**
Addresses a number of minor issues related to overall performance and stability
* Requires iOS 6 or later
** Requires iPhone 4S, iPad 2 or later
GarageBand is $4.99 in the App Store.
Mobile Keys™ are the first keyboards that directly connect to iOS devices plus Mac and PC computers—so you can use the same great-feeling controller any time you want to create. See how easy it is to start an idea using Core MIDI apps on your mobile device, then finish it on your Mac or PC using software such as GarageBand.
Apart from the launch of the new iPad, Apple has also released GarageBand 1.2, a significant update that adds MIDI note editing – a feature that's been on most users' wish list from the start.
Previously, the only way you could fix a mis-timed recording was to use GarageBand's quantise features, but note-by-note editing is now confirmed.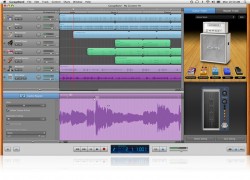 This isn't the only new feature, we also have a new Touch Instrument in the shape of Smart Strings, while Jam Sesssion enables you to play with up to three other GarageBand for iOS users wirelessly.
Here are the highlights:
GarageBand 1.2 introduces Jam Session, a feature that lets groups of people wirelessly connect their iOS devices to play instruments and record live music together. Jam Session automatically synchronizes the tempo, key and chords of your Touch Instruments. After jamming, everyone's tracks are automatically collected on your iOS device for you to edit and mix.
GarageBand also introduces Smart Strings, a new Touch Instrument that allows you to 'play' a string orchestra with one finger.
The new Note Editor is probably the most welcome addition. It allows you to fine tune a Touch Instrument recording instead of replaying it from scratch.
Integration with iCloud keeps your GarageBand songs up to date across your iOS devices, and you can share your finished songs directly to Facebook, YouTube and SoundCloud.
GarageBand 1.2 will be released today for $4.99. Updates are available for free to existing customers.
Well although it is in Japanese I think the message is clear
GarageBand Smart Instruments Tips for iPhone / iPod touch / iPad Part1. Today I introduce to you "Smart Drums". That is great tool for generating drum patterns. No need to tap any drum pad. Only put these icons. お待たせしました、以前より要望の高かった誰でもできるガレージバンド講座(iOS向け)でございます。全5回のうちの第一回目となる今回は、スマートド ラムスを使って楽
­勝でドラムパターンを組んでしまう方法です。リズム感なくても全然オッケー!
アプリのダウンロードは以下のリンクよりどうぞ。
http://bit.ly/vbMT3R
詳細ブログ記事:簡単ガレージバンド講座その1 スマートドラムスで打て!
http://gajetdaisuke.com/archives/111203_154737.php
Music Production with iPad and iPod Touch
Featured SW:
IRig Midi Garage Band Multitrack DAW Geo Synth Boss gt 8 ipad2
More info here:
http://soundcloud.com/giuliano-soares/demo-song
http://musicapps.com.br/forum/viewtopic.php?f=21&t=79&p=227#p227
iRig MIDI is a compact standard Core MIDI interface for iOS that connects any MIDI compatible device to the iPhone, iPod touch and iPad. iRig MIDI connects MIDI keyboards, drum machines, drum pads, pedal boards and more to an iOS device to control not only the included SampleTank FREE* but also a world of MIDI-compatible apps such as GarageBand. You can also use iOS apps to control external MIDI equipment such as sound modules, DAWs or lighting systems right from the mobile device. iRig MIDI is the only compact iOS MIDI interface sporting 3 MIDI ports: IN/OUT/THRU. These connect to any standard MIDI jacks using the included 2 x 1.6m/5.2′ cables. iRig MIDI also has 2 LEDs for displaying the MIDI activity on the IN and OUT ports.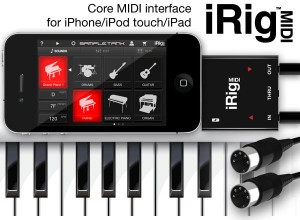 iRig MIDI also exclusively provides a micro USB port — with included cable — that connects to any standard USB power supply source so that the iOS device can stay fully powered during long sessions.
Features:
Standard Core MIDI interface connects any MIDI hardware device to Core MIDI-compatible apps like SampleTank FREE and GarageBand®
Directly connect MIDI keyboards, synthesizers, drum machines, drum pads, pedal boards and more using the included 2 x 5.2' (1.6 m) MIDI 5-pin DIN cables
3 MIDI ports: IN/OUT/THRU
2 LEDs for MIDI IN/OUT activity display
Micro USB port can charge the iOS device while in use
Free apps included*: SampleTank FREE* the powerful sample-based sound module app and iRig MIDI Recorder FREE*