The personalities Eric Robinson and David Nixon introduce us to the musical instrument the Mellotron, London.
Various shots of large country garden. L/S of swimming pool. L/S of garden with white doves on the grass. M/S of large country cottage. The narrator introduces us to the personality Eric Robinson who explains to us from his living room armchair the new instrument we are about to see which can make all the sounds of an orchestra, but can be played by one person – The Mellotron.
The camera pans as Eric walks to introduce us to his son-in-law the magician David Nixon. M/S of David Nixon seated at the Mellotron that looks very much like a piano or organ. Eric and David talk about the complexities of the machine. Then David gives a demonstration and lets rip with two fingers only to produce an awesome sound!. C/U of Nixon's hands as he twists a few knobs to add a trombone sound, and starts to play again.
M/S of Eric asking David what other rhythms the machine can play. David replies by launching into a French accordion with a Viennese waltz. C/U from inside the machinery of the Mellotron. We see the various components at work as David plays.
Finally, Eric introduces us to Geoff Unwin an expert pianist to show what the machine can really do. M/S of Geoff playing great piece of music, the Mellotron produces a variety of amazing sixties musical sounds. M/S of Geoff finishing the piece. He turns to the camera and smiles.
Mellotron 4000D Mini First Look
The M4000D MINI Mellotron was developed to meet the needs of keyboardists who want a small, light digital Mellotron. The Mini is also designed to fit perfectly on top of the regular M4000D to make a dual-manual Mellotron.
Features:
High-quality semi-weighted Fatar piano style keyboard with velocity sensitivity. No aftertouch.
Lightweight sheet metal cabinet, fits perfectly on the M4000D, total weight only 21 pounds (9.5 kg).
Same output signals as the M4000D, but only unbalanced 1/4″ connectors.
The weight is 9.5 kg instead of 17.5 kg for the regular M4000D.
Dimensions: 807x329x76 mm
For more information: Mellotron site.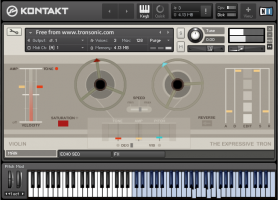 Tronsonic has released The Expressive Tron, a free sample library for Native Instruments Kontakt (5.2.1+).
The Expressive Tron features 4 tape banks from an original (un-serviced) Mellotron M400: Flute, Strings, Cello and Male Choir:
These are not pristine Mellotron samples – re-recorded to worn tape for characterful sound design.
Utilises Tronsonic's 'microtape plus' format, which features tape echo style sequencer and fx section.
5 patches per bank; 5 multi patches.
Visit tronsonic.com for your free download – no need to register.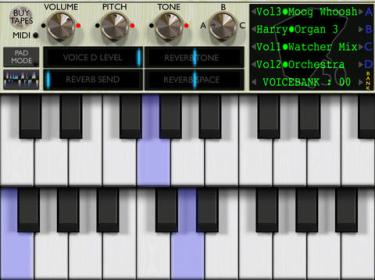 Omenie has released M3000 Free Edition – a 'freemium' virtual Mellotron for the iPad.
M3000 Free Edition is a fully-functional recreation of Streetly Electronics' M4000 tape-replay instrument. Compared to the full version, the app offers just 5 tapes from Streetly Electronics' production library, all authentic mellotron voices. In-App Purchases allow the full voice set of the 50th Anniversary Edition to be downloaded, and many other voices as well.
Apart from the limited voice set included with the app, no functionality is removed in this free edition. MIDI and AudioBus is fully functional, including 'Two Trons' mode where 2 different MIDI channels can control the A/B/C and D voices.
M3000 Free Edition is a free download
Omenie has updated its virtual Mellotron for iPad, Mellotronics M3000 HD, with new 'tapes' from the Streetly Electronics archive. The additional libraries are available as in-app purchases, details below:
Now your Mellotronics M3000 can be boosted with dozen of original voices from the Streetly archive – including Harry Chamberlin's original voice tape – as well as some freshly-recorded voices, very clean and very flexible, designed for performance and articulation.
https://itunes.apple.com/gb/app/50th-…
Featured Sounds:
Mike Pinder Smooth Organ
Clare Lindley Violin Collection
Clare Lindley, ferocious and fabulous fiddler with Stackridge, showcases her mellower classical side in this glorious, rich and nuanced collection of voices for the M3000. Recorded and engineered in Bath at the studio of her bandmate Glenn Tommey, the Clare Lindley Violin Collection is a unique collection of string sounds, and is the first time a large set of 35 semitone mellotron tapes has been created around a single artist's performances.
By recording everything in a single, marathon session, we have maintained excellent tonal consistency of sound between the 7 unique voices, which are also provided pre-mixed as 3 'ensemble' voices to provide 10 voices in total.
As is traditional, the test tune is LJ Rich's wonderful '30 Shades of Tron', the official M3000 HD theme tune. Movement between AB and C is happening during 'Oscillotron' mode (when the touch rotary control is off-screen) by manipulating the the Mod wheel on the attached MIDI keyboard. ABC tron is moving betwen Pizzicato, Spiccato and the 'soft, no vibrato Arco' voices, Tron D plays 'Ensemble1', which is a blend of 2 different 'soft, no vibrato Arco' voices, and has a remarkable French Horn / Colliery Brass kind of sound. The very soft attacks lead to a surprisingly non-violin sound, which forms beautiful low-level beds underneath just about anything, and the surprising nature of this particular voice was a real bonus, discovered only during mastering of the recordings.
The Clare Lindley Violin Collection is in Review with Apple, and will be available an in-app purchase for owners of Mellotronics M3000 HD running iOS 7 or above.
The Clare Lindley Violin Collection is in Review with Apple, and will be available an in-app purchase for owners of Mellotronics M3000 HD running iOS 7 or above.
Mellotron sample recorded from an iPad running Super Manetron.
Original music featuring ARP2600, Moog Voyager, Mellotron, D6 Clavinet, Nord Electro 3 and Fender Rhodes
French audio developers UVI have announced the immediate availability of Mello, a free software recreation of the iconic tape-based Mellotron.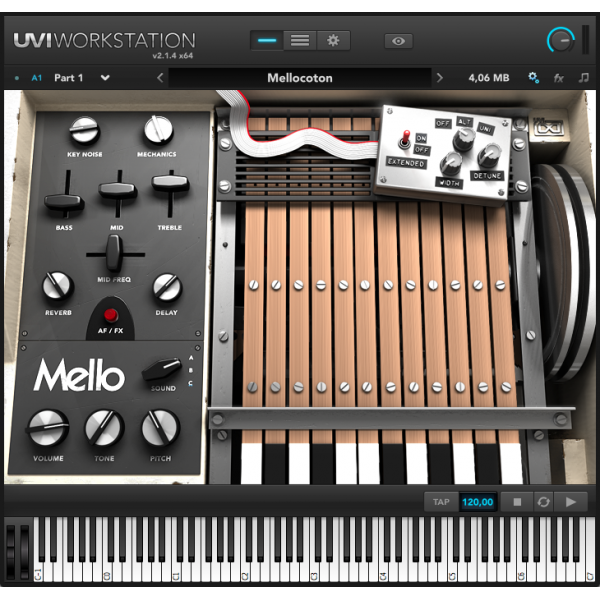 The Mellotron was made famous by John Lennon, and in the spirit of the Lennons' ongoing humanitarian effort, UVI are pledging to match donations made by its customers to the Japanese Red Cross to help survivors of the Fukushima earthquake over the next three months, during which time Mello (normally $99) will be available for free.
For those unfamiliar with the Mellotron, it was one of the earliest samplers and used tape to capture the desired sounds. When a key was pressed, the Mellotron would pull a section of tape through a magnetic play head to produce a sound. Originally built in 1963, the Mellotron became popular throughout the '60s and 70s with bands and artists such as The Beatles, Pink Floyd and David Bowie, and although they fell out of fashion for a time, they have been used more recently in big tracks from Radiohead and Vampire Weekend.
UVI have multisampled dozens of original tapes to create the most faithful recreation of the original intstrument. Being a sampler, the Mellotron had a whole range of available sounds and Mello provides 28. These are: Brass, CelestaAndVoice, Cello1, Cello2, ChoirFemale, ChoirMale, ChoirTron, ChurchOrgan1, ChurchOrgan2, ChurchOrgan3, Clarinet, Flute1, Flute2, Guit12Str, GuitElectricA, GuitElectricB, GuitSpanish, Harp, Oboe, Piano, Sax, Strings1, Strings2, Strings3, Strings4, Vibraphone1, Vibraphone2, and Viola.
Free iLok from UVIUVI's Mello requires an iLok, which UVI are also doing a great deal on. If you buy an iLok from their web site you'll receive a coupon for the value of the iLok plus shipping ($78), which can then be redeemed against any future purchase from the UVI store.
For more information on the iLok deal, go here: http://www.uvi.net/en/store/ilok-smart-key.html
For more about Mello, go here: http://www.uvi.net/en/vintage-corner/mello.html
This year – 2013 for those watching in the future – marks the 50th anniversary of the first shipment of a mellotron from the Streetly Electronics factory in the midlands, UK.
To celebrate we've all been hard at work, preparing the 50th Anniversary Special Edition Version of Mellotronics M3000, which is in the App Store for review right now, and remains exclusive to the iPad.
Features :
Free upgrade for existing owners, backwards-compatible to iOS 5.1 – no lock-out for iPad 1 owners
16 voices in total, 35 chromatic 8 second tapes per voice, almost 200MBytes of samples
All samples are original Mellotron MKI, MKII, M400 and Chamberlin voices from the tape library of Streetly Electronics
3 new unlooped voices in this refresh – MKII Vibes, Rhodes and Piano
3 looping modes – unlooped, 5s loops (maximum fidelity) and 3s loops (very high fidelity, minimum memory footprint)
Looped modes support 4 simultaneous voices – ABC continuous blend plus D voice on chord pads
32 voicebanks each with 12 programmable chord pads
AudioBus support
CoreMIDI support over class-compliant USB or WiFi interfaces
MIDI responds to all channels : keys, pitch wheel, mod wheel, master volume, program change, midi notes 1-12 mapped to chord pads
New synthesis engine with 44.1kHz playback supports mix of looped and unlooped sounds – e.g infinite violins plus decaying piano
Variable 'Tape inching' for authentic factory-style calibration of note attack
Built-in stereoizing reverb engine
Tone control matched to M4000 analog tone
All-new retina graphics, now completely fills iPad display
All-new 'Oscillotron' waveform display, in soothing chill-out colour palette
Full voice list :
Church Organ
Boys Choir
Female Choir
Eight Choir
String Section
MKII Violins
Cello
MKII Flute
MKII Clarinet
Oboe
Tenor Sax
MKII Brass
Trombone
Piano
Rhodes
MKII Vibes
Demos featuring actual musicians playing actual music to follow, in the meantime, here is some parping and tooting.