Omenie has updated its virtual Mellotron for iPad, Mellotronics M3000 HD, with new 'tapes' from the Streetly Electronics archive. The additional libraries are available as in-app purchases, details below:
Now your Mellotronics M3000 can be boosted with dozen of original voices from the Streetly archive – including Harry Chamberlin's original voice tape – as well as some freshly-recorded voices, very clean and very flexible, designed for performance and articulation.
https://itunes.apple.com/gb/app/50th-…
Featured Sounds:
Mike Pinder Smooth Organ
Clare Lindley Violin Collection
Clare Lindley, ferocious and fabulous fiddler with Stackridge, showcases her mellower classical side in this glorious, rich and nuanced collection of voices for the M3000. Recorded and engineered in Bath at the studio of her bandmate Glenn Tommey, the Clare Lindley Violin Collection is a unique collection of string sounds, and is the first time a large set of 35 semitone mellotron tapes has been created around a single artist's performances.
By recording everything in a single, marathon session, we have maintained excellent tonal consistency of sound between the 7 unique voices, which are also provided pre-mixed as 3 'ensemble' voices to provide 10 voices in total.
As is traditional, the test tune is LJ Rich's wonderful '30 Shades of Tron', the official M3000 HD theme tune. Movement between AB and C is happening during 'Oscillotron' mode (when the touch rotary control is off-screen) by manipulating the the Mod wheel on the attached MIDI keyboard. ABC tron is moving betwen Pizzicato, Spiccato and the 'soft, no vibrato Arco' voices, Tron D plays 'Ensemble1′, which is a blend of 2 different 'soft, no vibrato Arco' voices, and has a remarkable French Horn / Colliery Brass kind of sound. The very soft attacks lead to a surprisingly non-violin sound, which forms beautiful low-level beds underneath just about anything, and the surprising nature of this particular voice was a real bonus, discovered only during mastering of the recordings.
The Clare Lindley Violin Collection is in Review with Apple, and will be available an in-app purchase for owners of Mellotronics M3000 HD running iOS 7 or above.
The Clare Lindley Violin Collection is in Review with Apple, and will be available an in-app purchase for owners of Mellotronics M3000 HD running iOS 7 or above.
Mellotron sample recorded from an iPad running Super Manetron.
Original music featuring ARP2600, Moog Voyager, Mellotron, D6 Clavinet, Nord Electro 3 and Fender Rhodes
French audio developers UVI have announced the immediate availability of Mello, a free software recreation of the iconic tape-based Mellotron.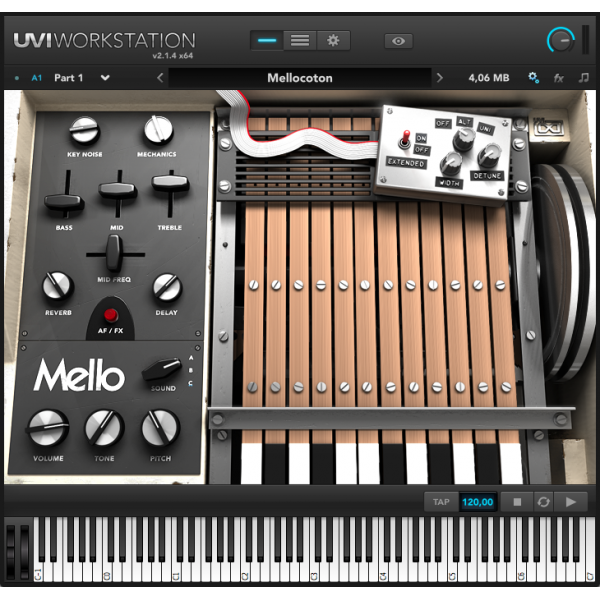 The Mellotron was made famous by John Lennon, and in the spirit of the Lennons' ongoing humanitarian effort, UVI are pledging to match donations made by its customers to the Japanese Red Cross to help survivors of the Fukushima earthquake over the next three months, during which time Mello (normally $99) will be available for free.
For those unfamiliar with the Mellotron, it was one of the earliest samplers and used tape to capture the desired sounds. When a key was pressed, the Mellotron would pull a section of tape through a magnetic play head to produce a sound. Originally built in 1963, the Mellotron became popular throughout the '60s and 70s with bands and artists such as The Beatles, Pink Floyd and David Bowie, and although they fell out of fashion for a time, they have been used more recently in big tracks from Radiohead and Vampire Weekend.
UVI have multisampled dozens of original tapes to create the most faithful recreation of the original intstrument. Being a sampler, the Mellotron had a whole range of available sounds and Mello provides 28. These are: Brass, CelestaAndVoice, Cello1, Cello2, ChoirFemale, ChoirMale, ChoirTron, ChurchOrgan1, ChurchOrgan2, ChurchOrgan3, Clarinet, Flute1, Flute2, Guit12Str, GuitElectricA, GuitElectricB, GuitSpanish, Harp, Oboe, Piano, Sax, Strings1, Strings2, Strings3, Strings4, Vibraphone1, Vibraphone2, and Viola.
Free iLok from UVIUVI's Mello requires an iLok, which UVI are also doing a great deal on. If you buy an iLok from their web site you'll receive a coupon for the value of the iLok plus shipping ($78), which can then be redeemed against any future purchase from the UVI store.
For more information on the iLok deal, go here: http://www.uvi.net/en/store/ilok-smart-key.html
For more about Mello, go here: http://www.uvi.net/en/vintage-corner/mello.html
This year – 2013 for those watching in the future – marks the 50th anniversary of the first shipment of a mellotron from the Streetly Electronics factory in the midlands, UK.
To celebrate we've all been hard at work, preparing the 50th Anniversary Special Edition Version of Mellotronics M3000, which is in the App Store for review right now, and remains exclusive to the iPad.
Features :
Free upgrade for existing owners, backwards-compatible to iOS 5.1 – no lock-out for iPad 1 owners
16 voices in total, 35 chromatic 8 second tapes per voice, almost 200MBytes of samples
All samples are original Mellotron MKI, MKII, M400 and Chamberlin voices from the tape library of Streetly Electronics
3 new unlooped voices in this refresh – MKII Vibes, Rhodes and Piano
3 looping modes – unlooped, 5s loops (maximum fidelity) and 3s loops (very high fidelity, minimum memory footprint)
Looped modes support 4 simultaneous voices – ABC continuous blend plus D voice on chord pads
32 voicebanks each with 12 programmable chord pads
AudioBus support
CoreMIDI support over class-compliant USB or WiFi interfaces
MIDI responds to all channels : keys, pitch wheel, mod wheel, master volume, program change, midi notes 1-12 mapped to chord pads
New synthesis engine with 44.1kHz playback supports mix of looped and unlooped sounds – e.g infinite violins plus decaying piano
Variable 'Tape inching' for authentic factory-style calibration of note attack
Built-in stereoizing reverb engine
Tone control matched to M4000 analog tone
All-new retina graphics, now completely fills iPad display
All-new 'Oscillotron' waveform display, in soothing chill-out colour palette
Full voice list :
Church Organ
Boys Choir
Female Choir
Eight Choir
String Section
MKII Violins
Cello
MKII Flute
MKII Clarinet
Oboe
Tenor Sax
MKII Brass
Trombone
Piano
Rhodes
MKII Vibes
Demos featuring actual musicians playing actual music to follow, in the meantime, here is some parping and tooting.
A demo and tutorial of this great Mellotron M400 simulator. Also some history and multi-tracking in Cubasis via Audiobus.
The rarest manufactured instrument – the extinct and impossible to find Birotron playing worn out mixed tapes of string section, brass, violas, choir, and flutes across the keyboard.
The Birotron (pronounced By-ro-tron) is a tape replay keyboard conceived by Dave Biro of Yalesville, Connecticut, USA, and funded by Rick Wakeman of the progressive-rock group Yes, and Campbell Soup Company-Pepperidge Farm Foods in the mid-late 1970s. A Mellotron-like instrument in the prototype stage, and intended for mass production – it was featured on a hit single and used on several albums and tours. It appeared in advertisements and received press in several newspapers as the next 'latest and greatest' keyboard instrument. It also received over 1000 advance orders from many prominent musicians worldwide including members of the Beatles and Led Zeppelin. Despite this success, it is now generally considered the world's rarest keyboard instrument in the genres of pop/rock music. It also retains the highest selling price for any Mellotron related keyboard, and since its inception, has been one of the most difficult to find, seldom seen, and least recorded instruments in the entire world.
"The musician is Chris Dale who very kindly let me do the video.
So what did this instrument sound like with a decent set of unworn tapes???? That is a mystery…..Sadly we may never know."
Featuring Hammond XK3-c, Leslie 3300, Moog Voyager, Arp 2600, D6 Clavinet, Mellotron Mk. VI
We go hands-on with the digital Mellotron re-creation that the keyboard world is abuzz about. Boutique one-trick pony? Maybe, but it does that one trick so exceptionally well that it's getting attention from the likes of Rami Jaffee (Wallflowers, Foo Fighters).
Some specifications:
It is a 24 bit digital uncompressed audio playback unit with ca 100 Mellotron and Chamberlin sounds built in. Extra cartridges will be available with 100 sounds each. It has a custom built full Mellotron style wood keyboard with depth sensitivity and polyphonic aftertouch out via MIDI. The front panel user inteface has 2 TFT-displays of high quality and are capable of showing pictures of the actual instruments. The dimensions of the cabinet are 34″x19.5″5.25″ (86x50x13.5cm) (WxDxH).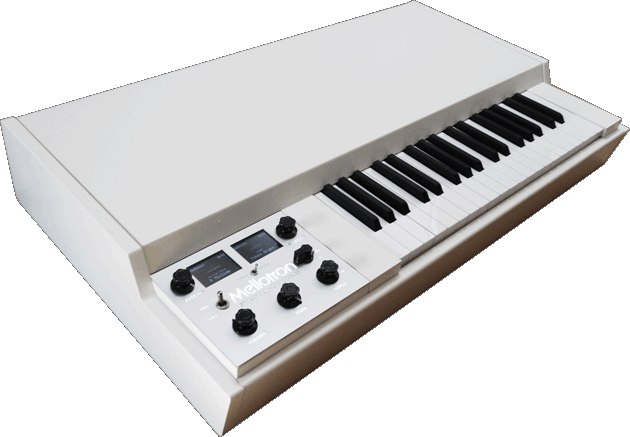 Here is some more info about the M4000D:

Mellotron style wooden keyboard with depth sensitivity and polyphonic aftertouch via MIDI out.
100 original Mellotron and Chamberlin lead sounds included, with IMMEDIATE access.
The sounds are taken from the original first-generation tape library giving the same sound quality as the original Mellotrons made in the 60s and 70s.
It has our very advanced and in-house developed streaming technology for uncompressed 24 bit audio reproduction.
The software and audio engine has taken 3 years to develop, but our concept of the digital Mellotron has been in development since the mid 90s. We bought parts of the original inventory from a company called 'Mellotron Digital'.
Furniture quality cabinet with hinged lid.
Expansion slot gives you 100 extra sounds on special compact flash cards, all from the original archives. There will be ca 8 expansion cards released with a large variety of sounds.
Two high-quality TFT displays and a backlit laser cut front panel.
Our very advanced and in-house developed streaming technology for uncompressed 24 bit audio reproduction.
Three gold plated balanced XLR outputs, all other connectors are gold plated for maximum reliablilty.
Dimensions: 859x501x135 mm, weight 17.5 kg.