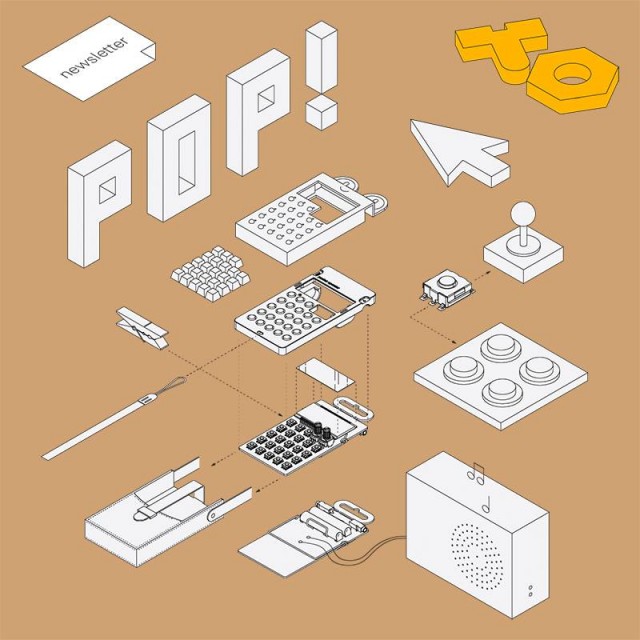 pocket operator project competition starts now –submit your ideas, videos or designs for the pocket operators to win a package of great prizes!
one project will be selected by us to win PO-12, PO-14, PO-16 and 3 t-shirts made by cheap monday for teenage engineering. see the prizes
here
.
send us your contributions via facebook, instagram or twitter (see details below). submit your entry before 2nd of june. we will publish the winner on 9th of june.
you can download the official measurements and CAD files for the pocket operators below. both 2D and 3D files are provided.happy creating!
Ally Mobbs added a beat repeat and big buttons to the PO12 so he could play it live.
more info here http://www.allymobbs.com/blog/?p=907
www.soundcloud.com/allythemobbs
Background video description:
a quick overdubed jam using all 3 pocket operators and Pianoteq as rhodes sound.
I used the DAW midi clock to send timing over to my Korg Volca (beats) who then sends a nice clear sync message to the pocket operators.
Added some reverb, a bit of panning and simple mastering
The final part of our mini series on the Teenage Engineering Pocket Operators, which was one of the most popular releases at NAMM. Gaz Williams, hooks them up together and see if they play nice
In the second of our Teenage Engineering Pocket Operator week series, Gaz Williams takes a look at the PO12 Rhythm drum machine
The mini series on the much anticipated Teenage Engineering Pocket Operators. Gaz Williams takes a look
A truly portable electronic setup consisted of a PO-14 from teenage engineering, a monotron Delay from Korg and a talking translator by an unknow brand bought in a fleamarket
Teenage Engineering show us their latest offerings, a trio of tiny stripped-down calculator-sized sequencers — each for only $59. There's the PO-12 Rhythm drum machine, the PO-14 Sub bass synth and the PO-16 Factory lead synth. We hear what they can do.
A quick look at the new, Nintendo Game & Watch-inspired, LCD display for the PO-12 synth line. Here, it's the "factory" melodic instrument. Stay tuned fora bigger demo, though – this sounds a LOT bigger than you think.
Teenage Engineering has announced a new line of pocket sized synthesizers dubbed pocket operators. All three models come without casing where the components and artwork are visible directly on the printed circuit board. The battery powered pocket operators also come with a segment LCD screen, built in speaker, alarm clock (Finally, a manufacturer has figured out the one feature musicians have been clamoring for! —Ed.) and a stand made from bent wire. All models also feature parameter locks as well as synchronization functionality and they all have 3.5mm line in and line out. Each model has its own set of effects such as filters, bit-crushing, delay, stutter and many more.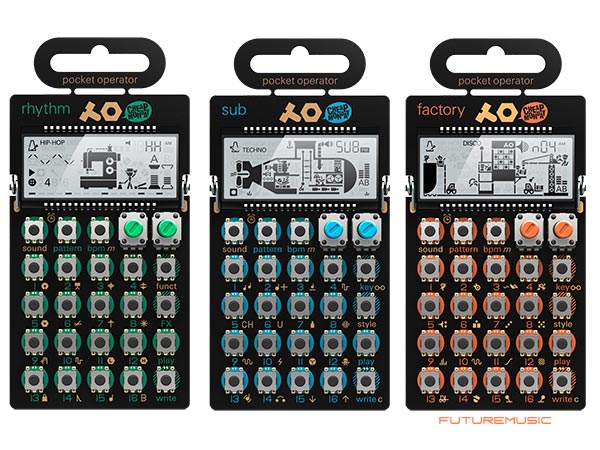 PO-12 / rhythm — the rhythm is a drum machine with a 16 step sequencer with 16 different sounds which are a mix between synthesis and samples
PO-14 / sub — the sub is a bass line driven synthesizer. it's got a 16 step sequencer with 16 sounds and 16 effects/playing styles
PO-16 / factory — the factory is a melody / lead-synth oriented machine with a 16 step sequencer, 16 sounds and 16 effects/ playing styles
Part of the development of the new gear was some sort of convoluted collaboration with Cheap Monday, a maker of jeans. There's some backstory about TE needing lab coats and turning to Cheap Monday for inspiration, but the whole thing just sounds "over-baked" and "over-produced." No pricing has been announced.
Sunny winter day in Berlin… looping around with the OP-1