In the second of our Teenage Engineering Pocket Operator week series, Gaz Williams takes a look at the PO12 Rhythm drum machine
The mini series on the much anticipated Teenage Engineering Pocket Operators. Gaz Williams takes a look
A truly portable electronic setup consisted of a PO-14 from teenage engineering, a monotron Delay from Korg and a talking translator by an unknow brand bought in a fleamarket
Teenage Engineering show us their latest offerings, a trio of tiny stripped-down calculator-sized sequencers — each for only $59. There's the PO-12 Rhythm drum machine, the PO-14 Sub bass synth and the PO-16 Factory lead synth. We hear what they can do.
A quick look at the new, Nintendo Game & Watch-inspired, LCD display for the PO-12 synth line. Here, it's the "factory" melodic instrument. Stay tuned fora bigger demo, though – this sounds a LOT bigger than you think.
Teenage Engineering has announced a new line of pocket sized synthesizers dubbed pocket operators. All three models come without casing where the components and artwork are visible directly on the printed circuit board. The battery powered pocket operators also come with a segment LCD screen, built in speaker, alarm clock (Finally, a manufacturer has figured out the one feature musicians have been clamoring for! —Ed.) and a stand made from bent wire. All models also feature parameter locks as well as synchronization functionality and they all have 3.5mm line in and line out. Each model has its own set of effects such as filters, bit-crushing, delay, stutter and many more.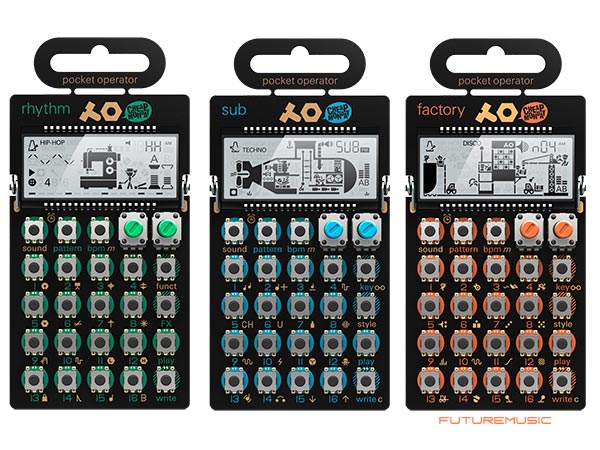 PO-12 / rhythm — the rhythm is a drum machine with a 16 step sequencer with 16 different sounds which are a mix between synthesis and samples
PO-14 / sub — the sub is a bass line driven synthesizer. it's got a 16 step sequencer with 16 sounds and 16 effects/playing styles
PO-16 / factory — the factory is a melody / lead-synth oriented machine with a 16 step sequencer, 16 sounds and 16 effects/ playing styles
Part of the development of the new gear was some sort of convoluted collaboration with Cheap Monday, a maker of jeans. There's some backstory about TE needing lab coats and turning to Cheap Monday for inspiration, but the whole thing just sounds "over-baked" and "over-produced." No pricing has been announced.
Sunny winter day in Berlin… looping around with the OP-1
This demo features the Teenage Engineering PO-12 Drum Machine, Yamaha TG-100 rompler/synthesizer and MTI Analog String Ensemble ADL-100 effects unit. All of these are mixed on a Yamaha MJ-100 DJ mixer. The PO-12 is being ran straight into the mixer and is only being effected by the MJ-100's internal digital delay (you can hear me through-out the video adjusting the delay time on the effect). The TG-100, which is doing the chord/pad choir patch, is being ran through the MTI chorus unit. The MTI's effect is quite similar to the ensemble effect built into the Solina String Synthesizer; a triple chorus with very deep modulation. The strings are also being effected by the digital delay on the mixer. The mix is then sent into my audio interface.
Please note: This is the prototype of the PO-12 released at Moogfest.
A little jam with Teenage Engineering OP-1 Synthesizer, a Korg Volca Bass and a Bastl Instruments MicroGranny 2.0 Granular Sampler.
The OP-1 is playing drums and a synth part. Most are on effects send to the MS-70CDR for reverb/space effect. The Volca bass is also running through the Kaoss Pad.
Everything is synced via a Kenton USB Midi Host – so that when play is pressed on the OP-1 the Volca starts too and the Midi clock is also sent to the MicroGranny 2.0 so if I was playing with the knobs it would stay in time.
Teenage Engineering's new PO-12 drum machine is awesome! In this video I'm taking a pre-production unit for a test spin, and it's great 😀
Looking forward to a 2015 release.
more cuckoo: http://www.cuckoo.no
more Teenage Engineering: http://www.teenageengineering.com
The PO-12 is a new drum machine from Teenage Engineering. This is one of the first 200 prototypes ever manufactured, made exclusively for the artists who performed at Moogfest 2014.
Here the PO-12 is featured with the MF Ring, MF Delay, and MF Drive from the Minifooger line of Analog Effects Pedals by Moog.
Learn more about Moog Minifooger Analog Effects here:http://bit.ly/Minifoogers