Teenage Engineering PO-12 Hands-on
A quick look at the new, Nintendo Game & Watch-inspired, LCD display for the PO-12 synth line. Here, it's the "factory" melodic instrument. Stay tuned fora bigger demo, though – this sounds a LOT bigger than you think.
Teenage Engineering has announced a new line of pocket sized synthesizers dubbed pocket operators. All three models come without casing where the components and artwork are visible directly on the printed circuit board. The battery powered pocket operators also come with a segment LCD screen, built in speaker, alarm clock (Finally, a manufacturer has figured out the one feature musicians have been clamoring for! —Ed.) and a stand made from bent wire. All models also feature parameter locks as well as synchronization functionality and they all have 3.5mm line in and line out. Each model has its own set of effects such as filters, bit-crushing, delay, stutter and many more.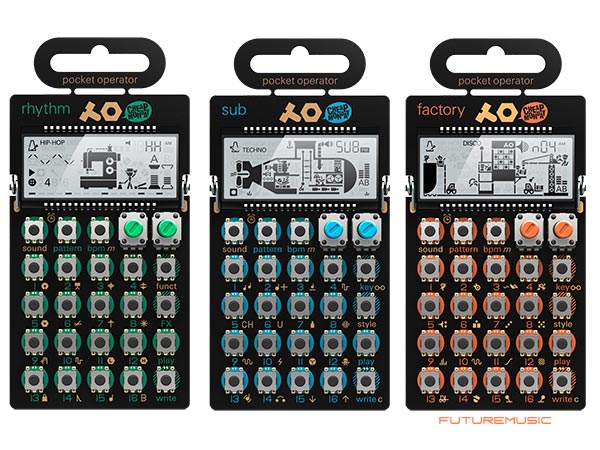 PO-12 / rhythm — the rhythm is a drum machine with a 16 step sequencer with 16 different sounds which are a mix between synthesis and samples
PO-14 / sub — the sub is a bass line driven synthesizer. it's got a 16 step sequencer with 16 sounds and 16 effects/playing styles
PO-16 / factory — the factory is a melody / lead-synth oriented machine with a 16 step sequencer, 16 sounds and 16 effects/ playing styles
Part of the development of the new gear was some sort of convoluted collaboration with Cheap Monday, a maker of jeans. There's some backstory about TE needing lab coats and turning to Cheap Monday for inspiration, but the whole thing just sounds "over-baked" and "over-produced." No pricing has been announced.
Comments