Teenage Engineering PO-12 unveiling at Norbergfestivalen 2014.
The creators of OP-1 finally reveal the sound of their upcoming $50 drum machine. There is a slight delay in development, but they're confident that it'll be released in 2015.
Stay tuned for more details.
OP-1/VolcaBass/ReBirth Jam using Belkin Rockstar Headphone Splitter as a Passive Mixer. Well worth £10!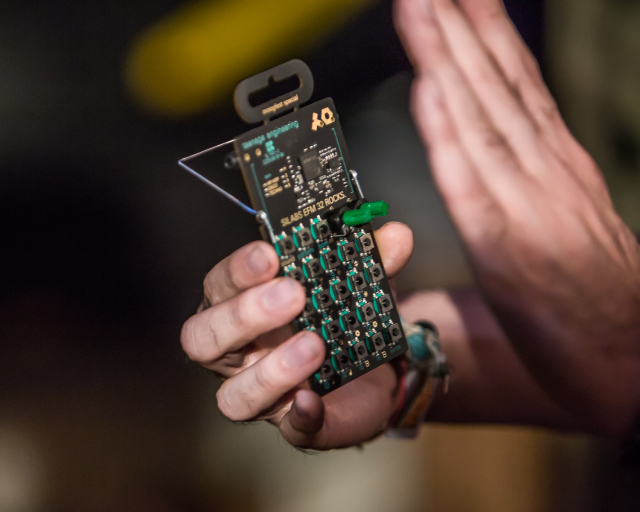 Robert Pluma has shared some interesting photos from last week's Moogfest, including some shots of what appears to be a new Teenage Engineering synth, the PO-12.
"I wasn't taking notes so I would suggest confirming details with TE, but from what I recall it … has a spring-loaded stand which doubles as a pitch bender when pressure is applied, includes 23 switches and two knobs (not sure if they're rotary encoders or potentiometers), and has a built-in hang tab for retail display."
Additional details:
Teenage Engineering had intended to give these away at Moogfest, but all but the one seen in the photos were delayed by customs
Integrated hang-tag says 'moogfest special' on this unit, and presumably on giveaway units
Employs a Silicon Labs EFM32 [32-bit ARM microcontroller]
Labels on tactile switches: 'sound', 'pattern', 'bpm', numbers '1-16′, 'clear', 'FX', 'play', 'write'
Labels on knobs: 'A', 'B'
Other labeling on board: 'HIP-HOP', 'DISCO', 'TECHNO' (looks like they're selectable options next to tiny surface-mount LEDs)
Appears to have a bpm LED
Has 1/8″ input/output jacks
Not sure of exact dimensions, but appears to be the same size as the area to the left of the screen on the OP-1
Retail price will be (I think they said) $49 US
Uncertain of this [detail], but I think it was an initial run of 200 for Moogfest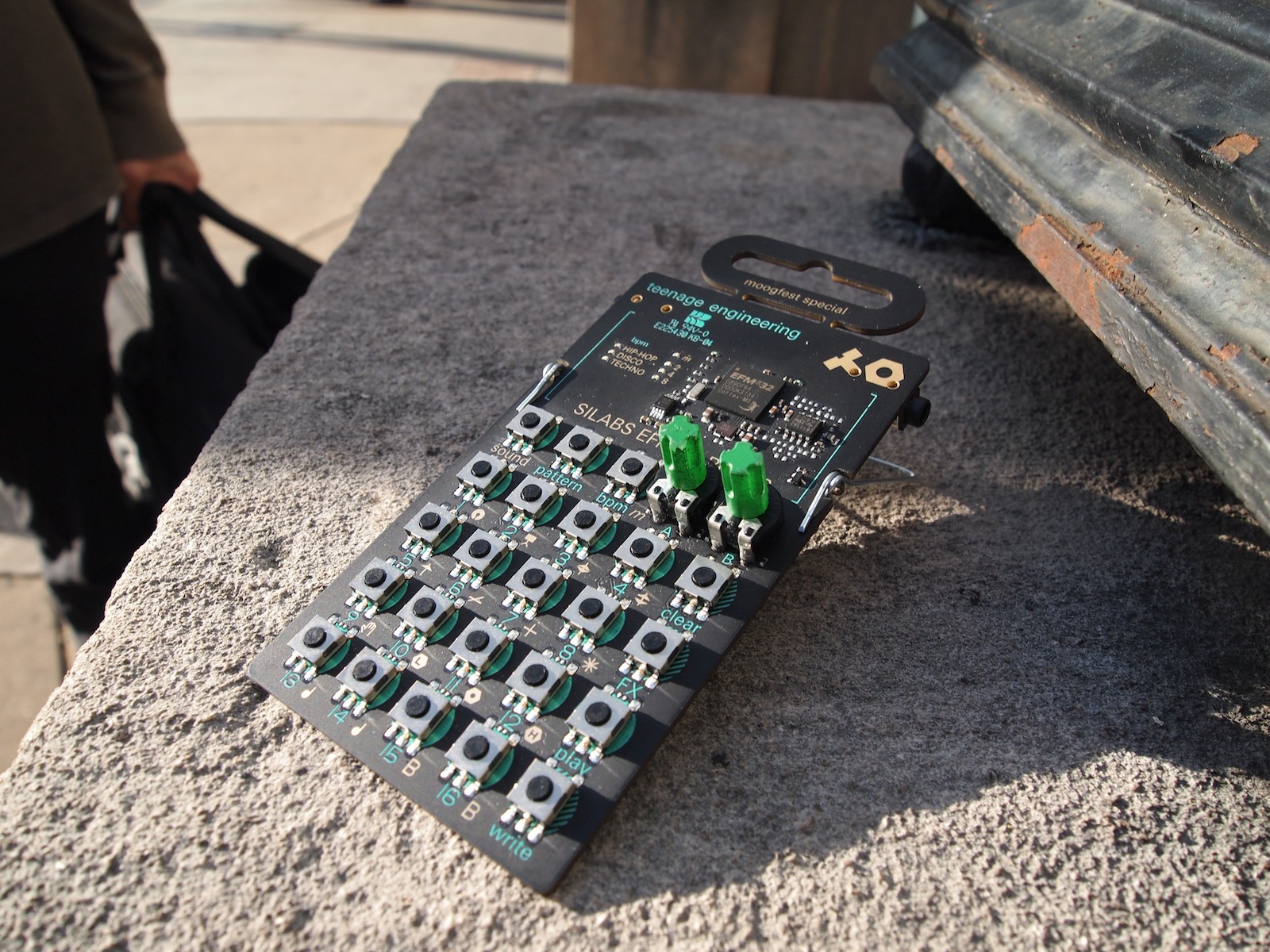 Response from the TE team:
"Robert more or less nailed it regarding the details for this product, but we're not going to confirm or deny anything at this point. The image at CDM is official… We're looking forward to keeping you in the loop as the project takes shape."
Via Robert Pluma
Teenage Engineering OP-1 audio being fed directly into Reactable Live for manipulation. An image of the input puck fiducial is attached to the bottom of the OP-1 directly beneath its speaker which the table is reading on its surface.
www.teenageengineering.com
www.reactable.com
www.fourthshape.com
Background video description:
I wrote a major explanation for this video but YouTube dumped it somehow. Must have been my error. I discuss much of what I wrote in the video, but one thing must be made clear. This is an in-development OS version and all content is subject to change. The new engine is shaping up rather nicely and since I was not able to make a video at NAMM due to the volume of interested people in the booth I made this. I do hope you enjoy?
I-OP, DO-U? Still on the fence? Grab one of these amazing machines. You'll thank me later.
Let's discuss in the comments. Thanks to TE for being awesome!
Tobias from Teenage Engineering gives us a quick look at an upcoming update for the OP-1 portable synthesizer, including a new sequencer inspired by the Etch-a-Sketch!
This Free Ableton Live collection was created with a Casio SK-1, Teenage Engineering OP-1, Ice Cave Samples, Forest, Fire, Earth and Water Samples. There is a percussion rack, a synthesizer, and convolution reverbs.
Get the CasiOP-1 Ice Cave Synth here: http://bit.ly/freesynth99
Get the Forest Fall Micro Drums and Reverbs here: http://bit.ly/forestfall
Visit his site for more stuff like this, including Live Instrument downloads, tutorials and music! http://www.afrodjmac.com
Op-1 connected to an iMac and sending MIDI for Volca Keys and EMW Modular Synth with Ableton Live. Endless sequencer is a lot of fun, Volca Keys is a great partner for the op-1 and the little EMW Modular sounds awesome.
Mellotron sample recorded from an iPad running Super Manetron.
DEMO by Katsunori UJIIE.