Apart from the launch of the new iPad, Apple has also released GarageBand 1.2, a significant update that adds MIDI note editing – a feature that's been on most users' wish list from the start.
Previously, the only way you could fix a mis-timed recording was to use GarageBand's quantise features, but note-by-note editing is now confirmed.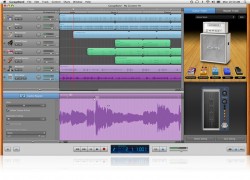 This isn't the only new feature, we also have a new Touch Instrument in the shape of Smart Strings, while Jam Sesssion enables you to play with up to three other GarageBand for iOS users wirelessly.
Here are the highlights:
GarageBand 1.2 introduces Jam Session, a feature that lets groups of people wirelessly connect their iOS devices to play instruments and record live music together. Jam Session automatically synchronizes the tempo, key and chords of your Touch Instruments. After jamming, everyone's tracks are automatically collected on your iOS device for you to edit and mix.
GarageBand also introduces Smart Strings, a new Touch Instrument that allows you to 'play' a string orchestra with one finger.
The new Note Editor is probably the most welcome addition. It allows you to fine tune a Touch Instrument recording instead of replaying it from scratch.
Integration with iCloud keeps your GarageBand songs up to date across your iOS devices, and you can share your finished songs directly to Facebook, YouTube and SoundCloud.
GarageBand 1.2 will be released today for $4.99. Updates are available for free to existing customers.
Well although it is in Japanese I think the message is clear
GarageBand Smart Instruments Tips for iPhone / iPod touch / iPad Part1. Today I introduce to you "Smart Drums". That is great tool for generating drum patterns. No need to tap any drum pad. Only put these icons. お待たせしました、以前より要望の高かった誰でもできるガレージバンド講座(iOS向け)でございます。全5回のうちの第一回目となる今回は、スマートド ラムスを使って楽
­勝でドラムパターンを組んでしまう方法です。リズム感なくても全然オッケー!
アプリのダウンロードは以下のリンクよりどうぞ。
http://bit.ly/vbMT3R
詳細ブログ記事:簡単ガレージバンド講座その1 スマートドラムスで打て!
http://gajetdaisuke.com/archives/111203_154737.php
Music Production with iPad and iPod Touch
Featured SW:
IRig Midi Garage Band Multitrack DAW Geo Synth Boss gt 8 ipad2
More info here:
http://soundcloud.com/giuliano-soares/demo-song
http://musicapps.com.br/forum/viewtopic.php?f=21&t=79&p=227#p227
iRig MIDI is a compact standard Core MIDI interface for iOS that connects any MIDI compatible device to the iPhone, iPod touch and iPad. iRig MIDI connects MIDI keyboards, drum machines, drum pads, pedal boards and more to an iOS device to control not only the included SampleTank FREE* but also a world of MIDI-compatible apps such as GarageBand. You can also use iOS apps to control external MIDI equipment such as sound modules, DAWs or lighting systems right from the mobile device. iRig MIDI is the only compact iOS MIDI interface sporting 3 MIDI ports: IN/OUT/THRU. These connect to any standard MIDI jacks using the included 2 x 1.6m/5.2′ cables. iRig MIDI also has 2 LEDs for displaying the MIDI activity on the IN and OUT ports.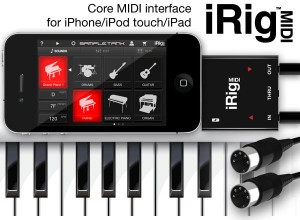 iRig MIDI also exclusively provides a micro USB port — with included cable — that connects to any standard USB power supply source so that the iOS device can stay fully powered during long sessions.
Features:
Standard Core MIDI interface connects any MIDI hardware device to Core MIDI-compatible apps like SampleTank FREE and GarageBand®
Directly connect MIDI keyboards, synthesizers, drum machines, drum pads, pedal boards and more using the included 2 x 5.2' (1.6 m) MIDI 5-pin DIN cables
3 MIDI ports: IN/OUT/THRU
2 LEDs for MIDI IN/OUT activity display
Micro USB port can charge the iOS device while in use
Free apps included*: SampleTank FREE* the powerful sample-based sound module app and iRig MIDI Recorder FREE*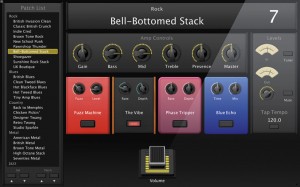 So far no apparent plans to turn Logic into Garage Band, as many have feared
Apple is reportedly finishing an update to Logic Pro 9, its professional digital audio and music sequencing program, taking care not to rile existing users with significant changes.
The new update is reportedly called Logic Pro X to maintain the same branding as Apple's recent Final Cut X. However, according to a report by Japanese blog Macotakara, Apple's Logic team is making great efforts to stress that it will not shift toward a GarageBand interface, heading off fears that Logic Pro might lose its professional edge.
Like Aperture and Final Cut Pro X, the new Logic Pro X package will be released via the App Store. In the move, the Logic Pro accessory app MainStage (used to manage virtual instruments during live performances) will reportedly spin off into a separate app, while WaveBurner (a standalone app used to master audio CDs) will have its functionality incorporated into Logic Pro X itself.
SoundTrack Pro 3, formerly included in both Final Cut Studio and Logic Studio as a tool for synching background audio to video, is reported to have a replacement but the report has not filled in any details regarding that program. The new app will likely be added to the Mac App Store alongside Final Cut Pro X, Logic Pro X, MainStage and the existing Aperture.
Via Apple Insider
http://youtu.be/pvJrXgovIN0
Here's an inspiring video:
Starcraft Terran theme song made with iOS music apps.
Had some arrangement on original song.
All of this song's sounds are come from iPhone and iPad.
Featured music apps : GarageBand for iPad, ThumbJam, iShred, Guitar Studio
Here's what the maker has to say about it:
i didn't know Garage Band for ipad receives Midi over Wi-fi, so i made this little experiment..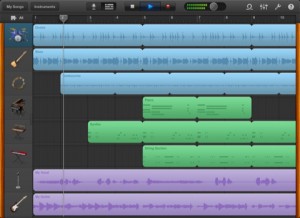 Perhaps the newly released FL Studio for the iPad has made Apple release an upgrade

Apple has updated Garage Band for iPad to version 1.0.1. GarageBand turns your iPad into a collection of Touch Instruments and a full-featured recording studio. Use Multi-Touch gestures to play pianos, organs, guitars, drums, and basses on your iPad. They sound and play like their counterparts, but let you do things you could never do on a real instrument.
Version 1.0.1 brings the following features and fixes:
• Support for audio output over AirPlay, Bluetooth devices and HDMI with the Apple Digital AV Adapter.
• Import of AIFF, WAV, CAF audio files and Apple Loops (16 bit, 44.1 kHz).
• Allows copy and paste of audio from supported apps into GarageBand.
• Addresses occurrences of GarageBand freezing while playing Smart Instruments.
• Improves overall stability and addresses a number of minor issues.
Garage Band for iPad's original features offer:
Play your iPad like a musical instrument.
• Perform on dozens of musical instruments on the innovative Multi-Touch keyboard.
• Tap out beats from the seat of acoustic and electronic drum kits.
• Recreate legendary guitar rigs on your iPad with 9 amps and 10 stompbox effects.
• Record your voice using the built-in microphone, and apply fun sound effects.
• Use the Sampler to create an instrument from sounds you record, then play them on a keyboard.
Sound like a virtuoso with Smart Instruments.
• Tap chords to instantly create keyboard grooves with the Smart Keyboard.
• Strum chords on acoustic and electric Smart Guitars, or trigger fingerpicking patterns for popular chords.
• Groove with an onscreen electric or upright Smart Bass by tapping on chords.
• Drag drum instruments onto a grid to create your own beats with the Smart Drums.
Create a song anywhere you go.
• Arrange and mix your song with up to eight tracks using Touch Instruments, audio recordings, and loops.
• Trim and place musical regions exactly where you want them to play.
• Use the Mixer to fine-tune each track's volume – solo or mute any track, or adjust pan, reverb, and echo.
• Use over 250 professionally prerecorded loops as a backing band to your song.
Share your songs.
• Email songs right from your iPad (AAC).
• Export your song and add it to the iTunes library on your Mac or PC.
• Send a project to your Mac and open it in GarageBand to continue refining your song.
Available through iTunes at http://itunes.apple.com/us/a…