A new version of GarageBand has seen the light of day
Apart from the launch of the new iPad, Apple has also released GarageBand 1.2, a significant update that adds MIDI note editing – a feature that's been on most users' wish list from the start.
Previously, the only way you could fix a mis-timed recording was to use GarageBand's quantise features, but note-by-note editing is now confirmed.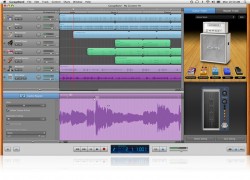 This isn't the only new feature, we also have a new Touch Instrument in the shape of Smart Strings, while Jam Sesssion enables you to play with up to three other GarageBand for iOS users wirelessly.
Here are the highlights:
GarageBand 1.2 introduces Jam Session, a feature that lets groups of people wirelessly connect their iOS devices to play instruments and record live music together. Jam Session automatically synchronizes the tempo, key and chords of your Touch Instruments. After jamming, everyone's tracks are automatically collected on your iOS device for you to edit and mix.
GarageBand also introduces Smart Strings, a new Touch Instrument that allows you to 'play' a string orchestra with one finger.
The new Note Editor is probably the most welcome addition. It allows you to fine tune a Touch Instrument recording instead of replaying it from scratch.
Integration with iCloud keeps your GarageBand songs up to date across your iOS devices, and you can share your finished songs directly to Facebook, YouTube and SoundCloud.
GarageBand 1.2 will be released today for $4.99. Updates are available for free to existing customers.
Comments