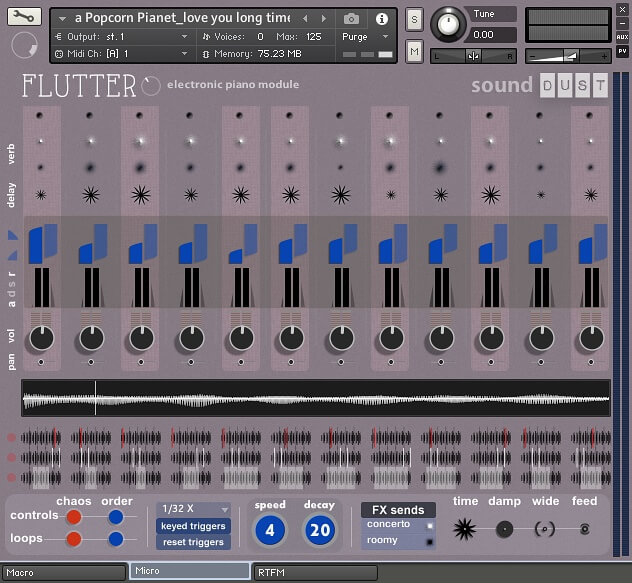 Sound Dust has launched Flutter EP, an electric piano instrument library for Native Instruments Kontakt.
Flutter EP is an electronic piano like you'e never heard before.

She is packed to the brim with specially devised samples made from a variety of slutty analogue hardware synths and keyboards. All sample sets morph and loop through various transitions for a mind boggling selection of unique but Wurly-ish, Rhodes-y, organ-esque, DX like electric piano type sounds….but of course there is a twist.

Think Radiohead, Jon Hopkins, Nils Frahm, Ólafur Arnalds or maybe Steve Reich in a fist fight with Trent Reznor.
Flutter EP features
1.2GB (compressed) 24bit stereo samples.
120 presets created from 12 imagined electric piano and organ multisample sets.
Sample sets made from cunning variations of Hohner Pianet T, Moog Voyager, Nord Modular, Nord Wave, Soulsby Atmegatron, Waldort Wave XTand DSi Pro2 all recorded through a stereo pair of Warm Audio Tone Beast preamps.
Macro page -for quick access to master controls of volume envelope, filter, effect sends and tube/transistor distortion..
Macro page -instant shape presets for volume envelope and filters.
Micro page -individual control on a per note basis of volume envelope, pan, low and highpass filters and effects sends.
Micro page -individual control on a per note basis of sample start, loop position and loop length.
Micro page -individual per note trigger settings for BPM synced note repeats.
Micro page -chaos and order controls for instant parameter randomisation.
Flutter control – modwheel hard wired to unique 'flutter' effect -wiggle it and you'll soon find out what it does.
20 custom reverb convolution impulses.
RTFM tab -so you can't lose the manual.
Flutter EP for Kontakt 5.5.1 or above (full version) is available for purchase for £35 GBP. Until November 30th, 2015, a 20% discount is available with coupon code PSEUDCASE at checkout.
Dream Audio Tools has announced the release of LFO Piano for Native Instruments Kontakt.

LFO Piano features a classic Rhodes MkII Electric Piano sampled using a true analog pedal rig, including a warm and raw sounding handmade analog tremolo and analog cabinet emulation pedals. This setup gives LFO Piano an unique timbre and a raw unpolished character. It is is designed to fit with many musical styles, including RnB, Hip Hop, Cinematic and Pop.
The library includes two complete sets, separately recorded with pedal tremolo on and off. There are controls to activate additional designed effects, including Phaser, Chorus, Delay Reverb and Rotary.
Introductory price: €19,90.
This is a demonstration of the magnetic resonator piano, an electromagnetically-enhanced acoustic piano that allows the pianist to continuously control the volume and timbre of every note.
McPherson's Magnetic Resonator Piano preserves all the sounds and techniques of the acoustic piano, while expanding its vocabulary to include:
Infinite sustain
Crescendos (including crescendos from silence)
Harmonics on each string (8 to 16 harmonics are usable on the lower strings)
New timbres which can be shaped in real time
Subtle pitch bends
In contrast to the conventional (hammer-actuated) piano sound, the sounds of the MRP are pure and ethereal, emphasizing the fundamental frequency of each string over its high partials.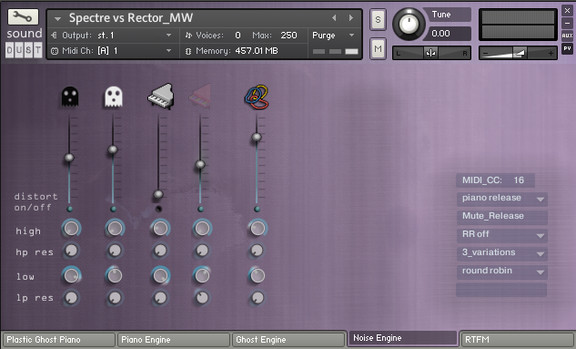 Sound Dust has launched Plastic Ghost Piano, a convolution based hybrid piano instrument for Native Instruments Kontakt.
The piano sample set was made by sending bursts of controlled noise through unsuspecting piano samples used as convolution reverb impulses.

Plastic Ghost Piano is designed to be a warm, analogue sounding hybrid piano with real character and lots of sonic possibilities that range from warm, woody and expressive acoustic piano to "blissed out orchestral shoegaze haze".
Plastic Ghost Piano features
549MB of 24-bit samples with up to 23 velocity levels per note.
Advanced architecture with automatable control of everything.
Sample start control.
Ghost Engine with per voice algorithmic reverb.
Noise Engine with per voice distortion and filtering.
69 specially created convolution reverb impulses recorded from real spaces, expensive hardware, and some less obvious sources including a Roland Space Echo, Lexicon reverb and the stage of Glyndebourne Opera House.
6 deeply multisampled sound articulations; Dark Ghost convolution, Pale Ghost convolution, Hohner Pianet, Convolved "plastic" piano, palm mute Stratocaster and Release Piano.
Leslie effect, cabinet modelling and morphing EQ.
Selectable and adjustable release group.
Round robin sample swapping.
MIDI timing jitter.
25 "starter" presets.
Built-in instruction manual.
The library is available for the introductory price of £20 until October 18th, 2014 (regular £25 GBP). Requires full version of Kontakt 4 or above.
Jordan Rudess, solo artist and keyboardist for Dream Theater, reveals his latest source of inspiration: Korg's TinyPIANO. The TinyPIANO is a digital toy piano with 25 velocity-sensitive mini keys, 25 beautiful sounds, a library of 50 songs, optional battery power, and a tough wooden body available in four colors. For more information about the TinyPIANO, please visit www.korg.com/tinypiano.
Like/Follow us:
https://www.facebook.com/korgusa
https://www.twitter.com/korgusa
http://instagram.com/korgofficial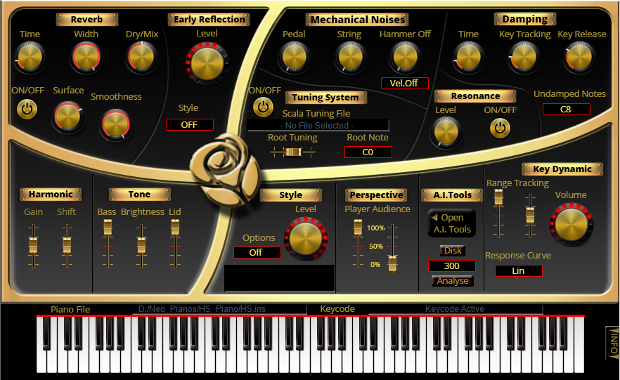 Formula 1 is the first virtual piano which made by some kinds of "transgene" technology. It is a combination of famous piano timbre such as Steinway, Bosendorfer, Fazioli and Bluthner. It has a unique tone which you could find apart in above great pianos, but not all in real world.
Usually, people love Steinway because its famous singing tones. So every great piano has its own timbre which you cannot find anywhere else. Such idea like "I want bass from Bosendorfer and highs from steinway" is always a dream that is impossible in real world.
Sound Magic spent over 5 years in study how these unique timbre relate with harmonics and how human ears can sense this timbre, finally, we found a way to create timbre through harmonic shaping technology, it is like "transgene" technology which could reshape a plant's shape and characteristics. By using this technology, we turn the dream into reality.
After breaking several technology barriers, Sound Magic successfully extract the timbres from several great pianos and combine them together with harmonic shaping technology, which also used in our hybrid modeling technology. The final result is amazing.
Formula 1 will be release on November of this year. Combined with our new Neo Piano Hybrid Modelling Engine, it will be the piano you can expect.
For more information, find relative products, please visit www.supremepiano.com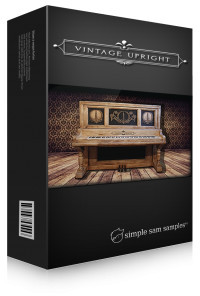 Simple Sam Samples has launched Vintage Upright, a virtual piano instrument for Native Instruments Kontakt.
Vintage Upright is a beautiful "character" piano, subtly out-of-tune, bursting with realism, and filling a gap between the pristinely sampled pianos on the market and novelty "junk" pianos.

Its haunting tone shines beautifully as a solo instrument or in the mix, and lends extraordinary character to any style of music including jazz, rock, blues, pop, ragtime, and film applications.
Vintage Upright features
More than 3000 samples in 24 Bit.
All 88 keys individually sampled in 10 dynamic levels.
Two microphone perspectives (Close and Room).
Multi-velocity adjustable mechanical noises (pedal, hammer, release).
Authentically modeled una corda (soft pedal) samples.
Sympathetic String Resonance with real overtones.
True repedaling and Pedal "catch".
User controllable microphone/recording noise.
Adjustable stereo width and controllable reverb.
The library is available to purchase for the introductory price of $29.99 USD (regular $49.99 USD). Requires the full retail version of Kontakt 5.1 or later (Kontakt 4 version coming soon).
Improvisation with Rhodes SeventyThree Mark I, ARP Omni-2, and Roland SH-1000.
Effect: Eventide H3000-D/SE patch 155 "ANALOG DELAYS2".
The Fender Rhodes product line evolved quickly as the 1970's began. The 73-key Electric Piano was renamed the Fender Rhodes Suitcase Piano in 1969, featuring a black harp cover and a stereo 80W amp, and by 1970 the Fender Rhodes Mark I Stage Piano was available. The Stage Piano was the piano top from the Suitcase model, modified for use with an external guitar or bass amplifier. The Stage model featured detachable legs (parts from a Fender pedal steel guitar), a sustain pedal and pushrod (part of a Rogers hi-hat stand), and a simplified front panel with only volume and bass EQ controls. Internally, the Stage Piano was nearly identical to the Suitcase model.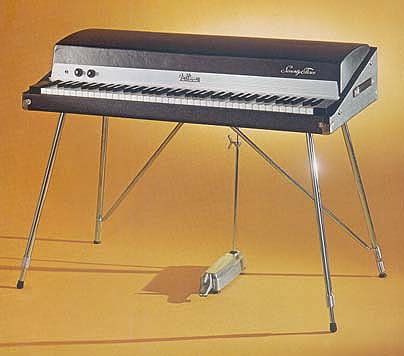 Major changes were made to the piano action between 1969 and 1971. Around 1970, the wooden teardrop piano hammers used in previous models were replaced with hybrid wood-plastic hammers. These new hammers were designed with replaceable tips, because the teardrop hammers were prone to developing grooves over time and were difficult to repair. Originally the tips were made of felt-covered wood and glued into a slot in the hammer head. In early 1971 the factory switched to using Neoprene (rubber) tips, which were proven to be more durable.
The tone generators were also greatly improved during this time. The tonebars were redesigned to be thinner and lighter, with the lower octaves having a 90-degree twist in the middle. This helped to both reduce the weight of the piano and improve tone quality overall. Additionally, the tines were tapered using a "centerless grinding process", making them hundreds of times more durable than the original Raymac tines. These tines produced a more stable sound while retaining much of the bell-tone that characterized the Rhodes. But the biggest accomplishment was the introduction of full-size, 88-key pianos in 1972. The Rhodes engineers had finally found ways to stabilize the tone and pitch of keys in the extreme registers of the piano, with the lowest bass notes not needing tonebars and the highest notes requiring wood-core hammer tips.
Waldorf Zarenbourg is a pretty, chunky, digital piano. It has a certain amount of internal sounds (physically modeled, sampled and fm synthesized). On this video, a quick run on the internal preset. Audio out goes straight into digital recorder.
Another quick run on the internal presets (Tine, Bars, Reeds, Clavi, CP Piano, FM Piano, Grand Piano…) contained into Waldorf Zarenbourg digital piano. Audio goes straight into digital recorder.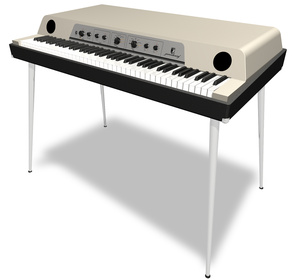 When Waldorf introduced the Zarenbourg in 2006, this piano was one of a very small minority. It had dawned on us that few contemporary instruments offered electric pianists and keyboardists that elusive quality called soul. Reduced to the essentials, this rare breed of instrument does one thing so well that it grows on the player, becoming an extension of body and mind. It has that magical touch of purism that all-in-one devices lack. So we aimed high, achieving a sound nothing short of sublime. And we conjured a look that blends the hallmarks of classic designs with a more contemporary clean and cool vibe.
Handling is intuitive, not inquisitive. No more fussing with cords for this and that; simply power up, play, and possess instantly satisfying sound for player and audience alike. Its aluminum hood offers a sturdy perch for your other favorite instrument, and its integrated speaker system can render the piggybacked device's signal. Let your laptop roost on this tower of power, and you can control plug-ins via USB and monitor the results via the Zarenbourg's audio input.
Gospel Musicians has released two new electric pianos for Neo-Soul Keys for iPad and updates to version 2.0.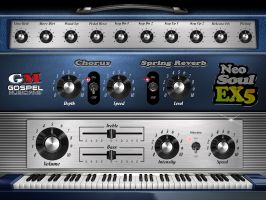 Neo-Soul EX5
Neo-Soul EX5 is an electric piano library that uses the EP synthesis technology from the Yamaha EX5 synthesizer. Gospel Musicians sampled their electric piano through the FDSP engine of the EX5 to simulate the physical modeled expression of an EP pickup. There is a new dedicated knob that will control more of the EP Pickup sound.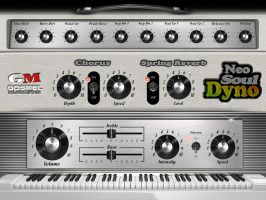 Neo-Soul Dyno
Neo-Soul Dyno is an emulation of the popular "Dyno-My-Piano." Utilizing wavetable and sampling techniques Gospel Musicians designed it to achieve an extremely expressive and playable emulation of a Dyno electric piano sound.
There are other minor bug fixes and improvements as well as a new chorus algorithm that is intended to be warmer and richer than the previous version.
Price: Each electric piano is $9.99