Mike Martin from Casio demonstrates the Privia Pro PX-5S stage piano at Kraft Music.
Specification:
Keyboard
88-key, Tri-sensor Scaled Hammer Action II
Maximum Polyphony
256 Notes
Number of Tones
370 Preset / 350 User
Keyboard Instrument (including Electric Piano) – 60 Preset, 50 User
Hex Layer – 50 Preset, 150 User
Stage Settings
100 User Stage Settings / 4 zone configurations
Controllers
4 knobs, 6 sliders, Pitch & Modwheel, 2 Pedal Inputs
Arpeggiator
4 simultaneous programmable 16 step Arpeggiators
Phrase Sequencer
8 Tracks, up to 1,000 phrases
Storage
USB / File & Audio Recording
System Effects
Reverb, Chorus, Delay, String & Damper Resonance
Insert Effects
4 simultaneous / Equalizer, Compressor, Limiter, Enhancer, Early Reflection, Phaser, Chorus, Flanger, Tremolo, Auto Pan, Rotary, Drive Rotary, LFO Wah, Auto Wah, Distortion (w/ Amp Simulator), Pitch Shifter, Multi Chorus, Ring Mod, Delay, Piano effect
Master Effects
4 Band EQ & Compressor
MIDI
Independent USB & MIDI I/O
Audio Terminals
1/4″ L&R Input & Output, 1/8″ Audio Input
Dimension
52.05 x 11.26 x 5.31 (inch)
Weight
24.47 lbs (W/O Battery)
This is a preview of one of the new things in firmware version 1.10 for the PX-5S. Included in the update are a variety of additional synth waveforms that when combined can create some incredibly lush and powerful sounds. This is a single "Hex Layer" tone on the PX-5S.
About the PRIVIA:
The new Privia PX-5S redefines the stage piano category with unprecedented sound quality and performance features in a lightweight design that is supremely portable. Featuring tone editing, insert effects, MIDI controller capabilities, an 88 Key, Tri-Sensor Scaled Hammer Action II Keyboard and weighing only 24 lbs., the Privia PX-5S is ready to take stage. At the heart of the PX-5S Stage Piano is Casio's proprietary AiR sound source which provides incredible realism, detail and expression for grand piano sounds. In the PX-5S, the power of AiR has been expanded to provide stunning fidelity and control over other instrument tones and effects with 256 notes of polyphony.
Collective work of improvisation for Minibrute, Little Phatty, Roland V Synth XT and Playel piano. All instruments by Marc-Henri Arfeux, Noé Charmet, Quentin Grini, Nathan Nadal. Voice by Heidi Berthier. Recorded live friday 19th of march 2013.
Making the most of your next second hand shop visit:
At second hand sales there are often piles of old analog computer modems that absolutely nobody wants. But it can be worthwile to go through the piles because amongst those seemingly useless plastic boxes there can be little treasures that looks like a modem but certainly isn't.
I found this little box at a Y-mens money raising sale and because they thought it was just another old modem I got it for the equivalent of 2$ (which some people say is written $2). But I knew that it wasn't because modems ususally doesn't come with a MIDI interface.
There wasn't anything wrong with it so I took the lid off it only to see what was inside. I have used it in the music that I play in this video for all the piano sounds and most of the strings. The rest is played on Roland RA-30 arranger, JX-8P synthesizer and Technics SX-C600 organ.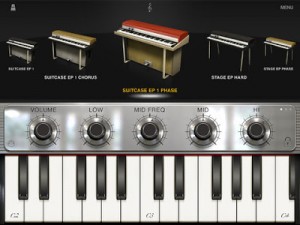 A new electric piano app for iPad, details below:
THE STUDIO QUALITY ELECTRIC PIANO APP: A COLLECTION OF 40 PROFESSIONAL SOUNDING INSTRUMENTS FOR YOUR IPAD
Turn your iPad into the ultimate electric piano instrument with an extraordinary collection of authentic electric pianos and vintage keyboards along with built-in recording! Use the iRig KEYS portable keyboard (www.irigkeys.com) or the iRig MIDI interface (www.irigmidi.com) to connect your external keyboard to your iPad, and you're ready to compose, rehearse, perform and record with the very best instruments for iPad.
The sequel to IK's acclaimed iGrand Piano app, iLectric Piano now puts a collector's dream gallery of history's best electric pianos, electric grands and clavinets right at your fingertips with studio-grade quality never before heard in app that stands up to the most powerful virtual instruments available on on a computer.
With high-definition samples across multiple velocities, iLectric Piano brings you the most playable, expressive and authentic sounding electric piano, electric grand and clavinet instruments available on a mobile device that you can play anytime and everywhere.
iLectric Piano gives you a collection of 20 world-class electric pianos, electric grands and clavs (including one by registering) along with a capable recorder and metronome. Add the Electric Piano Expansion Pack to add another 20 high-quality instruments.
Record your rehearsals or performances as MIDI with both overdubbing and punch-in capability, then export your track as audio via E-mail of File Sharing or Audio Copy to other iOS apps. With the built-in MIDI Recorder, you can change the tempo of your piece or even choose to use a different piano AFTER you've completed your performance! For composers of any level, the MIDI Recorder lets you capture and develop ideas anywhere your mobile life takes you. iLectric Piano also includes some professional MIDI performances to help you audition the various electric piano instruments or just ignite your own creative muse!
The easy-to-use instrument editor puts real-time controls on the panel just above the keys to let you adjust the EQ, the amount of reverb, the overdrive and your choice of 5 modulation effects (chorus, flanger, phaser, tremolo and auto pan). You can also adjust the tuning and transposition of the instrument. All edit knobs can be assigned to your choice of MIDI controllers for external fine-crafting of your instrument's sonic details. Virtual MIDI and MIDI Program Change are also supported.
iLectric Piano features:
20 world-class, multi-velocity electric piano, electric grand and clavinet instruments (including one by registering)
Expandable library of 20 additional studio-grade instruments instantly available via in-app purchase
Intuitive instrument and effect edit controls including 3-band EQ with sweepable mid, overdrive, reverb and choice of 5 modulation effects (chorus, flanger, phaser, tremolo and autopan) along with tuning and transpose
Export performances as audio via E-mail, File Sharing and Audio Copy
Large visual metronome with variable click volume and adjustable tempo
Virtual MIDI and MIDI Controller and MIDI Program Change support
Low-latency for real-time playing
Up to 48-voice polyphony on the latest devices
Designed to use with with iRig KEYS portable keyboard and iRig MIDI interface
The app is priced at $19.99
The Arpeggionome Pro is a professional MIDI controller designed specifically for iPad. With the Arpeggionome Pro, you design and perform intricate patterns of musical notes at incredible speeds and with precise control.
Introductory Sale: 25% Off! Offer valid until January 15th!
http://itunes.com/apps/arpeggionomepro
Download Audio: http://soundcloud.com/alexandernaut
Thiago Pinhero introduces AAS' electric piano.
Lounge Lizard EP-4 — Electric Piano
http://www.applied-acoustics.com/loungelizard/overview/
Background description:
In the studio
When time matters, simply pick from more than 100 custom electric piano presets. But when sound exploration is on the program, players will dig the real-time controls over hammer hardness, tine color and decay, damper noise, and pickup placement for an unsurpassed level of customization.
Live on stage
Gigging musicians will appreciate Lounge Lizard's small memory footprint, instant preset recalls, and stability. Furthermore, the huge library of Rhodes and Wurlitzer sounds as well as the complete selection of effects makes it easy to build a set list and get the perfect tone for each songs.
Alive beneath your fingers
There is something quite immersive when a connection develops between the player and the instrument. Whether it's the perfectly smooth velocity progression or the interactive reaction to your performance, Lounge Lizard makes that connection happen.
Beyond the electric piano
Lounge Lizard achieves convincing electric piano tones with less than twenty synth parameters. That's a quite a feat by itself, but pushed further, these parameters reveal a realm of other tones. Organs, bells, chimes, leads are all featured in the preset library's Experimental folder.
Custom tones
Even though famous players shared the same brand and models, they were all acheiving their own signature sound. Nevertheless, that usually meant spending many hours under the hood with screw drivers, wrenches, or even a solder iron. What's fun with Lounge Lizard is that whether you're looking to emulate a particular sound or simply find your own, all those tweaks are just a few knob turns away!
Jamal Hartwell gives you the grand tour of the features to be wowed in Neo Soul Keys Virtual Electric Piano by Steinberg. (Part 1 of 2)
Combining faithful recordings of vintage keys with state-of-the-art technology employed in Steinberg's engines and effects, Neo-Soul Keys proves to be the ultimate electric piano experience.
http://www.steinberg.net/en/products/vst/neo_soul_keys/start.html
Feature overview:
Faithful sampling of original Mark I suitcase piano
Elaborate interface for direct access and intuitive workflows
VST Amp simulation with 6 different classic amp types
Premium effect section: tube distortion, chorus, flanger & more
Vintage modeled vibrato with intensity and speed control
Realistic sounds & authentic bass, mid and treble boost
Adjustable velocity curves for individual playing behavior
Bark samples for classic grit sounds for authentic vintage sounds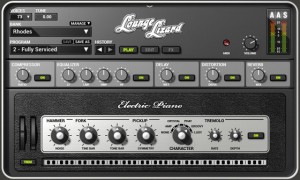 Applied Acoustics Systems has announced the release of Lounge Lizard EP-4, a versatile electric piano plug-in for Windows and Mac.
Authentic tone, action, and feel.

Lounge Lizard EP-4 is an electric piano synthesizer plug-in delivering authentic Rhodes and Wurlitzer sounds in an everything-you-need package.
New in Lounge Lizard EP-4
Completely renewed factory library features the classic Rhodes and Wurlitzer sounds as well as over 200 gig- and mix-ready custom electric pianos making good use of the compressor, equalizer, and multi-effect processor.
Compressor and equalizer added, perfect to add punch and definition to your sound, letting you cut through any dense mix or stage.
Character control provides five classic studio and stage signal path emulations – that's the cabinet, pre-amp, microphone, and recorder chain that follows the piano's output – to easily snug fit your electric piano part into your track.
Output limiter protects your ears and monitors during experimentation with the piano's physical modeling parameters while providing a maximum of distortion-free dynamics.
Redesigned from the ground up, the new interface now divides Lounge Lizard EP-4 into Play, Edit and FX panels.
New bank and program manager allows simple and efficient organization, backup, and sharing of your sounds.
Overhauled effects, reinvigorated, polished, and tuned especially for the electric piano.
Native 64-­bit Audio Unit (AU) and VST plug­-ins.
Lounge Lizard EP-4 for Windows and Mac (VST/AU/RTAS) is available to purchase for $199 USD.

Soundiron has announced the arrival of their first two ReFill Packs for Reason. They tell us that they've worked with Propellerhead to carefully optimize and redesign their  Old Busted Granny Piano and Tuned Micro libraries specifically for the Reason 6 platform, with Combinator and NN-XT presets that truly capture the playability and advanced control functionality that people have come to love with these popular instruments.
A spokesperson told SBC, "While ReFills and Kontakt presets have very different capabilities and strengths overall, you'll find many of the same familiar UI features, a variety of matching presets, stylized artwork and the same great sound. And don't worry, we'll be adding new offerings to our Reason catalog as time goes on to expand the selection for our Reason users. And existing customers of the Kontakt versions of these libraries are eligible to receive low cost cross-grades to the Reason version."
Here's Soundiron's description of the new ReFill packs…

Tuned Micro Reason ReFill Edition
Tuned Micro is a compact yet powerful multi-instrument collection focuses on a variety of our unique stringed and tuned percussion instruments. We took a dozen of the popular instruments found in our Stringed and Tuned Percussion Bundles for Kontakt and selected a core set of samples from each that offer a good introduction to the signature style, flavor, tone and quality you can expect from our full libraries. You'll find a useful variety of bamboo log drums, wooden box drums, plucked zithers, prepared piano, steel bells, music box, PVC tube drums, wine glasses, kalimba/mbira, toy glockenspiel, waterharp and a modified twine-strung cello.
We've designed a dual-layer mix control for each instrument category preset that allows you to create custom blends with selected layered pairs from the 20 different articulations. Each preset comes with dual layer volumes, attack, release gating, filter, Echo, Reverb and other shaping and special FX parameter controls that can be automated and changed in real-time, allowing truly unique sonic possibilities.
Granny Piano Reason ReFill Edition
The Old Busted Granny Piano is a unique instrument that goes way back with us. This classic beat-up, worn-down, rickety upright piano is just the kind of faded old beauty that your grandmother had collecting dust and creepy porcelain dolls in her living room when you were a kid. With a watery and faded tone, wobbly hammers and a few broken strings, you'll hear and feel every creak and groan as it plays. Clearly, the years have not been kind to her looks or her voice, but her soul truly has aged like a fine wine. This old girl has heart, so give her a whirl.
We've included plenty of Combinator patches that feature front panel controls to easily reshape the action and tone right at your fingertips, with note attack to simulate pad-like sounds, note release, release sample volume and the volume of the pedal sound effect that plays when you use the sustain pedal. We also included a couple of nifty reverb effects and an awesome "Grahammy" mode which makes Granny sound like she's coming out of an old phonograph, complete with vinyl record pops. We also included a selection of ambiences we call Geriatrocities – various sustaining pads and evolving drones derived from the source.
Pricing and Availability:
You can download each for $29. Existing owners of the Kontakt version of each library can order the Reason ReFill Edition as an add-on for only $9. All ReFill Editions require Reason version 6.0.2 or later.
More information: