Time for a new circuit bending video, details below:
Playtime Keyboard
switched mono 1/4inch jack output
white LED
red LED
power starve control
pitch up/down control
hi-fi boost
Monotribe Sync input with 4 rotary glitch switch to select which button glitch you want. The Monotribe triggers various buttons on the keyboard to make it sound glitch – video to follow for that
.fd. online
Facebook – freeform delusion
Twitter – https://twitter.com/freeformd
eBay – Search for – Circuit Bent
My older Circuit Bending channel – http://youtube.com/eecouk
Mickey Mouse Clubhouse Piano – with a very special guest playing!!
switched 1/4inch jack output
Pitch up/Down Control
Red Button Bass feedback control
Two Way switch for distortion or feedback with control knob
Here's a nice new toy demo from Analog Audio, details below:
Are you tired of cold, digital sounding recordings? The fully analogue QuickShot Studio 4 allows you to bring back the warmth of analogue in your recordings. The Studio 4 contains a great mixing console, a tape recorder, a microphone and very useful effects for the daily studio work…
QuickShot has also produced other high quality studio equipment like the "Sound Machine". This is a similar machine, just instead of the effects it contains a synthesizer ;-).
It came with shoulder straps, microphone and headphones.
As a kid I always wanted it, but nobody wanted to buy it for me… my parents had no clue how important analog recording to me was

From analog drum machines to vintage guitars, orchestral percussion to circuit-bent children's toys, 1980s Russian synthesizers to Indian harmoniums…these are the instruments of Robot Repair.
Making a quick beat with two drums and a speaking toy. Get WerkBench for the iPad here: http://bit.ly/L6jhd9
Background info:
Here's my take on bending the Coleco Talking Teacher toy. Four bends have been added: short glitch loop, long glitch loop, unsteady long glitch loop, and pitch adjustment. A side cart was added to make room for the controls.
This is one of the most stable talking toys I have bent. The long and short loops are repeatable, so the glitches can be played like you would a drum machine. The sound is also very clear.
See more (including schematics for the bends) at:
http://seaweedfactory.blogspot.com/2012/06/circuit-bent-coleco-talking-teache…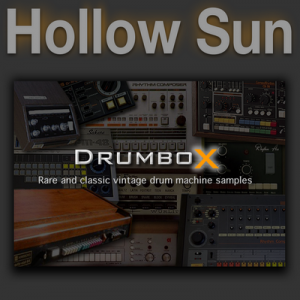 55 classic, rare, obscure and toy drum machines with a unique GUI that allows you to mix and match and layer and balance and pan and tune them, add saturation and lo-fi, route them to individual outs or send them to internal effects.
http://www.hollowsun.com/HS2/products/drumbox
Electroretrobreak by Hollow Sun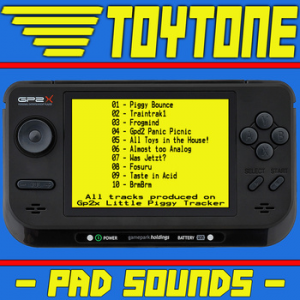 Fresh out of the oven! A new production by Patric Catani, completely made in LGPT running on a GP2X.
The first officially released tracks of the Toytone project come as bassy as they wanna be. Varying between Club, Booty Bounce and an exaggerated approach of speed acid dub, you will notice that this collection was not done overnight.
Enjoy this full package of passionated Piggy tracking –
Download the full album and get two Bonus songs!
Tracklist:
1. Piggy Bounce 04:14
2. Traintrak1 03:30
3. Frogmind 03:06
4. Gpd2 Panic Picnic 03:12
5. All Toys in the House! 06:11
6. Almost too Analog 04:23
7. Was Jetzt? 02:49
8. Fosuru 09:11 download
9. Taste in Acid 08:18
10. BrmBrm 06:40
Download and listen to it from his Bandcamp page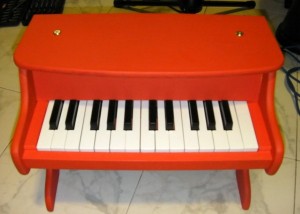 AudioThing has released Toy Piano, a sample library for Native Instruments Kontakt.
I always wanted a Toy Piano like Schroeder's, from Peanuts. I finally got this lovely 2-octaves upright toy piano and I could not resist to sample it and start making sound design. The sound of the piano is produced by metal bars stroke by plastic hammers, almost like a glockenspiel but more deep and warm. The Toy Piano was sampled with the lid both closed and open and percussions samples have been recorded playing the wood case of the Toy Piano with hands, nylon brushes and rubber mallets. There are also two ambient/pad/drone instruments created using samples start/loop tricks and a bunch of effects, both with a custom, tweakable, GUI.
Toy Piano features
3 Round Robin samples for each key.
6 Random release samples.
Two sample sets (closed or open lid).
Size: 108 MB installed.
Formats: Kontakt and .wav.
Sample resolution: 44.1Khz / 24Bit.
Custom performance view.
Bonus percussion samples and sound designed instruments.
Native Instruments Kontakt 3.5 full retail version is required.
AudioThing Toy Piano is available to purchase for $5 USD.